I love beets and am always looking for new ways to incorporate them into our menus. Fortunately, my better half likes them, so that makes life much more wonderful. I'm sure I don't have to tell you how good beets are for you but, as a reminder, they're full of potassium, fiber and folic acid and they're great antioxidants 🙂
Beets are best when in season (and in Florida, that's late Fall through February/March), but you can find them pretty much year-round. I picked up some small golden beets at the farmer's market last week, along with a couple of chiogga (pronounced "kee-oh-jah") beets. I've cooked the golden version before, but never the chiogga, so it was an exciting day at the Coudal house when I broke one open! I had heard they were beautiful on the inside with bright pink and white stripes (they're sometimes called "candy cane" beets), and they were! They're a bit sweeter than other beets and they don't bleed color onto everything that touches them. The only downside to these beauties is that if you cook them they lose their vibrant color. Here's a pic of a batch I used for another recipe – aren't they gorgeous?!?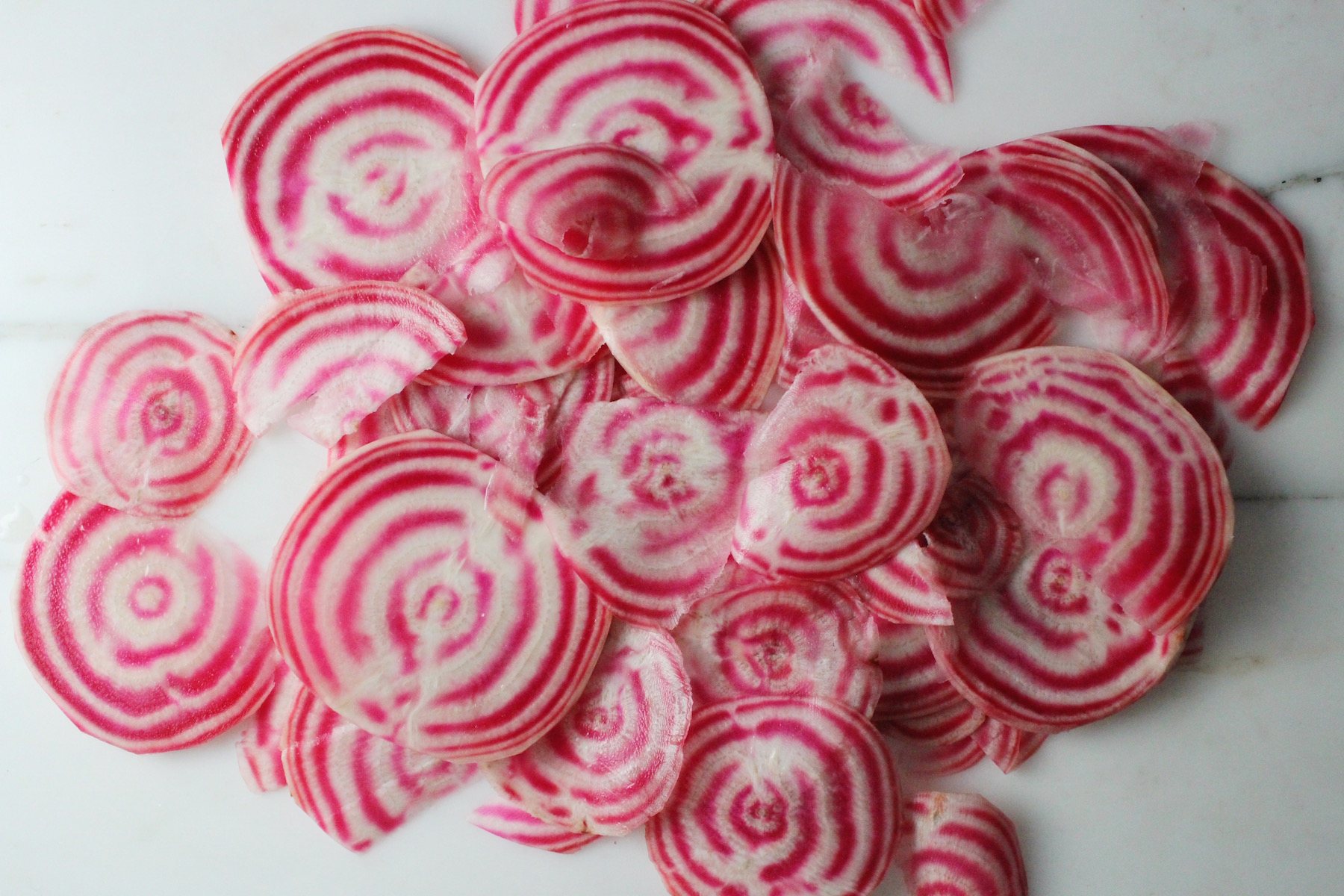 This is a simple, deconstructed salad with a flavorful miso-vinaigrette dressing. You could put just about anything in there with the beets, but I just happened to have some leftover brown rice and black beans in the fridge, along with an avocado that was ready to be eaten – it all went together nicely and was chock-full of healthy protein.
I've never worked with miso, so it was a great opportunity to try something new. I dusted off the container of white miso my mom gave me recently (she decided it wasn't for her) and did some research to figure out the best ways to use it. If you're not familiar with miso, it's fermented soybeans formulated with mold and salt and then aged from 6-36 months. Sure, it sounds kind of icky, but it results in a savory paste that provides a depth and flavor boost to soups, sauces, marinades and salad dressings. It's typically high in salt, but rich in Vitamin B and protein. The white miso I used is known as "sweet" or "mellow" miso because it's fermented for a shorter time and has less sodium than the darker versions.
I combined the miso with some basic vinaigrette ingredients and even added a little kick of Siracha (my favorite go-to spice). It was a tasty combination — the tanginess of the dressing paired well with the sweet/richness of the beets, so I decided it was a keeper. I'll keep practicing with miso and keep you posted 🙂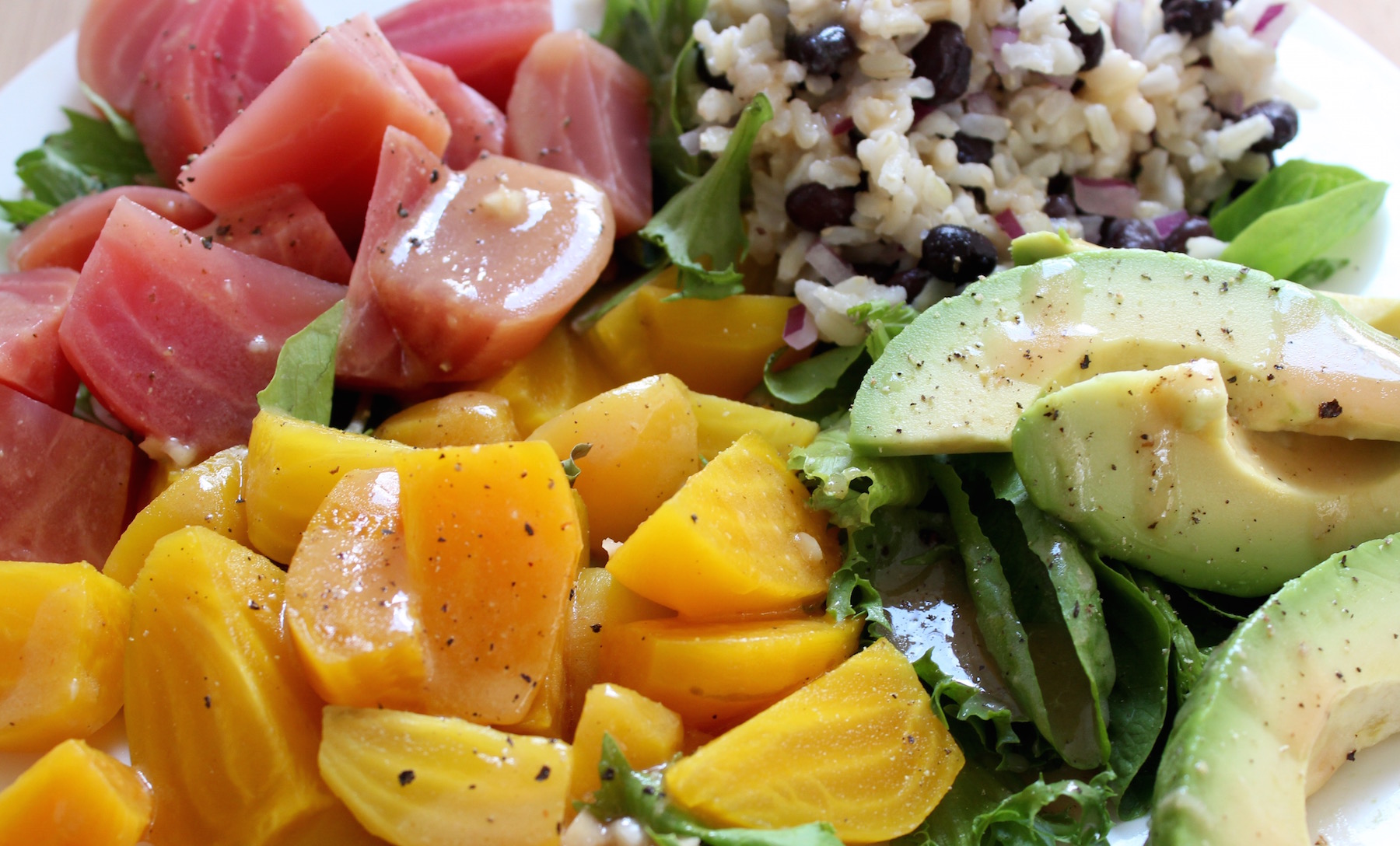 Golden & Chiogga Beet Salad with Miso
Author:
My Delicious Blog
Ingredients
Salad:
6 small and medium golden beets, cooked & quartered
2 medium chiogga beets, cooked & quartered
1 ripe avocado, peeled & sliced
1 c. cooked brown rice
1 c. black beans (canned is an easy option!)
¼ c. red onion, chopped
2 large handfuls baby greens
Dressing:
1 Tb. white miso
2 Tb. red wine vinegar
1 Tb. lemon juice
½ tsp. Dijon mustard
2 small cloves garlic, mashed & minced
1 Tb. honey
½ tsp. Siracha (or more if you like it spicy)
¼ c. canola oil
Freshly ground black pepper to taste (you will likely not need salt since the miso has a lot of sodium, plus the vinegar and acids are very flavorful)
Instructions
Cook beets: cut off the greens and place beets into a sauce pan with enough water to cover. Cover and bring to boil. Once it boils, turn off the heat and let them sit in the hot water for about an hour. Test with a bamboo skewer or knife to confirm doneness, then remove from water and let them cool. Rub each with a paper towel to remove skin.
Make the dressing: In a small bowl, whisk miso through Siracha. When combined, slowly pour in oil and whisk until emulsified. Refrigerate until ready to serve.
Cut beets into quarters; slice avocado; mix brown rice with beans and onion.
Place ingredients atop baby greens and drizzle dressing over everything. Top with freshly ground black pepper and serve!