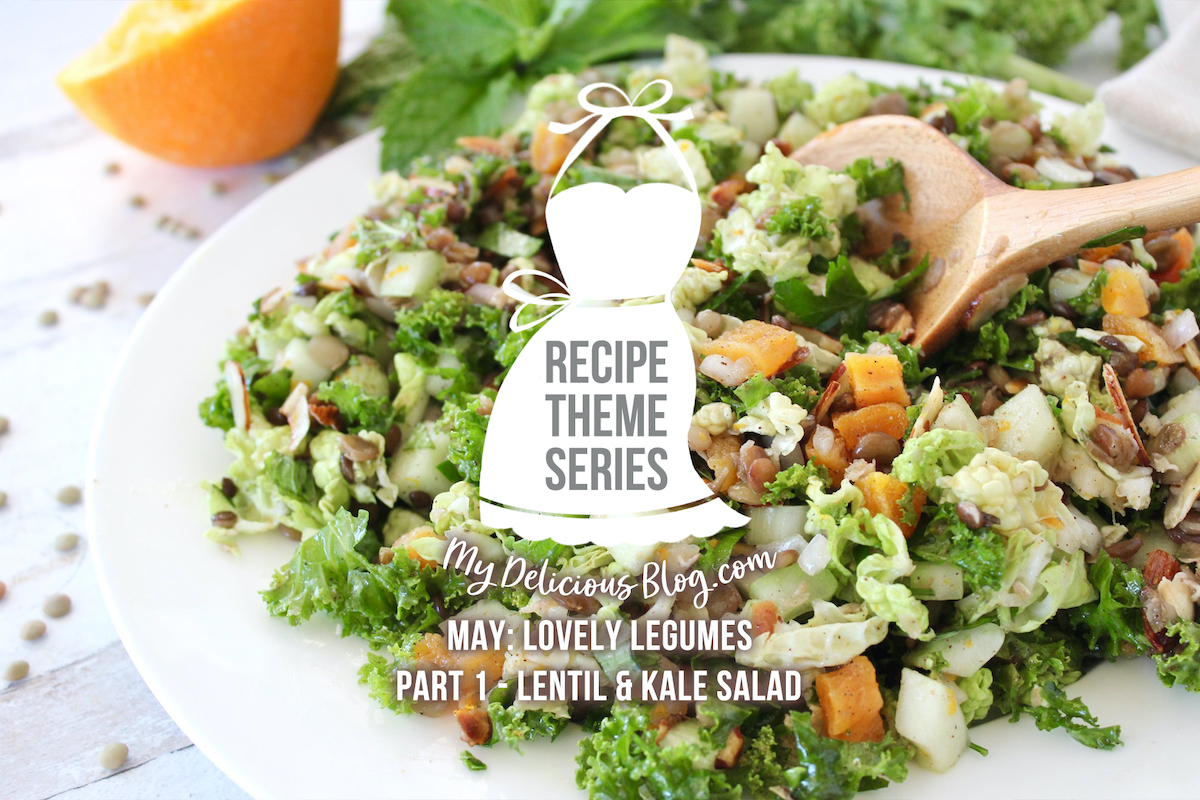 Legumes are in the vegetable family, with common members being chickpeas, black/red/kidney beans, green beans, black-eyed peas, soybeans and lentils.
They're called 'powerhouse foods,' with lentils being especially well-regarded.
Nutrition-wise, lentils are an excellent source of protein, loaded with potassium, calcium, magnesium, iron and fiber, and a great resource for vegetarians, or folks sensitive to gluten.  They're also economical, easy to store/cook, and sustainable because they're plentiful and require little water to grow.
There are several varieties, the most common being brown or green, which you see in grocery stores.  But also look for black or red lentils, offering different consistency and flavor profiles, to see which you like in side dishes vs. soups or salads.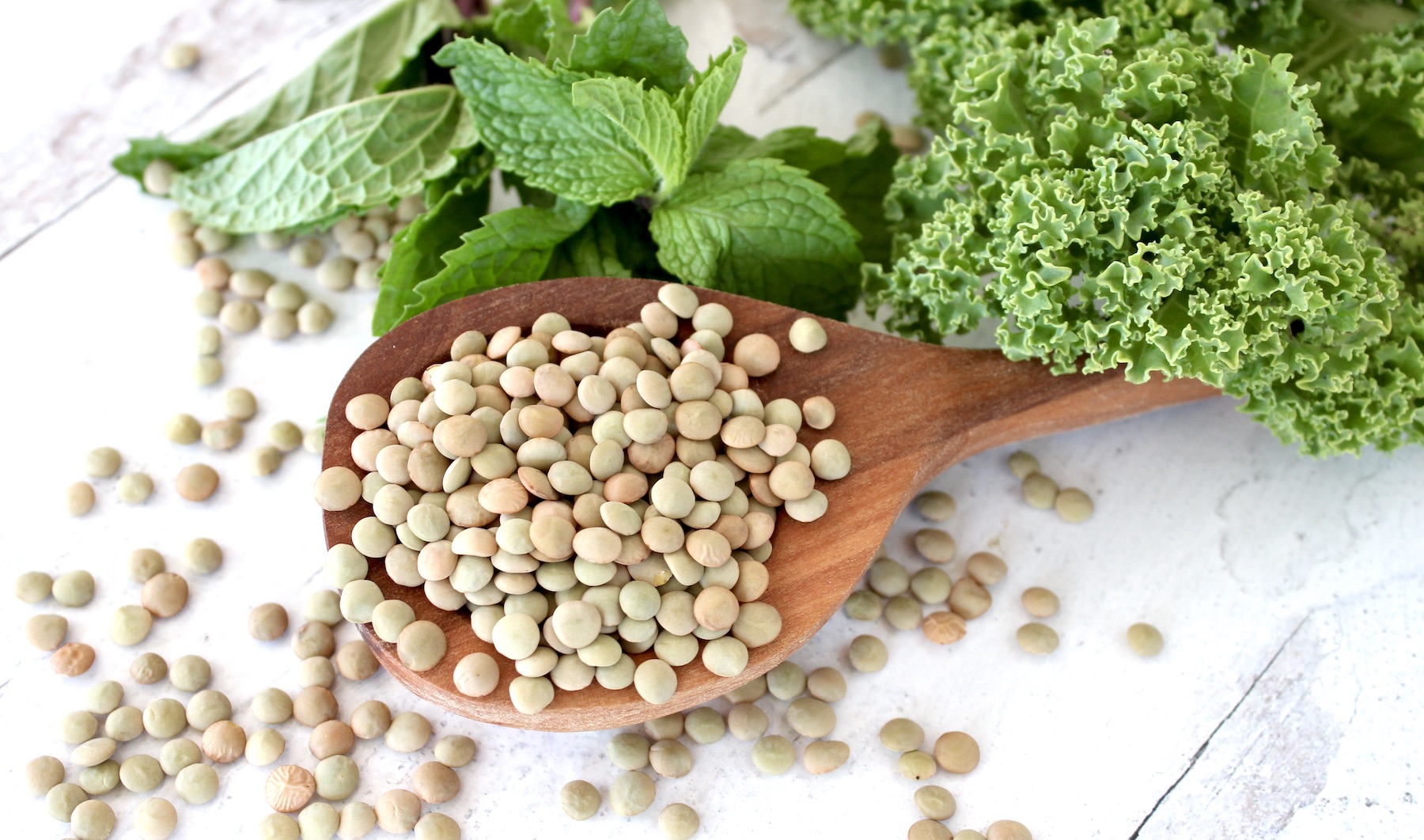 I always have lentils in my pantry.  I toss them into soups; keep cooked lentils in the fridge for stir-fries or to transform into dip with my food processor.  Because they're so good for me, I put them to use as much as possible 🙂
This salad is adapted from 'Moroccan Lentil Salad' at 
FeastingatHome.com
 – a blog by chef Sylvia Fountaine.  Hers has lentils, onion, celery, apricots, almonds and herbs, with the most interesting component being the dressing made with Moroccan flavors of cinnamon, cumin and cloves.  I wasn't sure I'd like it, but I absolutely loved it.
I added more veggies – Napa (tender Chinese cabbage), kale and cucumbers, slightly tweaked the dressing, and it was really yummy.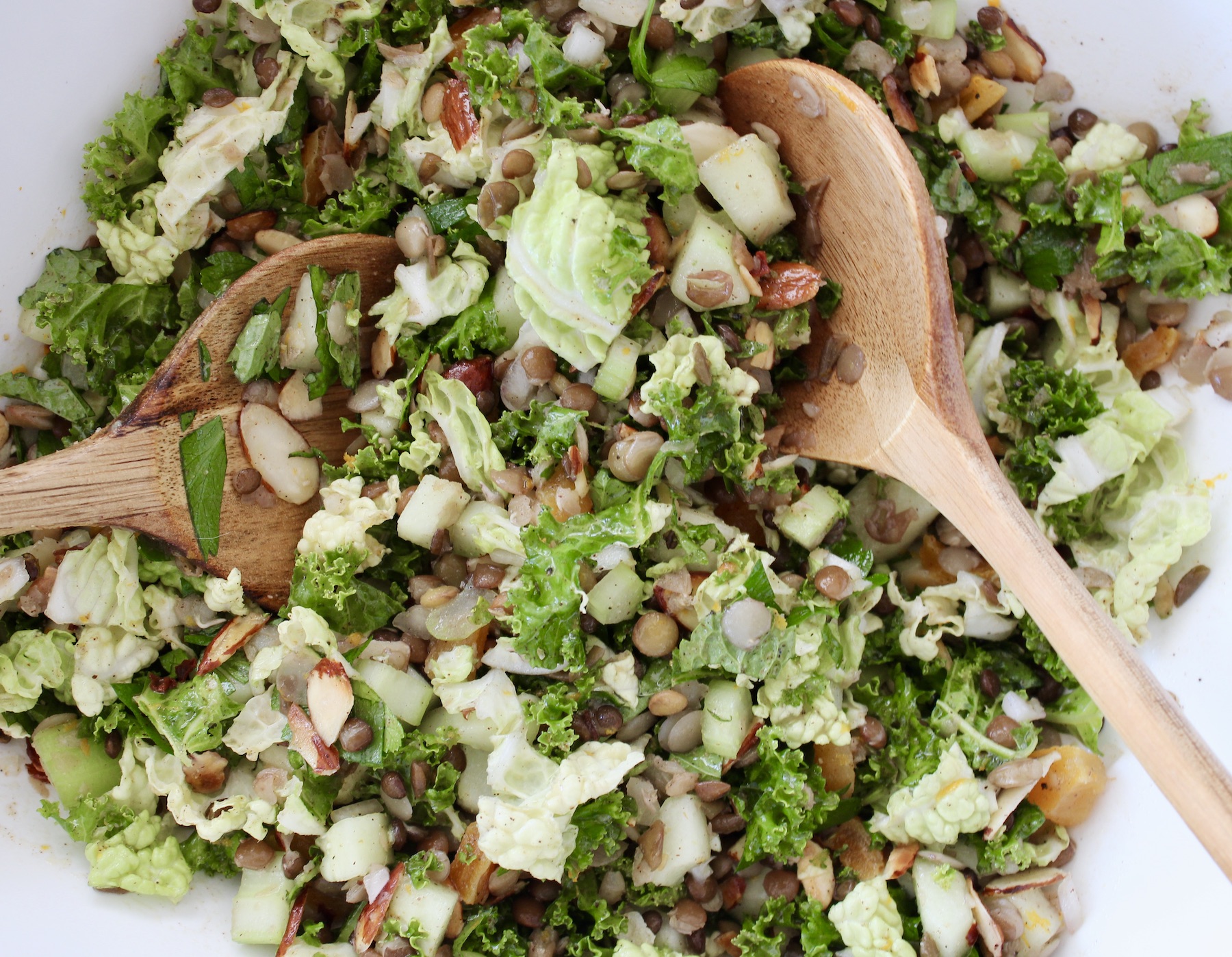 The textures are great – crunchy, chewy, a fresh bite of greens and herbs, those tender lentils, and that savory/sweet dressing.  Enjoy your new, favorite legume!
Print Recipe
Lentil & Kale Salad
A delicious chopped salad with kale, Napa, cucumber, mint, parsley, apricots, and a Moroccan-inspired dressing. Recipe adapted from Sylvia Fountaine's Moroccan Lentil Salad.
Ingredients
2

c.

Cooked, whole lentils (brown, black or green)

2

c.

Kale, chopped

2

c.

Napa, chopped

1

medium

Cucumber, peeled & chopped

(remove large seeds, if desired)

1/2

c.

Celery, chopped

1/4

c.

Red onion (or shallot), chopped

1

c.

Dried apricots, roughly chopped

1/2

c.

Sliced or slivered almonds, toasted

1+

c.

Fresh parsley and mint, roughly chopped
Dressing
1/4

c.

Red wine vinegar

2

Tb.

Maple syrup

1/4

c.

Extra virgin olive oil

1

Orange, zested and juiced

1

Garlic clove, peeled & minced

1/2

tsp.

Kosher (or sea) salt

1/2

tsp.

Freshly ground black pepper

1

tsp.

Cumin

1/2

tsp.

Cinnamon

Pinch

Ground cloves

Pinch

Red pepper flakes
Instructions
Cook lentils, following directions on package. When tender, drain excess water and allow them to cool before mixing with other ingredients.

While lentils cook, toast the almonds in a nonstick pan over low heat until nicely brown. Then make the dressing by combining ingredients in a small bowl and whisking to combine; set aside until ready to use.

Prepare kale by chopping it into small pieces, tossing it into a mixing bowl and adding 1 tsp of olive oil or lemon juice. "Massage" the kale with your hands for 1-2 minutes, mixing in the liquid and allowing tough fibers in the kale to soften. Then add Napa, cucumber, celery, onion, apricots, almonds and herbs.

When lentils are cool, add them to the mixing bowl, along with dressing. Toss to combine, taste for seasoning (salt), then serve.