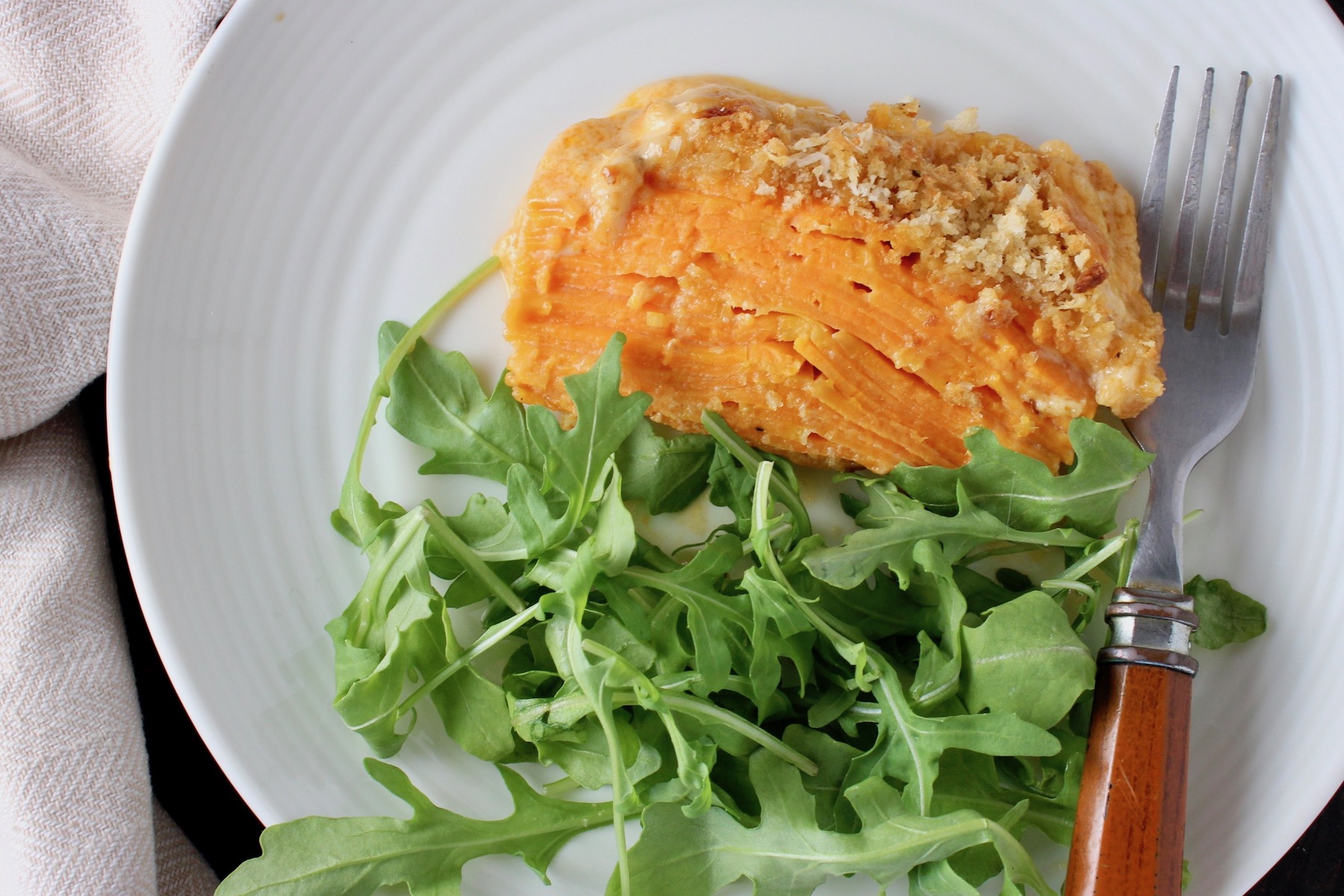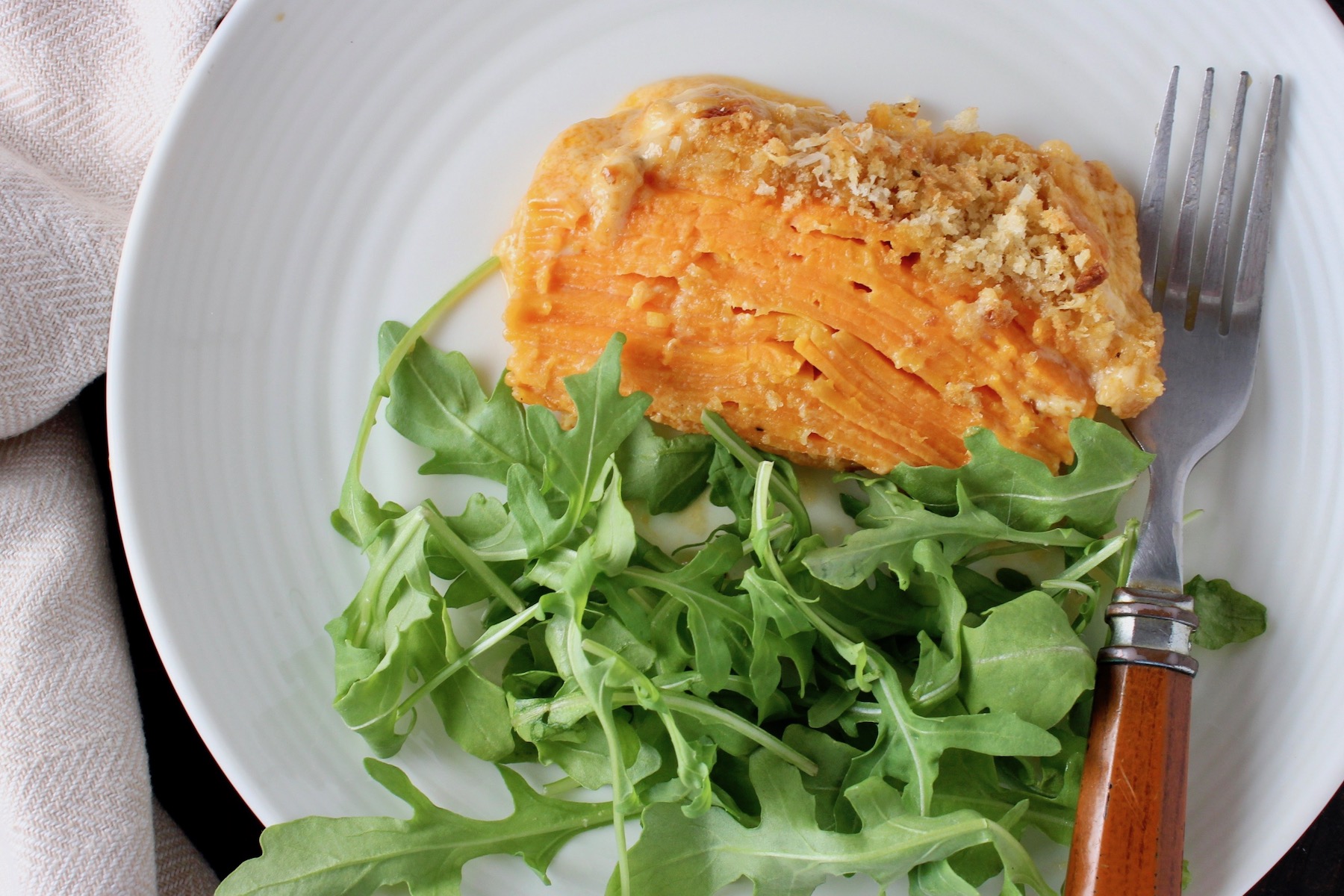 It seems like the humble sweet potato (or yam) is on just about every Thanksgiving table.  Who would have thought that a root vegetable with origins dating back roughly 5,000 years would still be so revered?
If you've ever grown them yourself, you know how fun it is!  This marks my second year and my husband and I both get excited when it's time to dig them up.  Here's last year's haul (no pic this year because it was a dismal showing.  I think some little critters got most of them!).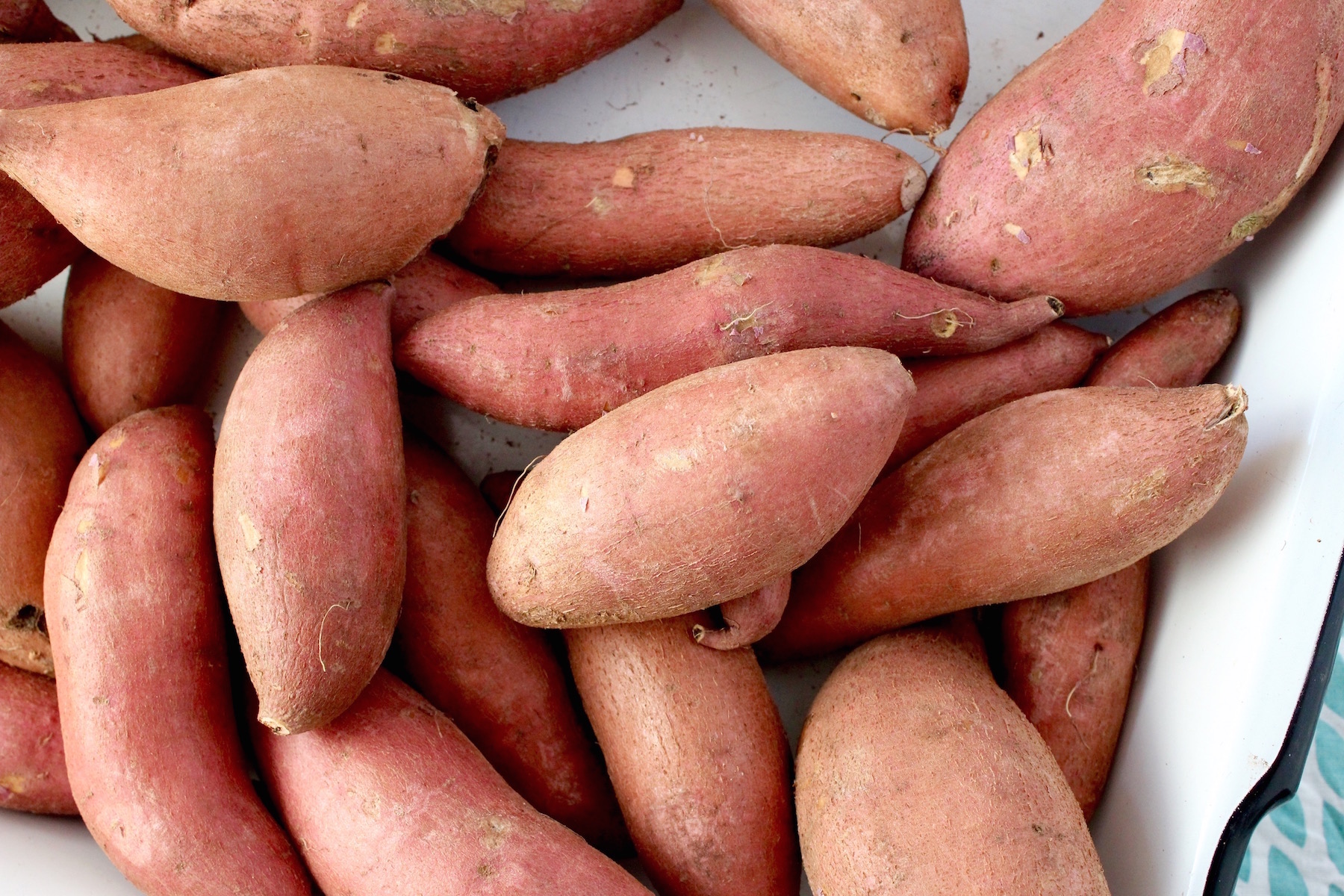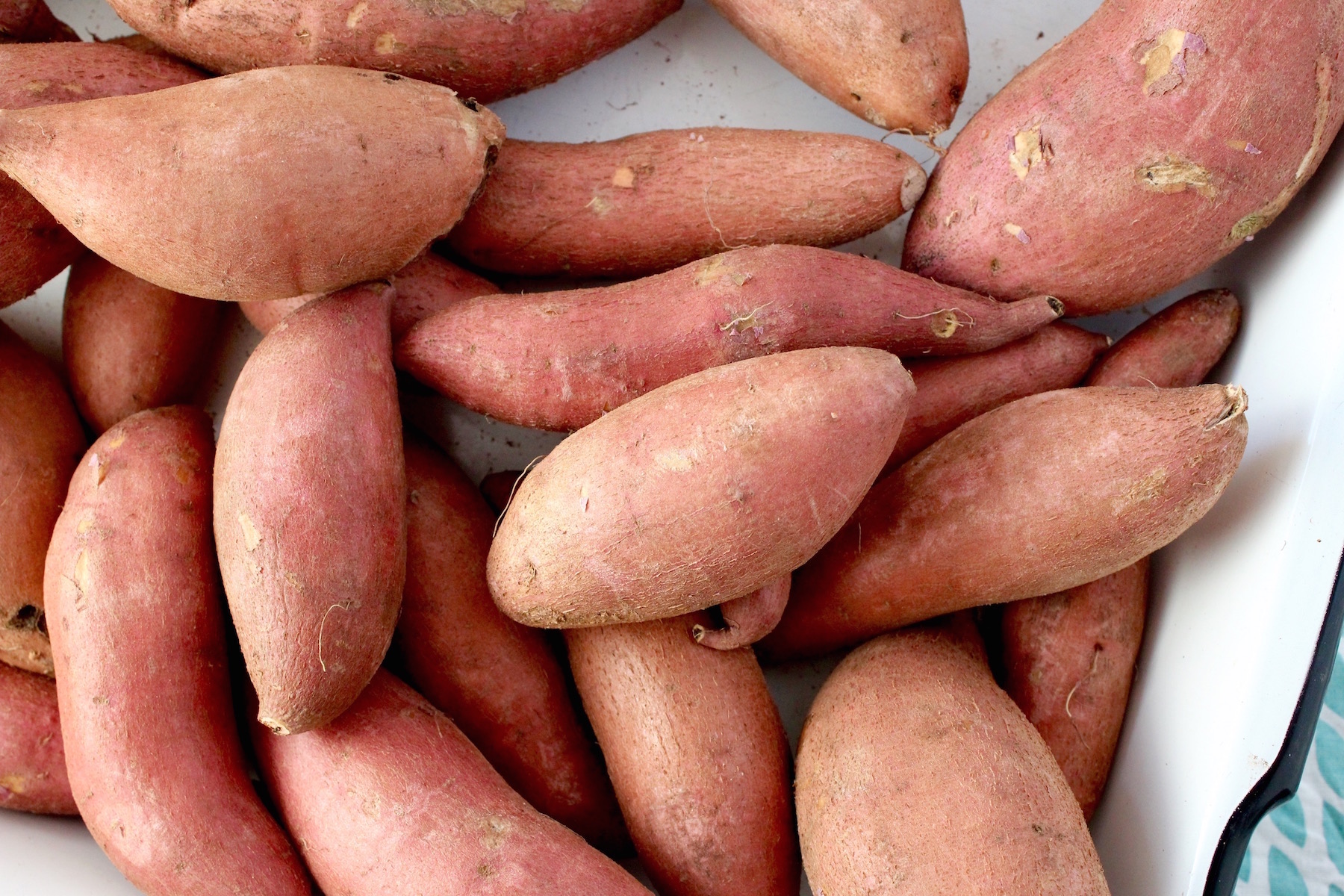 Now let's move onto eating them.
I'm pretty sure that sweet potato casserole topped with gooey marshmallows is a dish we all look forward to putting on our plates, but we're loathe to admit it because it's full of butter, brown sugar, and of course, those marshmallows.  But it's a dish we pretty much only have once a year, so I think we should allow ourselves permission to enjoy it to the fullest, and maybe even go back for seconds.  After all, it's the holidays and we're good all year, right?  Well, just so you know, today's post is not about that infamous casserole. . .
I was looking for sweet potato inspiration for my own holiday table this year, so I flipped through The Essential New York Times Cook Book by Amanda Hesser.  In it, she lists a recipe for "Gratin of Yams and Chipotle Cream" that she adapted from Bobby Flay's recipe (I think he created it at Mesa Grill in New York City).  Here's how she describes it: "As you sink your fork into it. . .it reveals layer upon fine layer, like a piece of puff pastry.  And when you bite into it, the layers, separated by a smoky chipotle-scented cream, collapse in your mouth."
With that endorsement, I had to make it.
It's a pretty simple recipe, one made easier by using a mandolin to slice the potatoes (as Amanda herself notes).  Hopefully you have one, otherwise you'll be slicing finely using a sharp knife.  I slightly adapted her version by adding a crispy topping of Gruyere and Panko.  Why not?  It's the holidays 🙂  I also increased the amount of cream & chipotle because, by using a loaf pan, I was able to pile high my thin slices of potatoes, so I needed more moisture.  Here's what it looked like, straight out of the oven, all bubbly and golden (the smell was awesome, too):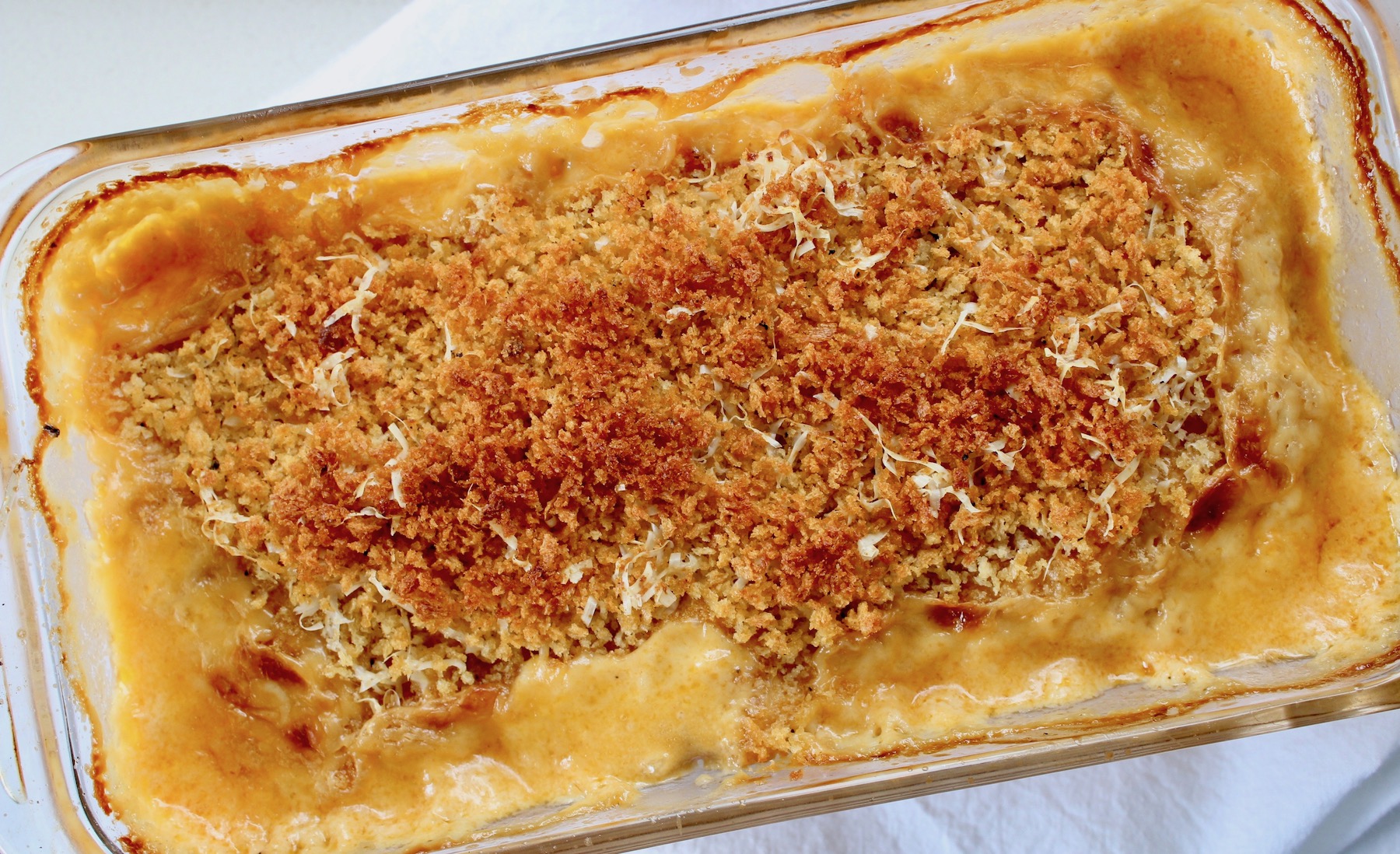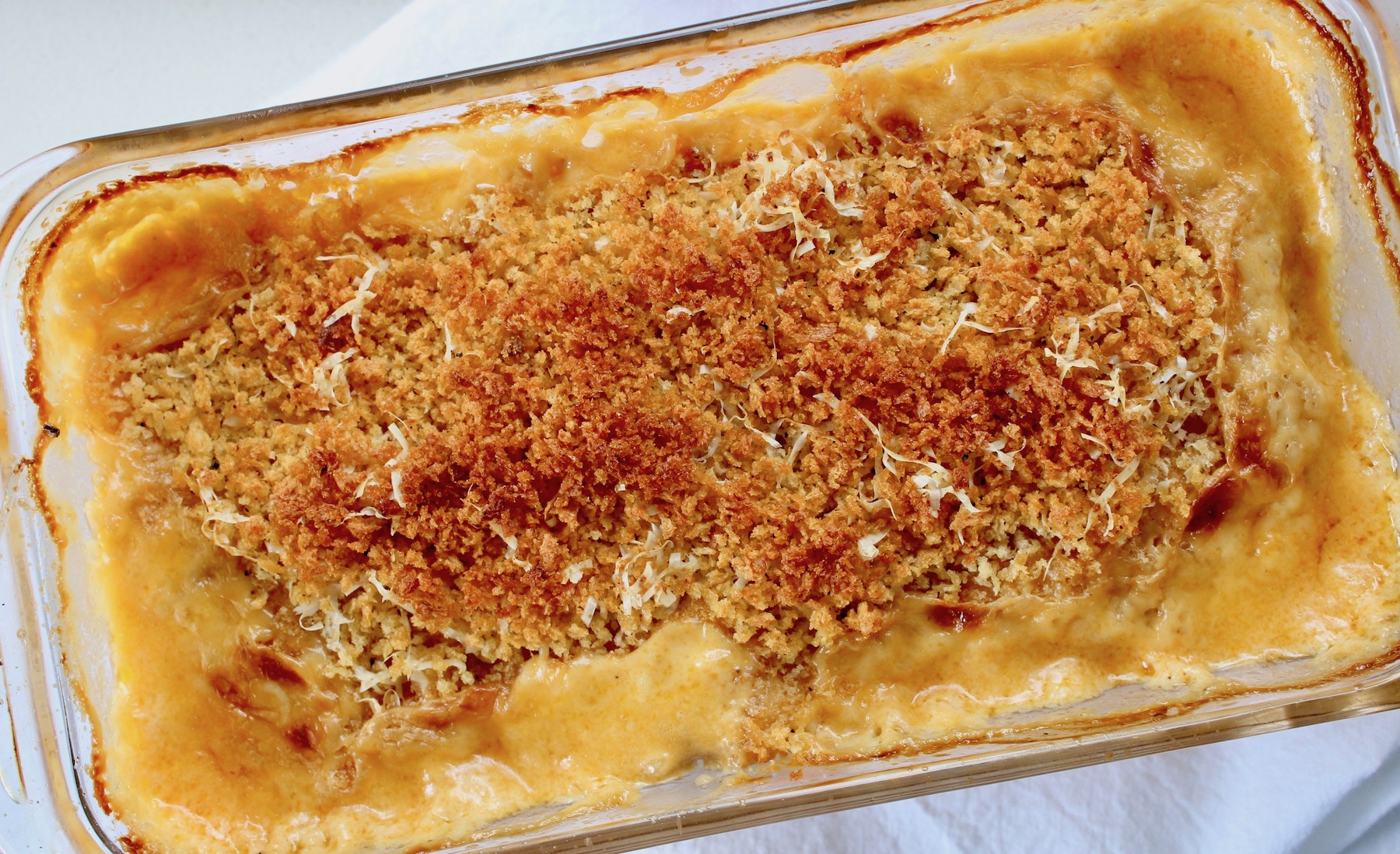 And here's what it looks like when I removed a slice. . .see all those tender layers, all infused with chipotle cream?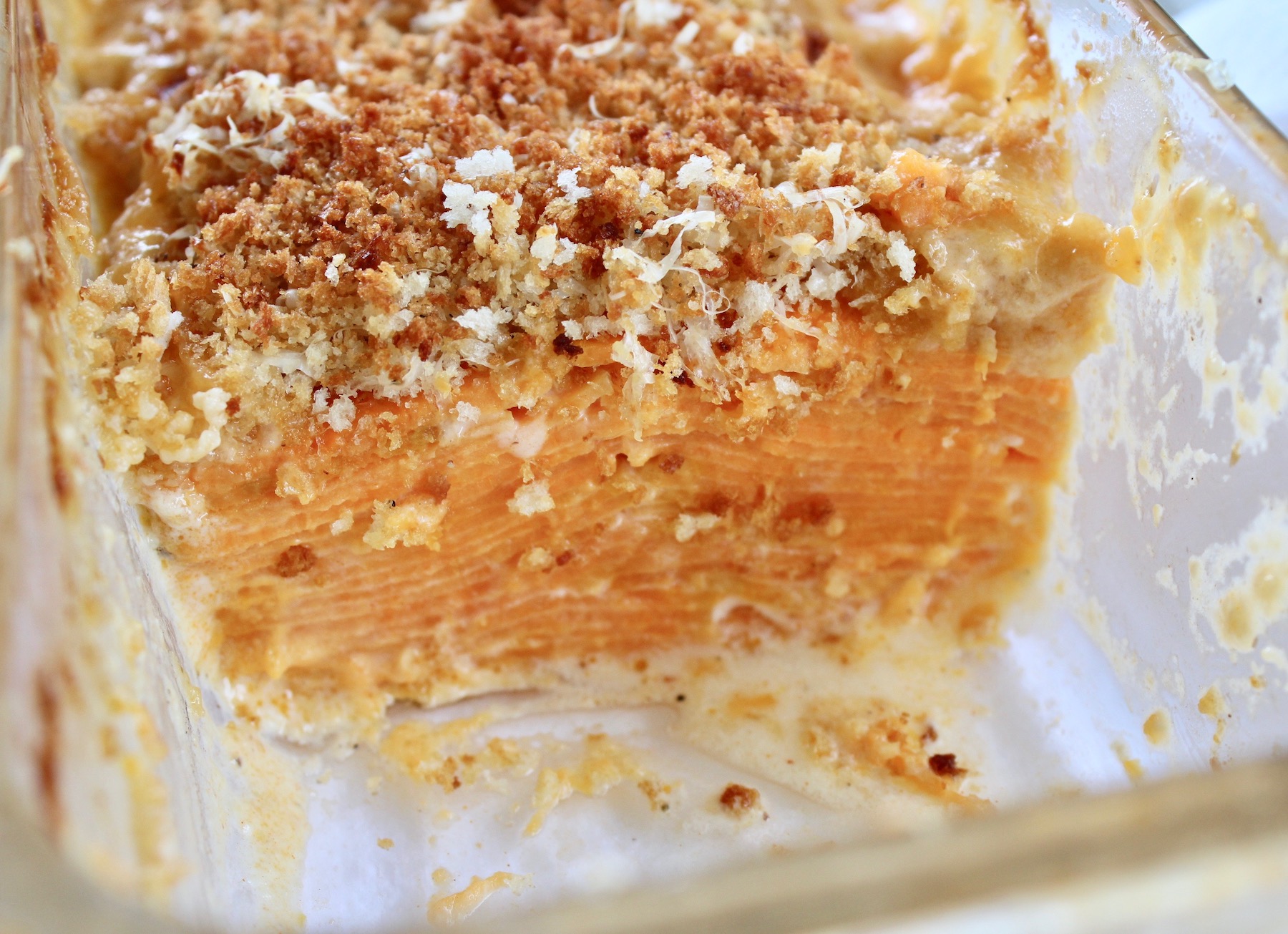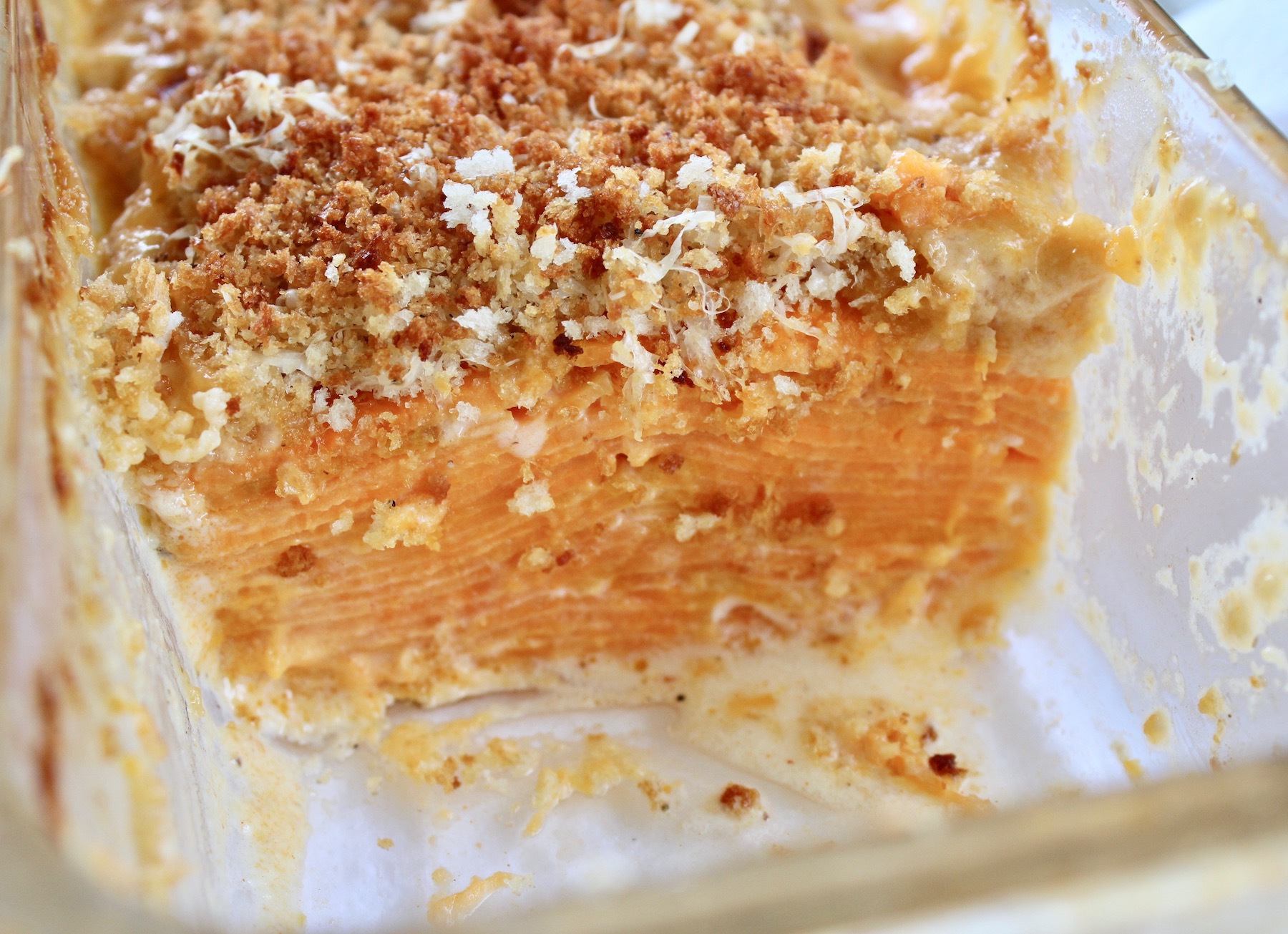 This dish offers the sweetness of the potato, along with smoky heat of the chipotles (without being overbearing).  I enjoyed my test batch with a simple salad, and it was delicious.  So if someone asks you to bring a starch-based dish to a holiday dinner, just assume someone else is making that delectable sweet potato casserole (so you can enjoy it yourself) and consider making this dish for something a little different.
P.S. if you don't make it for this upcoming round of holidays, try it in February, during National Sweet Potato Month 🙂
Happy Holidays!
Print Recipe
Sweet Potatoes with Chipotle Cream
A delicious, layered dish of thinly sliced sweet potatoes with chipotle-flavored heavy cream. A tasty dish for your Thanksgiving table! Adapted from Bobby Flay's and Amanda Hesser's recipes.
Ingredients
1 1/2

c.

Heavy cream

1 1/2

tsp.

Chipotle sauce

(from a can of chipotles in sauce)

1 1/2

lbs.

Sweet potatoes, peeled, cut into 1/16 inch slices

(about 3 medium sized potatoes; 24 oz.)

Kosher salt

Freshly ground black pepper
Topping (optional)
1/2

Tb.

Unsalted butter, melted

1/2

c.

Panko bread flakes

1/4

c.

Grated Gruyere or Parmesan cheese
Instructions
Heat oven to 375 degrees.

Whisk cream and chipotle sauce until blended; set aside.

Using a mandolin, slice potatoes into thin disks (be sure to use the guide when the potato gets too small). If you don't have a mandolin, cut very thin slices, ensuring they're all the same thickness, so they cook evenly. (Note: it's easier to cut thin, uniform slices when you cut the raw potato down the middle, place the flat side down on the cutting board, and slice into half-moon disks).

Place one layer of potatoes in the bottom of a loaf pan (8 1/2 inches X 4 1/2 inches). Sprinkle a little salt and pepper on the first layer, then spoon in about 1 Tb. of the cream mixture. Repeat with another layer of potato and cream (but from this point, only season every other layer with salt and pepper). When all the potatoes are in place, press down to ensure they're all compacted.

Tightly cover the pan with foil, place in oven and bake 30 minutes.

While it bakes, prepare the (optional) Topping by melting the butter and adding it to a small bowl containing the Panko and grated cheese. Mix to combine; set aside until ready to use.

After 30 minutes, remove foil. If using the Topping, spoon the Panko mixture over the potatoes. Return to oven and continue cooking 25-30 minutes.

Test around the 25 minute mark by inserting a knife through the potatoes to ensure they're tender. It should also look like most of the cream has been absorbed, and that the topping is nicely browned. When done, remove from oven and allow to sit about 15 minutes before serving.

Carefully slice 1 - 1 1/2" pieces and remove each slice with a large spatula. It should serve up to 6 people.