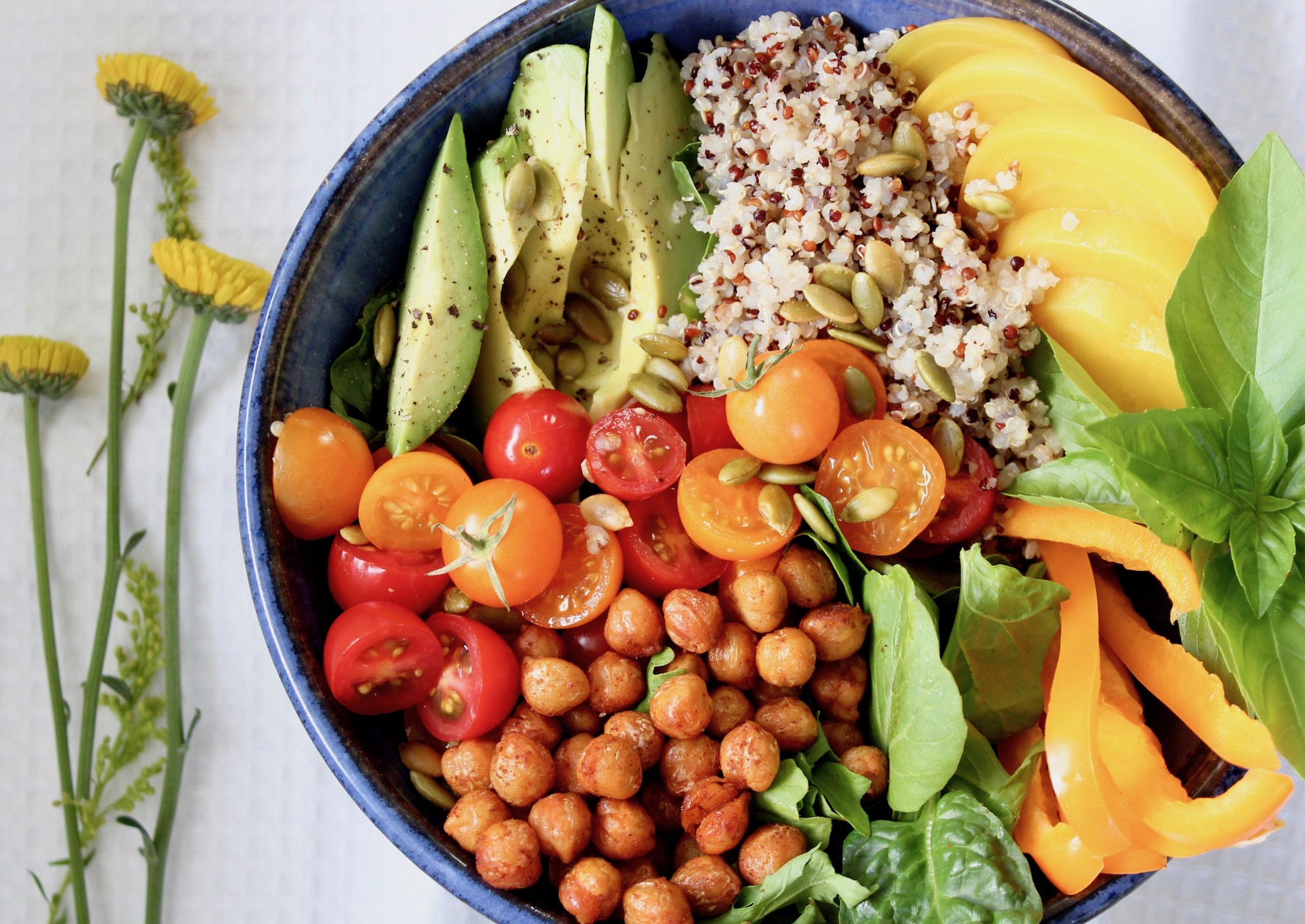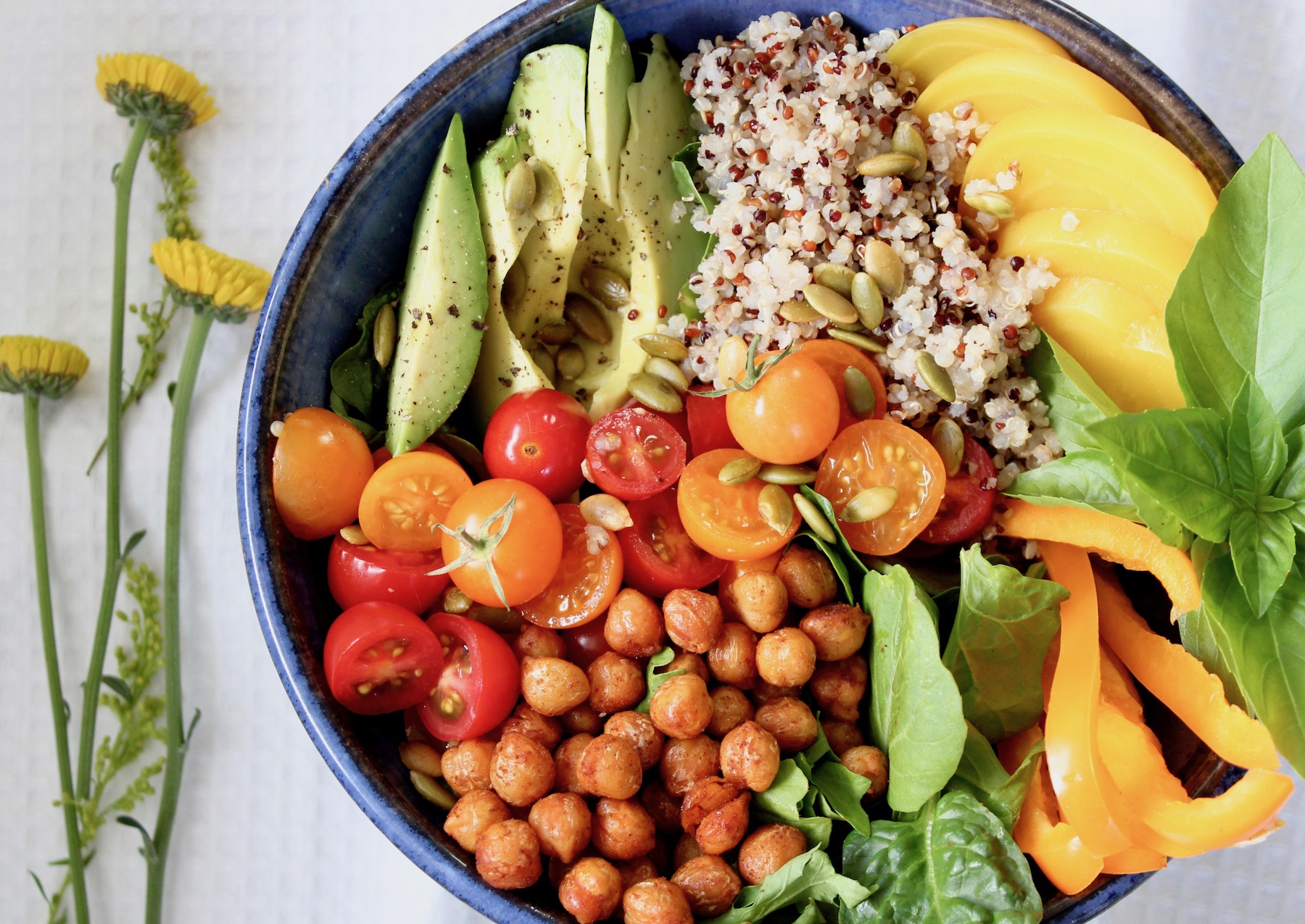 If you're like me, you've noticed tons of "Buddha bowl" pictures on social media.  You know, those beautiful photographs of colorful food artfully arranged in wide-mouthed bowls, so gorgeous in fact that they make you want to reach in for a bite?  Well, today I decided to make my own, but here's a little back story first. . .
For several months I've been learning about Buddhism and the concept of enlightenment.  When a person reaches enlightenment (a.k.a. 'unconditional happiness'), he/she sees the nature of things clearly, accepts life as it is, and lives fully because of that acceptance.  It's a beautiful concept that's not easy to achieve, and I'm still learning.  It's fascinating to learn about the Buddha, the man who focused his life on finding enlightenment, and taught us this important lesson.  While reading about ancient Buddhist monks, I learned that they would visit nearby villages carrying bowls.  They wouldn't speak, but villagers knew that the monks were asking for alms of food or money (whatever villagers could spare).  By doing so, villagers provided physical nourishment to the monks and, in turn, the monks provided them with spiritual nourishment.  Quite a nice partnership, wouldn't you say?
So, there are many theories about how 'food in a bowl' came to be known recently as a Buddha bowl.  Many say it's simply a derivative of a grain bowl, a 'hippie bowl' or a 'macro bowl' – things vegetarians have eaten for decades.  But the one thing that seems to be consistent about them is that food put into them should signify the 'not taking of life' (a key belief in Buddhism, by the way), meaning that it should be vegetarian.  Whatever it's called, I see it simply as a partnership — the beautiful bowl acts as a vessel in which thoughtfully prepared food is placed, and the two provide us with nourishment for our bodies and souls.
Many agree that a Buddha bowl is comprised of 4 things: a healthy grain (brown rice, quinoa, etc.), lots of fresh veggies, vegetable-based protein (beans, seeds, etc.), and tasty dressing.  There are no hard and fast rules, so you can use whatever you like, just keep it fresh, tasty and visually appealing, so you savor every bite, honoring the foods' simplicity and beauty.
As I thought about
my
bowl, I looked at the number of ingredients in all those photos and counted as many as 12-16 different items in some!  My beautiful new bowl (made by talented potter friend
Jeanne Palmer
) isn't big enough to hold all that, plus I can't eat that much food, so I narrowed it down to 7 or 8 things.  I also dressed it with my tasty miso dressing that debuted on the blog in this
kale salad
.  There's a little prep on the front end, but it all comes together pretty quickly, and you'll be glad you invested some extra time to make it especially delicious.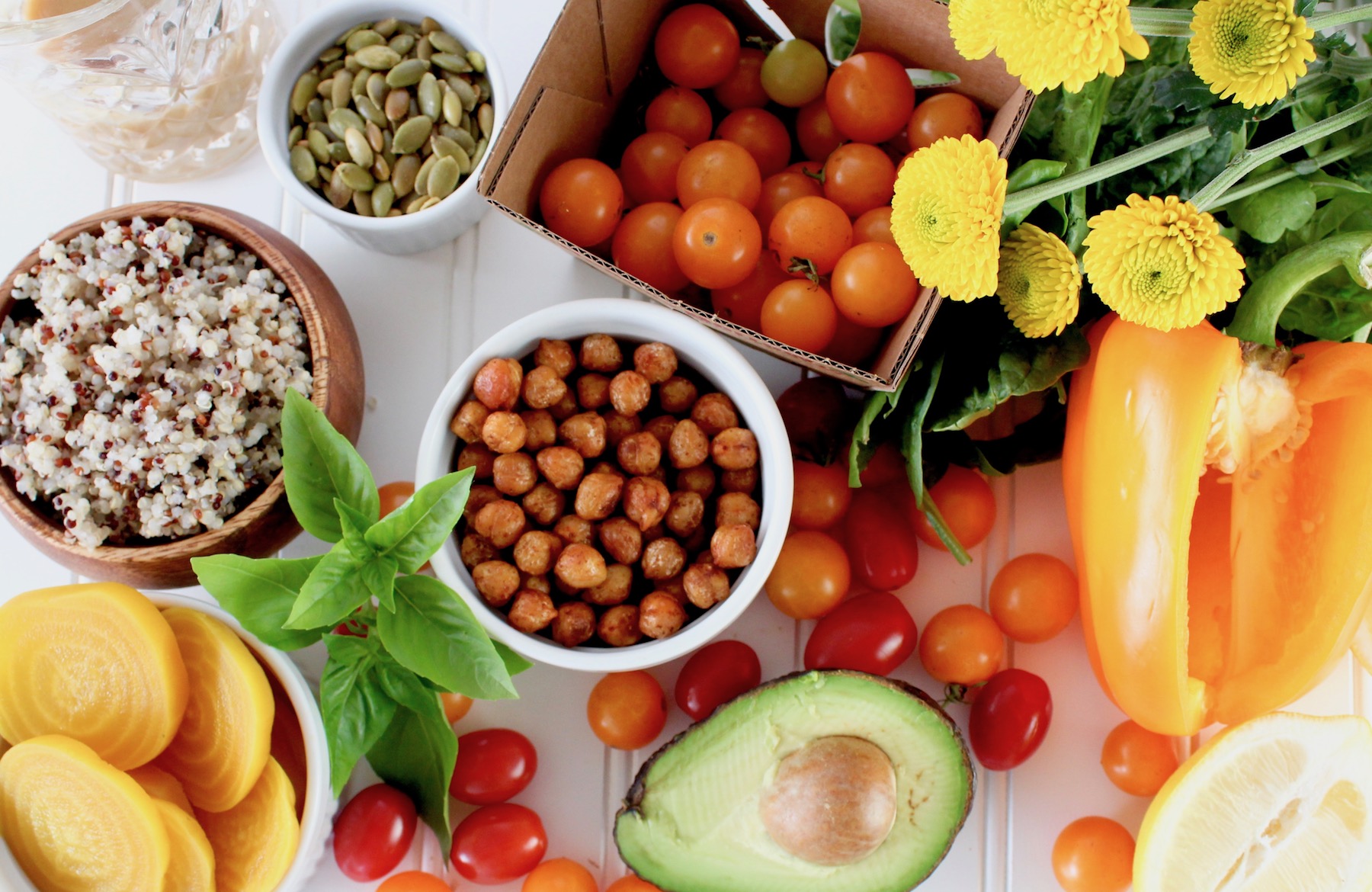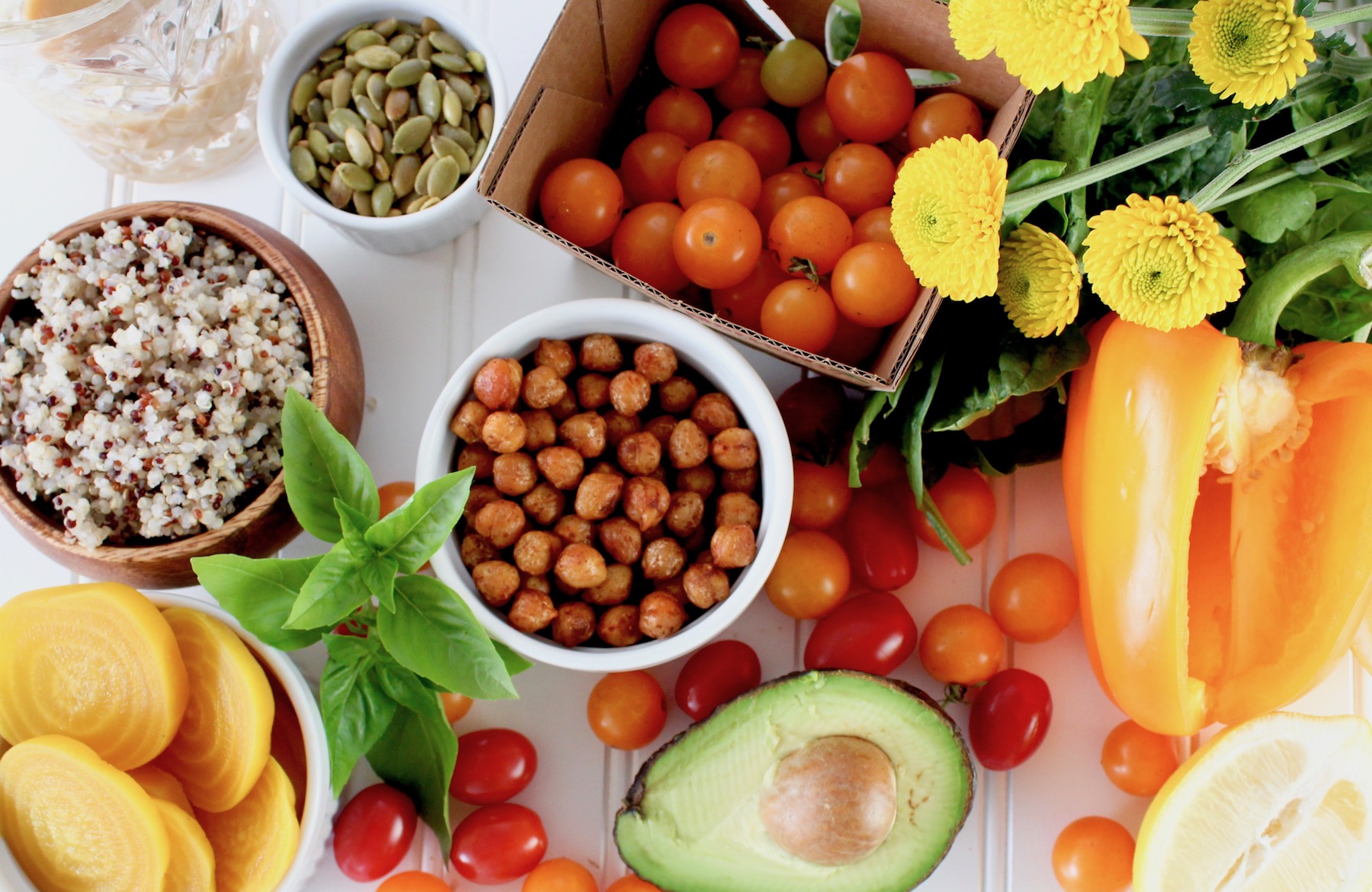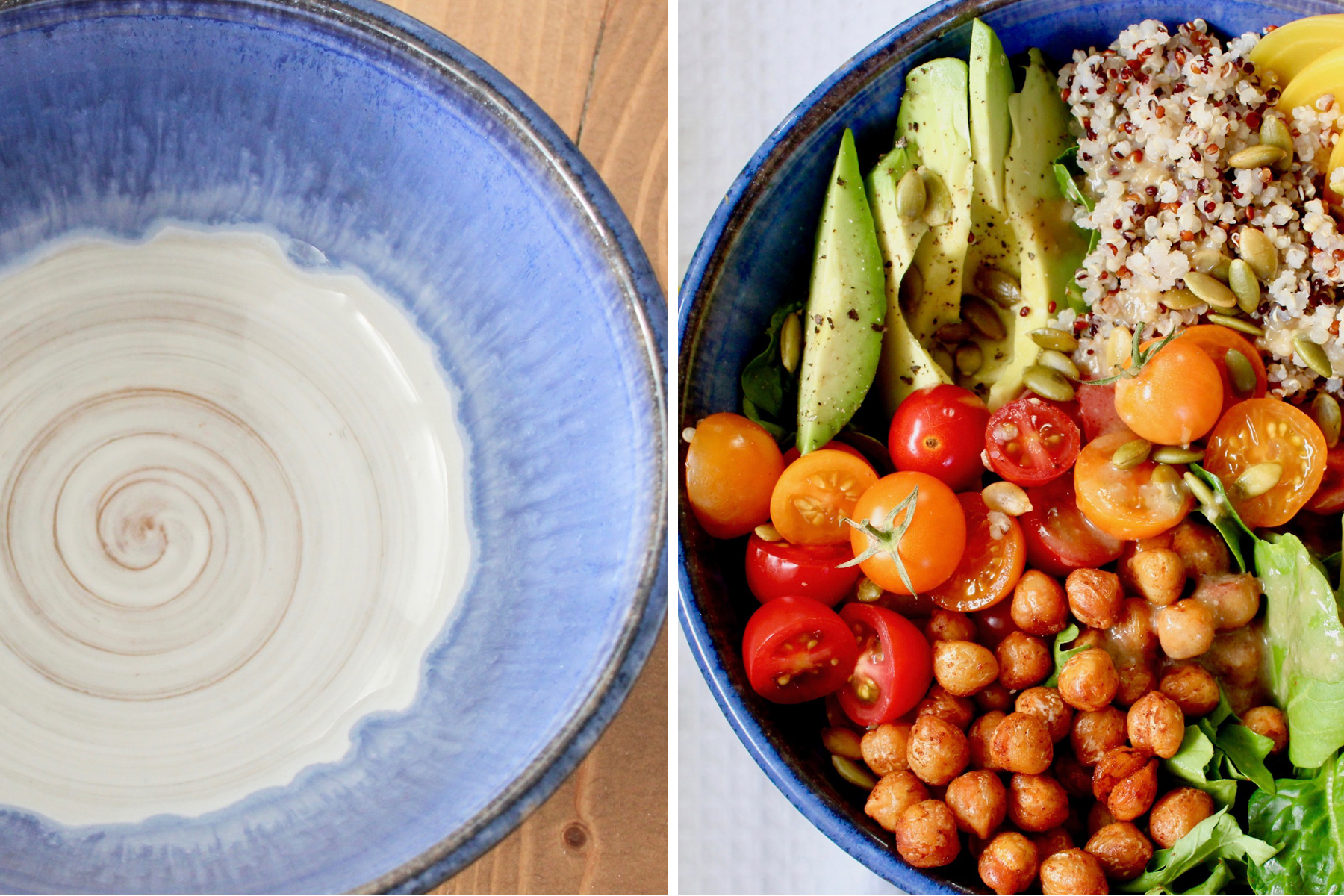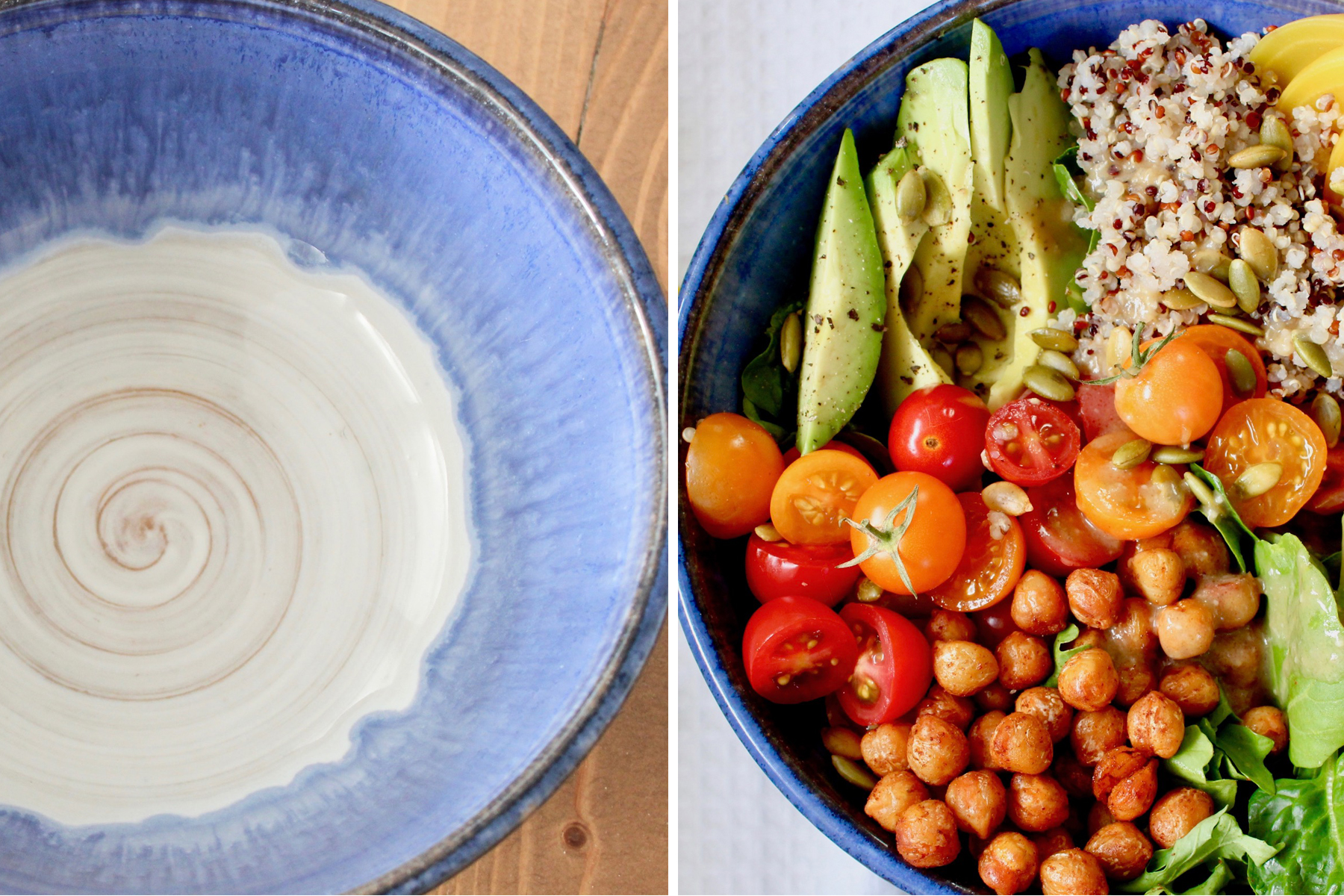 I hope you try your own version of a "Buddha bowl," creating a beautiful, nourishing partnership in your kitchen 🙂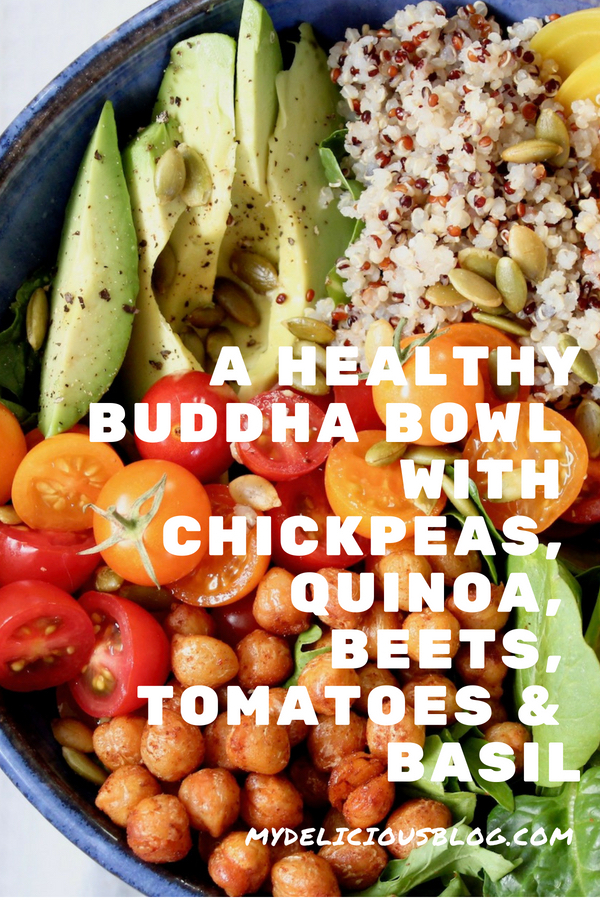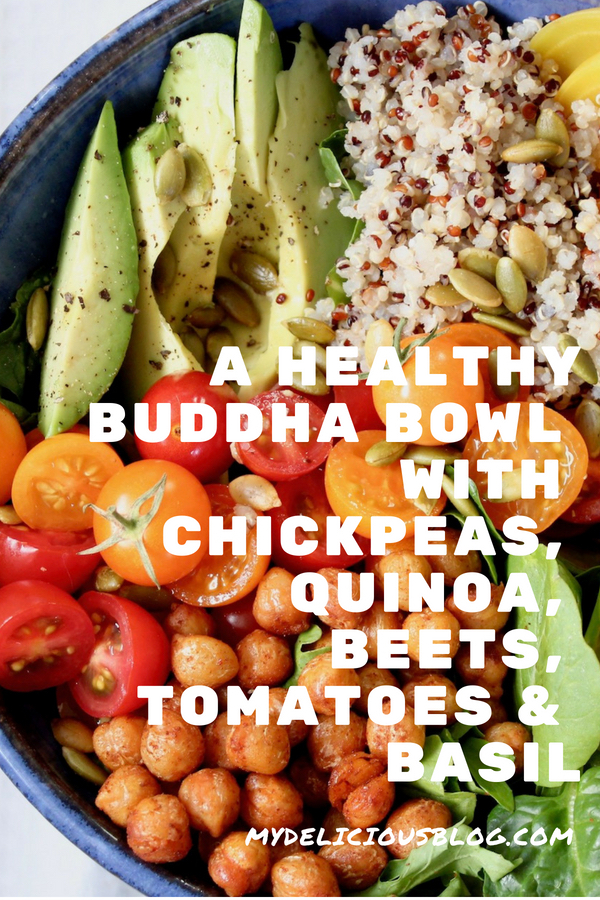 Buddha Bowl with Quinoa, Beets & Chickpeas
A grain bowl filled with healthy stuff and a tasty dressing.
Author:
My Delicious Blog
Ingredients
1 c. tri-color (or white) quinoa, dry
1-2 small-medium golden beets
1 can chickpeas
1 tsp. smoked (or regular) paprika
⅛ tsp. ground cumin
⅛ tsp. garlic powder
¼ tsp. kosher salt
2 Tb. olive oil
1-2 c. baby greens
Handful yellow pepper, sliced
Handful small tomatoes, red & yellow, halved
½ ripe Haas avocado, sliced & sprinkled with lemon juice
2 Tb. roasted/salted pepitas or sunflower seeds
Fresh basil sprigs
Lime wedges (optional)
Edible flowers (optional)
Miso Dressing
2 Tb. white miso paste
2 Tb. water
1 Tb. rice vinegar
2 tsp. honey
1 tsp. soy sauce
1 tsp. canola oil
1 tsp. sesame oil
Dash kosher salt
Instructions
For the quinoa:
Place 1 c. dry quinoa in a saucepan, along with 2 c. water. Bring to boil, then turn off heat, cover and let sit about 30 minutes. Uncover, fluff with a fork and serve either at room temperature or cooled. (Note: 1 cup of dry quinoa makes about 2 cups of cooked. You'll use ½ c. - 1 c. in this Buddha bowl and reserve the extra for another bowl or salad, etc.).
For the beets:
Remove green tops (if any) from beets, wash, place in a deep pot and cover with water. Bring to boil and cook about 1 minute, then cover and turn off heat. Let sit about 1 hour. Test with a skewer to ensure they're cooked, then peel, slice and serve.
For the chickpeas:
Drain chickpeas, rinse and place in a kitchen towel. Rub the chickpeas slightly to remove some skins and dry them. In a large non-stick skillet, add 2 Tb. olive oil and heat to medium. Add chickpeas, ensuring they're in one layer. Roast about 1 minute, then sprinkle on the paprika, cumin, garlic powder and salt. Stir and return to one layer. Reduce heat to medium. Check every 2 minutes to ensure they're not burning. If they seem too dry, add a little more olive oil. Roast for another 6-7 minutes, then turn off heat and leave in the pan until ready to serve. (Optional - sprinkle with a little more kosher salt while they cool). Use as many as you like in the Buddha bowl and reserve the rest for snacks.
For the dressing:
Combine all ingredients in a small bowl and whisk until well-combined. Set aside until ready to use.
Pulling it all together:
Once the quinoa, beets, chickpeas and dressing are ready, start assembling - layer quinoa, greens, beets, chickpeas, tomatoes, avocado, pepper. Sprinkle with pepitas, some freshly ground black pepper and a few basil leaves, then drizzle on the dressing and EAT it all!