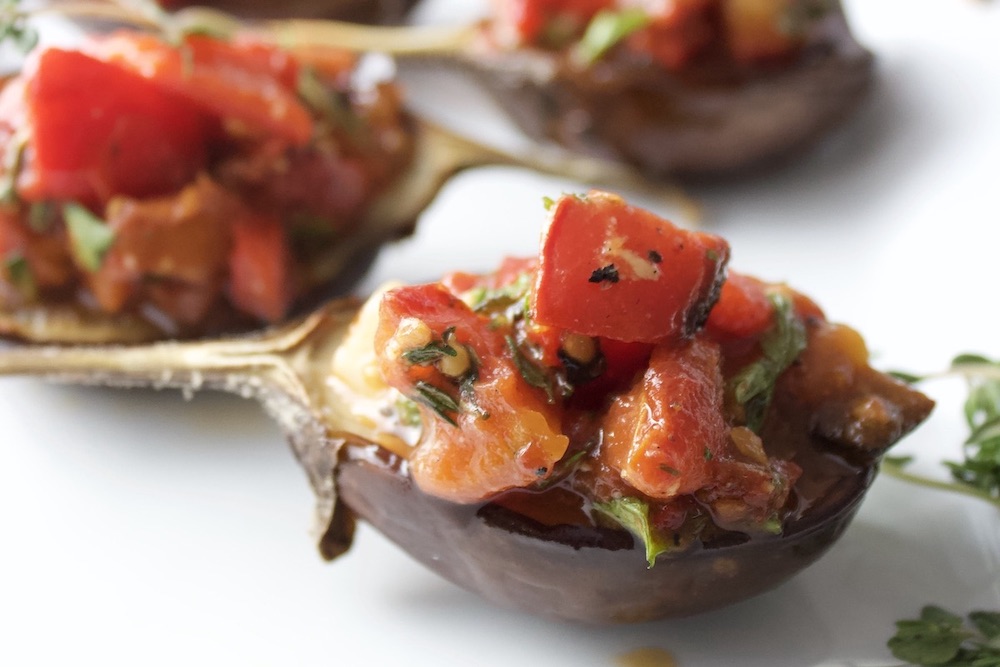 It's fun to try new things, which is why I was so excited to spot these beautiful baby eggplants at the farmer's market!
I've never cooked them, so I couldn't wait to get into the kitchen. Unfortunately, inspiration didn't hit me immediately, so I left them on the counter for a few days and simply enjoyed looking at them — aren't they cute?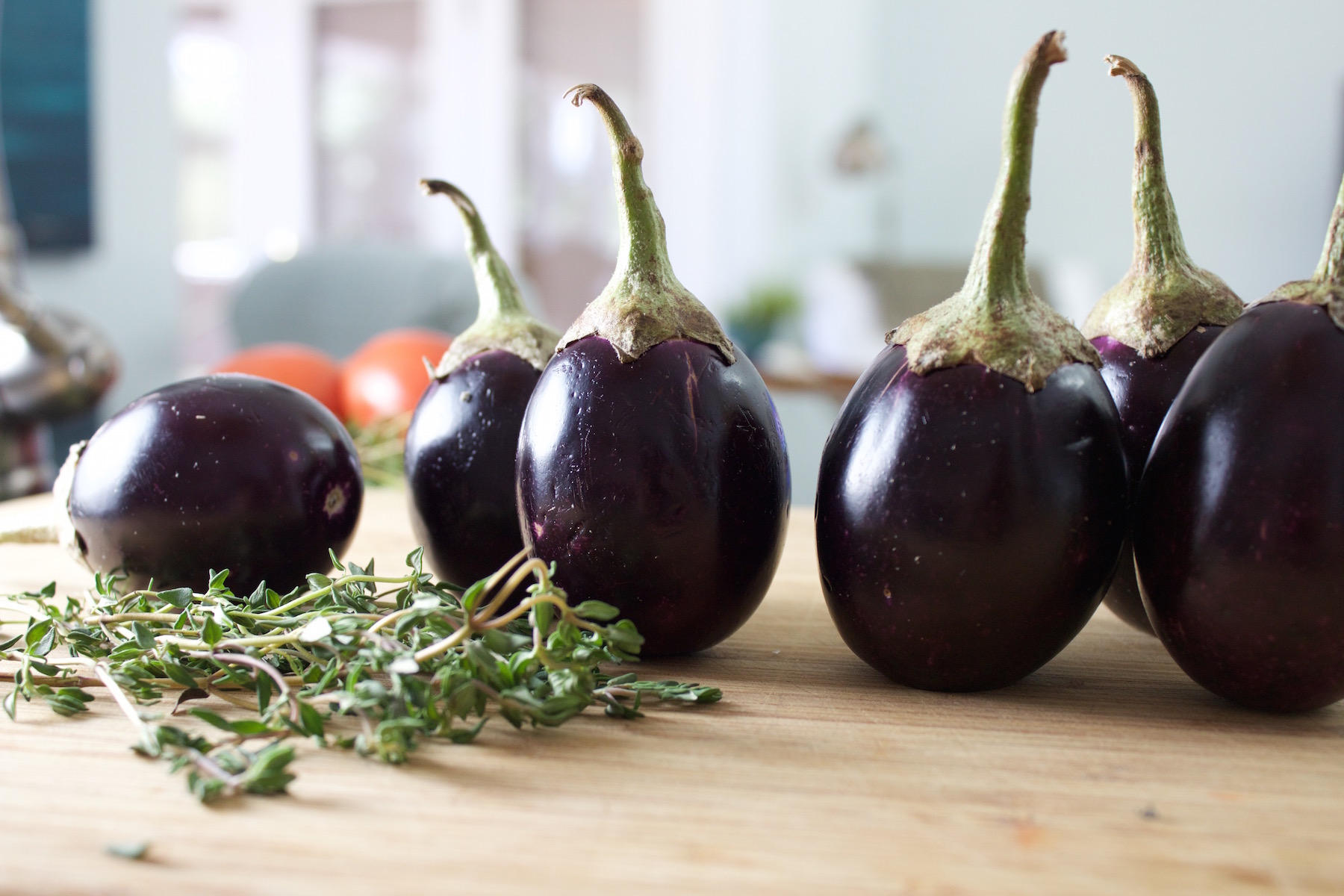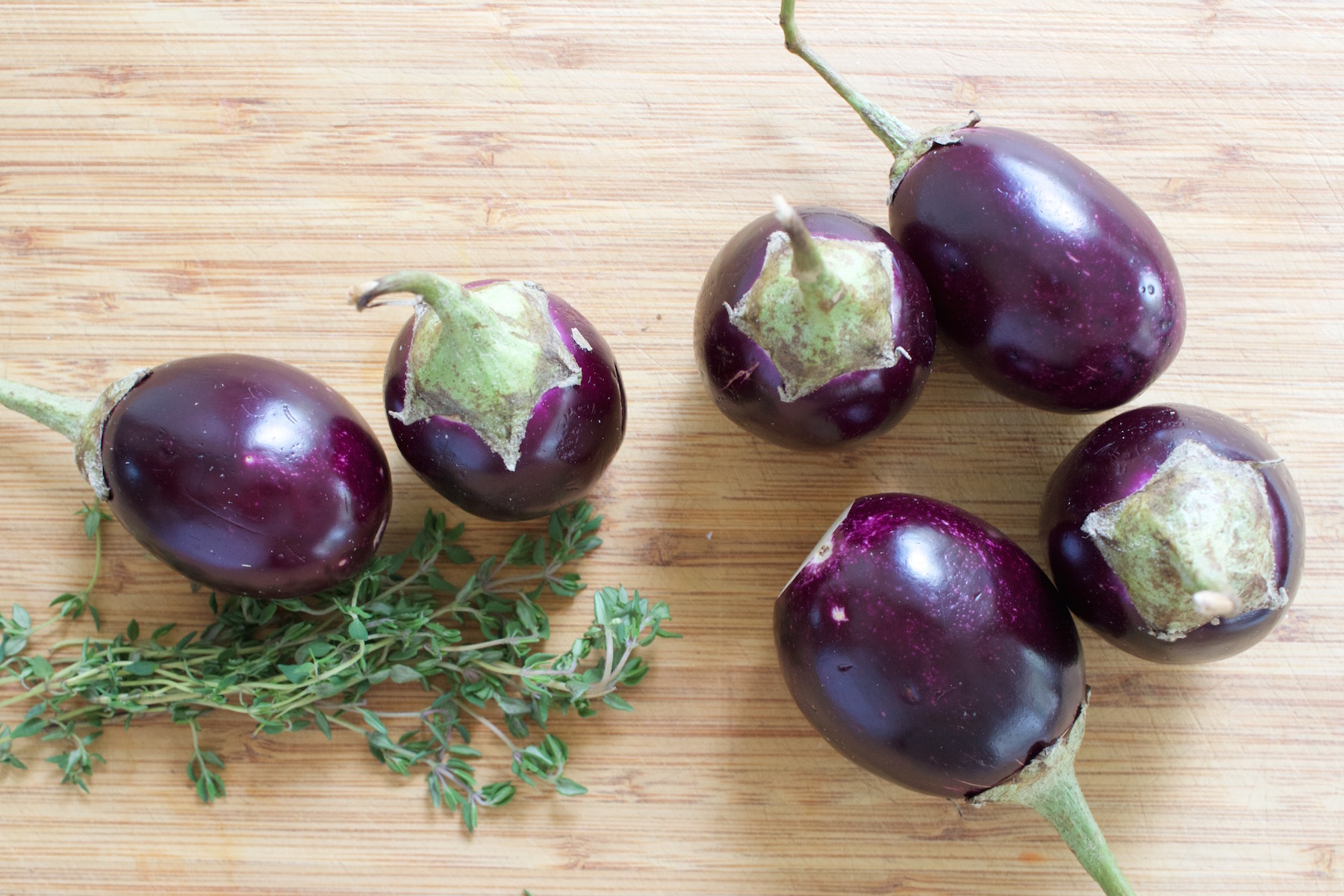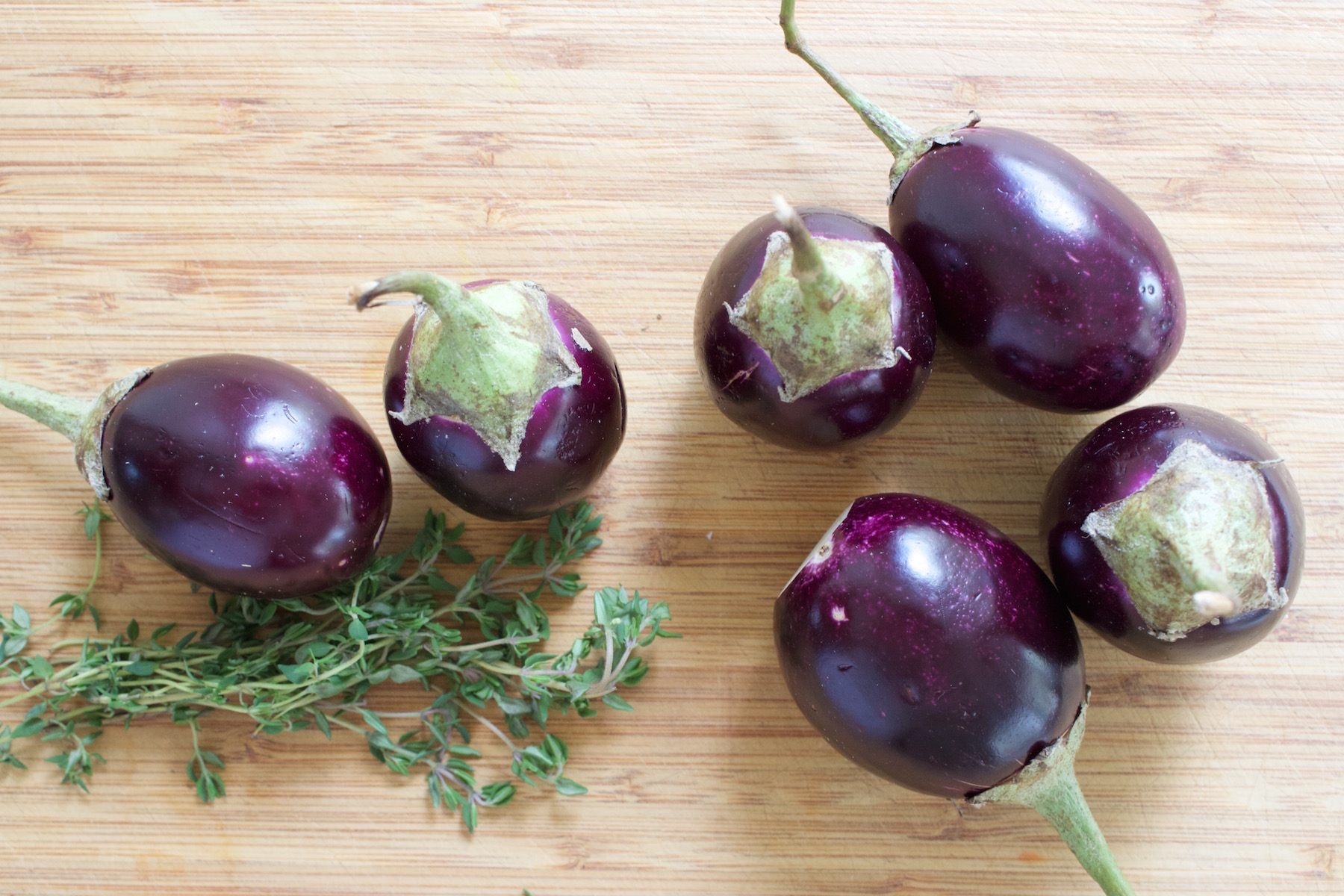 Baby eggplants typically grow to only a few inches, but they look very similar to the familiar large, dark purple/glossy Globe eggplant. They have thinner skin and firmer, less mature flesh than the large Globe eggplant, which makes them less bitter, and that's a good thing.
Ok, back to what I did with these little gems. After several days, it finally hit me how to prepare them. I had a few plum tomatoes, a red pepper and plenty of garlic on hand so I decided to roast everything (including the eggplants) and top the little beauties with the roasted mixture, almost like a bruschetta.  They were so pretty on my serving platter that my better half and I hated to eat them! But hunger won, and we ended up enjoying them as a meatless meal with a green salad. I'm sure they'd make yummy 1-2 bite appetizers too. After tasting one, Brendan announced "They're as delicious as they are beautiful!"
I'll definitely make these again, but I'm excited to try many other flavor pairings, too. Like what, you ask? How about roasting them, removing the flesh and mixing it with some tasty ingredients like cheese and herbs then stuffing them back into their little shells? Maybe a quinoa, golden raisin, black bean and red pepper stuffing? Or how about an herbed cheese (Boursin?) with toasted pine nuts? A flavorful couscous? Olive tapenade? Or maybe sausage, peppers, tomato? Oh, the possibilities!
BTW, here's a shot of those gorgeous roasted tomatoes. . .they go well with just about anything 🙂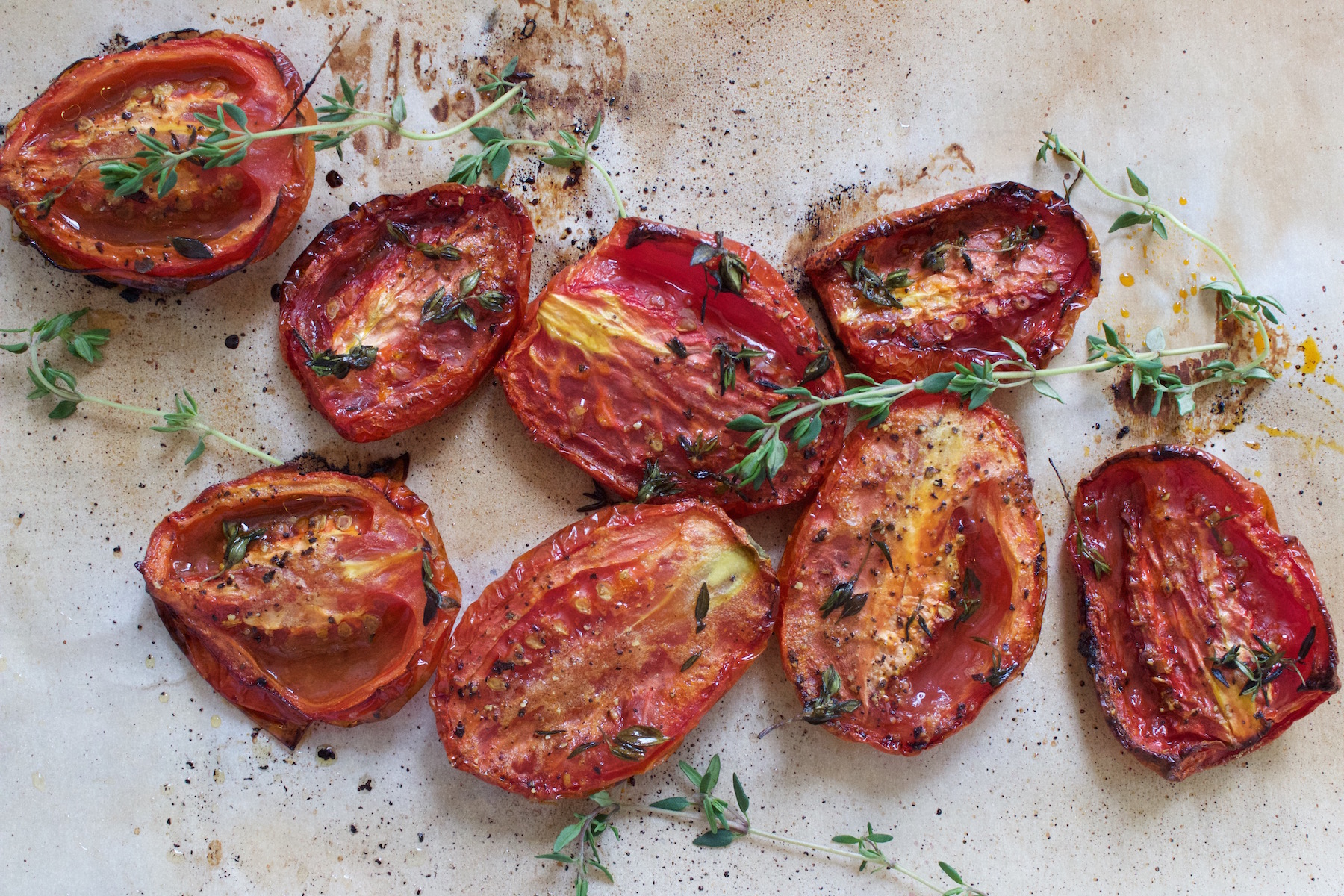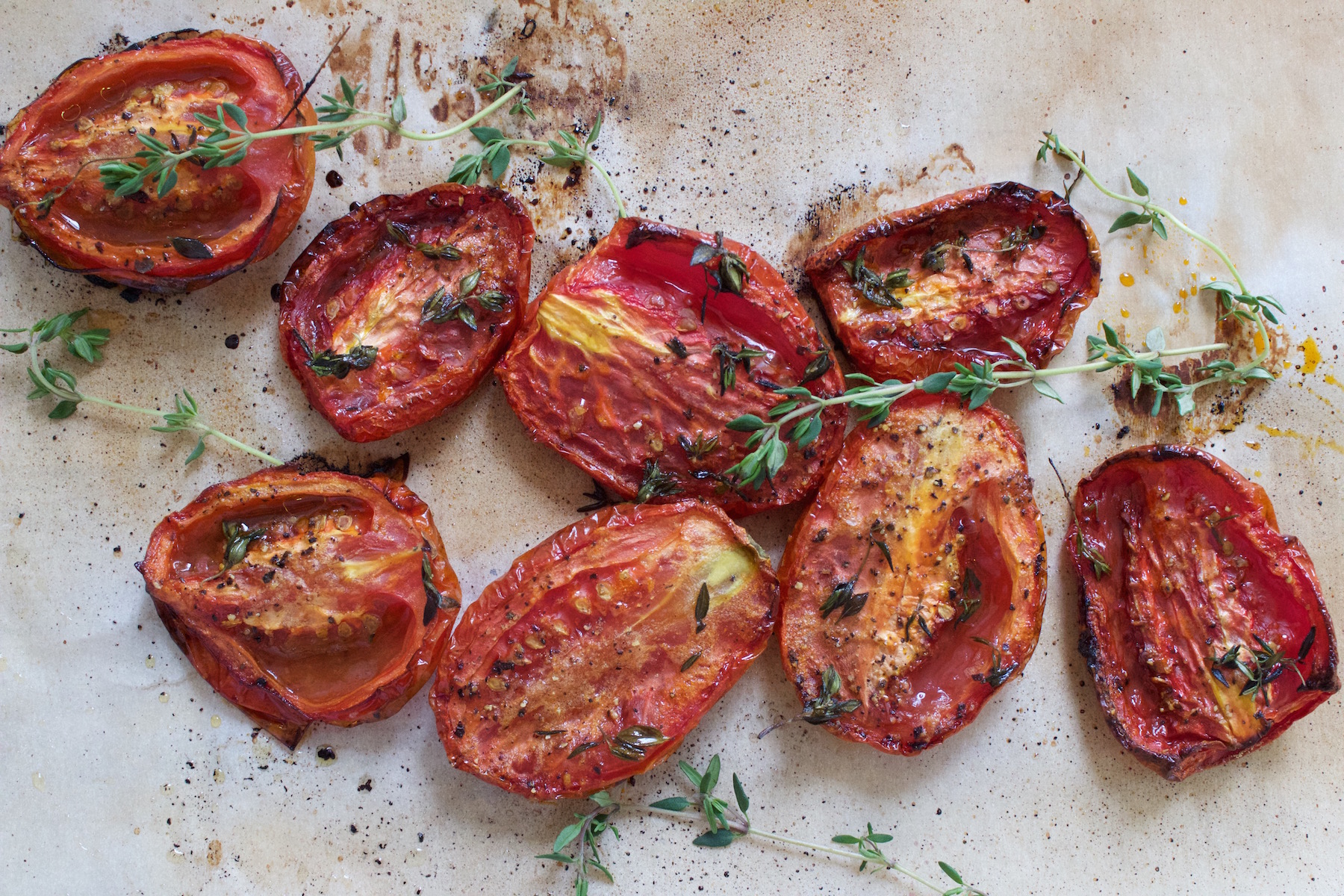 So, if you see some baby eggplants on your next farmer's market visit, I hope you pick some up and do some experimenting.  It's definitely fun (and tasty).

Baby Eggplant with Roasted Tomato & Red Pepper
Roasted baby eggplants pair beautifully with fresh tomatoes, red pepper, garlic and thyme. Perfect appetizers or even main courses.
Author:
My Delicious Blog
Ingredients
6 eggplants, halved lengthwise
4 ripe tomatoes, halved lengthwise
1 small red pepper (or ½ c. jarred, roasted tomatoes)
6 large garlic cloves (not peeled)
2-3 fresh thyme sprigs
2 Tb. extra virgin olive oil
½ tsp. kosher salt
¼ tsp. freshly ground black pepper
1 tsp. lemon zest
1 Tb. fresh parsley, chopped
Instructions
Prepare the Roasted Pepper:
If you have a gas range or grill: wrap the pepper in a double layer of aluminum foil (this prevents juices from dripping into your burner). Turn the burner to medium. Place the foil package directly onto the burner. Let sit for about 15 minutes, then make quarter turns every few minutes using kitchen tongs (keep your oven mitt handy, too). After another 20 minutes of turning, squeeze it with the tongs -- if it's soft and squishy, remove from burner. If not, keep turning another few minutes. Remove from burner and allow to sit, covered, about 30 minutes (this allows it to steam and makes the skin easier to remove). Once cool, remove the charred skin and the seeds.
If you don't have a gas range: place the pepper onto a baking sheet and broil on High about 20-25 minutes (until fully charred). Remove from oven and place into a bowl and cover with plastic wrap. Allow to sit for about 30 minutes. Once cool, remove the charred skin and seeds.
Prepare the Tomatoes, Garlic & Eggplant:
Heat oven to 400 degrees.
Line a small baking sheet with parchment. Place tomatoes, cut side up, on baking sheet. Drizzle with 1 Tb. olive oil, light sprinkling of salt & pepper and a few sprigs of thyme. Add garlic cloves to the pan and sprinkle with a little olive oil. Roast all for about 45 minutes.
Lightly sprinkle eggplants with olive oil and salt. Place cut side down, onto a separate baking sheet (not parchment lined). Roast for about 30 minutes.
Once tomatoes, garlic, red pepper and eggplants are cooked, allow them to cool.
Chop tomatoes, squeeze garlic cloves out of shells and chop pepper.
Add all to a medium mixing bowl, along with ½ tsp. salt, ¼ tsp. pepper, remaining 1 Tb. olive oil, parsley and lemon zest.
Top each eggplant with a spoonful of the mixture and serve!
Notes
Note 1: there are different cooking times for the tomatoes/garlic vs. the eggplants - simply pull out the eggplants sooner and allow the tomatoes/garlic to cook until finished.
Note 2: I cooked the pepper separately, as it requires broiling to achieve the charring. But roasted red peppers in a jar make a nice time saver, especially in the summer 🙂
Note 3: if you don't have the time to roast everything, simply make a bruschetta - remove seeds from a bunch of Roma tomatoes then chop them into small pieces. Add them to some chopped, sweet onion, along with enough olive oil to coat everything well. Sprinkle with kosher salt, pepper and fresh basil leaves. Allow to sit at room temperature for about an hour to bring out the natural juices. Put a shake or two of balsamic vinegar in there just for some kick. Use this to top the roasted eggplants 🙂