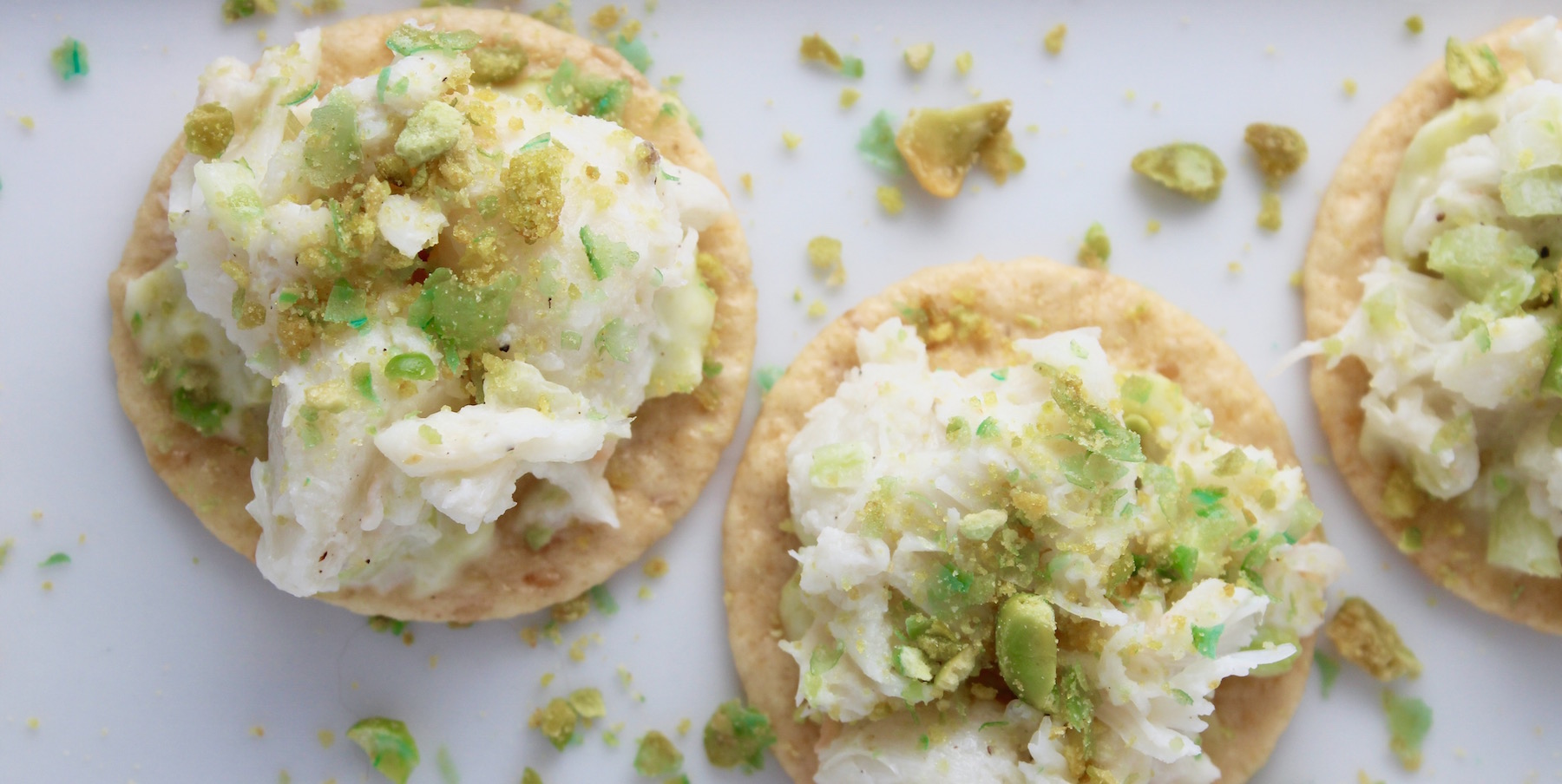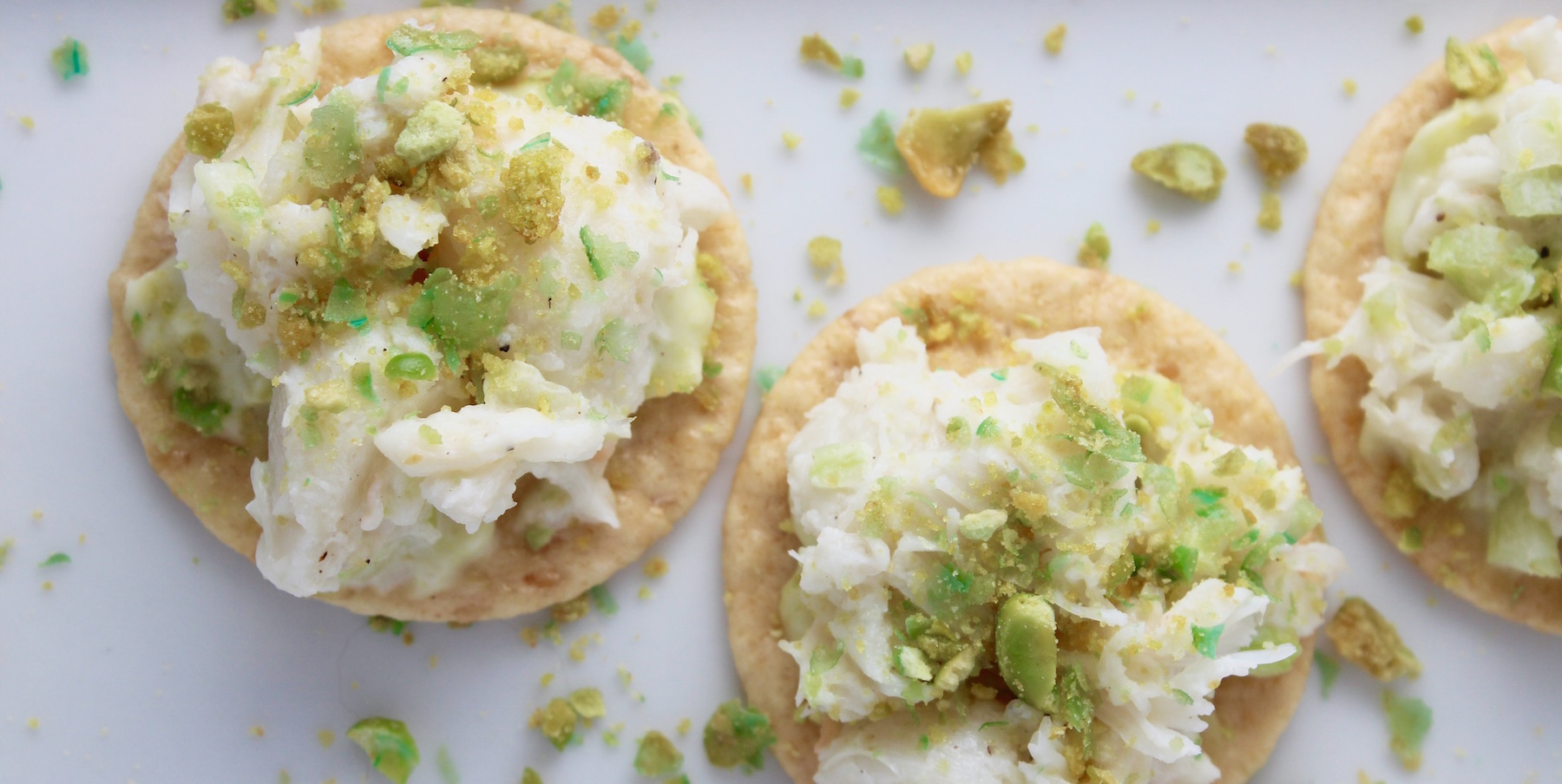 Recently I was asked to bring an appetizer to a get-together and thought I had plenty of time to make something. Unfortunately, my day got away from me and I found myself an hour before the event with no ideas. Ever been there?
So I dug through my pantry and came upon a can of crabmeat (I don't even remember it being there) and a can of wasabi peas I had bought a while ago at the Asian market, thinking I'd try them in a recipe some day. Well, this was their lucky day 'cause I needed something fast! And while I would have loved to have used fresh crab for this appetizer, this was just going to have to do.
I spent about 10 minutes just looking at the two cans, brainstorming what I could do to make them mesh. Then I remembered something I enjoyed at the Florida Restaurant and Lodging show in Orlando.  A vendor had prepared a sample dish and topped it with crushed wasabi peas, of all things. The crunchy, spicy pieces offered that great, unexpected texture and flavor combo that I just love, so I decided to 'borrow' the concept for my dish.
Crushing the peas is easy, and it's a nice way to get out a few irritations (perhaps you've been watching the political news?!?). Anyway, I crushed the peas with my rolling pin, but you could use a meat mallet or a heavy wooden spoon – whatever works to get them into small pieces.
This simple crab salad could even be enjoyed as a quick lunch with beautiful greens, or on crunchy crostini, or whatever else floats your boat.
But I wanted a one-bite appetizer. . .so I mixed a little dried wasabi powder into mayo and spread it on rice crackers, which offered the crab a tasty little bed on which to rest (good for the crab but also good for your taste buds), then topped it all with the peas.  The combination of sweet crab, spicy wasabi and a touch of savory soy sauce on a crunchy cracker provides the perfect bite, packed with flavor.
Canned crab saved the day!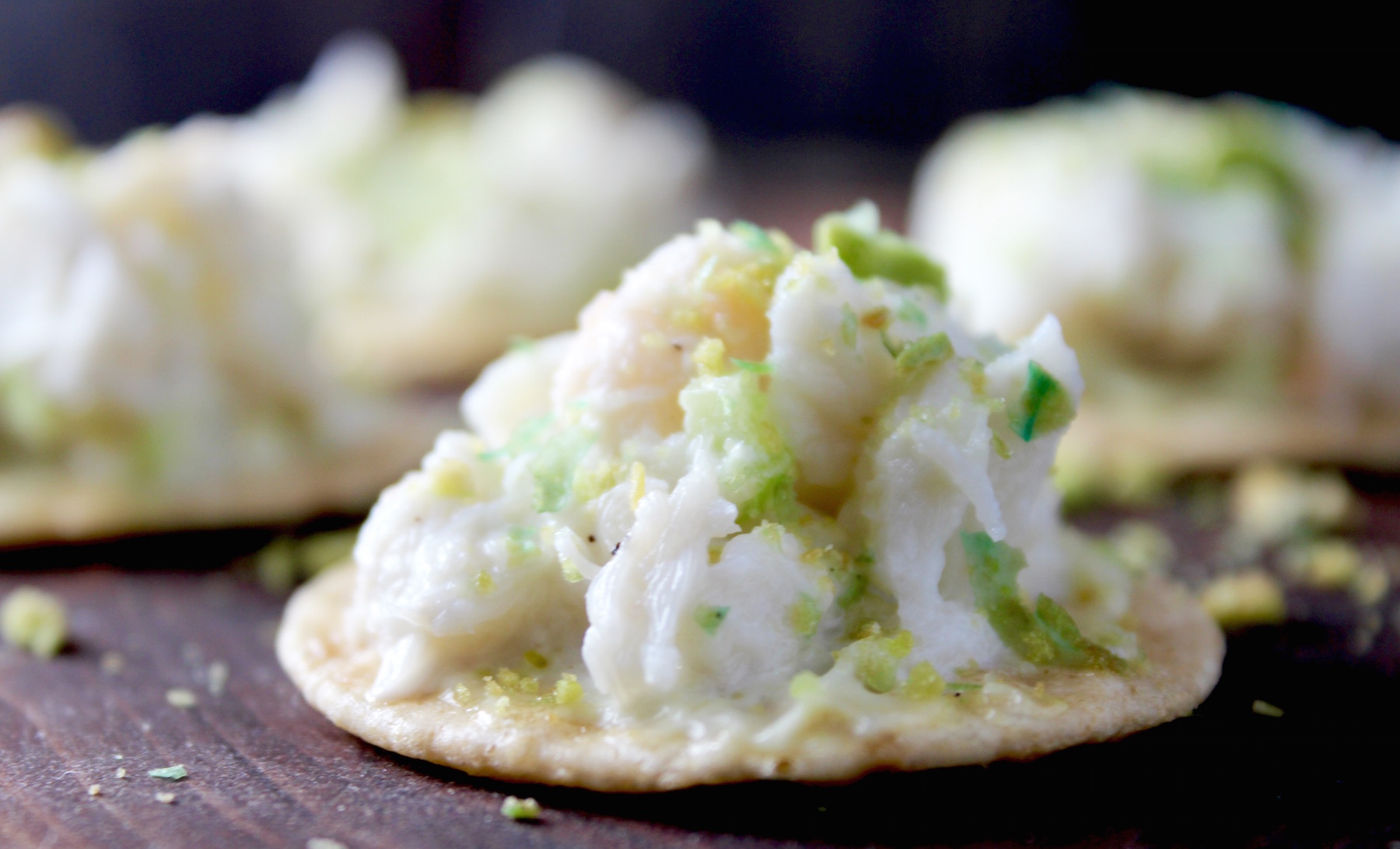 Crab & Wasabi Appetizers
Crab salad appetizers are delicious with a hint of wasabi.
Author:
My Delicious Blog
Ingredients
1 can fancy lump crab meat
1 Tb. mayonnaise
1 Tb. celery, minced
Dash kosher salt
Dash freshly ground black pepper
Sprinkle of lemon juice (optional)
2 Tb. mayonnaise
½ - 1 tsp. wasabi powder (depending on how spicy you like it)
¼ c. dried wasabi peas
Low sodium soy sauce (a splash on top of each serving)
1 package small rice crackers
Instructions
Drain liquid from the crab. (Optional - rinse slightly under water to eliminate some sodium).
In a small bowl, combine crab, 1 Tb. mayonnaise, celery, salt, pepper (and lemon, if using); refrigerate until ready to use (see Notes).
In another bowl, combine 2 Tb. mayonnaise with wasabi powder; refrigerate until ready to use.
Place peas in a small resealable bag or piece of plastic wrap and seal well. Place on a cutting board and mash with a rolling pin, meat tenderizer or heavy wooden spoon until crumbly. Set aside until ready to assemble.
Place a small dollop of wasabi mayonnaise on each cracker. Top with a scant 1 tsp. of crab salad. Add a dab of soy sauce on top, then top with crushed peas.
Notes
It's ideal to refrigerate the crab salad for about 1 hour for maximum flavor, but if you don't have much time (like I did), refrigerate as long as you can, then serve.
(Please let me know what you think of this post in the comments section below!)