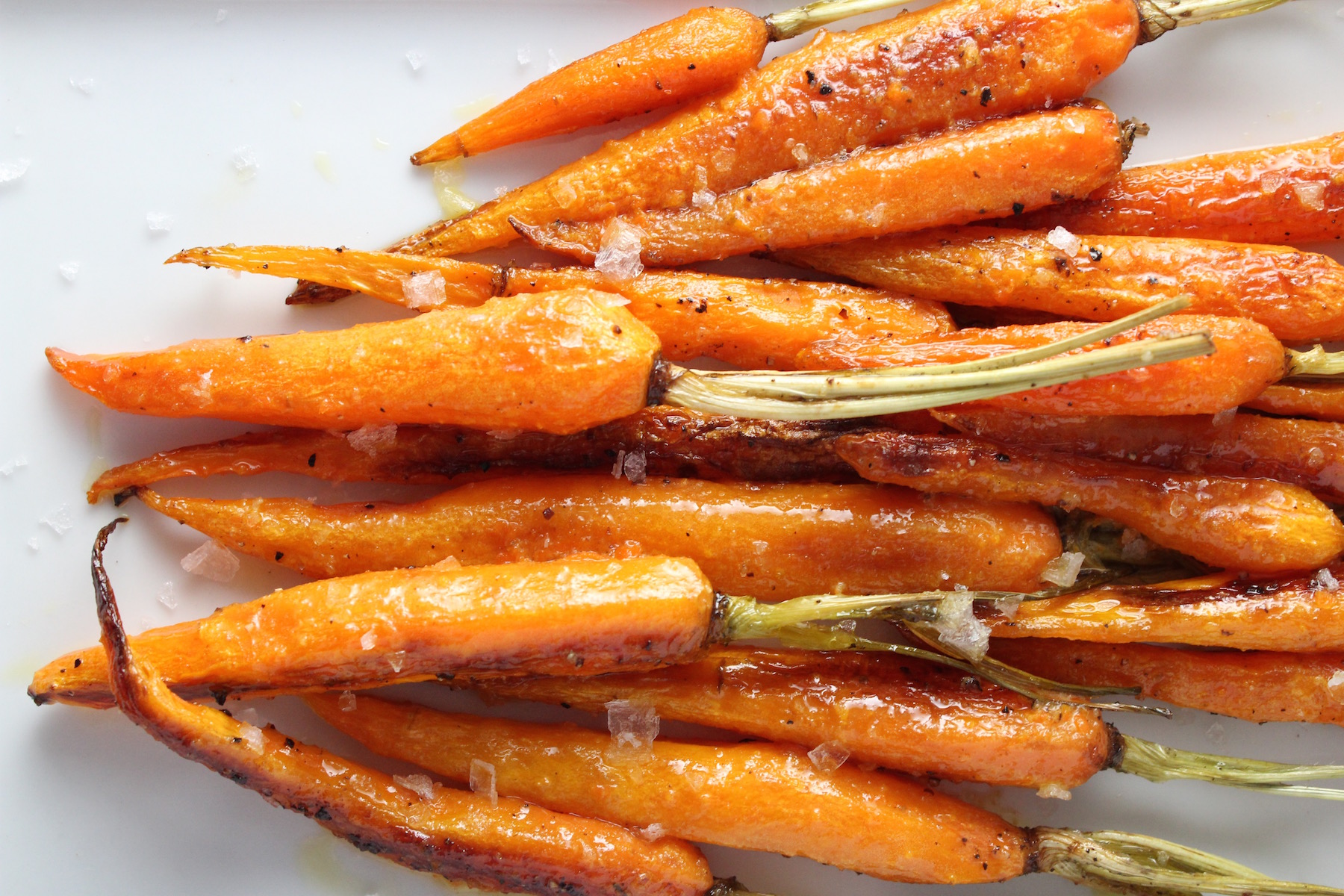 Spring is a great time to pick up fresh carrots, ideally the little ones with their greens still attached, which is usually a sign of freshness.
Since I had no luck growing carrots in my own garden this year (they simply gave up), I got my hands on these beauties, lovingly grown at Geraldson Community Farm, but you can usually find them at farmer's markets this time of year.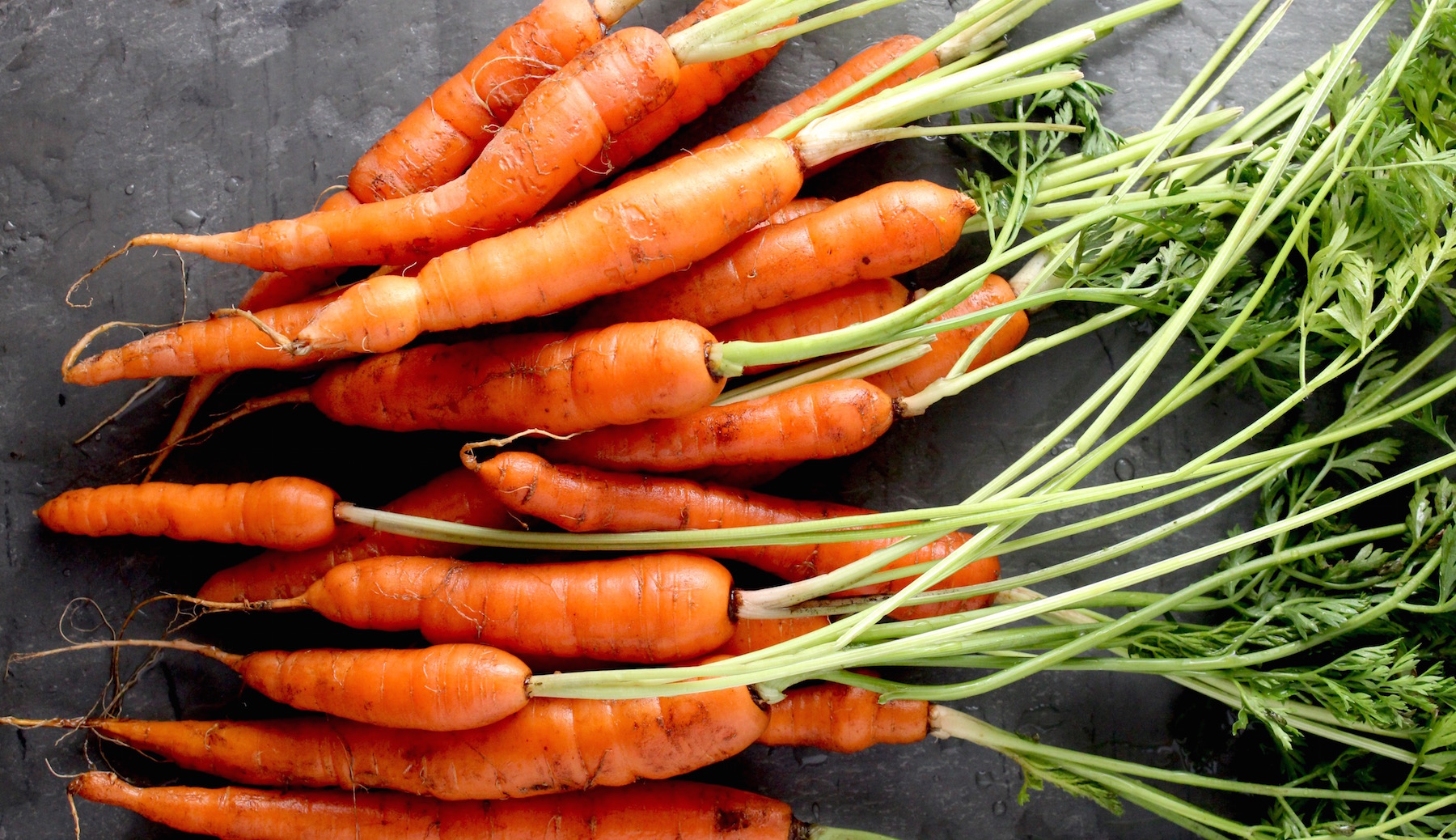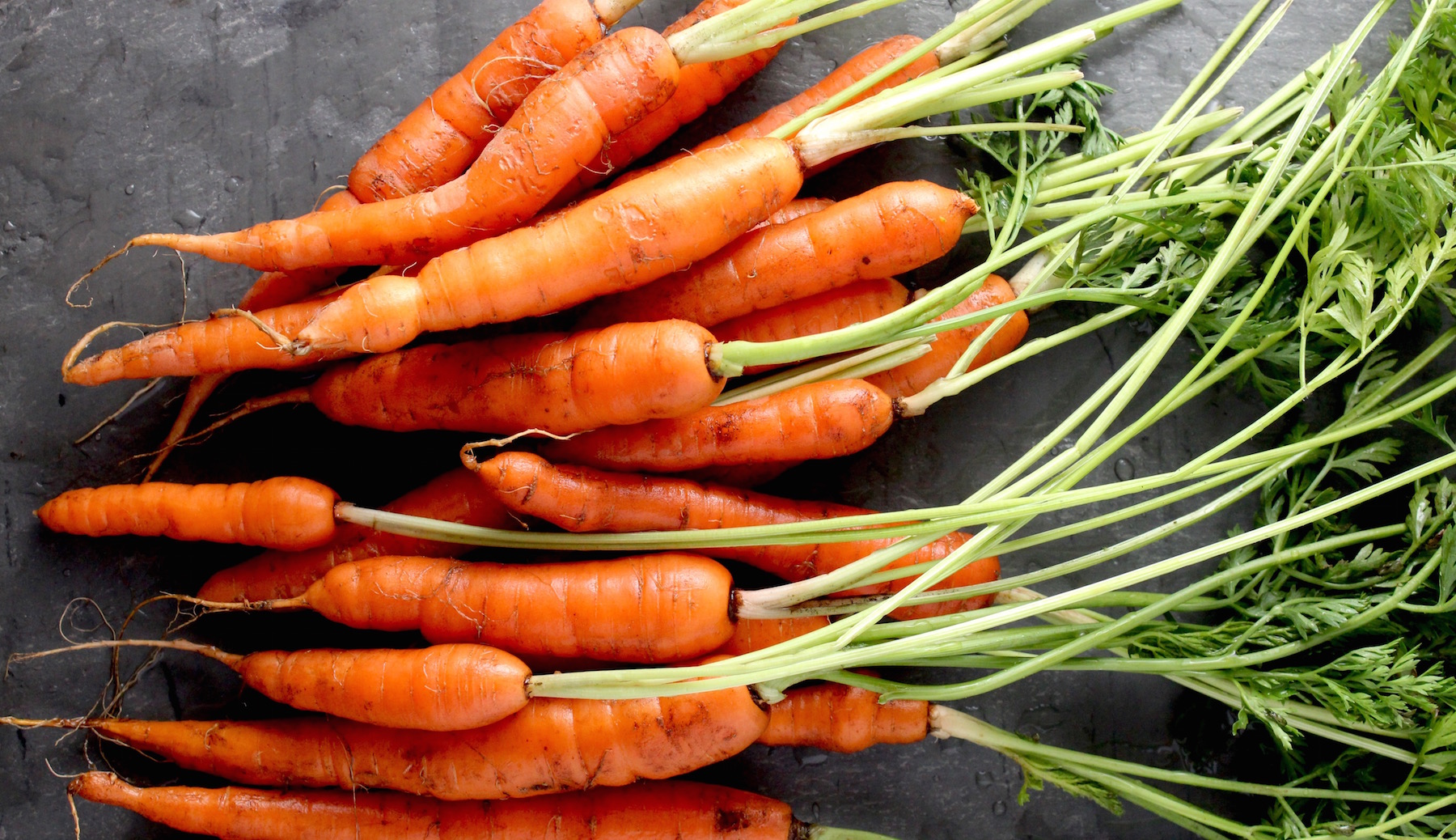 Small carrots are wonderful to roast whole.  They're tender and flavorful and when their sugars concentrate during the roasting process, they become even more delicious.  And the simpler the better when it comes to roasting — just olive oil, salt and pepper will do the trick. But here's a tip – adding just a splash of any type of vinegar to the carrots (or other veggies) will really bring them over the top by adding a little savory-sweet element 🙂
Here they are just before popping them into a hot oven (I tossed in a few sprigs of rosemary for extra zip, but it's optional):
Today I roasted my little gems with a basic olive oil, salt and pepper mixture.  When they came out of the oven they were soft, sweet and delicious, and it was hard to stop at just one (or five or six. . .).
You could easily stop there and be very happy with your dish.  But, I decided to take it to another level. . .
While they were still warm, I dotted them with a tasty butter made with spicy cumin, sweet orange zest/juice and a little salt.  As Emeril would say, "Bam!"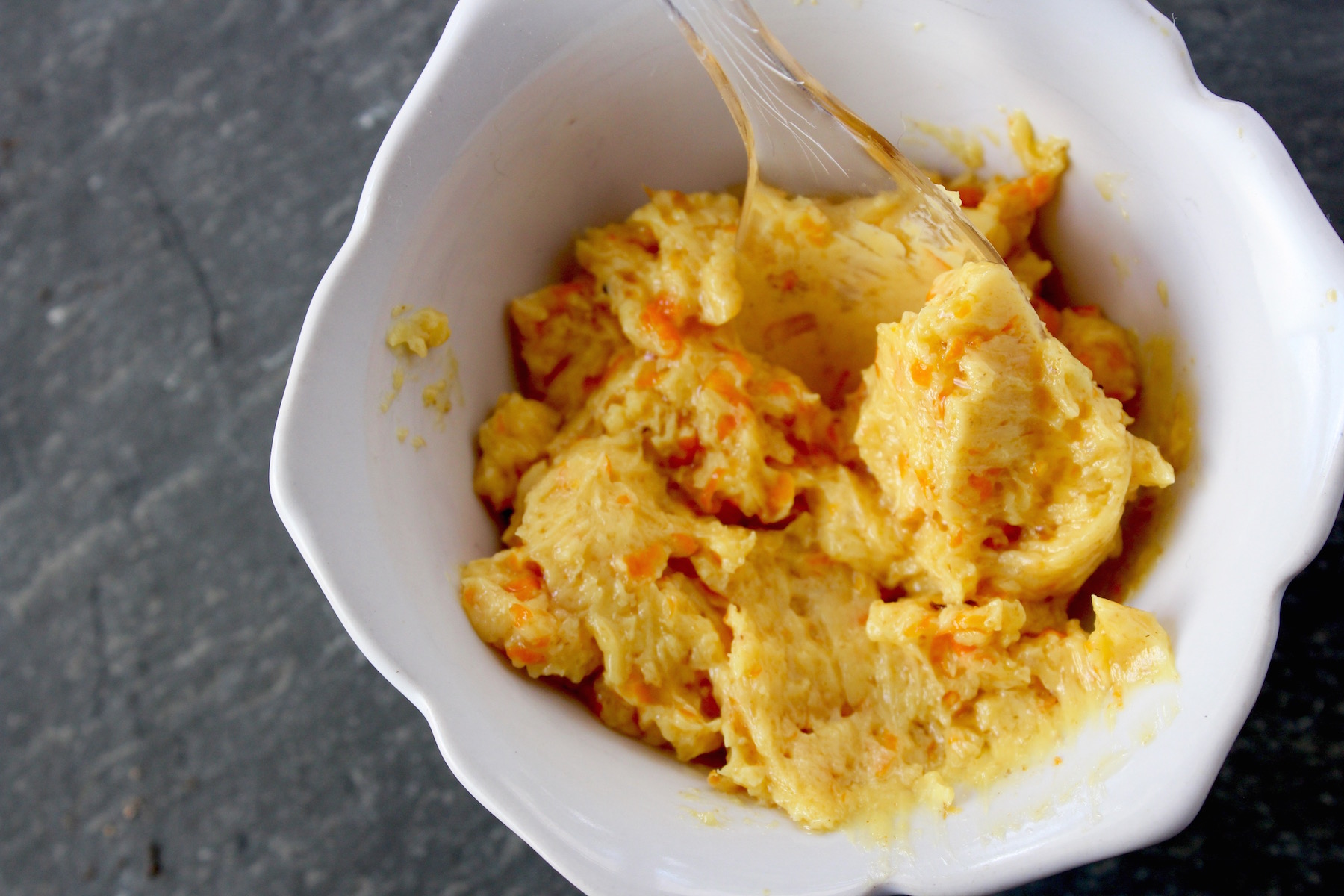 This neon-colored butter simply enhances the natural flavors in the carrots, but doesn't overpower.  I think it's because carrots pair well, on a molecular level, with cumin and orange (I read that somewhere).  Whatever the reason, it works.  And you only need a little bit so, if you find yourself with too much of this magical mixture, I'm sure you can find a use for it later on steamed green beans, roasted broccoli, grilled chicken or fish, or just about anything else that sounds yummy to you.
Happy Spring!

Roasted Carrots with Cumin-Orange Butter
Fresh carrots are extra yummy with this flavorful cumin and orange butter.
Author:
My Delicious Blog
Ingredients
Carrots
~ 1 lb. fresh, young carrots
Olive oil
Kosher salt
Freshly ground black pepper
Cumin & Orange Butter
2 Tb. unsalted butter, softened
¼ tsp. cumin
1 tsp. orange zest
Small squeeze of orange juice
Pinch kosher salt
Instructions
Heat oven to 375 degrees.
Combine all the butter ingredients in a small bowl and mix to combine well (the orange juice will make the mixture soft, but that's ok - it adds wonderful flavor); set aside until ready to use.
Wash carrots, peel and trim off tops (if applicable). Optional - leave some small stems because they make the finished dish even prettier.
Spread carrots onto a metal rimmed baking sheet. Sprinkle with enough olive oil to coat them, but not have them swimming in oil (about 1-2 Tb.). Sprinkle with a little salt and pepper; toss to coat thoroughly, then ensure they're all in one layer.
Roast for 20-30 minutes, depending on size, until tender when tested with the point of a knife.
Remove from oven and transfer to a serving plate.
Optional - dot each carrot with some of the Cumin & Orange Butter. Sprinkle with a pinch of finishing salt (Maldon, other) and/or minced parsley.
Notes
If you can't find young, small carrots, user medium size carrots, but cut them lengthwise so they're uniform in size and cook evenly.