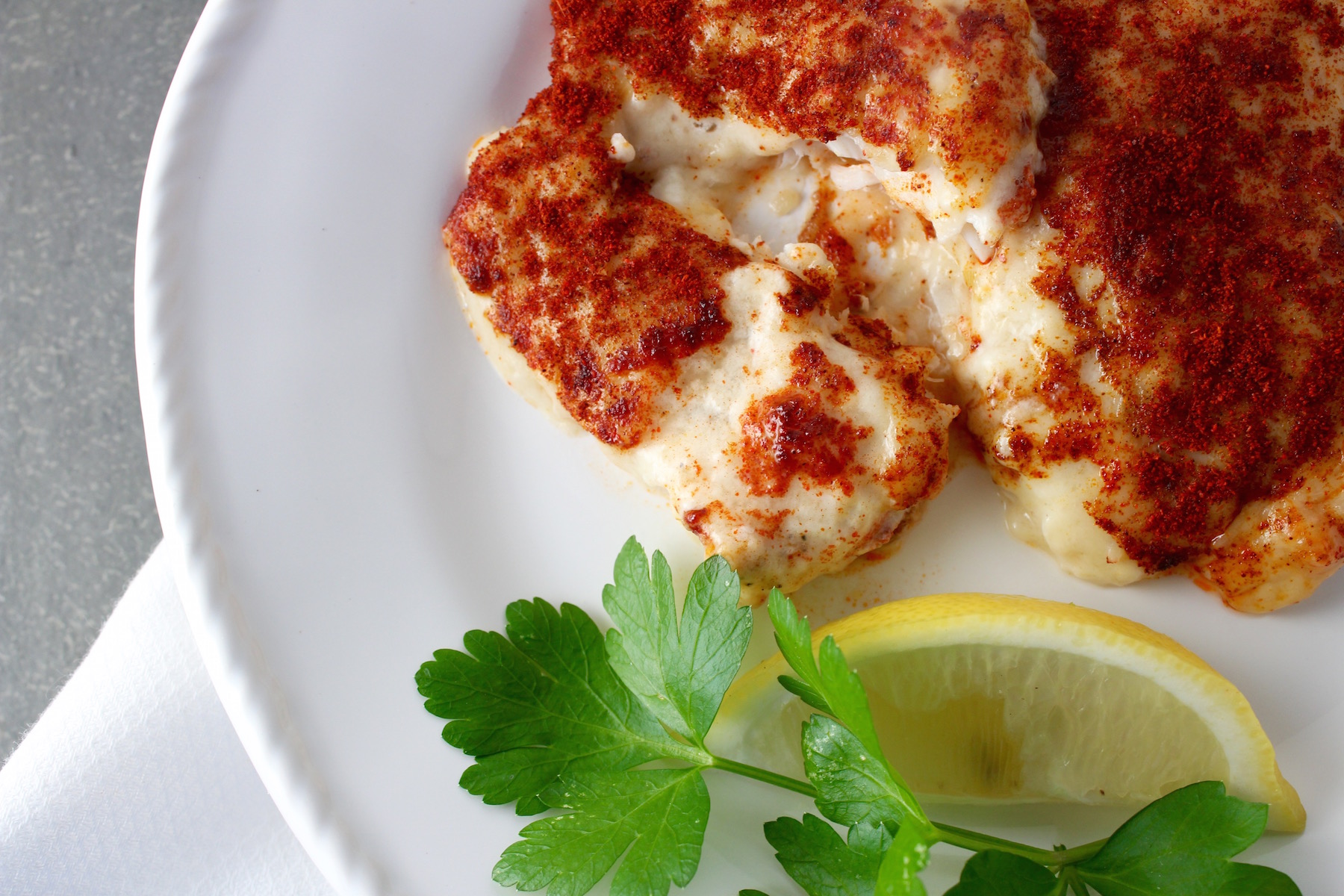 Sometimes you find interesting things when you rifle through your grandmother's old recipe box. I thought I knew about everything in there, but for some reason, never noticed a couple of cards in the 'Fish' section, until recently.  I don't even remember her making these dishes, but I knew that if they were in her box they had been tested and were "Lucille-approved".
Today's recipe is titled "Delmonico Haddock Bake" — it's a stained newspaper clipping addressed to "Dear Red Apple," carefully cut out and glued onto an index card.  I have no idea who Red Apple was, in what newspaper it was published (or when, for that matter), but it looks pretty old. After doing some online research to find anything similar, I came across a recipe posted in All Recipes from a gal in Framingham, Massachusetts (at least it's the same state as where my grandmother lived) who wrote that 'a lady from church' gave her the recipe, ca. 1966. Lo and behold, it was the exact recipe from my grandmother's box! I couldn't find any further source material, but if you know of anything, please write me.
This is an easy dish with a distinct flavor and the look of something you would have found in an old seafood restaurant or steak house from that era, when it seemed that everything was served with cream sauce and sprinkled with paprika. The sauce is basically a Béchamel (the classic French mother sauce), with a little dry mustard and sharp cheddar to give it some tang and depth of flavor. It's really yummy and can be paired with any flaky white fish, but I used the small Snapper caught in the Gulf by our Nashville friends, Candy and Eddy 🙂
You simply make the sauce, lay the fish in a buttered dish, cover with sauce (and paprika, of course) then bake, and in 30 minutes you'll have a bubbling dish that goes perfectly with roasted or steamed veggies, or a fresh green salad. Word of advice: you might want to stay away from a side of potatoes or rice, since this sauce is rich.
Here it is, right out of the oven:
I'll be honest, taking pics of this dish was a little challenging. There just weren't any interesting angles to identify the sauce or the fish to make it look like two components (i.e., the sauce sort of became one with the thin fillets!).  If you were to use a thicker fish, I'm sure you'd have an easier time seeing that cheesy sauce 🙂  But you get the idea.
This dish is a slight departure from the 'fresh' preparations I usually make with fish, but if you're looking for a tasty dish on a cool night that reminds you of "the good old days", give this one a try.

Delmonico Fish
Fish cooked with this flavorful, creamy sauce is a classic.
Author:
My Delicious Blog
Ingredients
Fish
1 lbs. flaky fish fillets, skinned & de-boned (Haddock, Cod, Snapper, etc.)
1½ tsp. kosher salt, divided
⅛ tsp. black pepper
Sauce
¼ c. onion, minced
2 Tb. unsalted butter
2 Tb. all purpose flour
1 tsp. dry mustard
1 c. whole milk
½ c. grated sharp cheddar cheese
¼ tsp. paprika
Instructions
Heat oven to 350 degrees.
Butter a large casserole dish and place fillets in one layer. Sprinkle with ¾ tsp. salt and ⅛ tsp. pepper.
Saute onion in butter until slightly brown, over medium heat.
Add flour, mustard, ¾ tsp. salt and whisk until combined; slowly whisk in milk.
Simmer until slightly thickened, stirring constantly. Remove from heat and stir in cheese.
Pour sauce over fish and sprinkle with paprika.
Bake about 30 minutes until bubbly.
P.S. please let me know what you think about this post in the below comment section!  I love to hear from you.