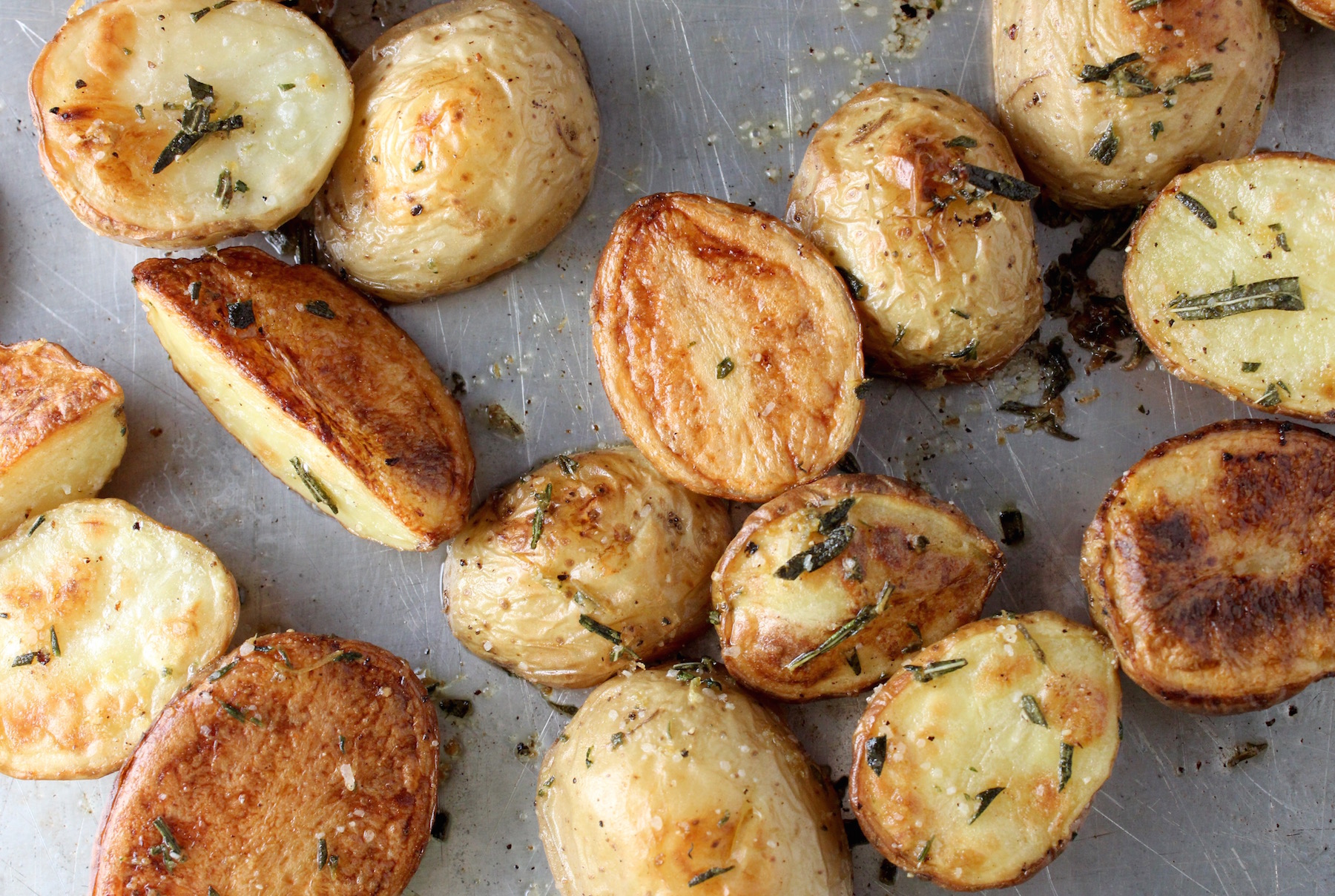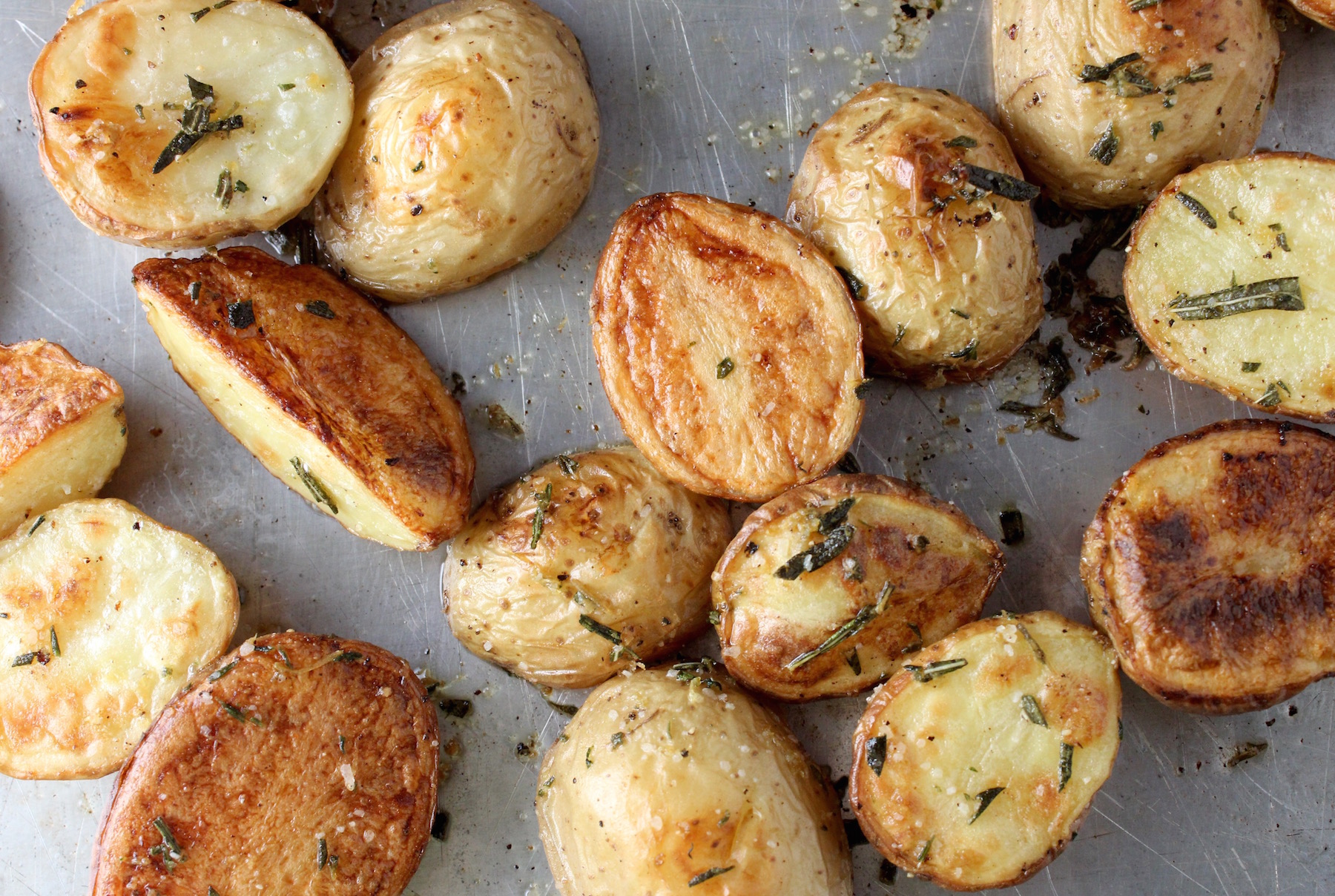 I simply adore potatoes. Mashed, roasted, smashed, boiled, grilled, fried, baked – you name it, I won't turn it away.
As I write this post, I recall something I read from Mark Bittman about potatoes. . .it may have been one of his blog posts a while back, maybe referencing content in his How to Cook Everything book, but I'm not sure. He wrote: "There are the up-and-coming root vegetables with near-celebrity status — celeriac, parsnips, beets — and then there is the potato. Simultaneously beloved and despised, the potato is our most-grown and most-eaten vegetable and the one that is sometimes seen as a leading villain in the obesity pandemic."
Well, being 'simultaneously beloved and despised' is not a good place to be but, like with all things, the key is to enjoy potatoes in moderation.
I don't usually cook potatoes unless it's a special occasion, but when I do, they have to be really good. Roasting is one of my favorite methods because the process yields crunchy outsides, creamy insides and tasty flavors all around.  And even though it wasn't a 'special occasion' last night, I made a small batch to go with our fresh Gulf shrimp (and veggies, of course!).
These potatoes were so good that I scarfed down at least six before even considering offering any to my husband. That's right — directly off the baking sheet.  I have no regrets, either. . .I would do it again in a heartbeat!
See all those browned edges, with little specks of salt and delicious herbs?  How can you resist that?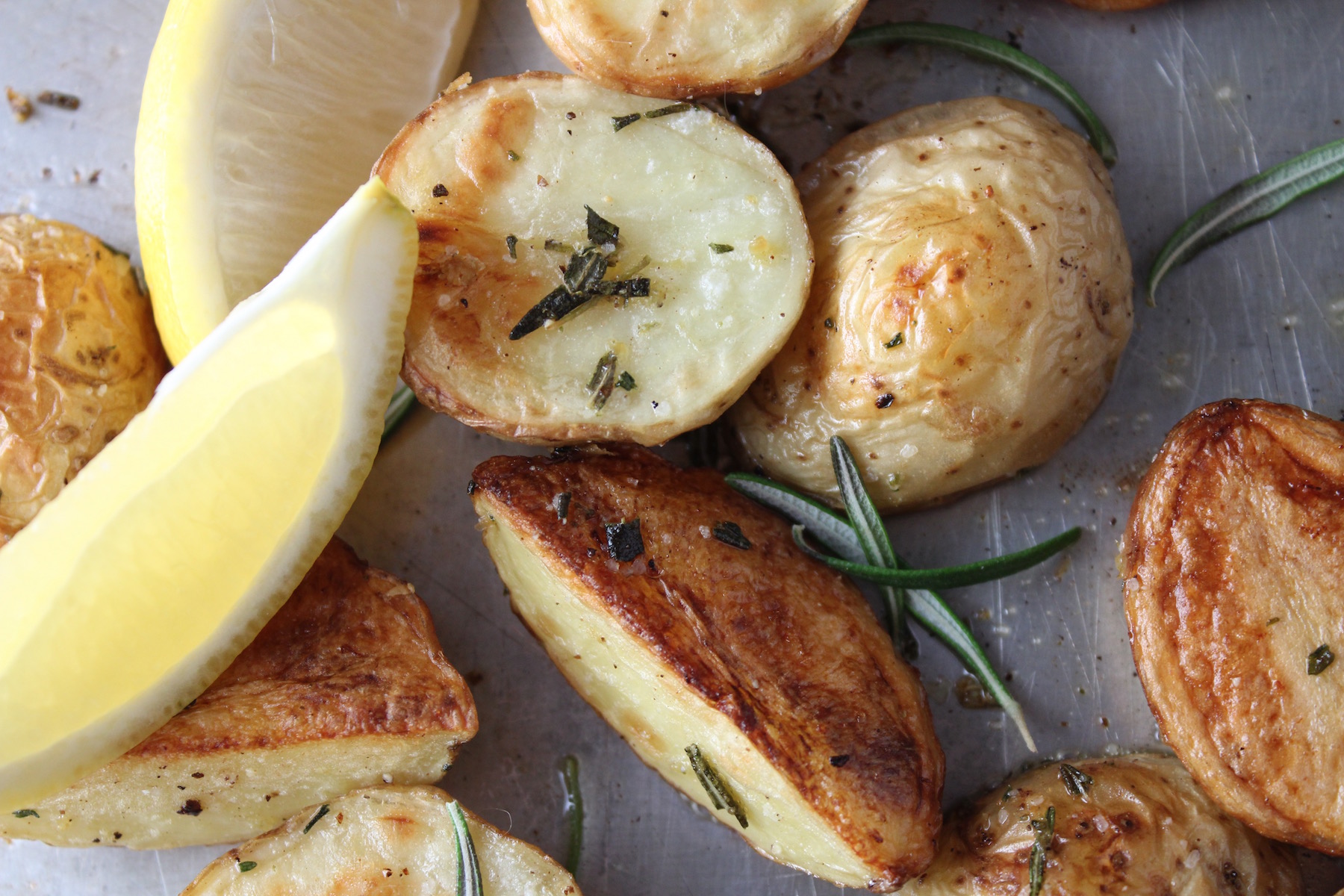 Oh, how I love thee, tiny, tasty potatoes.
So, the next time you get a craving for some 'beloved and despised' treats, try roasting them with this herb salt. But I suggest making a few extra for your 'singular snacking' time.

Herb & Citrus Roasted Potatoes
Roasted potatoes with rosemary and lemon are simply divine.
Author:
My Delicious Blog
Ingredients
Herb Salt
2 sprigs fresh rosemary, leaves removed, roughly chopped
3-4 fresh parsley sprigs, leaves removed, roughly chopped
3-4 sprigs fresh thyme, leaves removed
1 tsp. lemon zest
1 Tb. kosher salt
Potatoes
~2 lbs. (small) new or fingerling potatoes, halved
1 Tb. unsalted butter, melted
1 Tb. olive oil
Freshly ground black pepper
Instructions
Heat oven to 425 degrees.
In a food processor, combine rosemary, parsley and thyme; pulse a few times. Add lemon zest and salt and pulse a couple more times; transfer to a small bowl and set aside until ready to use.
In a medium bowl, combine butter, olive oil and potatoes and toss to coat the potatoes well. Sprinkle with a few grinds of pepper.
Place potatoes on a baking sheet, making sure they're in one layer, with room in between each.
Bake about 25 minutes -- they should be just about fork tender at this point.
Remove potatoes and sprinkle with the Herb Salt. Return to oven for another 5 minutes. Test for doneness then remove.
Notes
For best results, be sure to pick up firm little, new potatoes (fingerlings work great, too) with no blemishes.