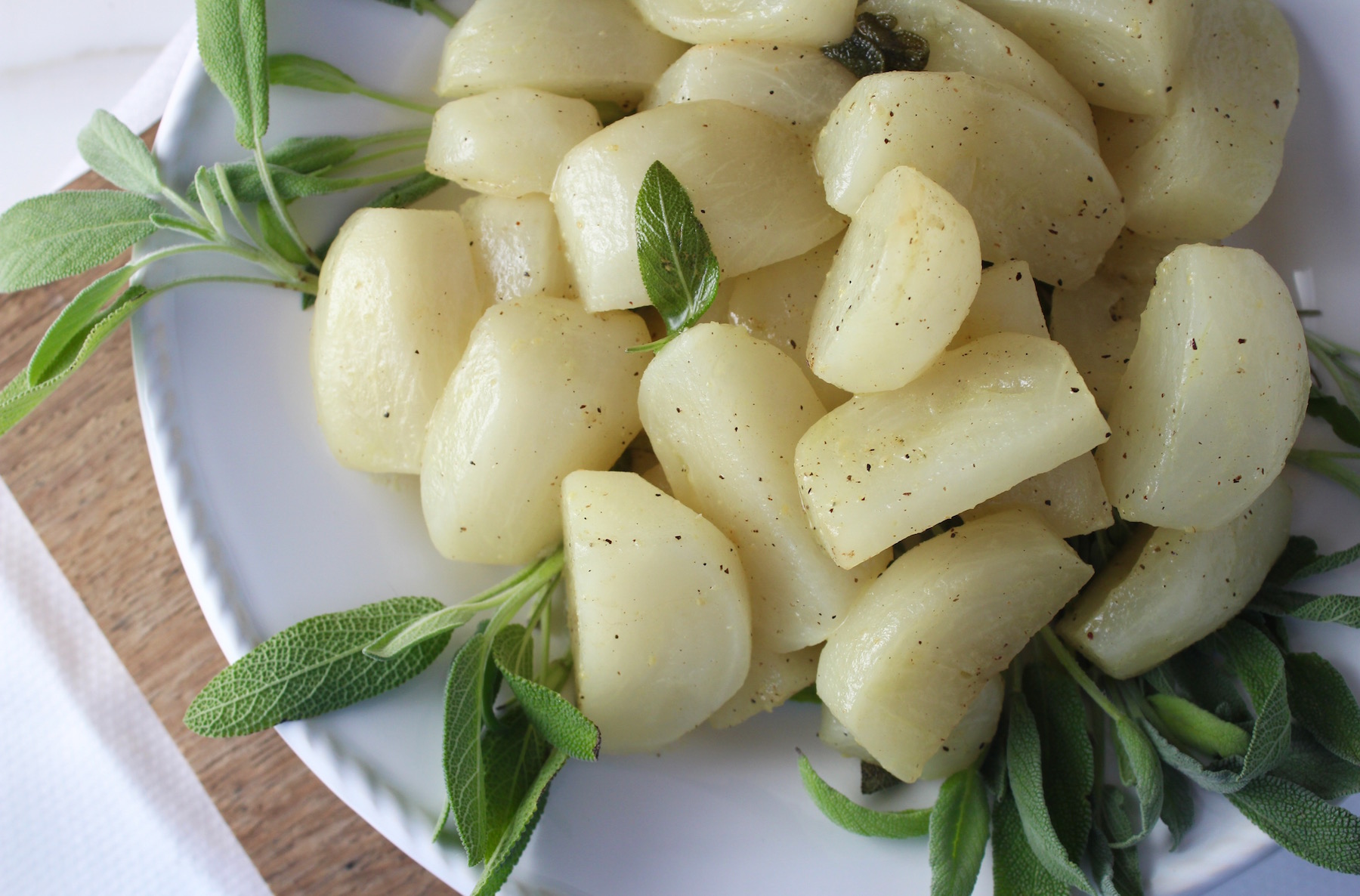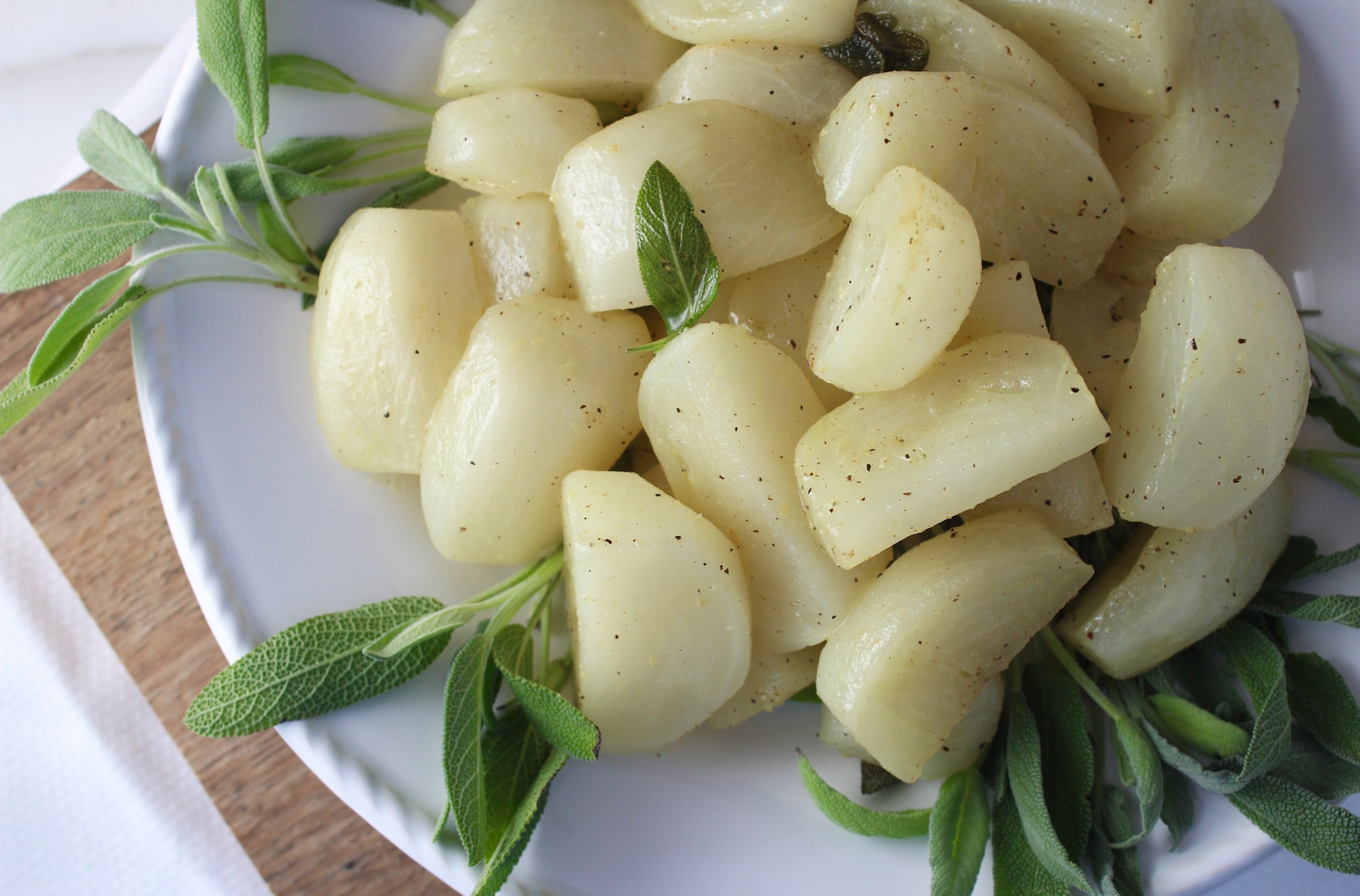 You might recall my recent post about challenges relating to using up the turnips I've been getting in my weekly farm share. . .
Sure, turnips are great Winter vegetables, and they're so good for you, but I must admit that I'm about ready for Spring veggies!  The Turnip Hash Browns I made were yummy, and I've had success roasting them in the oven with olive oil, butter, salt & pepper and dried rosemary, but this week I was stumped.
As I sat in my kitchen table pondering this dilemma, my eyes landed on my beloved Mastering the Art of French Cooking. Aha! Surely Julia would inspire me. I found the section on Turnips (i.e., "Navets") in which she wrote: "The turnip is a wonderful vegetable when given the treatment required to bring out its delicious qualities. It wants and needs to absorb butter or meat fats, which is why turnips are particularly succulent when finished off in a stew or a braised dish, or in the juices of roasting meat." I love how she gives human qualities to the turnip (". . .it wants and needs to absorb butter. . .")!  Here I learned that Julia was a fan of blanching winter turnips to remove some of their strong flavor — something that has also given me challenges (but this step isn't necessary for turnips that are young and tender). Oh Julia, how do you always know when I need you?!?
The book offers five recipes for turnip which all looked delicious, but I honed in on Turnips Braised in Butter (a.k.a. "Navets A L'Etuvee") — the recipe seemed easy, one that could easily be modified to anyone's tastes, so I set off to experiment.  I used my Hakurei Turnips, that Japanese, mild, white and crisp variety, but you can use any you like and this recipe should work well.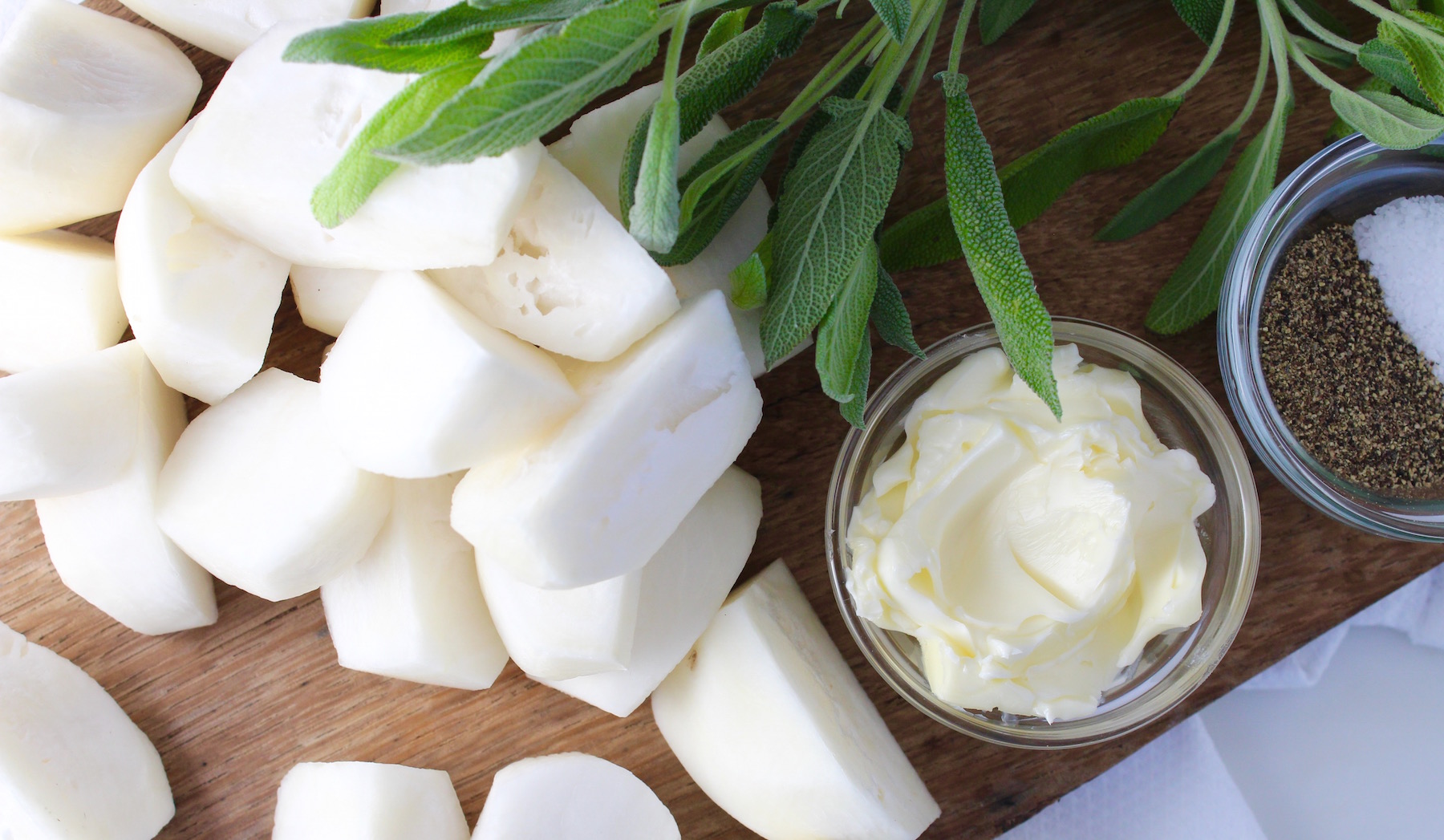 I have to say I've never enjoyed turnip more. Slow simmering these crisp white beauties in butter and stock (along with my addition of fresh sage leaves), really made them shine.  They were tender and flavorful, and even retained their texture, so they weren't bites of mush. Plus, you only use one pan and cook them on your stove top, avoiding the need to heat up your oven. All in all, a winner in my book (and you'll be happy to know they got high marks from my hubby, and that's good).
So, with only four ingredients: turnips, fresh sage, butter and chicken stock (well, 5-6 if you include salt and pepper), you too can enjoy this tasty dish in about 30 minutes!  You're welcome.

Braised Turnips with Fresh Sage
Inspired by Julia Child's tasty dish in Mastering the Art of French Cooking.
Author:
My Delicious Blog
Ingredients
1 lb. medium turnips (I used Hakurei, but any variety should work), peeled & quartered
2 Tb. unsalted butter
3-4 fresh sage leaves (more, if they're small)
Approx. 1 c. chicken or beef stock
Kosher salt, to taste
Freshly ground black pepper, to taste
Instructions
Place turnips in a small, deep saucepan and cover with water by about 2 inches. Add a hefty pinch of salt to the water.
Bring to a boil and boil 3-5 minutes. Drain water from the pan but keep the turnips in the pan.
Add the butter and sage leaves. Stir to coat the turnip pieces.
Pour in stock, just enough to cover the turnips; season lightly with salt and pepper.
Cover and simmer on low for 20-30 minutes.
If the stock has not fully evaporated after that amount of time, uncover and bring to boil to remove excess liquid (you want to get just a little sauce so the turnips are not dry).
Add a bit more salt and pepper, to taste, then serve.