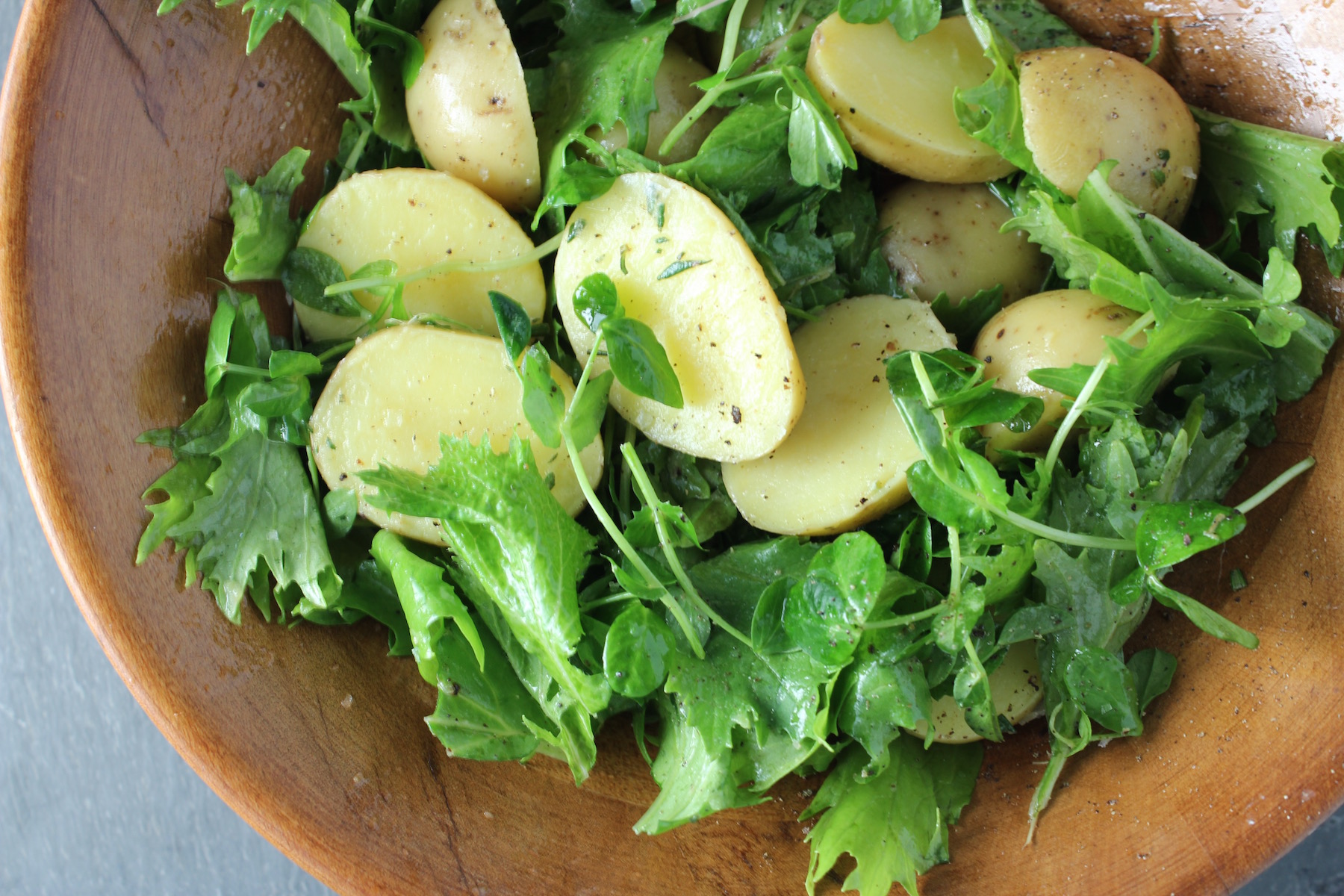 If you've ever bought a bag of mixed baby greens, you've likely had some young Mizuna in there and didn't even know it. Or, you may have walked right by a bunch of Mizuna at the farmer's market and never considered what to do with it. Well, today's your lucky day, because you'll now know a little bit more about this healthy leafy green!
Mizuna is a Japanese mustard green with pretty, wispy and beautifully shaped leaves. It's high in Vitamin C, folate and iron and it offers a mild flavor with slight peppery undertone, depending on how mature it is. It's grown frequently at community supported agriculture (CSA) farms because it can be harvested quickly and it grows readily in a variety of climates. The bunch I used for this recipe came from Geraldson Community Farm.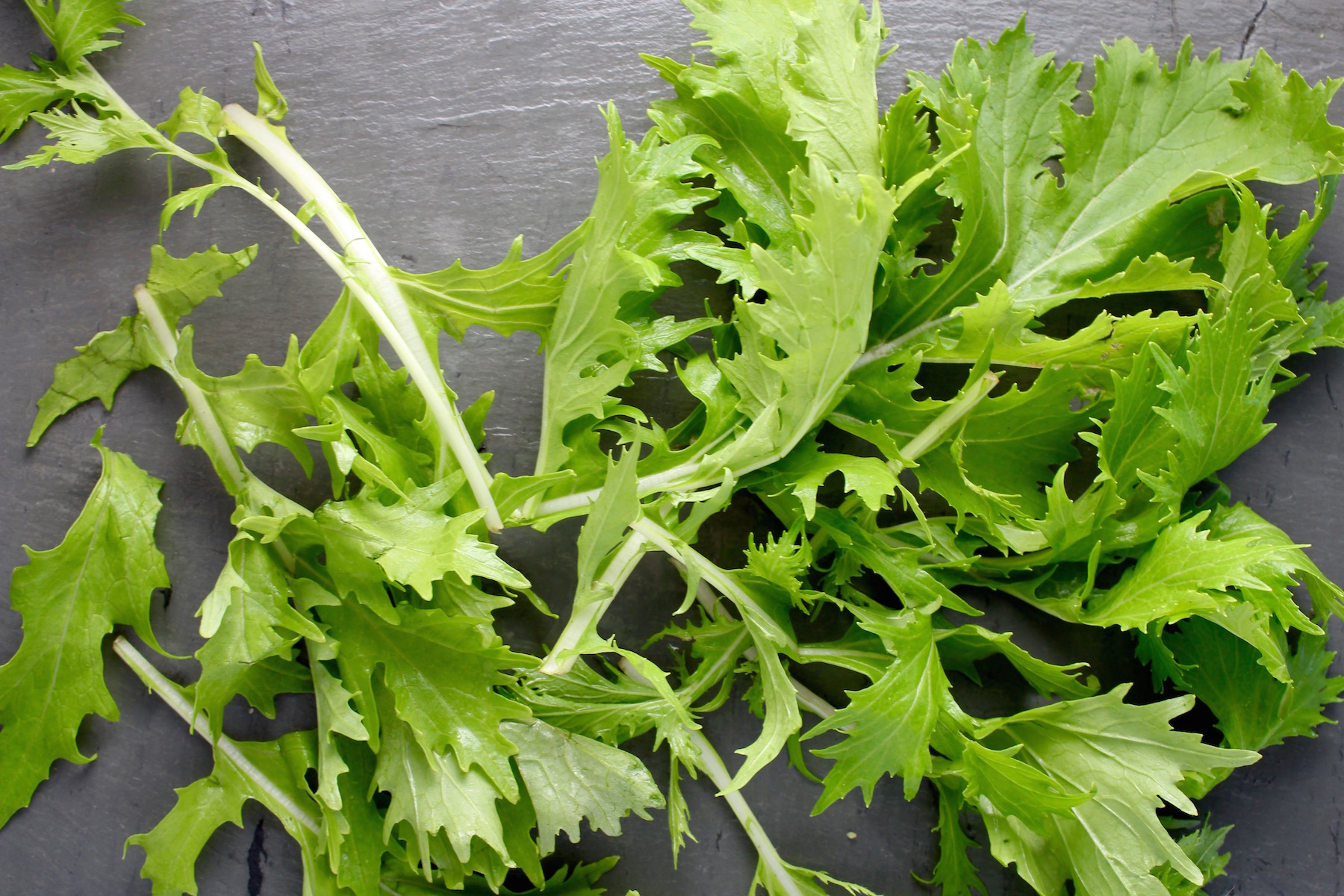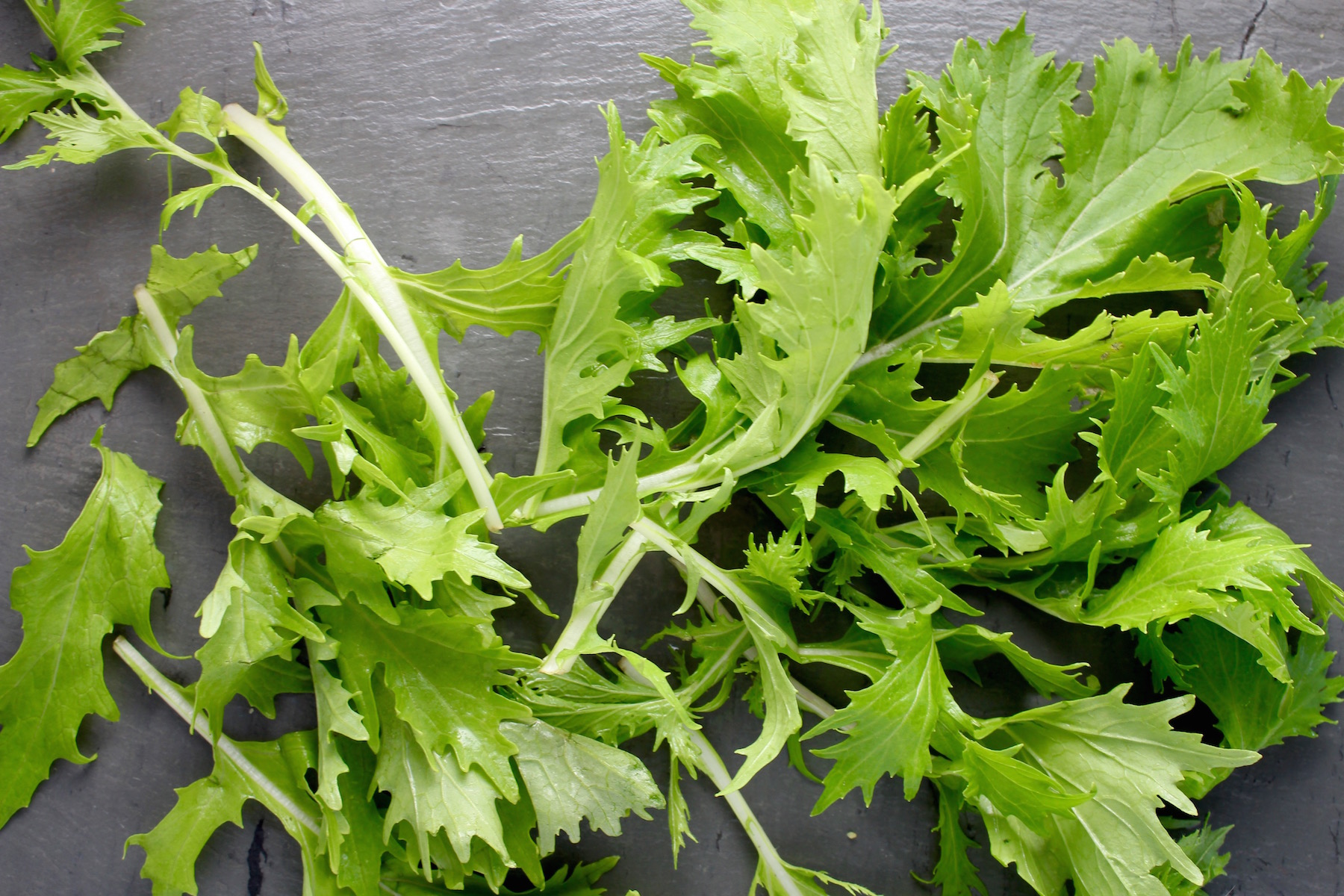 It's typically enjoyed raw in fresh salads, but it can also be cooked. I've tried it sauteed in olive oil, garlic, red pepper flakes as a side dish; tossed into a stir-fry with shrimp or chicken; added at the end into a creamy risotto (especially yummy); tossed into soup; combined with warm pasta and parmesan; or mixed into fragrant jasmine rice and vegetables. The list is long because it's mild, and you can experiment with flavor pairings.
One thing I absolutely love to do is mix fresh greens with something warm (braised meat, roasted vegetables, etc.) so the leaves wilt and soften their flavors. This works especially well with greens that lean toward the bitter side like arugula, rapini, watercress, endive, and this Mizuna (which is extremely mild on that bitterness scale).  And while bitterness may be off-putting to some (see my Komatsuna with Creamy Polenta), it's a flavor profile that adds so much to our culinary adventures! So I say "Embrace Bitter!" but tone it down by adding a little fat and salt to balance out those flavors and allow them to roll around on your tongue more easily 🙂
This recipe couldn't be any simpler. I found some beautiful little gold potatoes at the market, boiled them, cut them in half and mixed them with lemony vinaigrette and rosemary — adding these flavors to warm potatoes gives them even more vibrance. I added the potatoes to a bowl of fresh Mizuna and micro greens (or any other green you have on hand) and it was not only beautiful, but also delicious, satisfying and a great way to use those greens!  My #1 taste tester said this is now one of his favorite dishes, so that's especially good in our household 🙂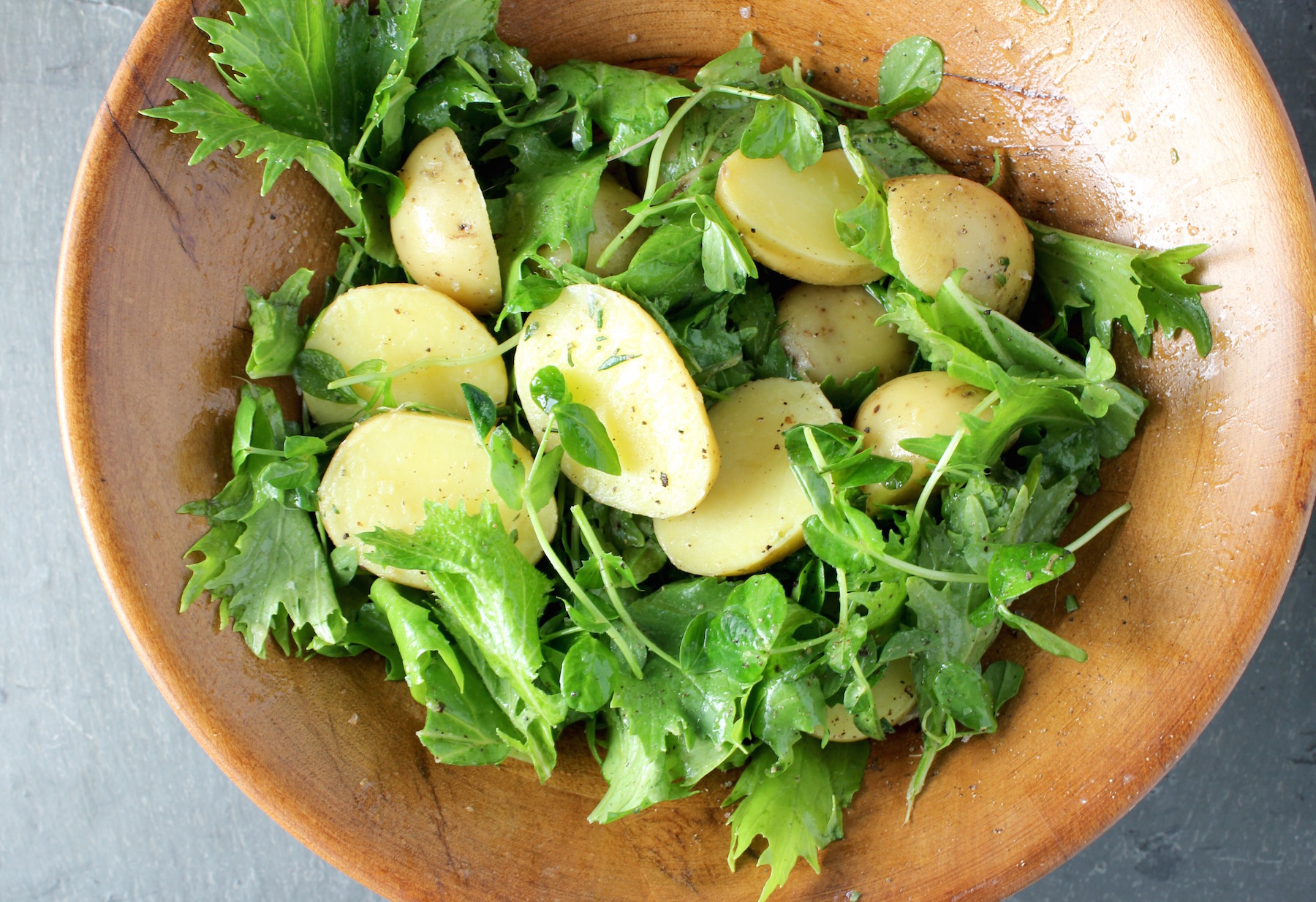 This dish works as a side, but could even act as a main course (maybe with a protein of your choice).  Enjoy!

Mizuna, New Potatoes and Lemon Vinaigrette
Peppery Mizuna is awesome with these sweet new potatoes in a lemon vinaigrette.
Author:
My Delicious Blog
Ingredients
8-10 new potatoes (skin on)
Large handful fresh Mizuna (about 2-3 cups)
Handful micro greens (optional)
1 Tb. fresh rosemary, minced
Lemon Vinaigrette
½ tsp. lemon zest
2 Tb. fresh lemon juice
⅛ tsp. Dijon mustard
1 tsp. granulated sugar
¼ tsp. kosher salt
Few grinds fresh black pepper
3 Tb. extra virgin olive oil
Instructions
Wash potatoes then place in a pan and cover with water. Add about 1 tsp. kosher salt to the water. Bring to a boil, then reduce heat to simmer potatoes gently, uncovered. Cook about 15 minutes and test with a toothpick or skewer to ensure they're fully cooked.
While potatoes cook, wash and dry the greens in a salad spinner. Transfer to a serving bowl.
To make the Lemon Vinaigrette, combine all ingredients, then slowly whisk in the olive oil until fully emulsified; set aside until ready to use.
Drain potatoes (do not rinse!) and allow to cool a few minutes. Cut each in half and transfer to a mixing bowl. Spoon a few teaspoons of Lemon Vinaigrette over the potatoes, along with rosemary and mix gently.
Add some of the Lemon Vinaigrette to the mixed greens and fluff to combine. Spoon potatoes over the greens and gently toss to get the warm potatoes to soften the Mizuna. Add a little more fresh black pepper and/or salt, if desired.