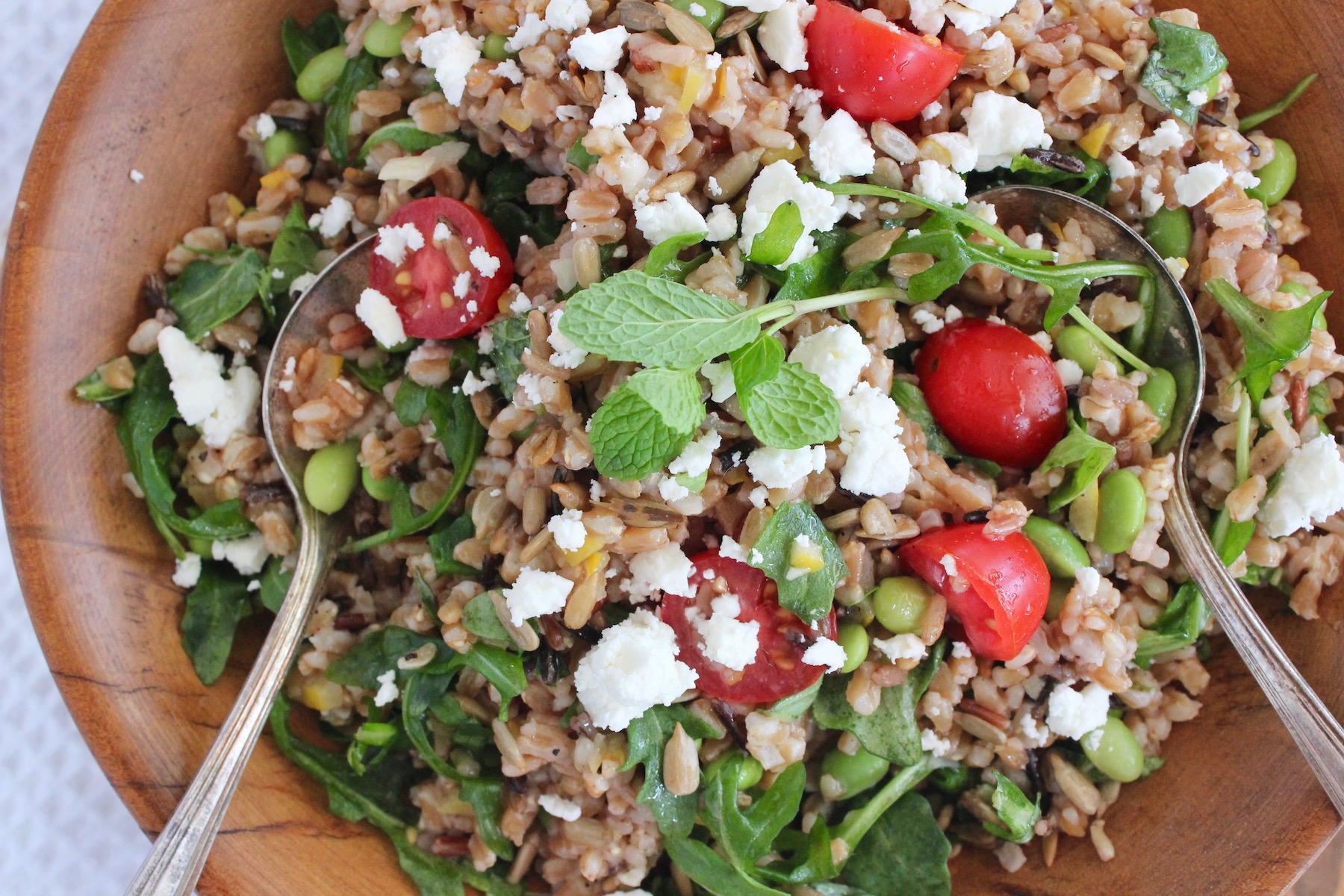 Grain salad = easy + portable + hearty + healthy + delicious.  I've made lots of them and have picked up a few tips to make them especially yummy:
Any grain works.  Each offers unique texture, so pick what you like like farro, wheat berries, barley, quinoa, spelt or millet.  Wild grain rice is also a nice addition because it offers more texture.  No hard-and-fast rules!
High-quality proteins like lentils, beans, salmon, hard-cooked eggs and cheeses offer more substance to the finished dish, as well as, lovely flavor.
Veggies in various shapes, sizes and colors offer not only nutrients and fiber, but also, visual appeal.  Try to add seasonal veggies because that's when they're at their best, but you can't go wrong with classics like carrots, broccoli, tomatoes or peas.
The dressing must be delicious and vibrant.  Citrus or vinegar-based dressings work best with grain salads, because the grains themselves are pretty bland and need some 'oomph' of flavor that they can soak up like little sponges.  You can use whatever is in your fridge that looks tasty.  In a pinch, I've even mixed olive oil with olive tapenade and a little red wine vinegar, which gave awesome flavor to one salad.
Grains best absorb the dressing when they're warm so, once cooked, toss the grains (or rice) right into the mixing bowl with the dressing and stir so all the flavors meld before adding other ingredients.
Fresh herbs are perfect in grain salads – they're colorful and add a great punch of flavor, without calories.
Something crunchy or chewy finishes the salad nicely and offers an unexpected treat.  Just before serving, toss in toasted pecans, salty sunflower seeds, dried cherries/apricots, briny olives, etc.  You get the picture.
This salad has a special element — preserved lemons.  My new Meyer lemon tree produced 5 lemons this year (woo hoo!), I preserved them in salt and let them 'brine' for 30 days.  It's an old Middle-Eastern method whereby the salt draws out the juice, allowing the lemons to soften and mellow (i.e., be less acidic) over time.  When ready, just scrape out the pulp, rinse the skin and use in any number of things like dressings, sauces, tagines, stir fries and more.  There are lots of recipes online about how to make preserved lemons – all you need is lemons, lots of kosher salt, a sterile jar and patience.  Here's what mine looked like:
My dressing includes chopped preserved lemon rinds, lemon juice, a little garlic, salt and pepper.  Tasty.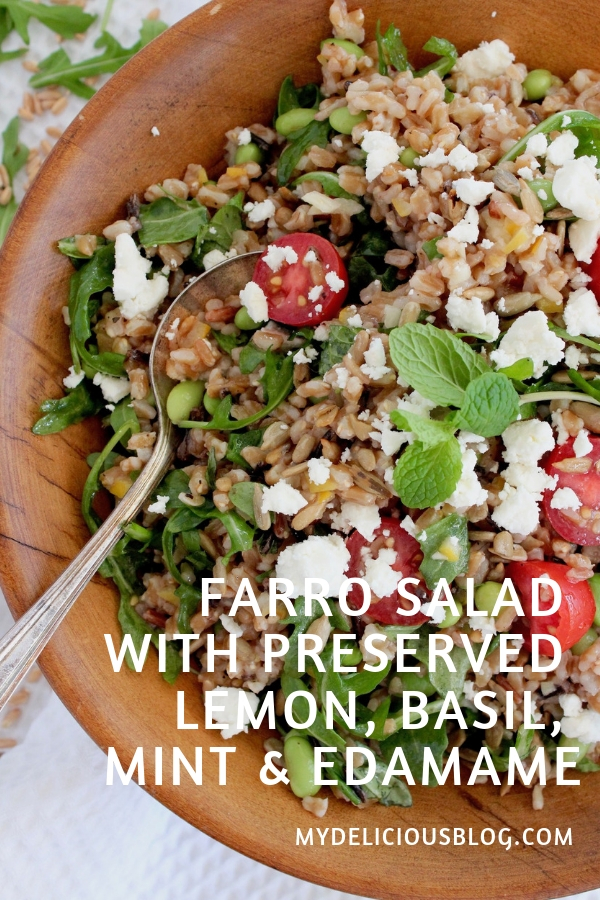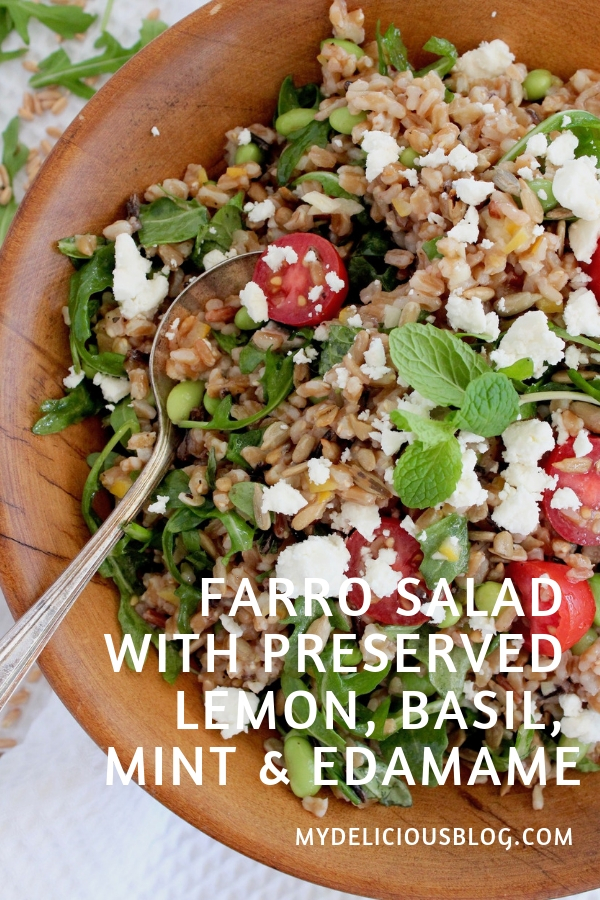 So, I hope you give grain salads a try!  They're great for picnics, lunch on the go, or as a main dish with roasted salmon and a nice glass of wine. Enjoy 🙂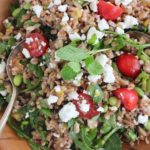 Print Recipe
Farro Salad with Preserved Lemon, Basil & Edamame
A delicious and healthy salad filled with edamame, mint, basil, tomatoes and arugula, tossed in a bright preserved lemon dressing.
Ingredients
Grain:
1

c.

Farro (dry)

2 1/2

c.

water

1/2

tsp.

kosher salt
Dressing:
1

Tb.

preserved lemon rind, rinsed, dried, minced

6

Tb.

olive oil

3-4

Tb.

lemon juice (Meyer or regular)

1

small

garlic clove, minced

1

pinch

kosher salt

1/8

tsp.

freshly ground black pepper
Salad:
1/2

c.

shelled edamame

1/2

c.

small tomatoes, halved

1-2

c.

baby arugula

Handful

fresh basil and mint, chopped

2

Tb.

crumbled Feta cheese

Or Ricotta Salata or goat cheese

2

Tb.

salted, toasted sunflower seeds

Or toasted pecans, walnuts or almonds
Instructions
For the Grain:
Rinse the dry Farro in water and drain. Place it in a medium saucepan, along with 2 1/2 cups water and 1/2 tsp. salt. Bring to boil then reduce heat and simmer about 20 minutes, covered, until tender.
For the Dressing (prepare while grain cooks):
Slice each piece of preserved lemon rind into strips, then chop into small pieces. Keep mincing with a chef's knife until the lemon is very fine. Add to a small mixing bowl, add olive oil, lemon juice, garlic, salt and pepper. Whisk to combine; set aside.

When grain is cooked and still warm, drain any remaining water, then combine with dressing and allow to sit for about 5 minutes before adding other ingredients.
For the Salad:
To mixed grain/dressing, add edamame, tomatoes, arugula, herbs and seeds/nuts. Stir gently to combine; taste for seasoning (add more salt or lemon juice, if needed) and top with cheese before serving.
Notes
Don't add fresh herbs to the salad while the grain is warm, as they may discolor. Toss in just before you plan to serve.
For this dish, I added in 1/2 cup cooked wild rice (this is optional).  If you decide to use, simply follow your package instructions for cooking.
If you don't have homemade preserved lemons, you can usually find them at specialty shops.  OR zest a whole lemon, toss it into a bowl and mix with 1/2 tsp. sea salt.  The lemon oils mix with the salt to almost mimic then taste of a preserved lemon.  Just mix that into your dressing and you should be ok 🙂