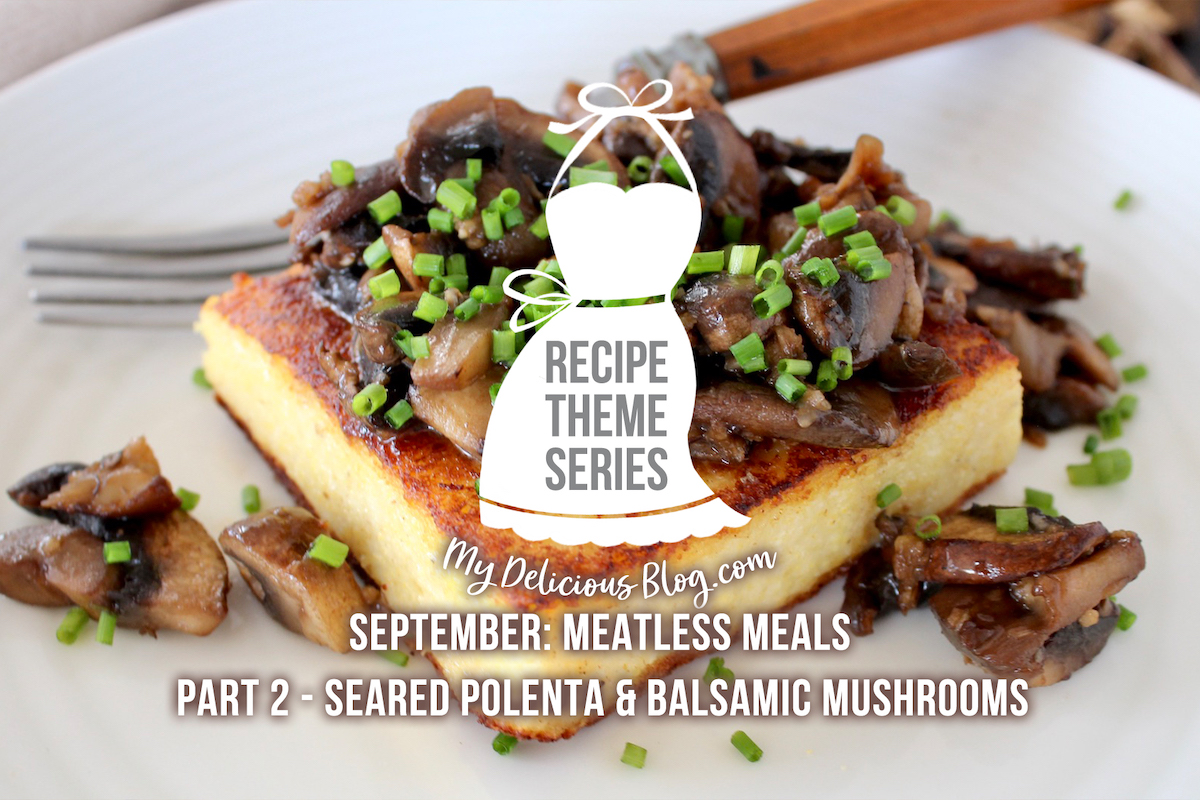 A man goes to the doctor with a carrot in one ear, a stick of celery in the other and a mushroom up his nose. "Doctor," he says, "I'm in terrible shape. What can I do?" And the doctor says, "You need to start eating more sensibly."  (Not sure of the source, but it's one of my favorite mushroom jokes!)
Today's recipe highlights mushrooms, but if you're not a fan, don't fret! You can pair anything you like with the polenta cakes in this recipe, so please keep reading. . .
If you have a goal to reduce or eliminate your intake of meat, mushrooms are a great option because of their satisfying texture and earthy flavor. Mixing varieties adds to the texture component, so I like Button, Portabella and Porcini, but if you can get your hands on Lion's Mane, Oyster or other interesting varieties, pick some up. Florida's 
Petrichor
 offers amazing mushrooms and we're lucky to have them nearby, but local growers are popping up all over, so check your farmers market for resources.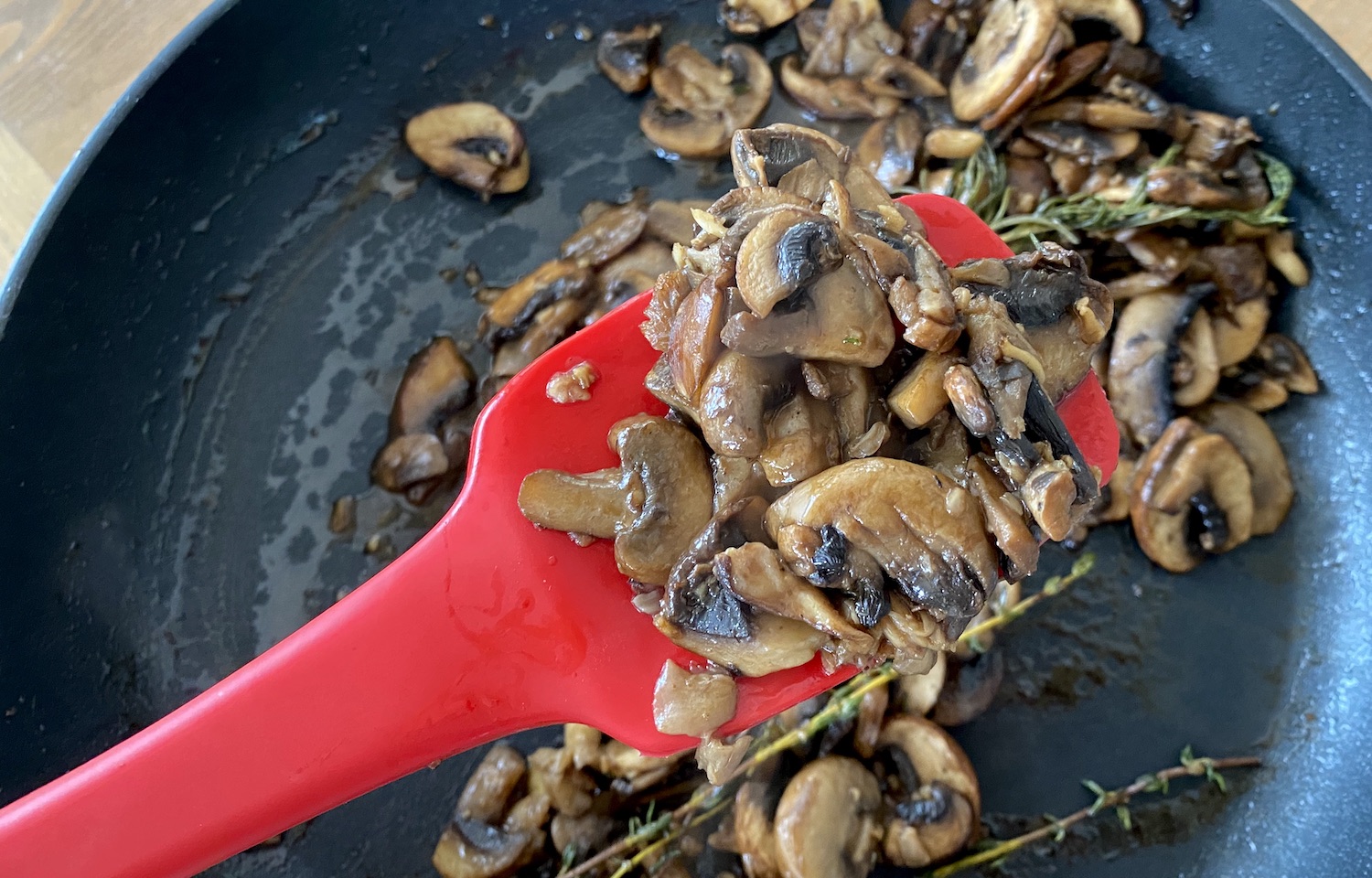 Polenta is a simple dish that can yield spectacular results. In its basic form, it's made with cornmeal, water and salt. But cooking that cornmeal in stock and/or milk, then adding butter and cheese, yields a richer and more substantial dish. And if you allow the golden concoction to solidify, you can sear those pieces to crispiness, bringing on a whole new level.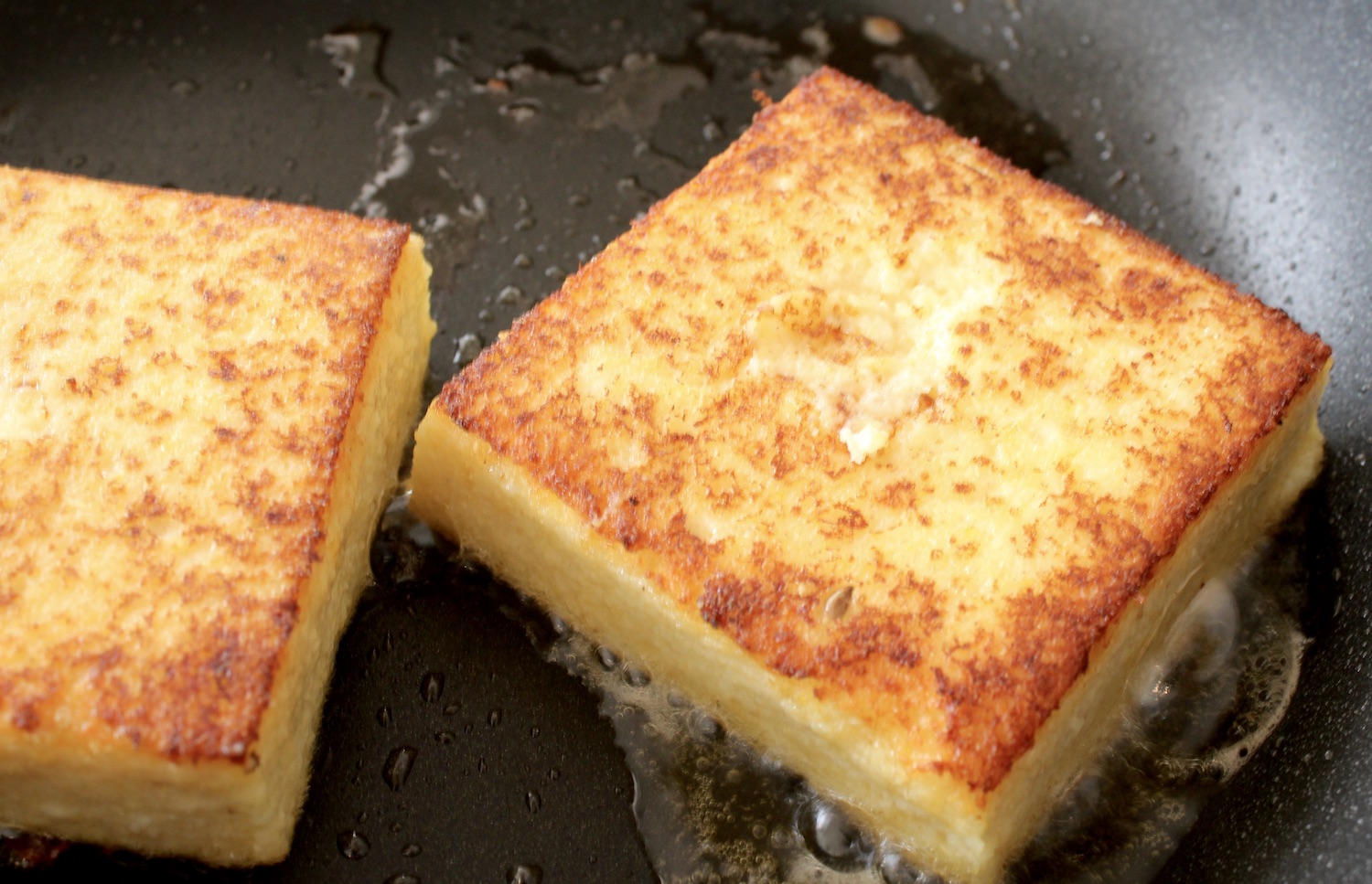 This pairing of mushrooms, balsamic, fresh herbs and crisp/creamy polenta is easy to make and comes together quickly (you can even make the polenta the day before and refrigerate until ready to use).
I created the recipe a while back for a local gourmet shop's holiday tasting menu and it was a huge hit. I made it for myself this week and I'm not gonna lie – I wanted to LICK MY PLATE.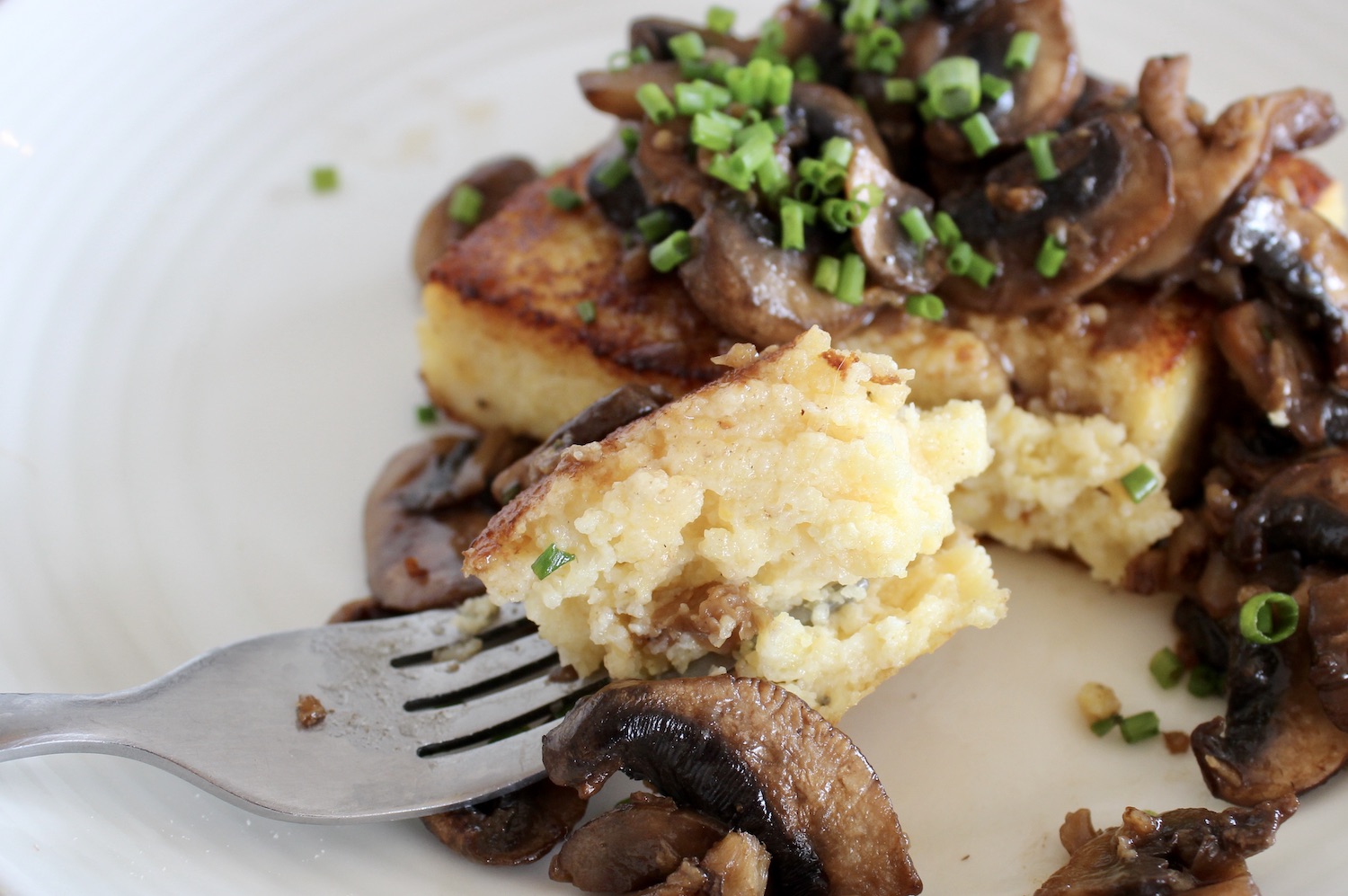 Print Recipe
Grilled Polenta with Balsamic Mushrooms
Cheesey polenta cakes, seared in butter, and topped with balsamic, garlicky mushrooms. This meatless meal is sure to satisfy!
Ingredients
Polenta
2

c.

Low sodium chicken stock

2

c.

Whole milk

1

Bay leaf

1

c.

Yellow cornmeal (fine or medium)

1/2

c.

Parmesan cheese, grated

2

Tb.

Unsalted butter

1/2

tsp.

Kosher salt

1/4

tsp.

Freshly ground black pepper
Mushrooms
1

Lb.

Mushrooms (Cremini, Button, Porcini, etc.), sliced

5

Tb.

Unsalted butter (reserve 2-3 Tb. for finishing)

1

Tb.

Olive oil

3-4

sprigs

Fresh thyme

1-2

sprigs

Fresh rosemary

1/2

tsp.

Kosher salt

Freshly ground black pepper, to taste

2

cloves

Garlic, minced or pressed

1/2

c.

Balsamic vinegar

Fresh chives or parsley, chopped (to serve)
Instructions
Lightly grease an 8X8 baking dish with olive oil or butter.

In a large saucepan, combine chicken stock, milk and bay leaf. Bring to gentle boil, then cover, remove from heat and allow to sit for 10-15 minutes.

Remove bay leaf. Bring to a boil, then reduce to medium and slowly sprinkle in cornmeal, vigorously whisking in each portion until well-combined. Cook over low heat about 5 minutes, stirring with a wood spoon or heat-proof spatula, until it's smooth. Remove from heat and stir in butter, cheese, salt and pepper.

Pour polenta into the baking dish and let it sit at room temperature, uncovered, ~1 hour, until it firms up. (If planning to use later, place in the refrigerator after it cools).

When ready to prepare, cut the polenta into squares. Heat a non-stick pan over medium/high heat, along with a little butter and olive oil. Place polenta in pan and reduce heat to medium. Cook until first side is nicely browned, then flip and cook until it's also brown to your liking. Serve immediately with Balsamic mushrooms.
Mushrooms
While polenta cools, clean and slice the mushrooms.

Heat a large non-stick skillet over medium heat. Add 1 Tb. olive oil and 2 Tb. butter, along with sprigs of thyme and rosemary. Add sliced mushrooms and stir to combine.

When the mushrooms start to release their liquid (~2-3 minutes), add salt, pepper and garlic. Cook ~2 minutes, then add vinegar. Cook over low heat another 2-3 minutes to reduce some liquid then add in reserved butter. Taste for seasoning; serve with seared polenta and top with chopped chives/parsley.
Notes
This recipe easily feeds 4 people, but can increase to 6, depending on how hungry you are and what you serve it with.
I suggest serving with a bright green salad with lemon vinaigrette.