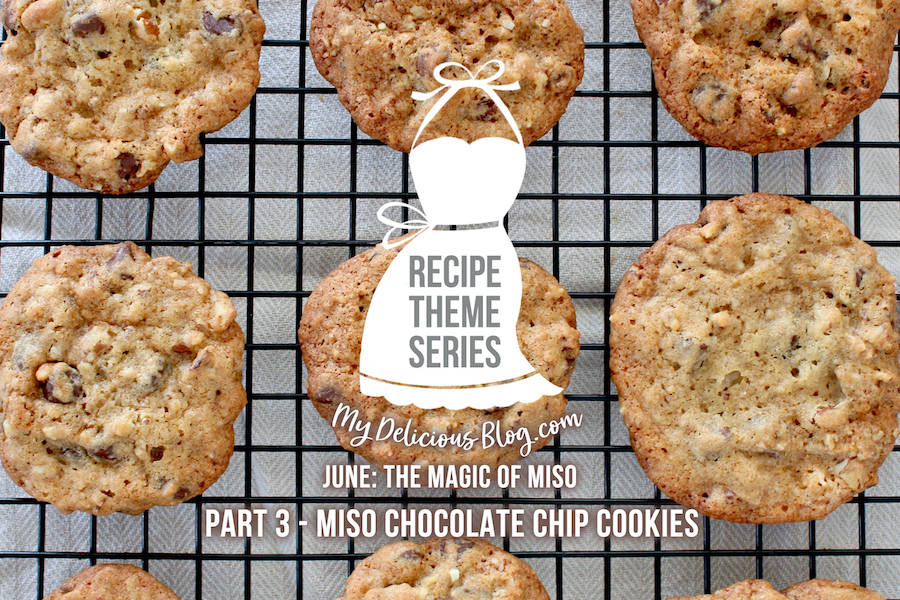 Miso in cookies? What?!?
I never heard of it until I saw a recipe on the
Bon Appetit
site. Experts have weighed in (here's just one at 
WSJ
) that miso adds complex flavor/saltiness to sweets, making it a perfect addition.
We all have our favorite chocolate chip cookie style, which typically falls into one of these categories: 1) big, chunky, cake-y; 2) soft, chewy, maybe a little under-baked; or 3) my favorite – thin, crunchy and buttery. When it comes to chocolate, pros insist on using the best quality, going so far as to say that disks are the best shape. I actually go for a mix of store-bought semi-sweet and dark chocolate chips.  That said, if someone offered me a cookie with those expensive chocolate disks in it, I wouldn't turn it away. . .
My go-to
recipe
 for crunchy, buttery cookies is one I highlighted a while back, and today I adapted it by adding white miso paste (the mildest flavor, best for baked goods) and omitting the salt. I used 2 tablespoons of miso, while creaming the butter and sugar, but I'm tempted to add more next time.
By using cold butter to start, and not having to refrigerate the dough, you can have delicious cookies in no time.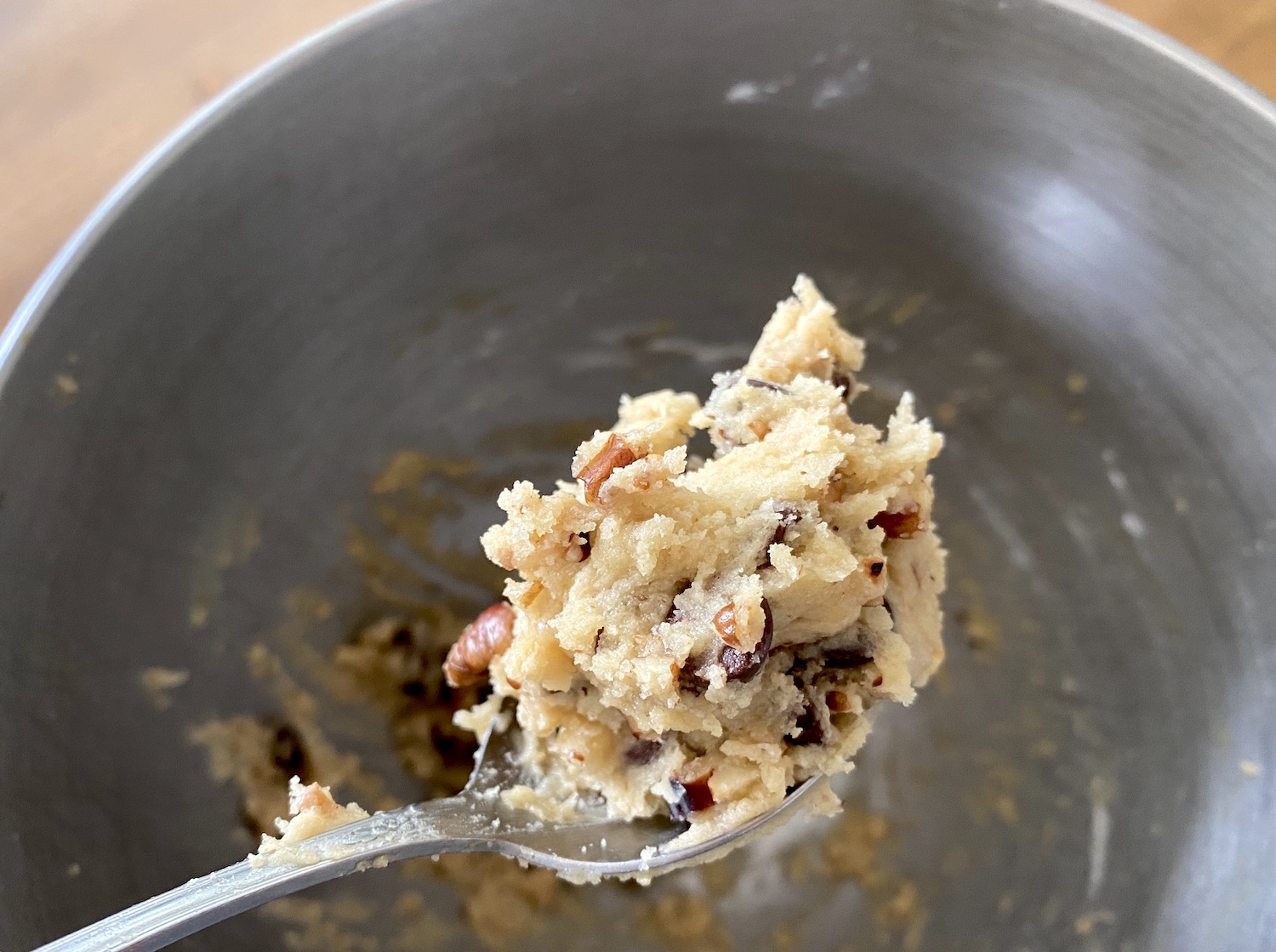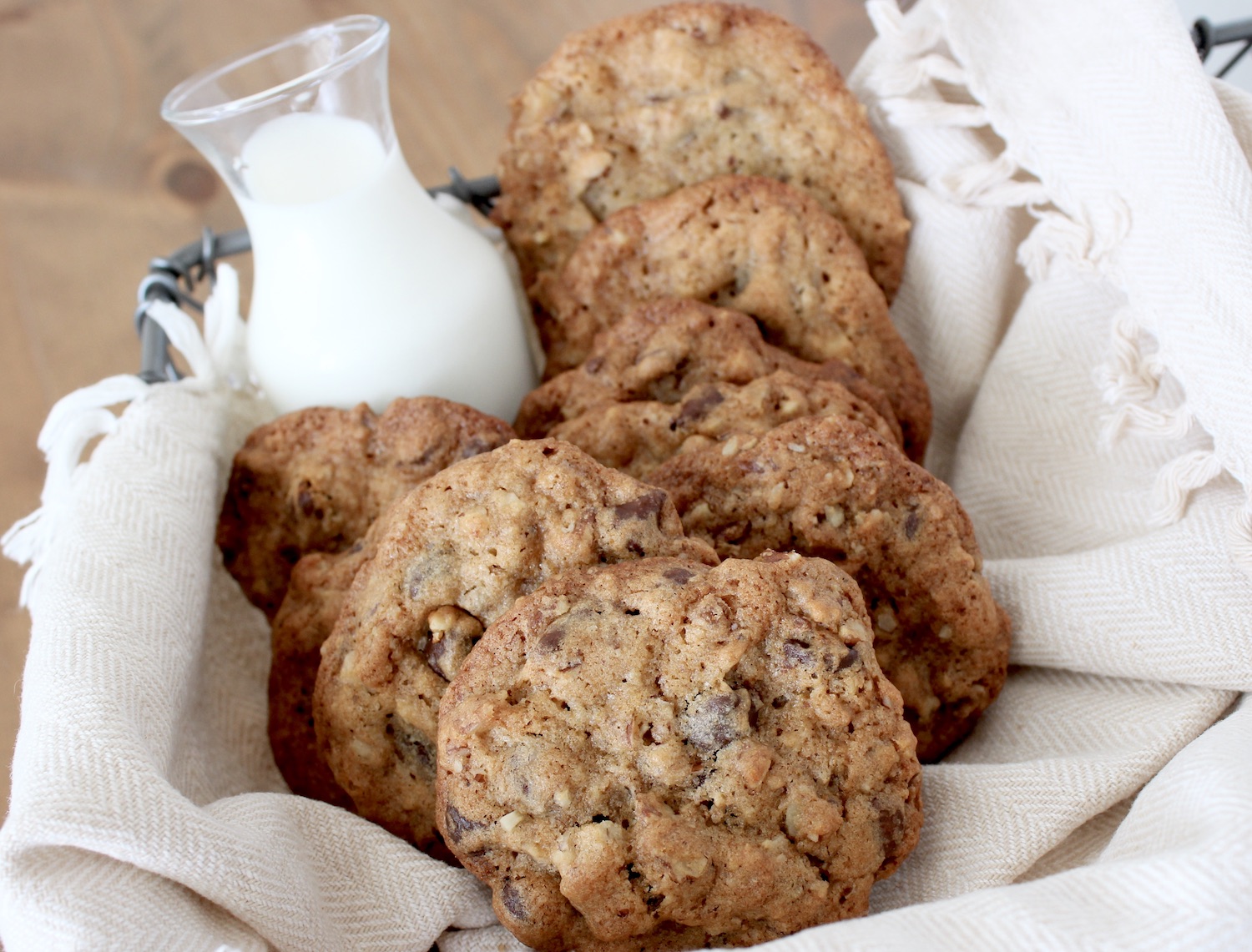 While not as thin as the original recipe (maybe it's due to the addition of miso?), they're still crispy, buttery, full of texture and really, really delicious. My husband ate 4 cookies, then exclaimed they were the best batch I've ever made. Wow.
If you're skeptical about using miso in your baked goods, don't be. Experiment with a little at a time and see how you like the results. Try it in brownies, browned butter tarts, peanut butter cookies, or anything that might welcome a salty partner (just remember to reduce the amount of salt, or omit it altogether). It's a great way to add umami flavor, while incorporating more folic acid and vitamins E, K and B into those baked goods.
Trying new things might be a little scary, but as Eleanor Roosevelt once said: "Do one thing every day that scares you."  And if that one thing is making a batch of chocolate chip cookies with miso, well, there are worse things, right?
Print Recipe
Chocolate Chip Cookies with Miso
Adapted from Dave Lieberman's recipe, this batch incorporates tasty, umami-flavored white miso paste!
Ingredients
1/2

c.

Granulated sugar

1/2

c.

Light brown sugar, packed

8

Tb.

Cold, unsalted butter, cut into small cubes

2

Tb.

White miso paste

1

large

Egg

1

tsp.

Vanilla extract

1/2

tsp.

Baking soda

1 1/4

c.

All-purpose flour

1

c.

Toasted pecans, minced

(see note)

3/4

c.

Dark chocolate morsels

3/4

c.

Semi-sweet morsels
Instructions
Adjust oven rack to the top third level; heat oven to 300 degrees.

Line a baking tray with parchment paper (you'll use one tray per bake).

Toast nuts over low heat in a non-stick pan. When fragrant, transfer to a cutting board, mince and cool until ready to use.

In a stand mixer, beat sugars and butter until smooth then add miso paste and mix on low speed, just until combined.

Add egg, vanilla and baking soda; mix on low 1-2 minutes.

Slowly add flour and mix until just combined.

Remove bowl from mixer; stir in chocolate and nuts with a rubber spatula or wooden spoon.

Scoop 12 heaping tablespoons of batter onto the parchment-lined baking sheet.**

Bake 18-20 minutes, until nicely browned. Remove from oven and allow to cool 1-2 minutes on the baking tray, then transfer cookies to a cooling rack. Repeat. Makes 26-28 cookies.
Notes
*You can substitute walnuts or almonds for the pecans, but I love pecans for their sweet, nutty flavor.
**I'm not one to make PERFECT cookies - I just eyeball the dough and plop it onto the baking sheet.  The irregularity of the cookies makes them even more delicious, in my book 🙂