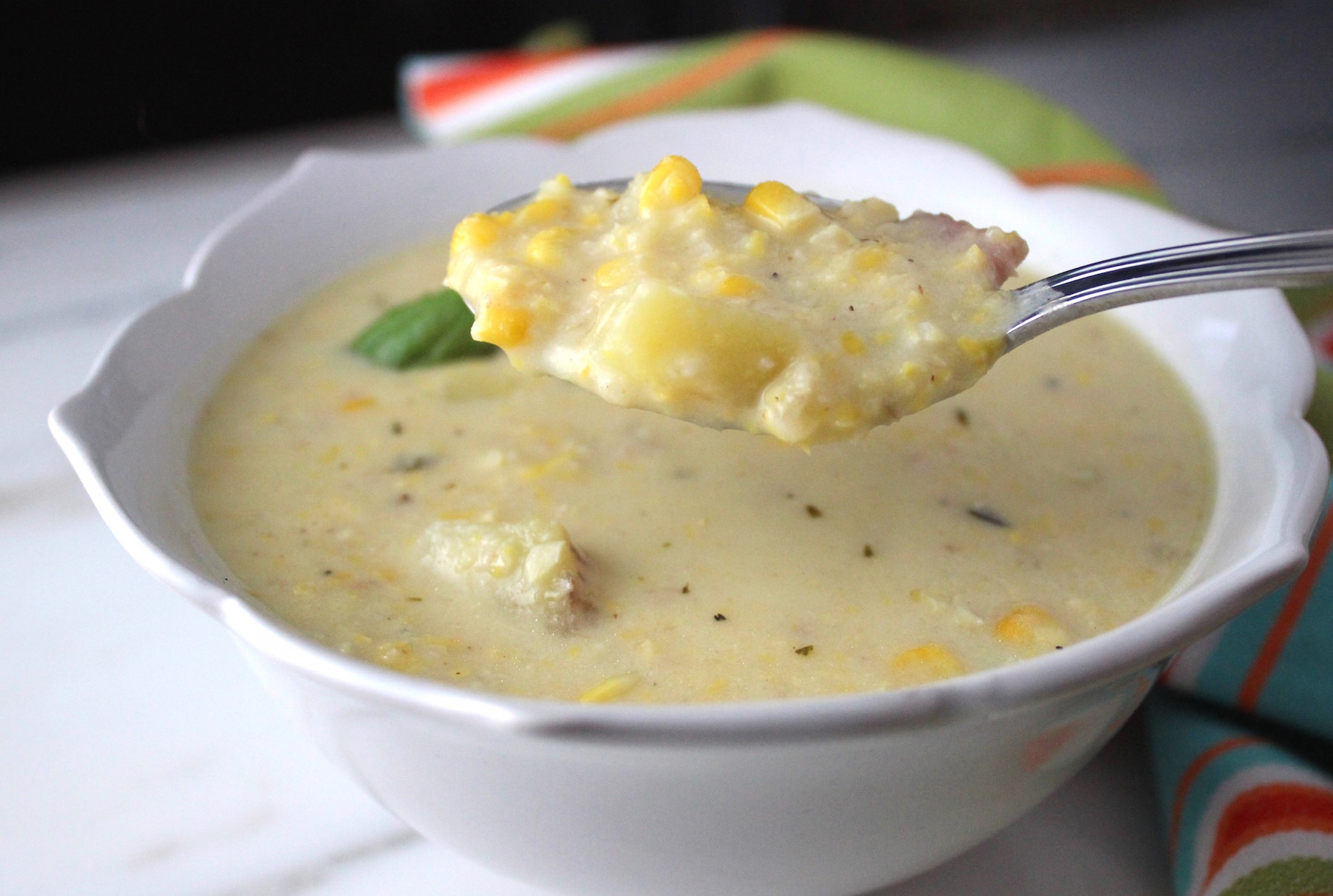 With all the rain we've been having in southwest Florida lately, I've been making lots of soup and this corn chowder was definitely a crowd pleaser (well, as much as you can call two people a crowd, because our two cats don't count). The same day I made it, a re-run of 
The Devil Wears Prada
 was on HBO so I had to watch it.  Remember the scene in which fashionista Nigel (Stanley Tucci) comments on Anne Hathaway's lunch choice?  It went something like this: "Hmm.  Corn chowder.  That's an interesting choice.  You do know that cellulite is one of the main ingredients in corn chowder."   So, let's be honest here — we all agree that while corn chowder is not the best choice for calorie-conscious folks, it's certainly a delicious splurge, especially if you typically are careful about your diet 🙂 I'm kind of picky when it comes to chowder. . .maybe it's my New England roots or something.  I'm not a fan of any chowder that's goopy/sludgy, watery, too "herby," or leaves me searching for the main ingredient.  That said, I do like a flavorful chowder that has some heft to it and is able to stick to your ribs on a cold or rainy day. Isn't that what chowder's supposed to do?  This recipe has a nice balance of thickness and creaminess, along with some chunkiness.  You can also taste each ingredient, and can pretty easily figure out what's in there.  I like that. Ok, now that I've shared my true feelings about chowder, let's get into the logistics 🙂 Corn has the potential to be bland so the key to using it in chowder is to maximize its flavor, since it's the main ingredient. It goes without saying that it's best to use the freshest corn you can get, so this soup is ideal during peak corn season. In a pinch, I've tried frozen kernels, but they don't offer as much flavor or texture as fresh kernels taken straight from the cob. When it comes to extracting as much flavor as possible from the kernels, America's Test Kitchen went to what I would call extreme lengths to achieve this. Those talented culinary folks advocated we dig out all the little unused bits of corn left in the husks after scraping off the big kernels, placing the pulp in a kitchen towel, then squeezing out the juice and stirring the juice into the chowder before serving. (
I love you America's Test Kitchen but, while I find this admirable and certainly a good idea, I don't have the time or the patience to do it!
)  For me, to capture as much flavor as possible, I like to gently simmer the corn cobs in water (or milk) after I've removed the kernels.  I even add in garlic and bay leaf for extra layers of flavor. This simmering method draws out a lot of that 'corny' flavor and you can use the infused water (or milk) in addition to your stock or water to blend into the soup itself. It's not a difficult step – just a few extra minutes and it avoids cleaning a dish towel soaked with corn bits 🙂 This soup is hearty but not too thick, flavorful and satisfying, especially on a rainy day. Confession – I found myself going back for "just another ladle-full" 3 times!  Enjoy 🙂
Summer Corn Chowder
Fresh corn makes the perfect summer corn chowder.
Author:
My Delicious Blog
Ingredients
6 ears fresh sweet corn, husked, silk removed
2 whole cloves garlic (with skin)
1 bay leaf
6 c. water
3 Tb. unsalted butter
4 slices bacon, cut into 1" pieces
1 yellow onion, chopped
1 clove garlic, minced
4-6 sprigs fresh thyme
1 lb. Yukon Gold potatoes, with skin, small dice
4 c. corn kernels (more or less is fine)
2 Tb. all-purpose flour
6 c. water (you should have about 4-5 cups from the reserved corn husk water)
1 tsp. kosher salt
½ tsp. freshly ground black pepper
1 c. half & half
Fresh basil (for garnish)
Instructions
Remove kernels from the husks. To do this, get a large bowl and place a small bowl inside it, upside down. Place the corn on top of the small bowl and use a chef's knife to slice down one section at a time. The kernels will fall into the bowl, then you can move onto the next one! You should be able to get about 4 cups of kernels. Set aside.
Place the cobs into a deep pan along with garlic cloves and bay leaf. Cover with 6 cups of water and simmer gently about 20 minutes.
Remove cobs & garlic, but reserve water.
Over medium/high heat in a large soup pot, add butter, bacon, onion, garlic & thyme and saute about 10 minutes (until bacon starts to brown/crisp).
Add potatoes & corn. Cook about 10 minutes, until potatoes start to soften and brown.
Sprinkle flour into pot. Stir to combine flavors & cook the flour (about 2 minutes).
Add reserved hot water from husks along with additional water to total 6 cups.
Add salt & pepper.
Gently simmer until potatoes are fully cooked (15-20 minutes).
Once potatoes are cooked, it's time to blend a portion of the soup to further thicken it, but also allow it to retain some chunkiness. If you have an immersion blender, place it into the pot and pulse several times to break down SOME potatoes and corn, but not the whole pot! If you don't have an immersion blender, remove about 2 cups of the soup and place in a food processor. Whirl a few times to puree, then pour the mixture back into the soup pot.
Stir in the half and half and season with more salt & pepper, if needed.
Top with fresh basil.
Notes
You can also simmer the corn husks in milk for an even richer soup. Using water, though, reduces some calories and dairy intake 🙂