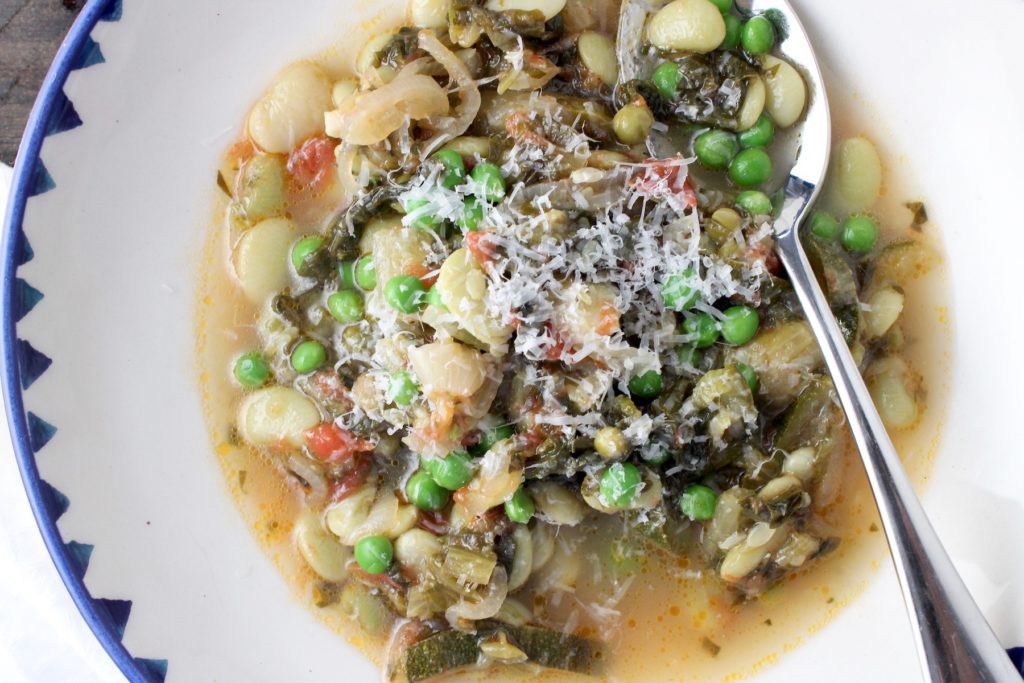 I love cookbooks, especially old ones, because they offer glimpses into not only history of recipes, but also, the people who sat around the tables to enjoy that food.
Years ago I received "The Essential New York Times Cook Book" (Amanda Hesser) as a gift.  This big, red beast of a book is full of recipes published in the NYT over its 150-year history.  It's a food archive loaded with dishes submitted by readers, professional chefs and food writers.  It gives hints about what was going on at the time they were submitted — wars, the Depression, spices introduced by travelers, immigrant dishes, the introduction of 'convenience foods,' improvements in food safety, cooking utensils, vegetarian trends, the birth of the casserole, invention of the microwave, and more.  
Among her many accomplishments, the author is, most notably, the former food editor of the NYT Magazine.  In 2004 she started the monumental task of reviewing recipes in the archive dating back to the 1850s, getting input from readers about their favorites (including some that even saved marriages), and cooking/testing/updating an eclectic mix of about 1,400 of them.  Pretty impressive.
I pulled out the book this week, intent on finding a yummy soup. I found "Garden Minestrone," originally published in the NYT on September 23, 1973 by chef Nika Hazelton.   I did some digging and learned she was born in Rome but traveled the globe, where she gained lots of culinary skills, so when she landed in the U.S. in 1940 she was recognized as an 'expert' on cooking across many cultures.  She promoted simple ingredients, was described as having a no-nonsense style and, among her many cookbook and writing accomplishments, was a regular contributor to the NYT. In this particular article, she wrote: ". . .Italians have a number of hearty vegetable stews in their cooking heritage that are good main dishes — especially when meat and poultry prices are out of sight. . .stews are easy to cook since they are all more-or-less dishes, meaning it doesn't really matter if the cook uses a little less of this or more of that vegetable.  For a complete meal, add bread and cheese, a salad, some wine.  Dessert if you must."  I love the last line.
I've never made a soup like this.  It's called a 'constructed soup,' one that requires you to follow specific directions in order for it to work.  But it all happens in one pot, takes about 30 minutes, uses a lot of veggies, is EASY and, if you're on a diet, doesn't have many calories.  Win!
Here's what it looks like after layering everything in the pot, before covering: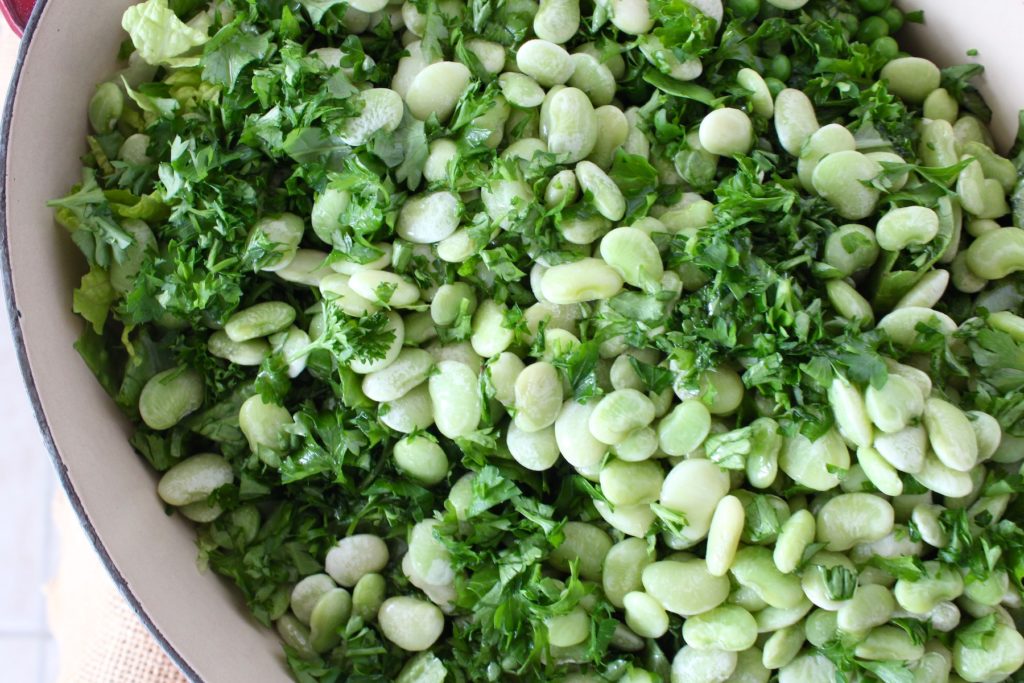 Here's what it looks like after the first 10 minutes of cooking: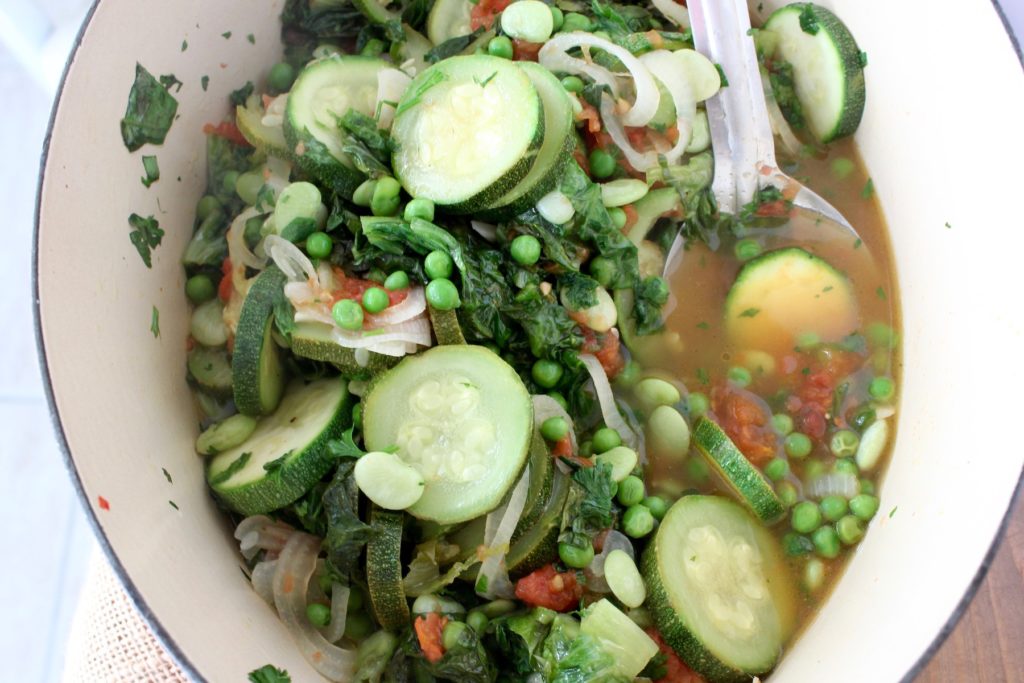 This soup works because the selected veggies hold a lot of moisture. When slow-simmered in a covered pot, they release those juices, making a simple, flavorful broth.  By cooking it like this, you can taste each ingredient in each spoonful.
P.S. I definitely advocate using lots of grated parmesan cheese. No, it won't save you calories, but it's a wonderful addition to this simple soup 🙂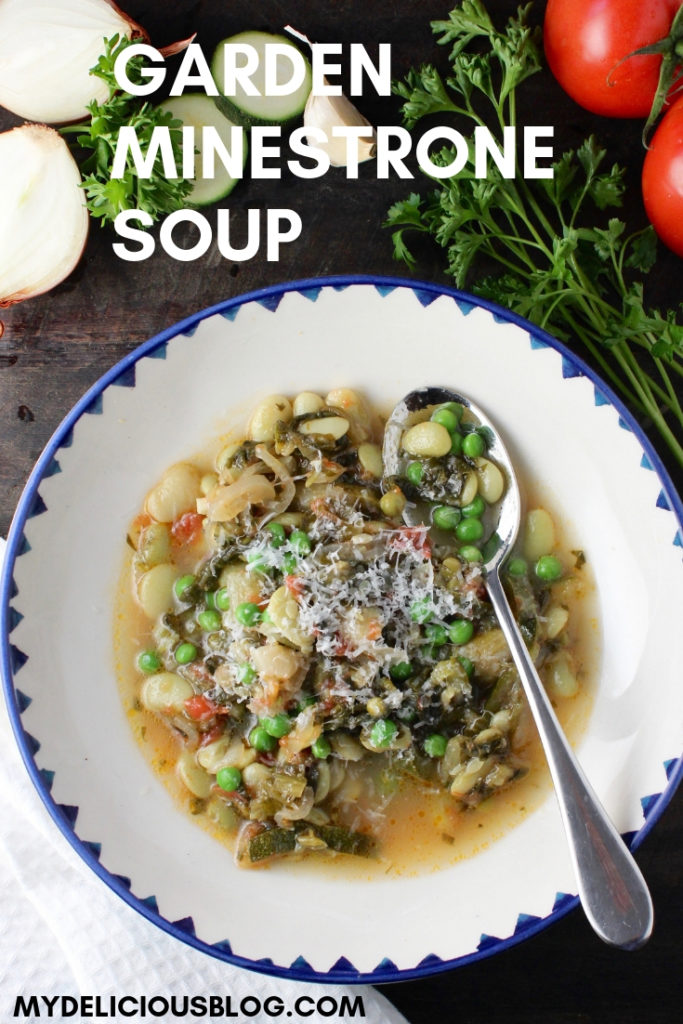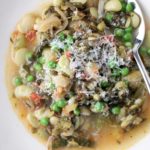 Print Recipe
Garden Minestrone
A deliciously simple minestrone soup that starts in many layers, all in one pot, done in 30 minutes! Recipe adapted from Nika Hazelton's recipe originally published in the NYT, September, 1973, then adapted by Amanda Hesser in 2010.
Ingredients
2

large

ripe tomatoes

peeled & sliced

2

medium

onions

thinly sliced

2

cloves

minced garlic

2

large

zucchini

sliced

1

head

Romaine lettuce

shredded

1

10-oz package

frozen petite peas

2

Tb.

minced fresh basil

1

cup

minced flat-leaf parsley

1

10-oz package

frozen lima beans

1/2

cup

extra virgin olive oil

1

tsp.

kosher salt

1/2

tsp.

freshly ground black pepper

1/2

cup

freshly grated parmesan cheese

(use more if desired)
Instructions
Put sliced tomatoes in the bottom of a deep, large casserole (soup pot). Top with onion slices and garlic. Top with zucchini slices, then shredded lettuce, then peas. Sprinkle the basil. Sprinkle half the parsley, then the lima beans. Sprinkle remaining parsley on top, then pour olive oil over the entire mixture. DO NOT CHANGE THE ORDER OF THE VEGGIES! DO NOT MIX!

Cover the pot and cook over medium heat 10 minutes (so vegetables on the bottom start to release their liquids).

Uncover, season with salt and pepper and stir with a large spoon until well-mixed.

Return cover to the pot, reduce heat to low, then stir every few minutes for the next 15-20 minutes. DON'T ADD ANY ADDITIONAL LIQUID!

Turn off heat, then stir about 1/4 cup of the grated cheese into the soup. Taste for seasoning. Top each serving with more of the grated cheese. Serve hot or lukewarm.
Notes
Like Amanda Hesser, I used frozen frozen peas and lima beans (both delicious).

  And, l

ike Amanda, I adjusted Nika's cooking time for the 2nd round from 30 minutes to only 15 or 20 minutes because of those frozen veggies (had I used fresh longbeans as in the original recipe, cooking time would have been longer).