I'll just say it.  I LOVE Snapper!  And I especially love the Queen Snapper my hubby brought home from a recent Gulf of Mexico offshore trip.  Aside from being especially delicious, Queen Snapper is a gorgeous fish — bright red (almost candy apple), with a deep forked tail and huge eyes.  It's a deep water fish, usually hanging out around rocky reefs and, since it's a tough fighter, it'll make you work for every inch of line you gain all the way up to the surface.  I've caught one before (no pic, unfortunately), and I recall being particularly exhausted after getting her to the boat.  Needless to say, a cool beverage was in order after that 🙂
Here's a pic of hubby with our friend Jim — two very happy anglers.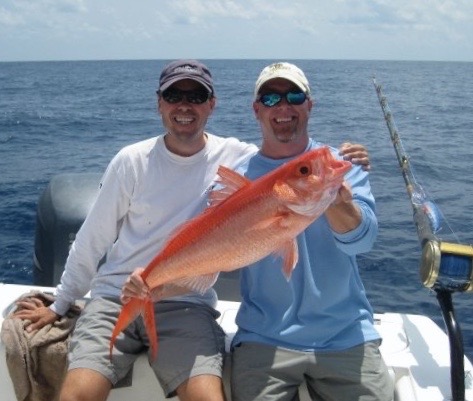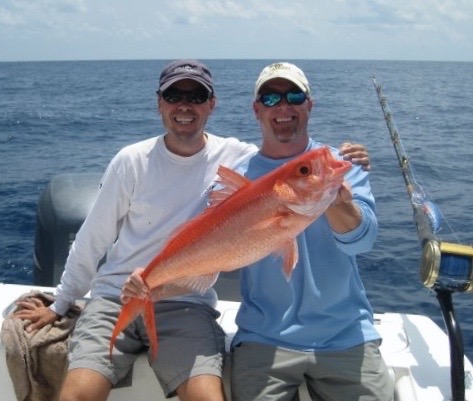 Queen Snapper's flesh is mild, delicate, white and flaky — everything Snapper should be.  So, armed with two beautiful fillets, I decided to prepare it in a crunchy coating of coconut and Panko, then zing it up a bit with the lime and cilantro I had in the fridge.  The coconut adds a light sweetness, which is offset by the tanginess of the lime and the freshness of the cilantro. This is a simple recipe in which you can use just about any white, flaky fish.  Enjoy — hubby and I surely did!

Coconut Snapper with Lime Cilantro Butter
White flaky fish works beautifully with this crunchy coating and this savory, buttery sauce.
Author:
My Delicious Blog
Ingredients
2 (6-8 oz.) Snapper fillets, cleaned, skinned & deboned
¼ c. all-purpose flour, seasoned with salt & pepper
¼ c. Panko bread flakes
¼ c. shredded coconut
1 egg, lightly beaten
1 Tb. unsalted butter
1 Tb. olive oil
1 Tb. fresh cilantro, chopped, for garnish
2-3 Tb. shaved coconut, toasted, for garnish
For the Lime-Cilantro Butter
3 Tb. unsalted butter
1 Lime, zested
1 Tb. cilantro, chopped
Instructions
Pre-heat oven to 350 degrees.
Set up 3 dishes for dredging (1 for flour, 1 for beaten egg, 1 for Panko & coconut).
Heat an oven safe, non-stick pan on medium/high; add butter and olive oil.
Dredge fish in flour, then egg, then Panko/coconut mixture.
Place fish in hot pan; cook about 1 minute, then check bottom to ensure brownness. When brown, flip each fillet and allow to cook about 1 more minute (until browned).
Place pan in oven; allow to cook another 1-2 minutes (don't overcook or the fish will be dry!).
While in the oven, prepare the Lime-Cilantro topping by melting butter in a small sauce pan, then mixing in lime zest and cilantro. Remove from heat.
Remove fish from oven & transfer to plates; spoon butter mixture over fish, then top with cilantro and toasted coconut.