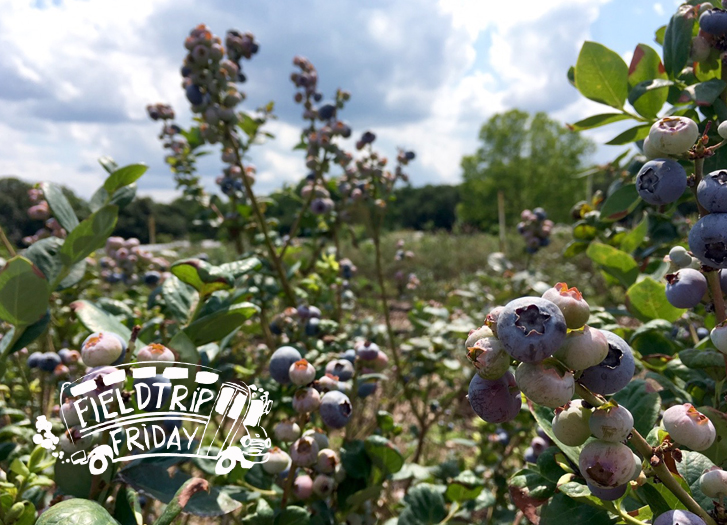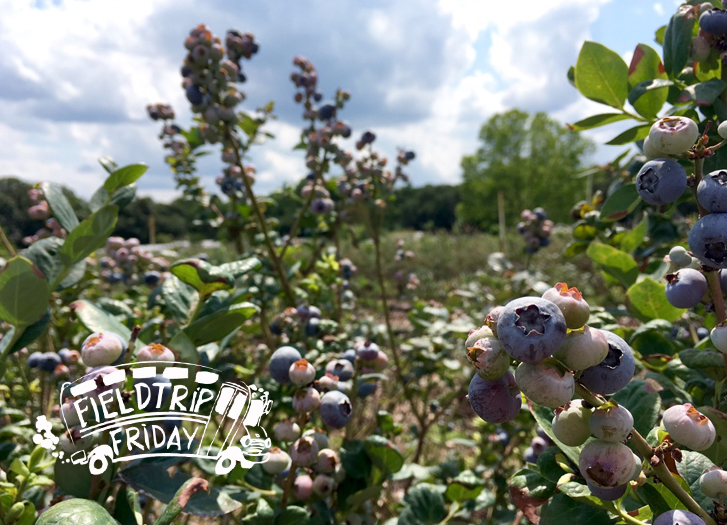 (Field Trip Fridays capture interesting, fun, food-related and/or fishing adventures that I like to share with you!)
When I was a kid in Massachusetts, it was a summer tradition to pile into the car and go blueberry picking at a nearby farm.  I'll just say that it was a real fashion parade – slathered in sunscreen and bug repellant, big hats, old sneakers and, of course, coffee cans around our necks. Yup – coffee cans – usually Maxwell House. My mom saved them for this annual event, and my dad pierced holes in their sides to hold a piece of string, allowing the can to hang easily around our necks. They were the perfect carrying cases for berries because we could pick with both hands and achieve what I like to now call "Maximum Picking Capacity" (or, "MPC").
My brother and I had a standing challenge to see who could fill a can the fastest, but he usually gave up early in order to sit in the shade and just eat them. I was determined to keep going because I envisioned all the delicious treats those berries would be used in, like muffins, pies, cakes and pancakes – good motivators to continue picking 🙂
Here in Florida, blueberries are in season in the Spring so they're easily available in supermarkets and at farmer's markets.  Commercial farms don't typically open to u-pickers until the end of their season, which is late April-May.  So, recently, a friend and I took a road trip to Plant City to visit Blues Berry Farm and you can bet I had my coffee can with me!  Susan Dumke was our fun, informative and hard-working host — she and her husband have owned and operated the farm for about 11 years. They sell their berries commercially, but offer U-Pick in May.
There are many growers in Florida, but this particular farm is a model of sustainability. The owners are committed to being stewards of their environment, which means everything they do is focused on saving water, reducing electrical consumption and maximizing natural resources (like wind) to achieve their goals. Even when their berries are not in season, the fruit doesn't go to waste, because they also produce delicious jellies, in partnership with Brimstone originals. Their Blueberry Habanero and Blueberry Jalapeño jellies are awesome (believe me, I've tried them on just about everything).  The combination of sweet berries with warm, savory peppers is divine, and I'll soon share ideas as to how I've incorporated them into my own kitchen.  Here's a list of places where you can find the jellies.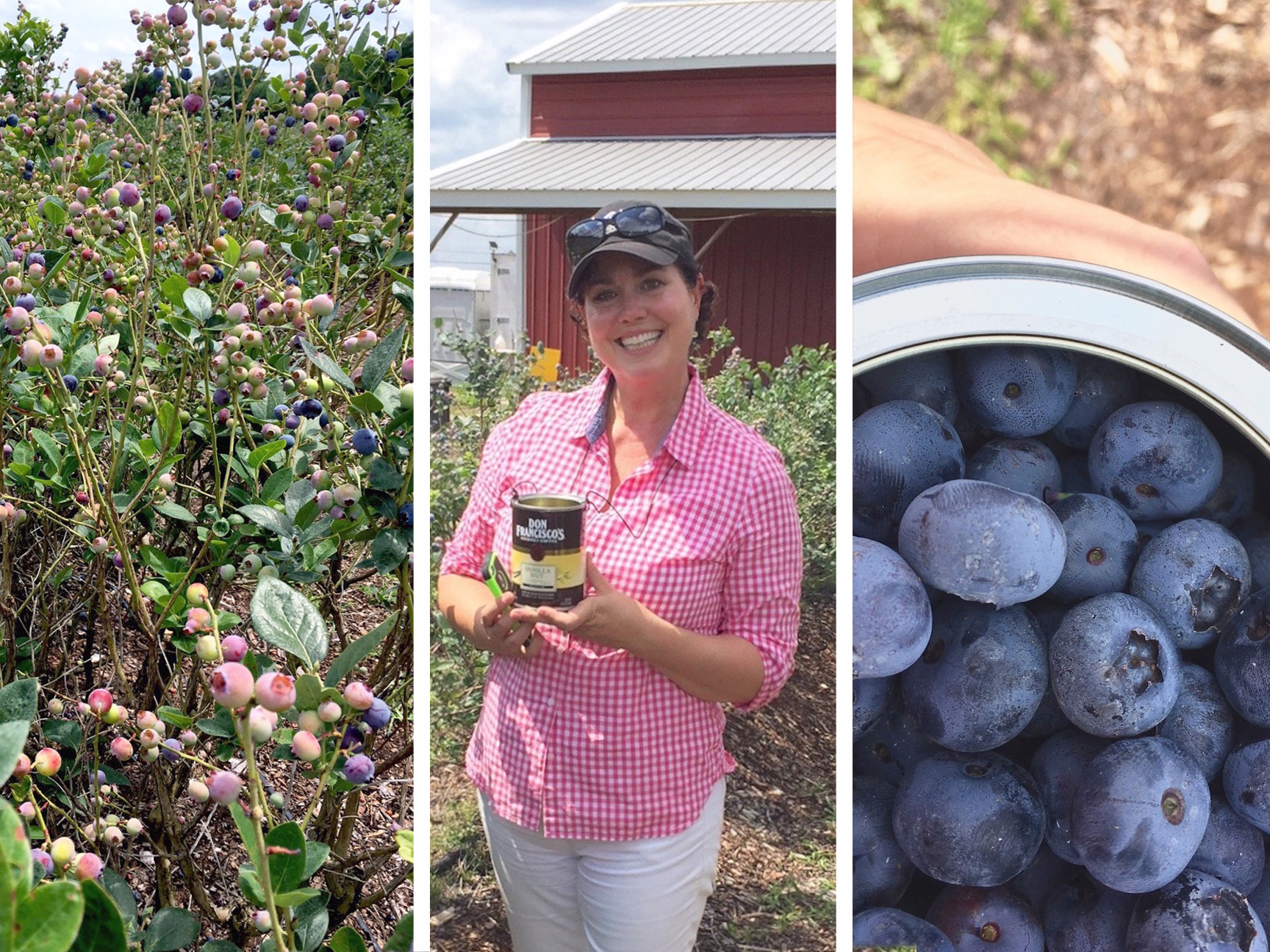 Blues Berry Farm is one of the approved growers for Wish Farms, a supplier of strawberries and blueberries — you've probably seen their packages at Publix and Costco in particular. We got a rare, behind-the-scenes look at how the berries are carefully packaged, according to stringent guidelines.  They were in full swing of processing, so I wasn't able to get photos, but I'm sure if you check out their site you can see more of their process.
There are a number of U-Pick farms across the country, but here's a list of Florida farms — you may not see every farm listed, especially if it's a small producer, so be sure to contact them to confirm availability.  When you visit, be sure to bring sunscreen, bug repellant, a big hat, comfy shoes, plenty of water and a cooler in which to get your berries home.  Oh, and maybe a coffee can, too 🙂
By the way, if you decide to visit Blues Berry Farm, be sure to say 'hello' to Charlotte — she loves to make new friends.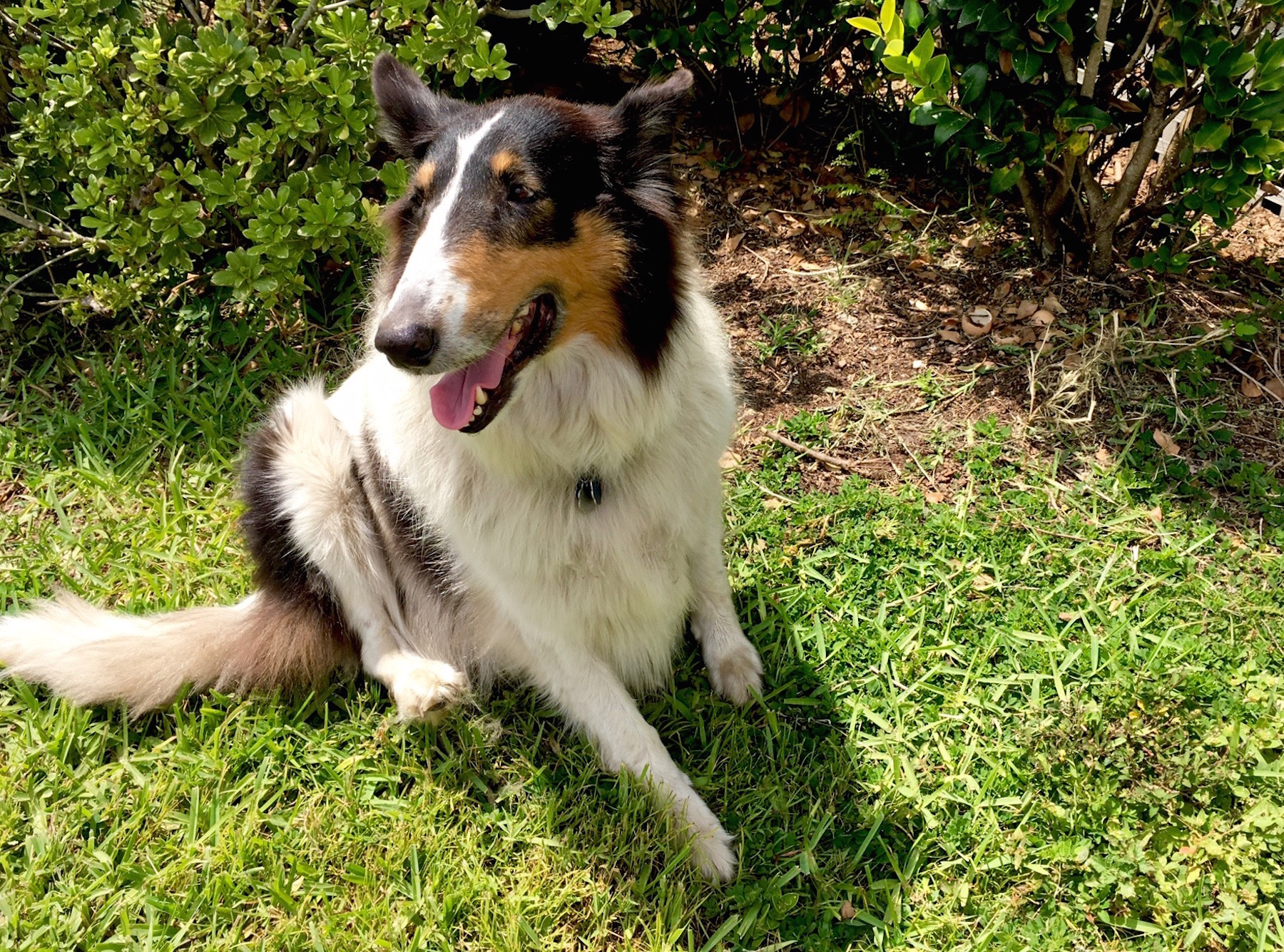 Tip: if you end up with too many berries, consider freezing them so you can enjoy them after the season.  Simply spread a single layer onto a baking sheet and place the sheet in the freezer for about 2 hours.  When frozen, transfer the berries to freezer bags.  These will be best in recipes calling for cooked berries.