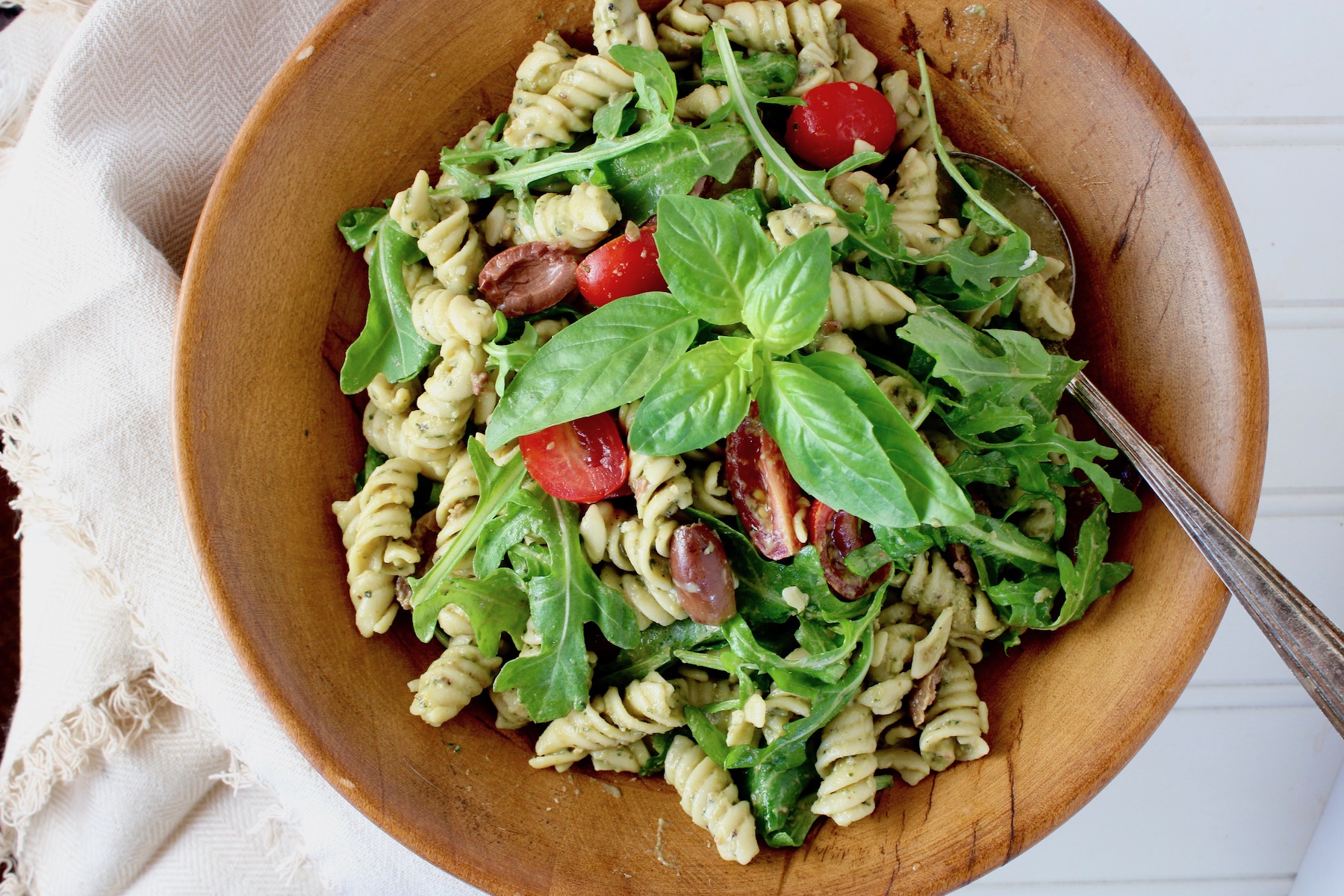 I adore pasta.  It's one of my weaknesses.
To me, nothing screams comfort food more than a warm bowl of pasta with a big spoon.  When paired with a rich/savory sauce or slathered in butter and salt, it just makes me happy.  Fortunately I don't have a diagnosed condition that forces me to stay away from it, but I try to keep consumption to a minimum because it can wreak havoc on my waistline!
So, like many of you, I look for substitutes to provide the satisfaction of pasta, without some of the negative effects of pesky gluten and carbs.  I've tried rice, bean and lentil-based products (which tend to be too mushy for my liking) but one I've had positive results with is chickpea pasta.  Yes, those cute little legumes are delicious in hummus, but they also make great pasta.  I discovered it on a trip to New Orleans for a sustainable food writers conference last year and have been experimenting since then (Note: this is not a sponsored post, but the brand I've been using is Banza and it's delicious!).
As a plant-based pasta it's high in protein and fiber, has less carbs than most regular pasta (depending on their mix of flours), has low glycemic count, and it's sustainable.  I also like it because sauces stick to it like regular pasta, it has a nice bite/consistency and a slight nutty flavor.  To be honest, though, I don't love it with red sauce — that was 'meh' in my book — probably due to that nutty flavor, which seems to work better with brighter flavors, citrus, cheeses, veggies and briny things that highlight the flavor.
This salad is a result of having too much fresh basil in my house (thanks to my friend
Mandy
) and a desire to use up the Kalamata olives and tomatoes I had for another recipe.   It's really yummy, best served warm or at room temperature (P.S. chickpea pastas are best when NOT COLD!  That's when their flavor and texture becomes less appealing, so even if you have to refrigerate, bring to room temperature before serving).  Feel free to experiment with add-ins like roasted veggies, toasted nuts, grilled protein, or whatever you've got.  It's a satisfying salad that's great for a Memorial Day picnic, or basically any time you're craving carbs.
I don't know who said it, but I recently spotted this quote: "Small Steps. . .Big Strides."  Maybe trying chickpea pasta is just one small choice and/or change we can make for lasting, positive effects?  Who knows.  All I know is that it's delicious 🙂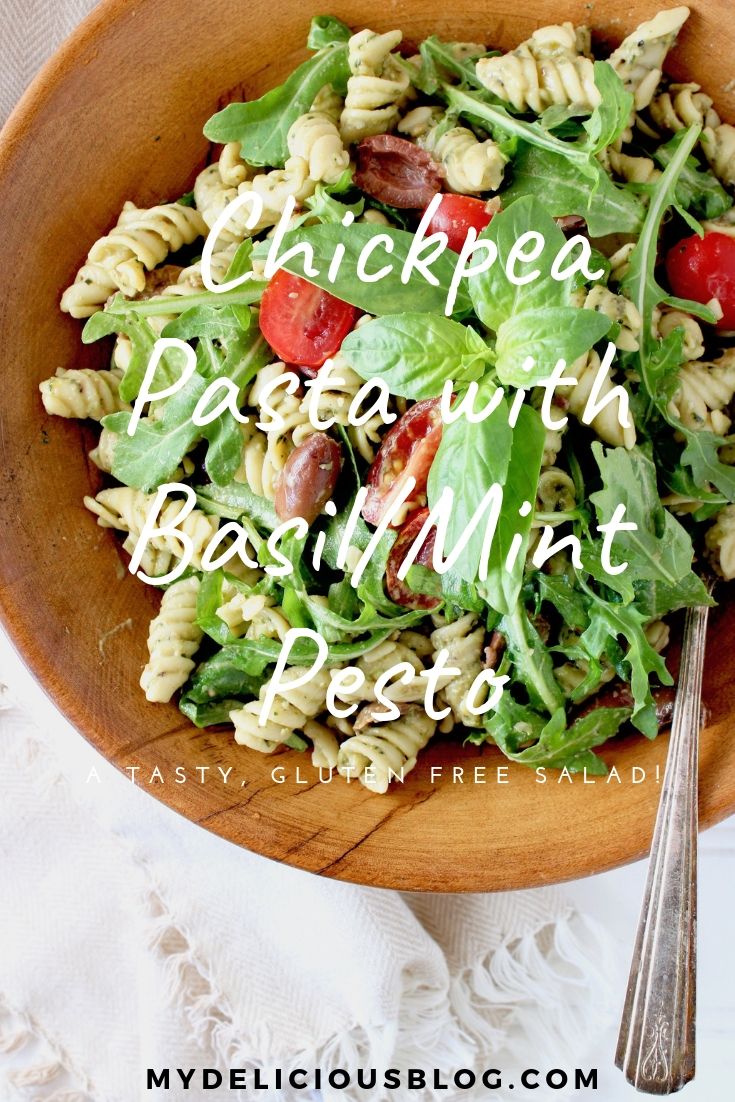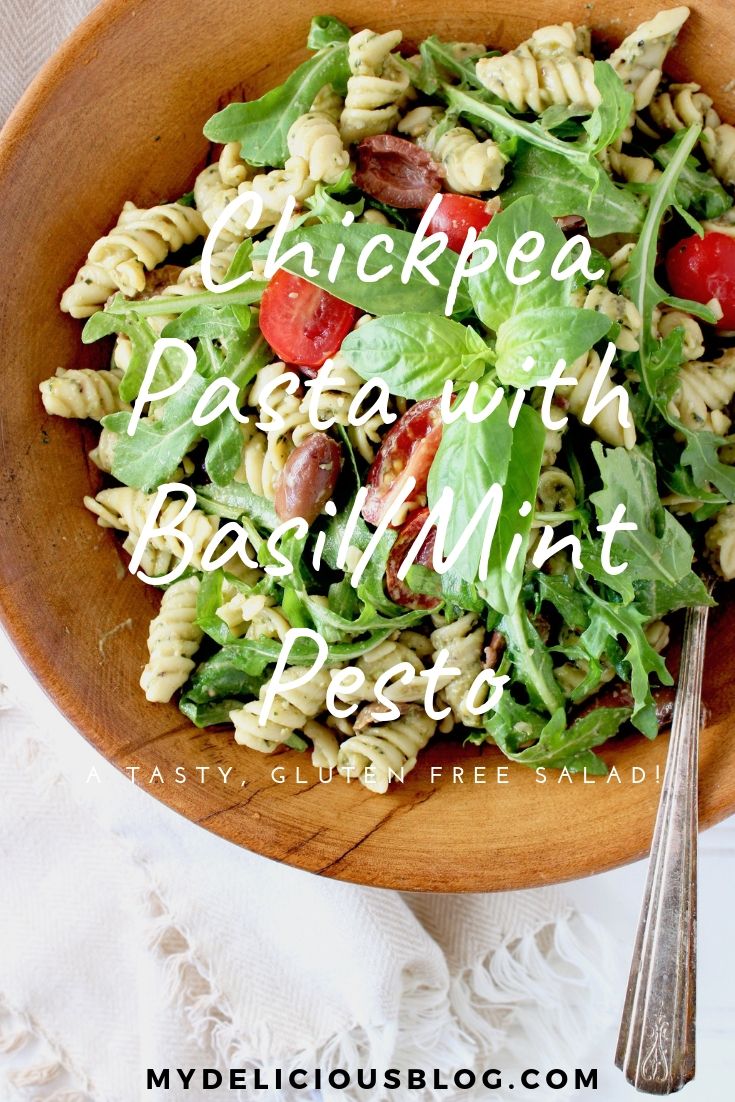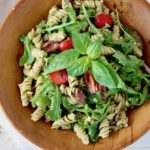 Print Recipe
Chickpea Pasta with Basil/Mint Pesto
Delicious, gluten-free chickpea pasta is paired with tasty basil/mint pesto, sweet tomatoes, peppery arugula and briny Kalamata olives.
Ingredients
Basil/Mint Pesto
1

c.

Fresh basil leaves/stems

1/2

c.

Fresh mint leaves

1/4

c.

Toasted nuts (almonds, pine nuts, walnuts)

1

Lemon, zested

1

Garlic clove, peeled

1/2

c.

Grated parmesan

1/4

tsp.

Kosher salt

Several

grinds

Fresh black pepper

1/3

c.

Extra virgin olive oil
Chickpea Pasta
1

lb.

Chickpea pasta (dry)

1

pint

Cherry or grape tomatoes, halved

3/4 - 1

c.

Pitted Kalamata olives, halved

(use more if you love olives)

2-3

handfuls

Baby arugula

3-4

Tb.

Feta, goat or parmesan

(optional)
Instructions
For the Pesto:
Add all ingredients (except olive oil) to the bowl of a food processor. Pulse until everything is finely chopped. While machine is running, slowly pour olive oil into the feeding tube. Stop when combined then transfer to a small bowl; set aside until ready to use. Note: if it seems just too thick, mix in a little more olive oil and/or a bit of lemon juice.
For the Pasta:
Fill a large pot with water + 2 Tb. kosher salt. Bring to boil, add pasta and cook according to package directions, stirring frequently to avoid sticking. It typically takes 7-10 minutes, until cooked through and al dente). When done, reserve 1 c. pasta water then drain pasta in a colander and transfer to a mixing bowl.

While pasta is warm, spoon in the pesto and mix. Little by little, add warm pasta water to smooth out the pesto and create a creamy texture. You may not need all of it, but you'll be glad you have it!

Mix in tomatoes, olives and arugula, sprinkle with cheese (if using) and serve immediately. (Optional - sprinkle a little fresh lemon juice for extra freshness before serving.)
Notes
Feel free to swap out the mint for fresh parsley.
This salad will likely serve 4 as a main course (depending on how hungry you are and what you toss in), or 6-8 as a side dish.