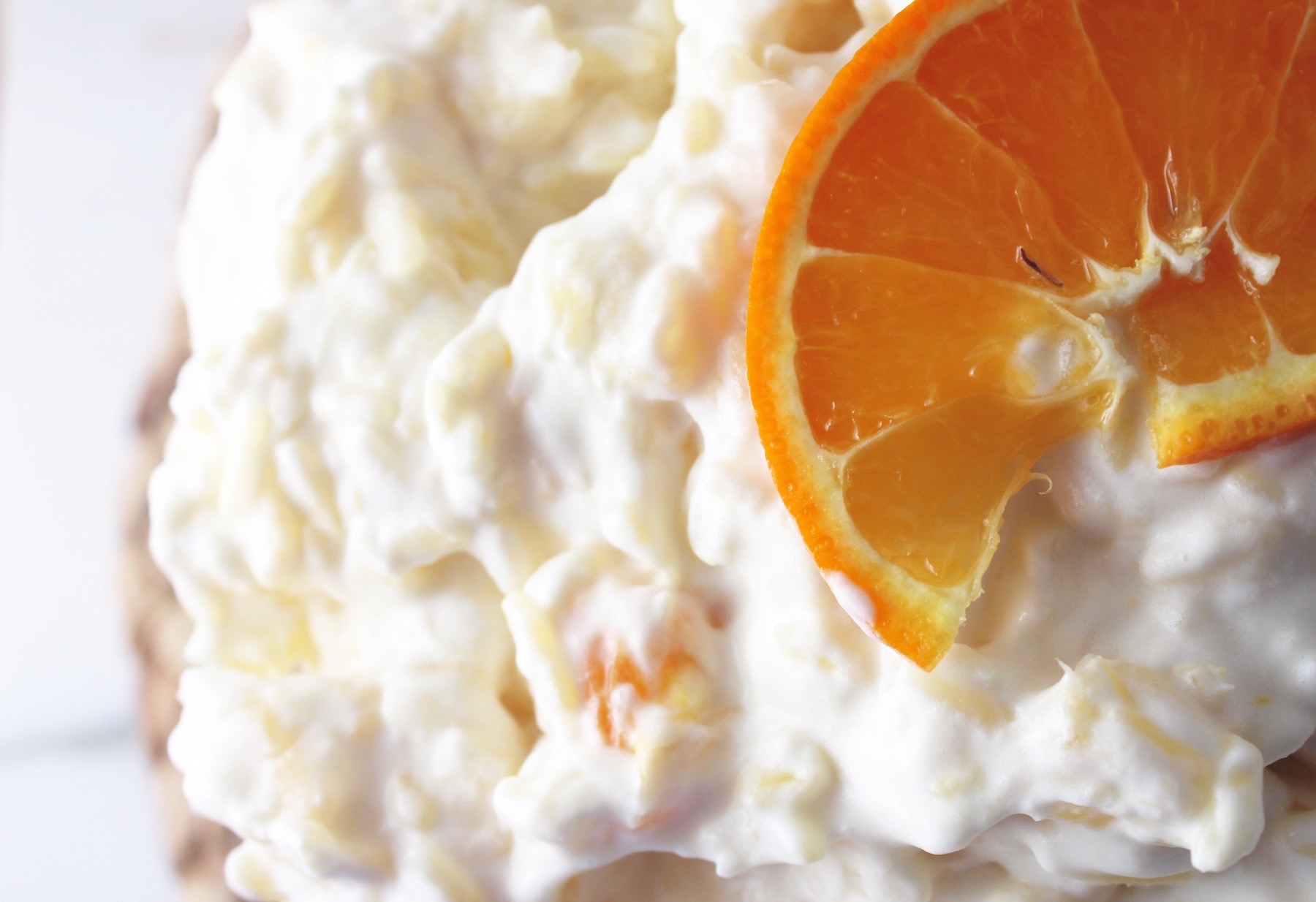 When Easter rolls around I think of family dinners around my grandmother's table.  Dinner usually included baked ham with sweet and cinnamon-y pineapple sauce, creamy scalloped potatoes, fresh asparagus and homemade rolls, and it has always been one of my favorite meals.
But dessert was also a treat. She usually served lemon meringue pie (or squares) or custard pie, but when Lucille pulled out her big, gold punch bowl (usually reserved for egg nog at Christmas time) filled to the brim with ice-cold rice pudding mixed with pineapple, orange segments and fresh whipped cream, our eyes lit up.
Every spoonful is like a taste of Spring, and it is almost impossible to stop at one bowl.
My mother says that my grandmother had made the same dessert, in the same bowl, since she (my mom) was a kid, and it's still a tradition with me, my mom, her sisters and their families. I just wish I had that gold punch bowl!
As a kid, when several of us gathered in the kitchen to wash dishes, it was a great time to get caught up on family happenings, but it was also the perfect opportunity to sneak more spoonfuls of that heavenly stuff 🙂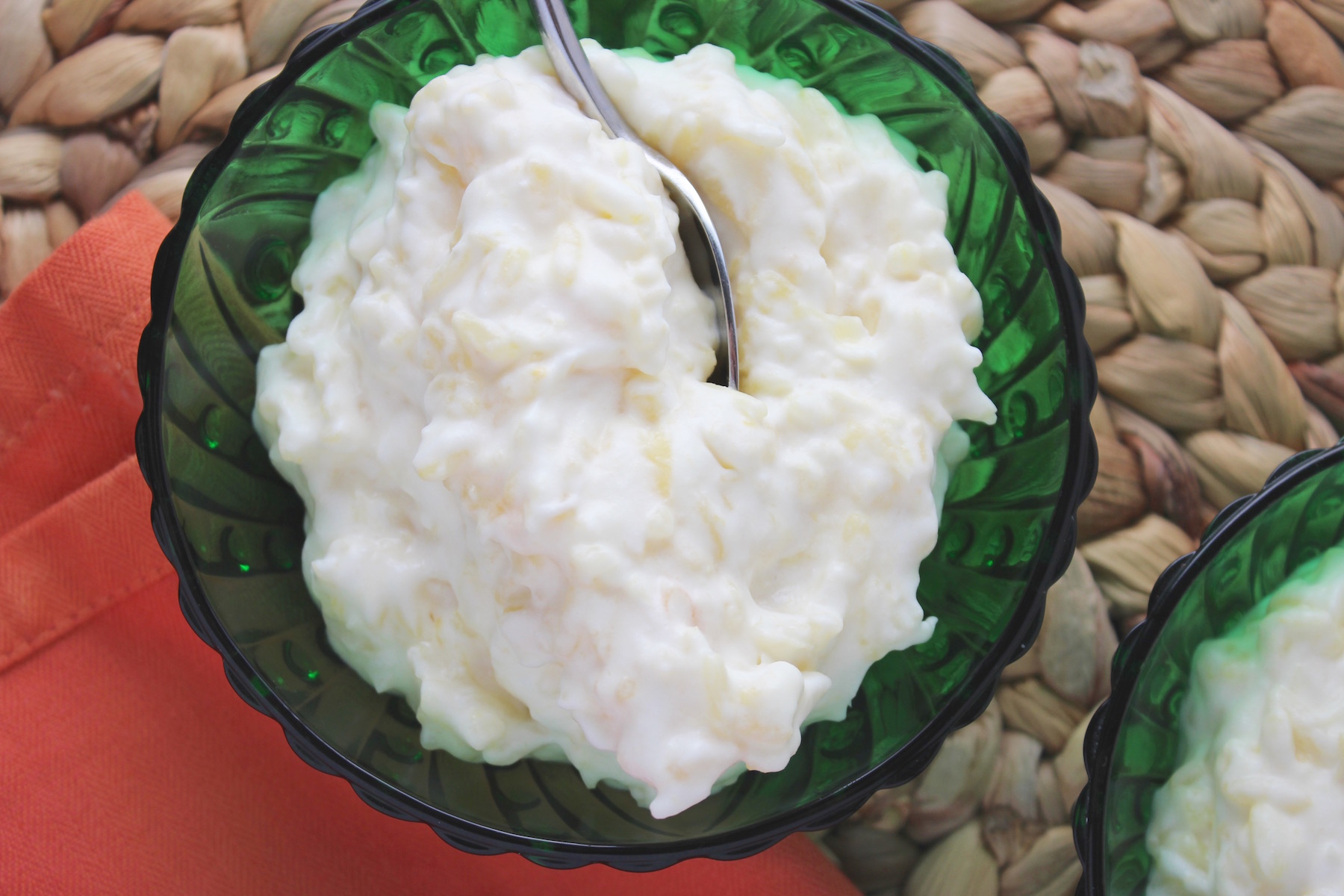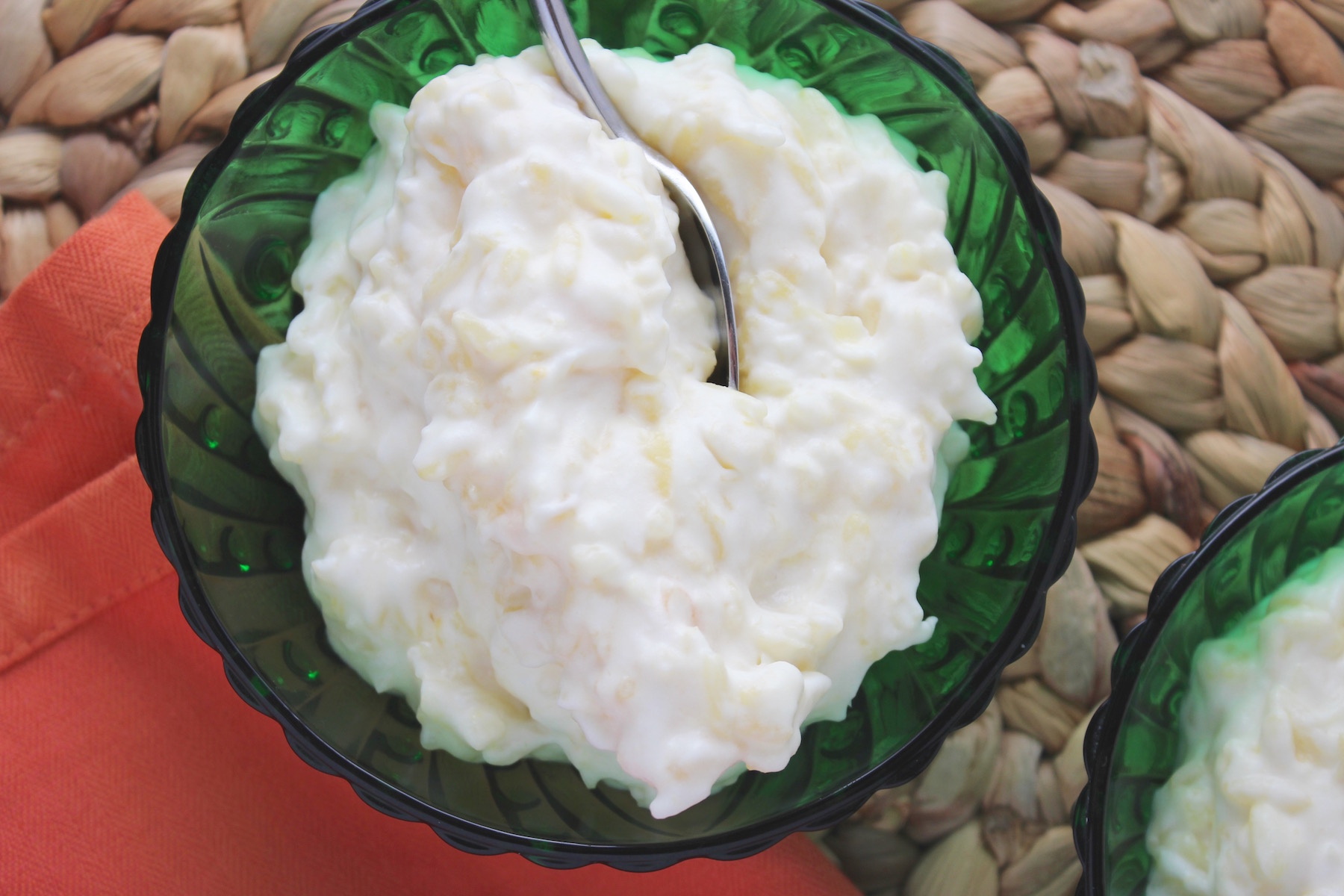 This is definitely not a low-calorie, dairy-free or sugar-free dessert.  But unless you have allergies to anything in this bowl of deliciousness, it's ok to splurge once a year, possibly in an effort to re-capture treasured family memories.
I made a batch today and the first spoonful took me all the way back to Niagara Street in Fall River, sitting around Memere and Pepere's table, laughing and loving every minute of it all.  The power of food never ceases to amaze me.
Happy Easter!

Rice, Pineapple & Orange Pudding
Creamy rice pudding with yummy fruit is a classic Easter dish.
Author:
My Delicious Blog
Ingredients
Pudding
2 c. Uncle Ben's Converted Long Grain Rice
1 can crushed pineapple (with natural juice)
1 box vanilla pudding (cook & serve style)
1-2 oranges, segmented (include any juice) OR 1 large can mandarin orange segments (no juice)
Whipped Cream
¾ c. whipping cream
1 Tb. confectioner's sugar
Instructions
Prepare rice according to package directions (to yield 4 cups cooked rice).
Prepare pudding according to package directions. When cooked, transfer to a bowl, cover and set aside to cool for a few minutes.
Transfer cooked rice to a large mixing bowl and allow to cool about 10 minutes (mix it periodically to remove some heat). To warm rice, add crushed pineapple and juice, cooked pudding and orange segments (w/juice, if any). Stir well, then refrigerate at least a few hours so it's very cold.
Remove pudding mixture from refrigerator and stir. Before serving, whip the cream w/confectioner's sugar to stiff peaks. Fold cream into pudding mixture then refrigerate until ready to serve.
When serving, no garnish is even necessary, unless you'd like fresh mint or toasted, chopped almonds or pistachios. I like mine just plain!
Notes
This pudding can be made with cooked OR instant pudding - we've enjoyed it both ways. The cooked pudding makes a less-sweet version, but if you want to add more sweetness (and perhaps you don't have any milk in the house!), simply add 1 package of INSTANT vanilla pudding to the rice/pineapple/orange mixture. Stir and let it absorb for a few minutes. Once the pudding is incorporated, fold in the whipped cream. It's good either way 🙂