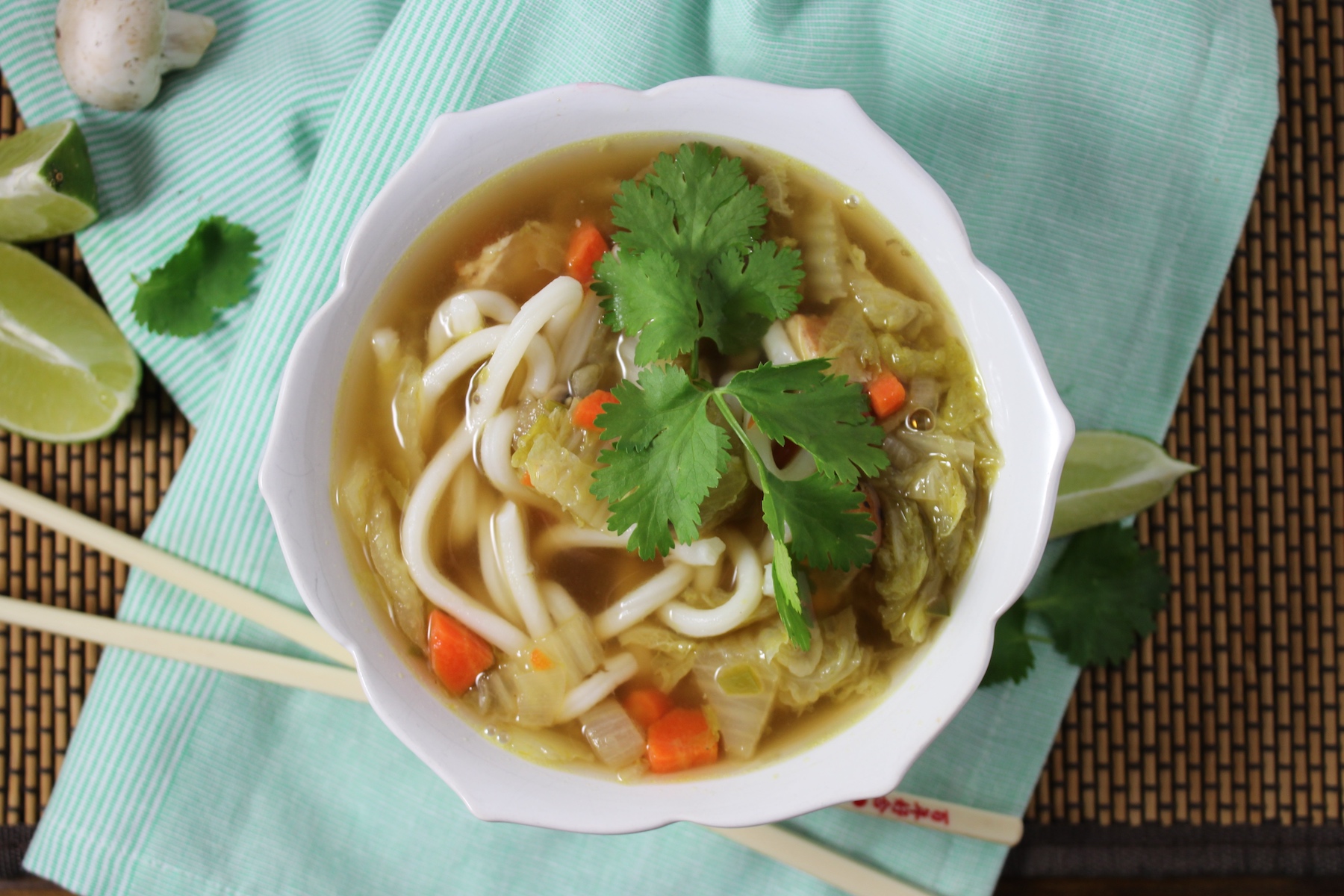 I love to make (and eat) soup.  The more flavorful, the better. I've been playing with flavor combos in soups, and this one kept coming to the top of my list.  I wanted to make something with lots of spicy ginger and jalapeño, balanced by mild flavors of veggies. This soup gives a kick that also clears out your sinuses!  It's chock-full of veggies and you can substitute just about anything, depending on your tastes.  Instead of pork, use roasted chicken, sliced beef, or no meat at all!  You can also use any sort of noodles – for this one, I had some udon noodles that were hidden waaaaaay back in my pantry, but I've also had success with lo mein noodles, elbow macaroni, and even angel hair pasta — whatever you've got on hand.  Or, you could go with no noodles at all and save the carbohydrates altogether!  It's definitely the kind of soup you can enjoy on a cool, damp day.  But then again, when isn't any soup good on a day like that?
Spicy Asian Noodle Soup
A tasty, zesty soup for a cold day.
Author:
My Delicious Blog
Ingredients
3 Tb. olive oil
2 carrots, sliced
1 medium onion, chopped
2 -3 Tb. fresh ginger, finely chopped (depending on how spicy you like it)
3 cloves garlic, finely chopped
1 jalapeño or habanero pepper (depending on how spicy you like it), seeded & finely chopped
1 head Chinese cabbage, roughly chopped
2 cups portobello mushrooms (or any mushroom you have)
4 Tb. low sodium soy sauce (Tamari, if you have it)
8 c. chicken broth or stock (I use "Better Than Bouillon")
1-2 c. roasted pork, chicken or beef, thinly sliced or chopped
Salt & pepper to taste
Handful of fresh cilantro
Lime wedges
1 package of noodles, prepared according to package
Instructions
Over medium heat, place a large stock pot and add the oil.
Add carrots and onions and saute until onions are translucent.
Add ginger, pepper and garlic and sauce about 1 minute.
Add mushrooms and cabbage.
Add soy sauce, stock and meat.
Reduce heat and simmer about 15-20 minutes.
To serve, place some noodles in each bowl and ladle the soup over the noodles. Garnish with cilantro leaves and lime juice.