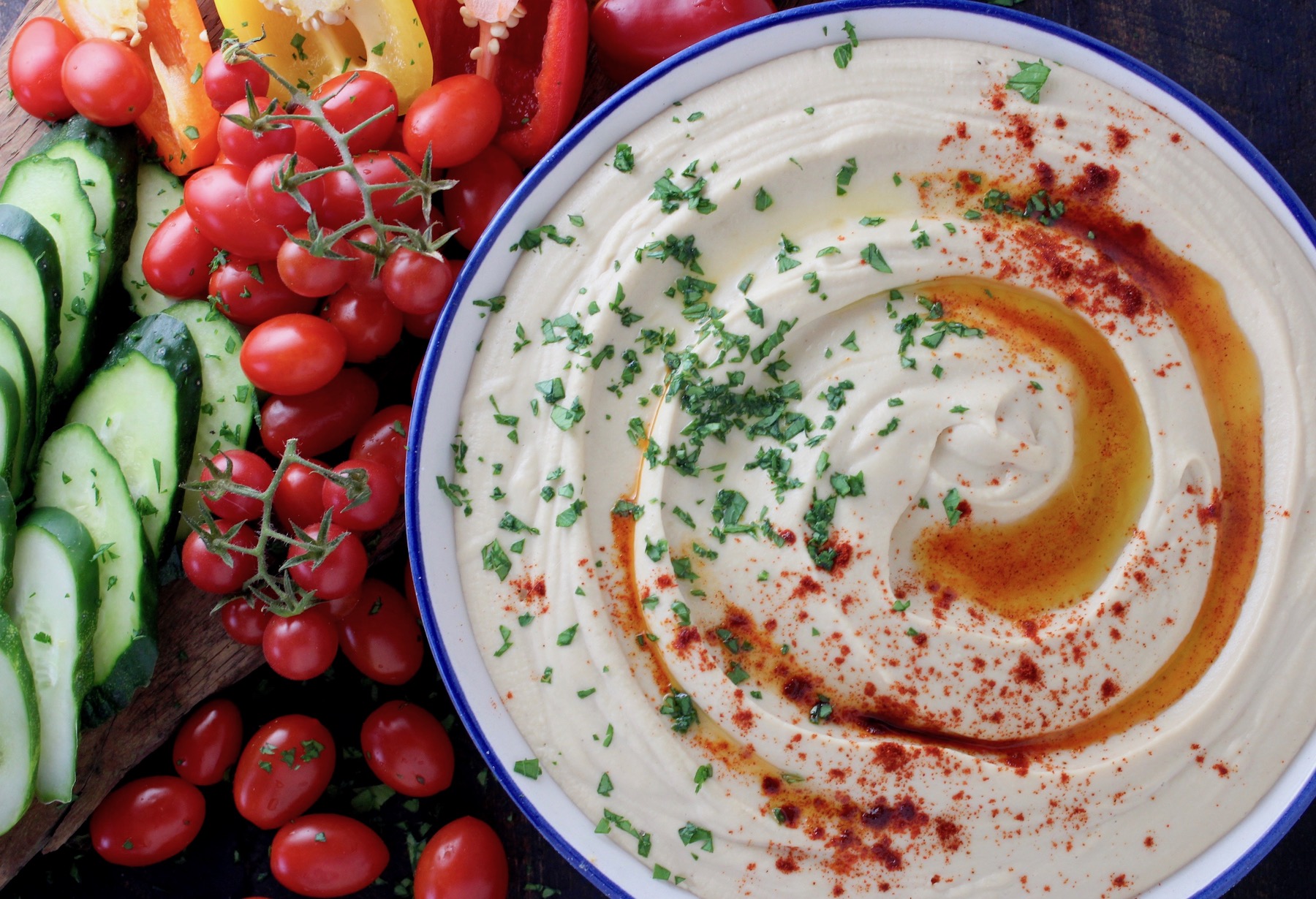 Many years ago my husband and I owned a marina store on the Intercoastal Waterway, where boats pulled in for fuel, bait, beer and snacks.  Here's a rendering he created of that sweet, little place: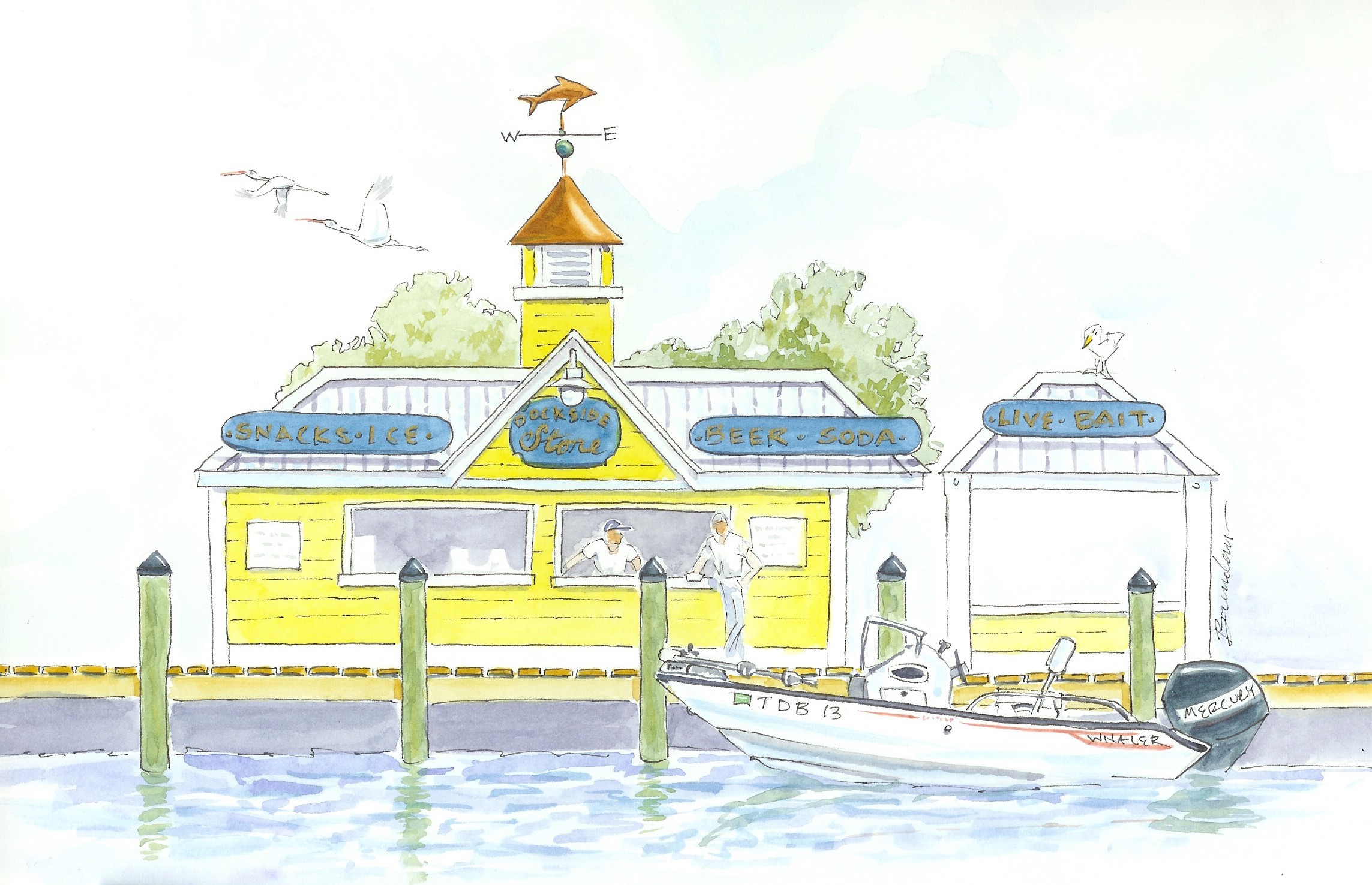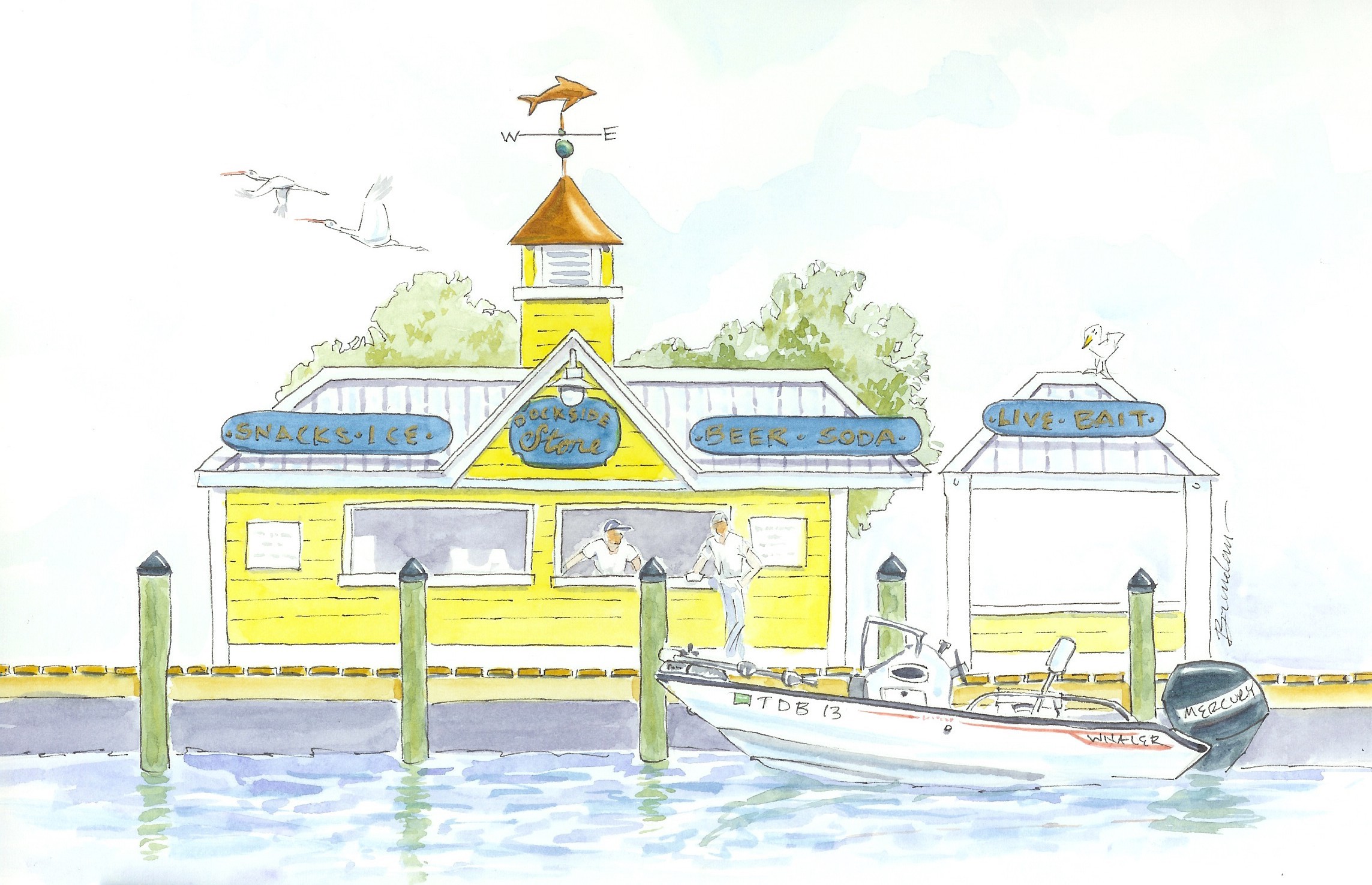 I never imagined owning a business like this, but an opportunity presented itself, and we thought it would be a good idea.  Well, it WAS a good idea, and we enjoyed the heck out of it for 3 years.  But when we realized we were exhausted (12 hour days/7 days a week will do that to you) we decided to sell it.  We still fondly recall our 'interesting' bait purveyors, stocking up burly commercial fishermen, feeding hungry tourists, fueling massive boats, and ensuring folks had cool drinks at the end of hot days.  We also remember the lovely people who passed through our doors – some are still in our circle, others simply left deep impressions, like our Arab friend Samir, a lovely, smiling man who usually stopped in for a dozen shrimp. . .
Little did Samir know that the day he brought us a warm plate of homemade hummus he would make a culinary impression that stuck with me for 12 years!  It was warm, super-creamy, lighter than air, oh-so-flavorful, topped with olive oil and paprika, and served with warm pita.  I literally swooned over that hummus.  But when I asked what made it SO good, he smiled and said "It's a secret, but something my people have mastered over many years." I again tried to pry that secret out of him on his next visit, but he seemed determined to have me figure it out myself 🙂
Over the years, I've made many batches – some pretty good, some chalky, tasteless or mealy.  But I recently spotted the May, 2017 issue (yes, I'm behind in my reading pile) of
Milk Street Kitchen
with the headline "Hummus Perfected".  In it, the author wrote how hummus is made in the Middle East, where folks eat the warm, super-creamy concoction every day.  Not surprisingly, each region makes it a bit differently, but the process is basically the same.  He did his own experimenting back home and revealed all the key components of good hummus. . .Finally, I found the secret(s)!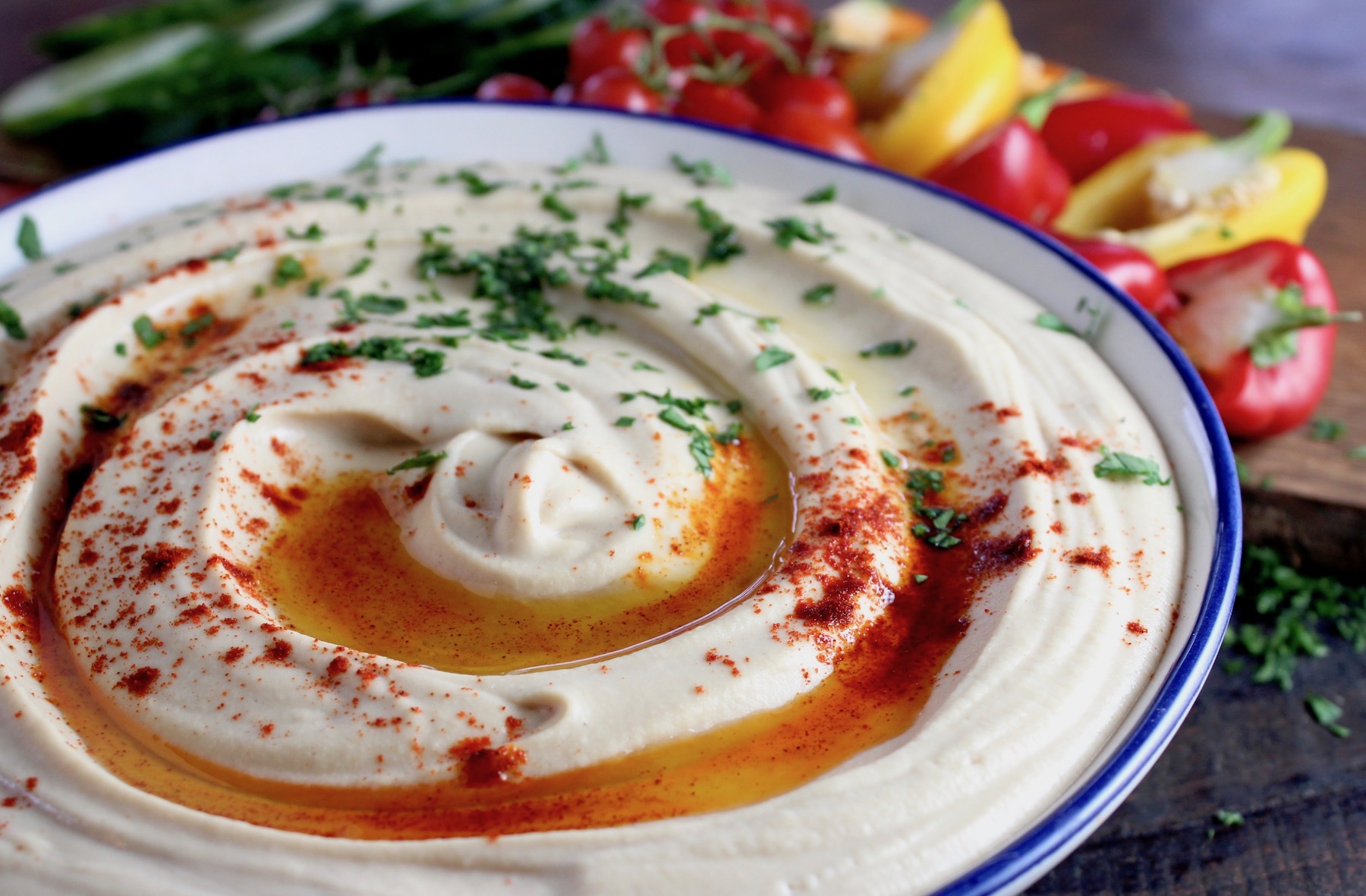 So, what ARE the keys to great hummus?
1) Start with small, dry chickpeas (vs. canned) – they yield great flavor & texture.
2) Soak chickpeas overnight in salted water to tenderize them.
3) Cook chickpeas in water with baking soda for a long time, to soften them.
4) Puree WARM chickpeas for several minutes, using some of their cooking water.
5) Only add in tahini, lemon and salt.
6) Use good-quality tahini (toasted, not-too-thick) – try a few brands to see which you like best.
7) Serve it warm. . .
I adapted the MSK recipe ever-so-slightly by adding more lemon juice (I like that lemony zip).  And now, I dedicate this hummus to my old friend Samir, the dear man who introduced me to something truly special 🙂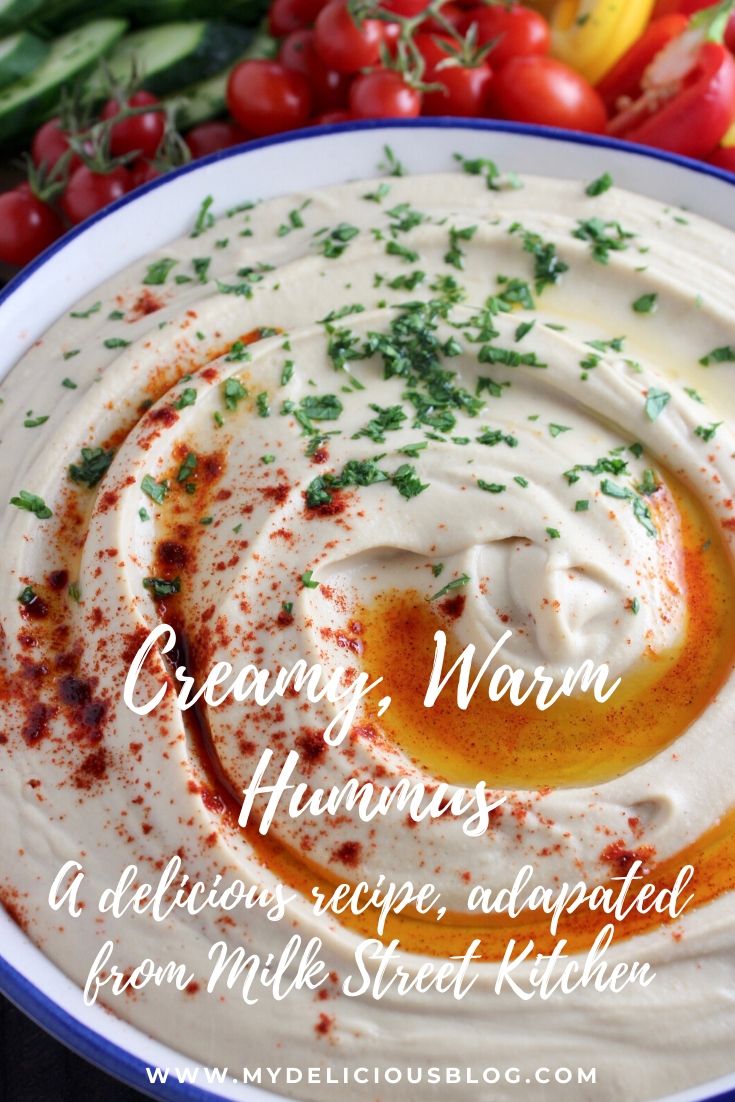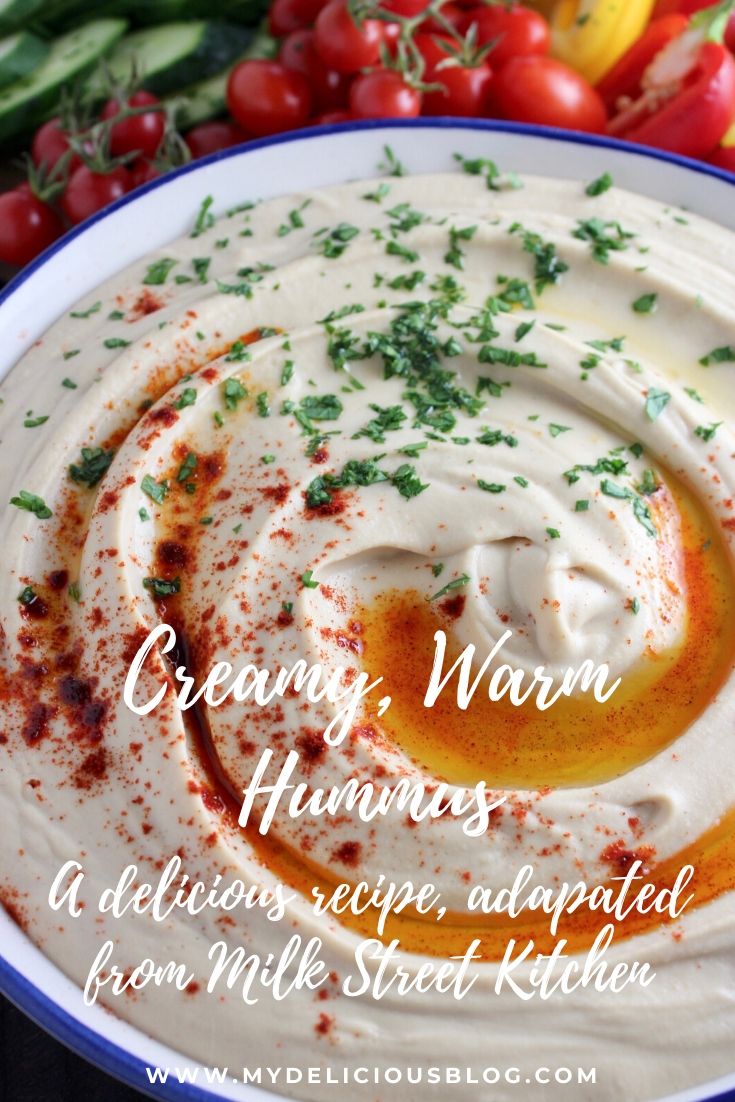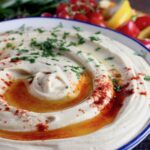 Print Recipe
My Favorite Hummus
This creamy, warm and flavorful hummus is brought to you by the folks at Milk Street Kitchen who traveled all the way to the Middle East to find its secrets. Mine is slightly adapted, and it's delicious, served with veggies and warm pita.
Ingredients
1

cup

Dried chickpeas

(see Note below)

2

Tb.

Kosher salt

(+ 1 tsp. - set aside)

1/2

tsp.

Baking soda

3/4

cup

Toasted tahini

(room temperature)

4 1/2

Tb.

Fresh lemon juice
Garnish
2

Tb.

Extra virgin olive oil

1-2

Tb.

Fresh parsley, chopped

1/2

tsp.

Paprika

1/4

tsp.

Cumin

(optional)
Instructions
Pour 8 cups of cold water into a large bowl. Add dried chickpeas and 2 Tb. salt. Soak overnight or at least 12 hours (at room temperature).

Bring 10 cups of water and 1/2 tsp. baking soda to boil in a large pot. Drain chickpeas (discard the salty water) and add to the pot of boiling water. Bring up to boil again, then reduce heat to medium/low and cook about 45 minutes, until chickpeas are very tender (the skins will fall off and you can easily mash the chickpeas with a spoon).

Put a strainer over a large bowl and pour hot chickpeas into it, allowing them to drain for a couple of minutes. Transfer chickpeas to a food processor (but be sure to save the cooking liquid!), add 1 tsp. reserved salt and process 3 minutes. Meanwhile, remove 3/4 cup of the hot cooking liquid and set it aside until ready to use.

Stop the food processor to add the tahini, then process until light and smooth (1-2 minutes). Stop the processor to scrape down the edges with a rubber spatula, then, while the machine is running, add 3/4 cup cooking liquid and lemon juice. Pulse until combined, then taste and add salt, if needed.

Scrape the hummus out of the processor into a wide, shallow bowl. Make a swirl to pour the olive oil into, sprinkle with parsley, paprika and cumin, if using. Serve warm, with pita and fresh veggies. Refrigerate any remaining hummus (probably unlikely!).
Notes
You can certainly use canned chickpeas, but be sure to heat them (with their liquid) before pureeing.  The flavor and texture won't be as excellent as what dried chickpeas  offer, but if you don't have time to soak, by all means, go with canned.  And be sure to watch the amount of salt you add, as the canned version may contain salt already 🙂