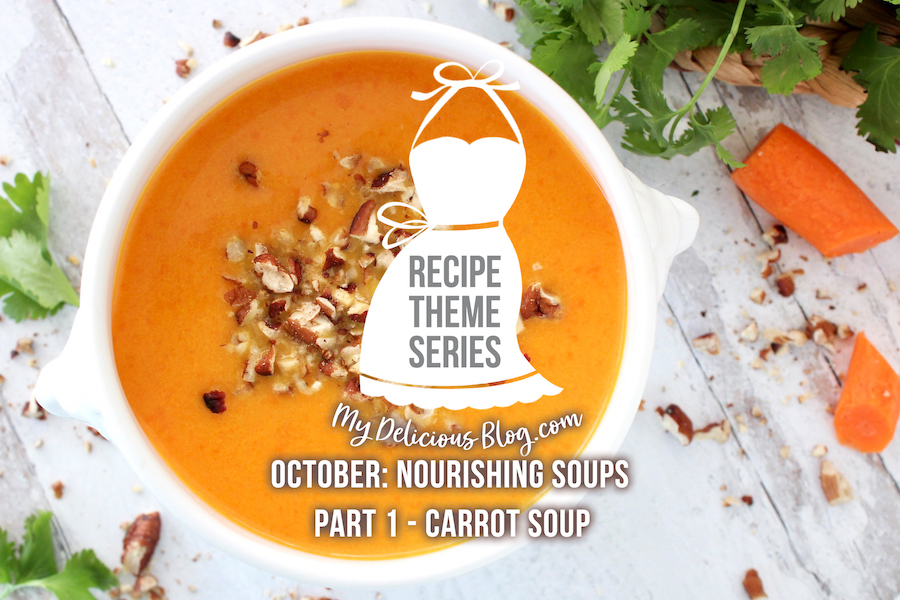 When temps get below 80 in Florida, I like to fire up the stove for soup. And with this month's theme of 'Nourishing Soups,' I'm starting with carrot.
From September to January in Florida we get beautiful carrots from local farms. But you can find them just about anywhere – just look for firm, smallish, slender carrots, not the huge ones that can be wood-y and not as sweet.
Sometimes carrot soup can be on the too-sweet side (especially if the carrots are super-fresh). If you watched the Netflix series,
Salt, Fat, Acid, Heat
(based on the book by Samin Nosrat*) you learned 
acid
 (from citrus, vinegar or pickled things) plays a key role in
balancing
flavors.
Why am I talking about acid? Because, in her book, Samin wrote about a carrot soup she made at
Chez Panisse
early in her career. She thought it was perfect, but another chef suggested adding
vinegar
and she was amazed at how it transformed it, highlighting every ingredient.
So I tried it! I tasted my soup, then added vinegar and was shocked at how much better it was. It was delicately flavored, not too thick, not too sweet, and I tasted every morsel of fresh carrot and buttery deliciousness.
You can make this recipe just as it is. Or, add heat via dried spices or hot sauce, top it with fresh herbs (carrots love cilantro) or buttery/toasted pecans. And if you can't get enough pureed soup, try this 
Butternut Squash
 🙂
*Note: the book is a great resource on your shelf because it's filled with the science behind what makes food really good.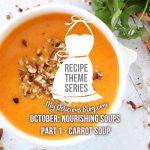 Print Recipe
Creamy Carrot Soup
A delicious blend of fresh carrots, coconut milk and other good stuff to make a creamy, warming soup.
Ingredients
2

Tb.

Unsalted butter

1

small

Onion, roughly chopped

2

medium

Garlic cloves, peeled & roughly chopped

1

tsp.

Kosher salt (divided)

1

Lb.

Fresh carrots

1/2

c.

Coconut milk (full fat)

3

c.

Water

1

tsp.

Distilled white vinegar

1/2

c.

Pecans, toasted and roughly chopped, as garnish

(optional)

Fresh cilantro or parsley, as garnish

(optional)
Instructions
Heat a large soup pot over medium heat. Add butter, onion, garlic and 1/2 tsp. salt. Cook over medium/low heat, about 5 minutes, or until onion is translucent.

If carrots are very fresh, scrub them lightly and trim the ends. If carrots are packaged, trim ends and peel them to remove some of the rougher skin. Slice and add them to the pan, along with coconut milk and water. Bring to a soft boil then cover and cook about 20 minutes, until carrots are very tender.

Remove pot from heat. Using an immersion blender, carefully blend the soup until smooth. Add the remaining 1/2 tsp. salt and 1 tsp. vinegar. Taste for seasoning. Top with fresh herbs or pecans (optional) and serve immediately.