Today was my day to try something new!  But if you're thinking it was something like sky diving, learning how to play the accordion or scaling Mount Everest, well, you're incorrect. . .
Cooking fish or poultry in banana leaves has always sounded like such a cool thing to do.  So, as I sat on my porch sipping coffee on this sunny morning, gazing at my beautiful banana palms, I decided today was the day to give it a try. And, since I just bought Cod yesterday at my local market, it was the perfect fit for my plan because it's sturdy and flaky.
Using banana leaves is no different than using parchment or aluminum foil, except that it's prettier, and the finished dish is more fun to serve your guests. Basically, by wrapping meat or fish, you're sealing in its moisture and infusing it with whatever you pair it with in the little bundle — it's a magical thing.  It's also a great way to experiment with flavors because you can put in there whatever you think would be tasty. Today I kept it simple with a flavorful compound butter made with scallions, garlic, fresh ginger and lemon zest (but if you don't have a few extra minutes to make a compound butter, just layer all those ingredients onto the fish and you'll basically achieve the same result).
Banana leaves are regularly used for cooking and serving food in Southeast Asian, Latin and Indian cultures and I'm lucky enough to have them in my own backyard (one of the benefits of living in a tropical climate). If you don't have your own backyard source, you can usually find pre-cut pieces at Asian, Hispanic and Indian markets, typically in the freezer section. I've even seen them in the frozen section at Walmart!
As usual, when trying something for the first time, your first attempt isn't always the prettiest, and my first bundle of fish wasn't too impressive. To be honest, I had to re-wrap it 3 times, then I ended up tossing the leaf because it was just too torn and messy-looking. For the second bundle, my leaf wasn't large enough for the fish, so I simply wrapped a second leaf around it in another direction to achieve a tight bundle and avoid the butter leaking through.  After all that, I think I did pretty well.  Who would see the finished bundles anyway, since they would be opened before serving?!?
Here are my nice, neat little pieces of art, before I started mangling them: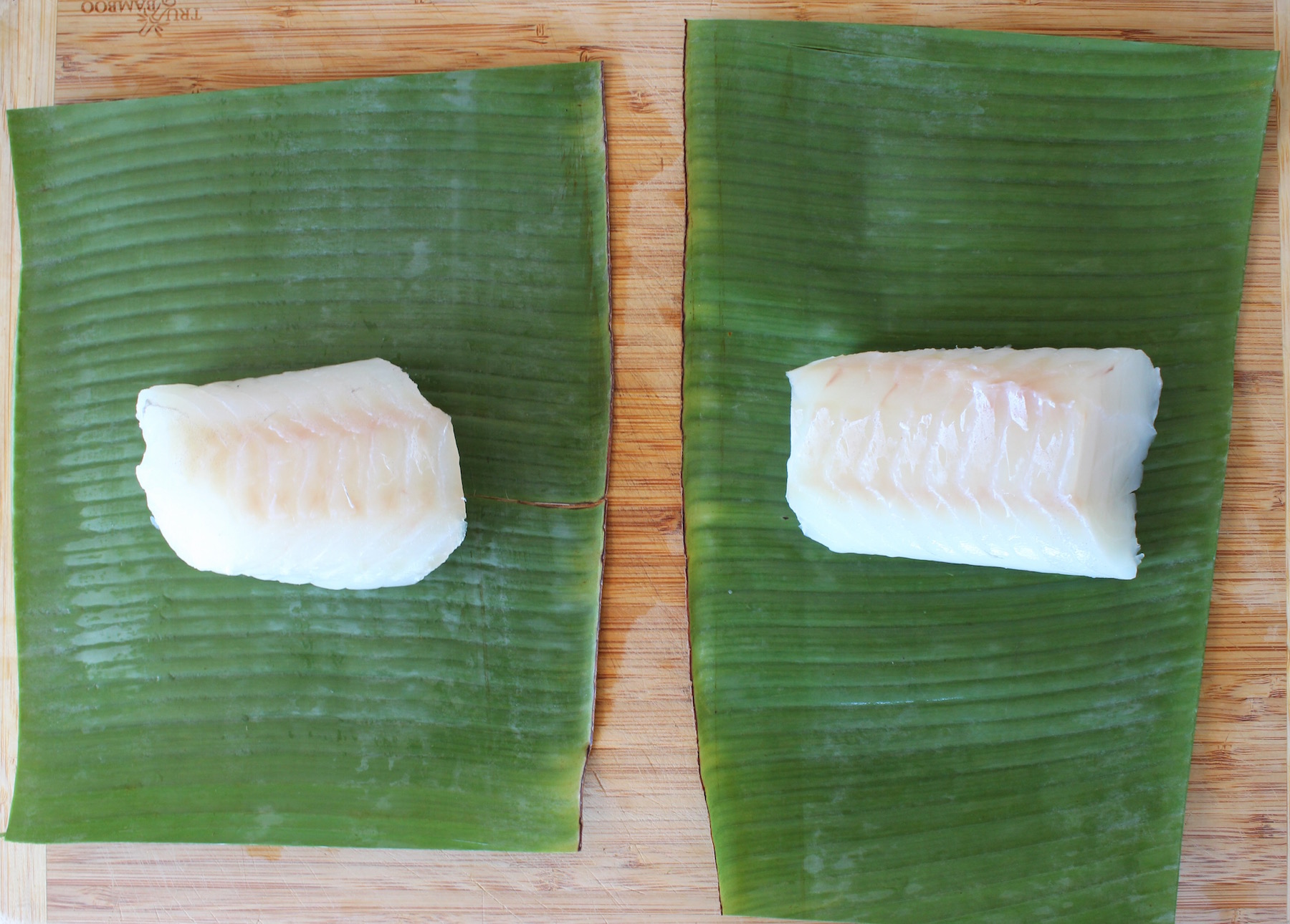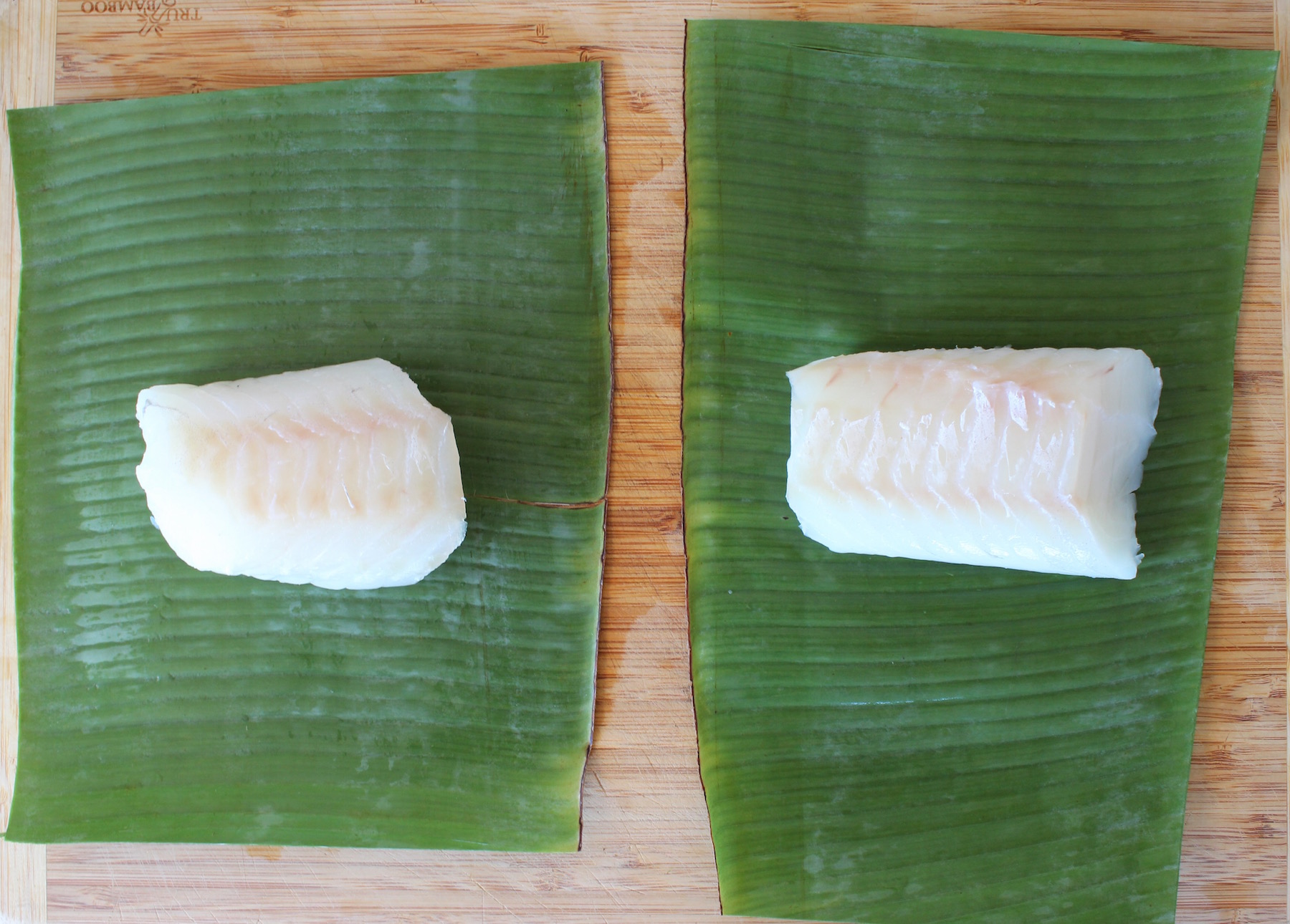 After tying my little packages with twine, they were ready to go on the grill: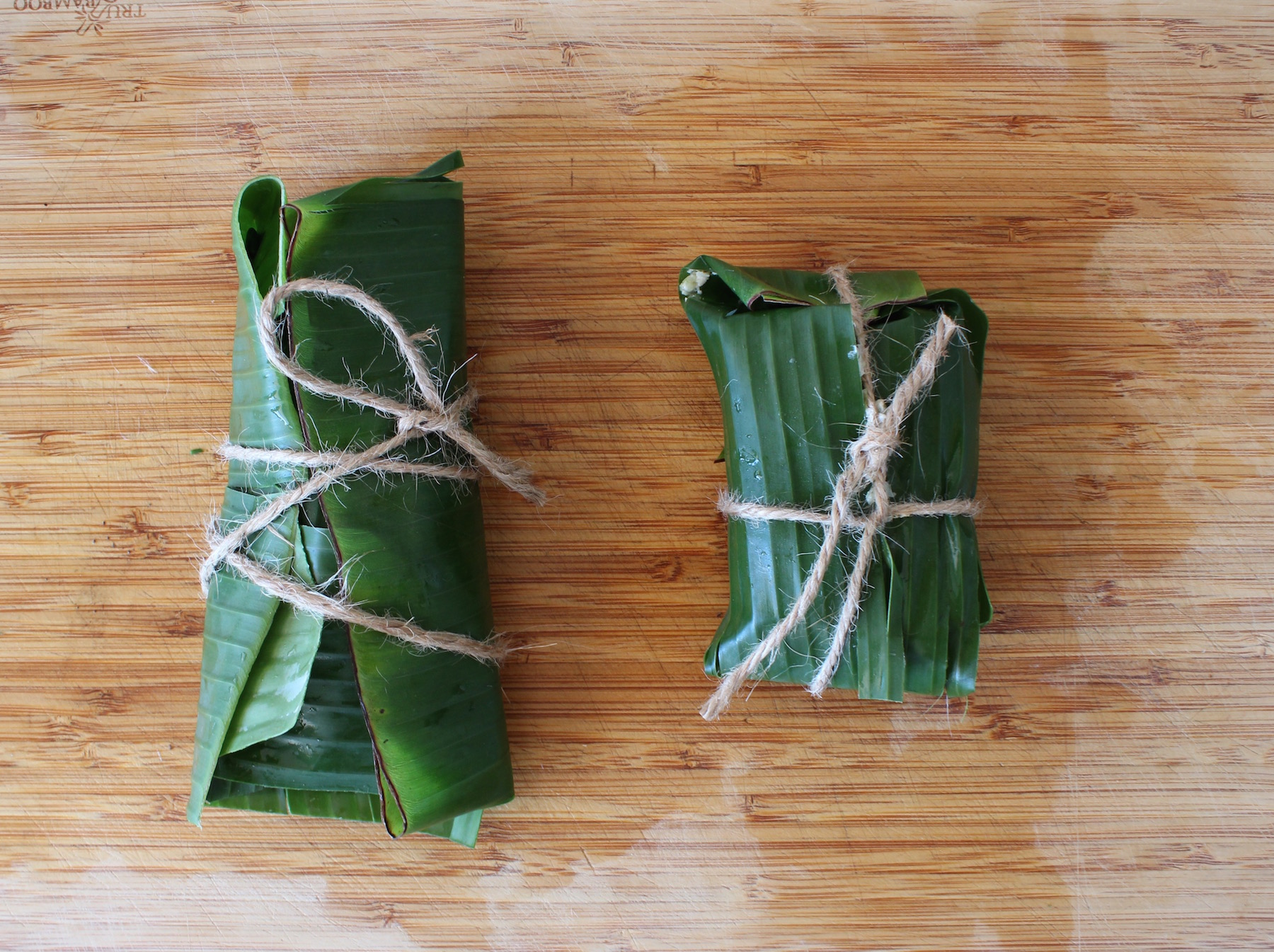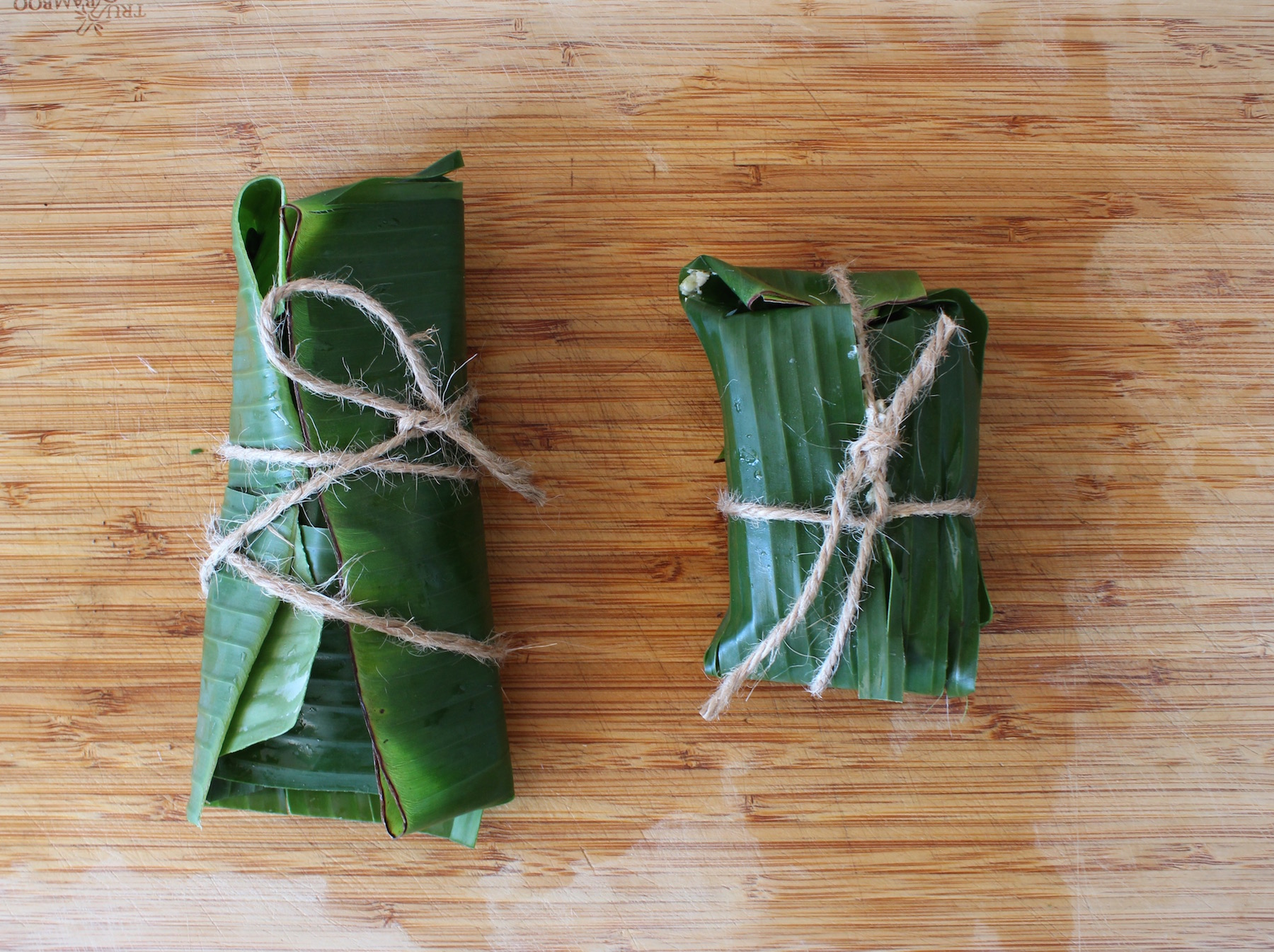 The finished dish: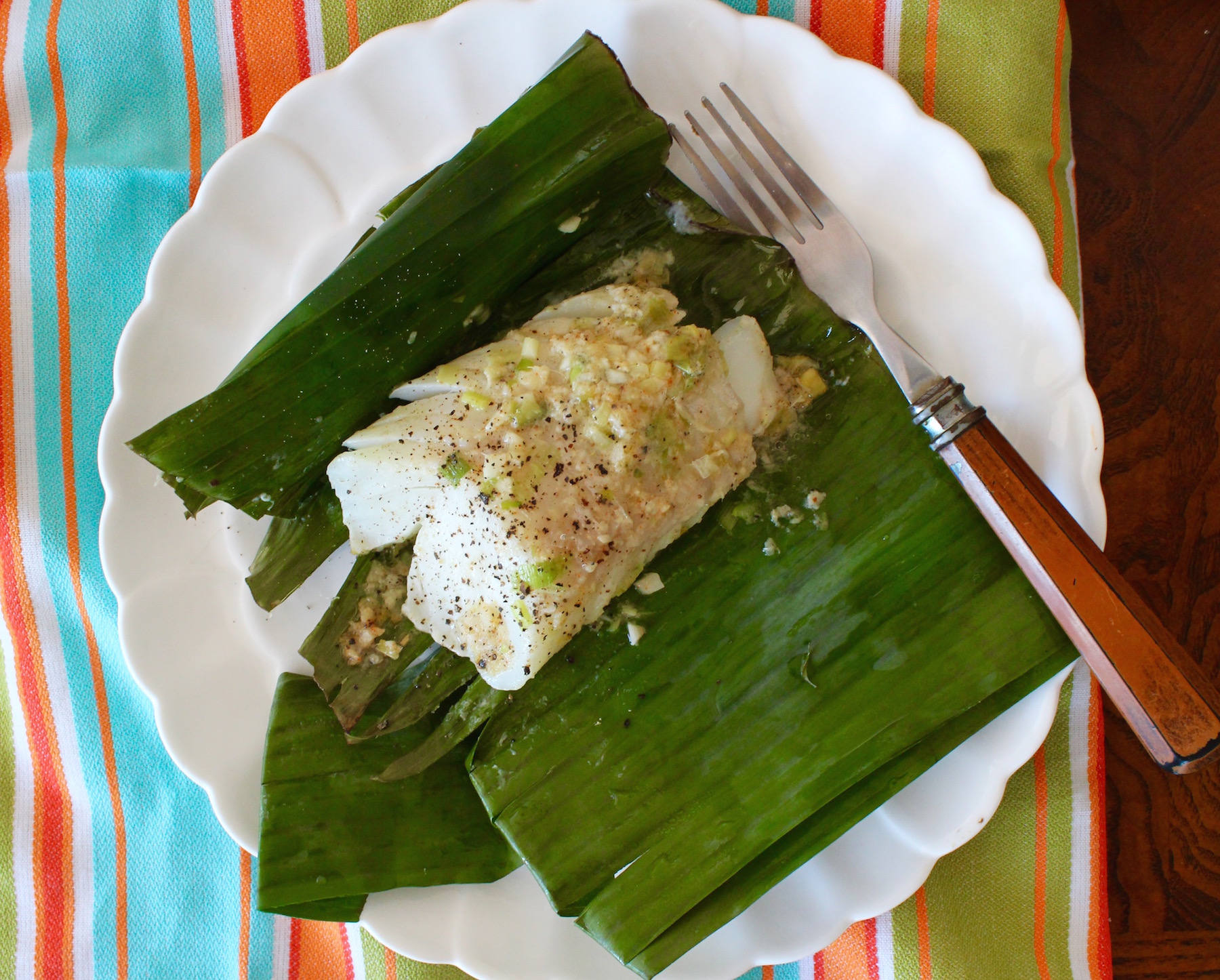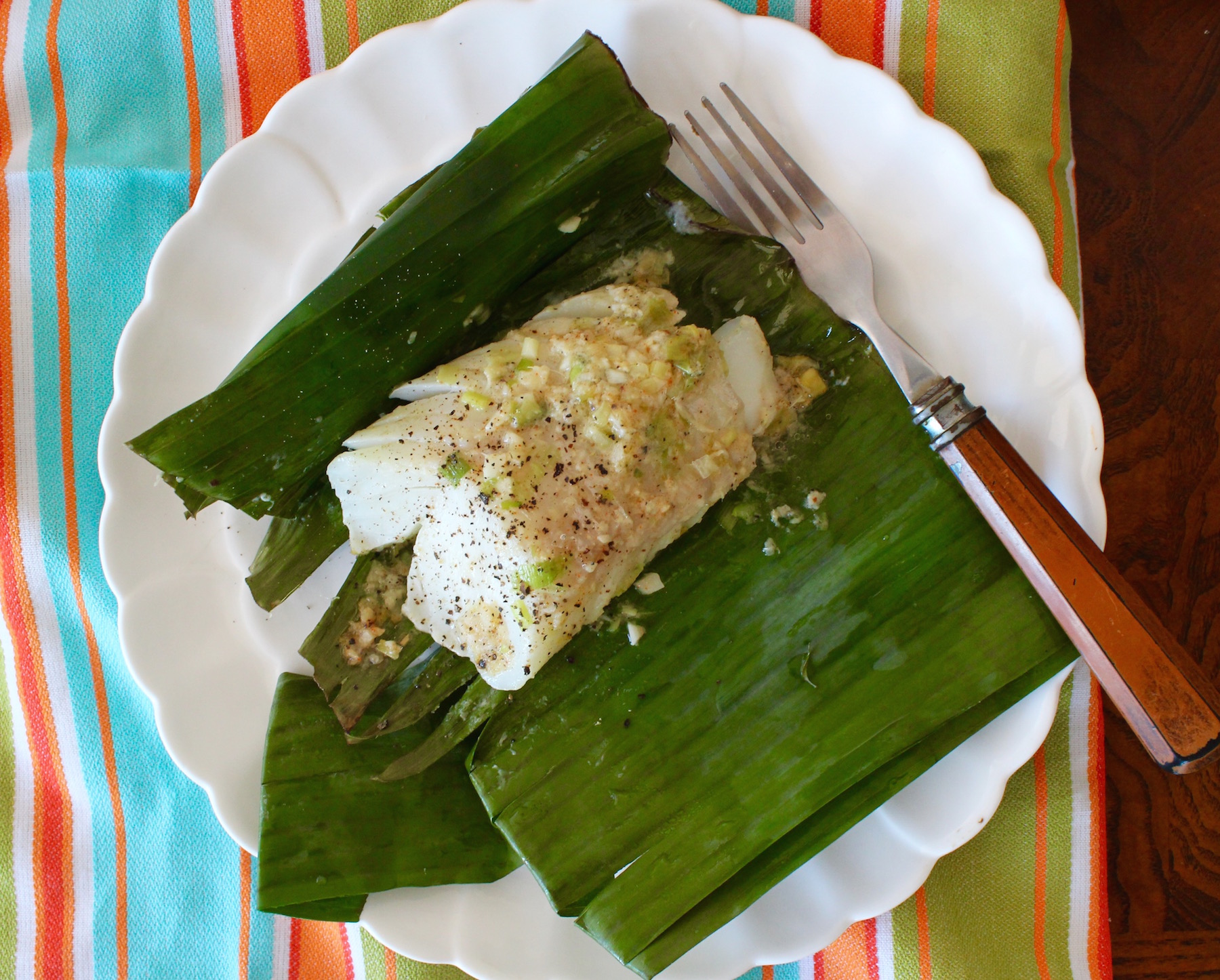 Finally, the happy chef, just before tasting her new creation: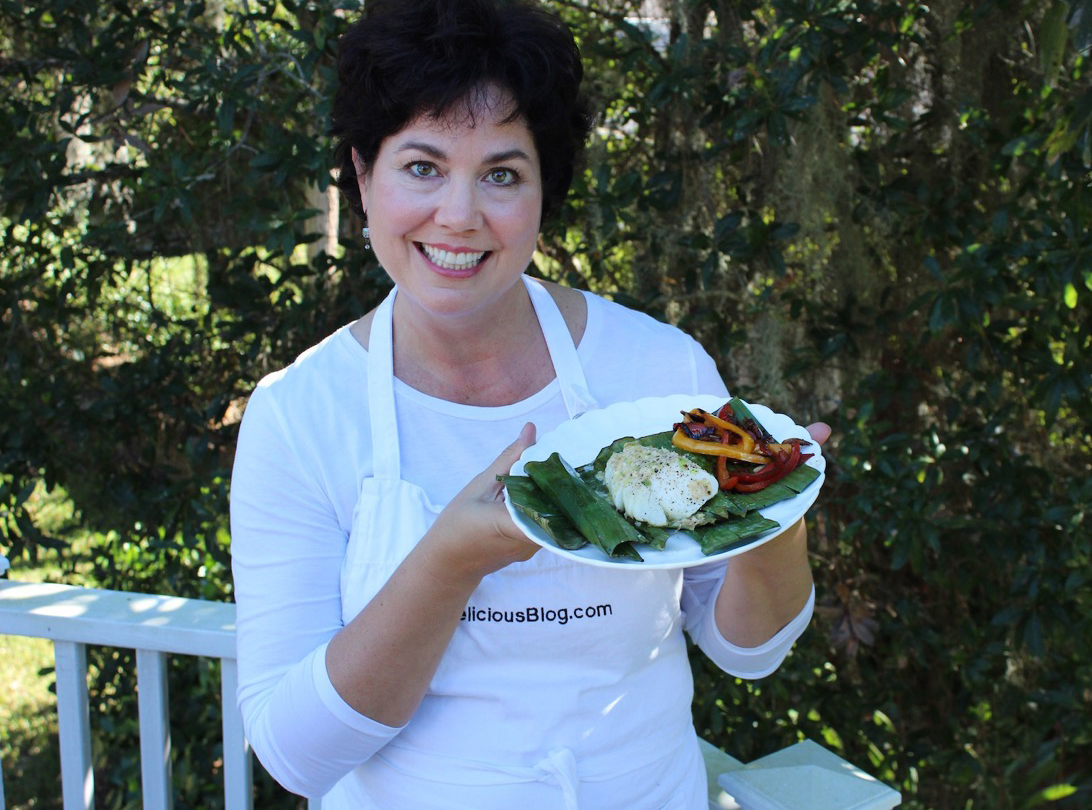 Cod, Lemon & Scallions in Banana Leaves
Cod roasted in banana leaves is not only delicious, but fun!
Author:
My Delicious Blog
Ingredients
4 pieces of Cod (about 3-4 oz. each)
4 banana leaves, cut into large pieces (approx. 12" X10" or however big you can get them)
4 Tb. unsalted butter, softened
1 garlic clove, minced & smashed
4 Tb. scallions, minced
1 tsp. fresh ginger, grated
1 lemon, zested
dash kosher salt
dash freshly ground black pepper
Instructions
Rinse and pat dry Cod fillets. Lightly season each side with salt and pepper.
Prepare the compound butter in a small bowl by combining the butter, scallions, ginger, lemon, salt & pepper. Mix well to combine.
Lay the banana leaves onto a counter and place a piece of fish in the center of each.
Spread some of the compound butter on the top and bottom of each fillet.
Wrap the sides of the leaf over the fish; fold under the ends and tie each package with a piece of kitchen string/twine.
Wrap each bundle in foil (to avoid loss of the delicious butter mixture) - optional.
Place the bundles directly onto a hot grill and cover.
Cook for about 15 minutes.
Remove from grill and carefully open packages. Top fish with fresh lemon juice and serve in the banana leaves.
Notes
If your banana leaf is narrow or you have too many tears, simply use two leaves to ensure the fish is fully covered, then wrap with twine.