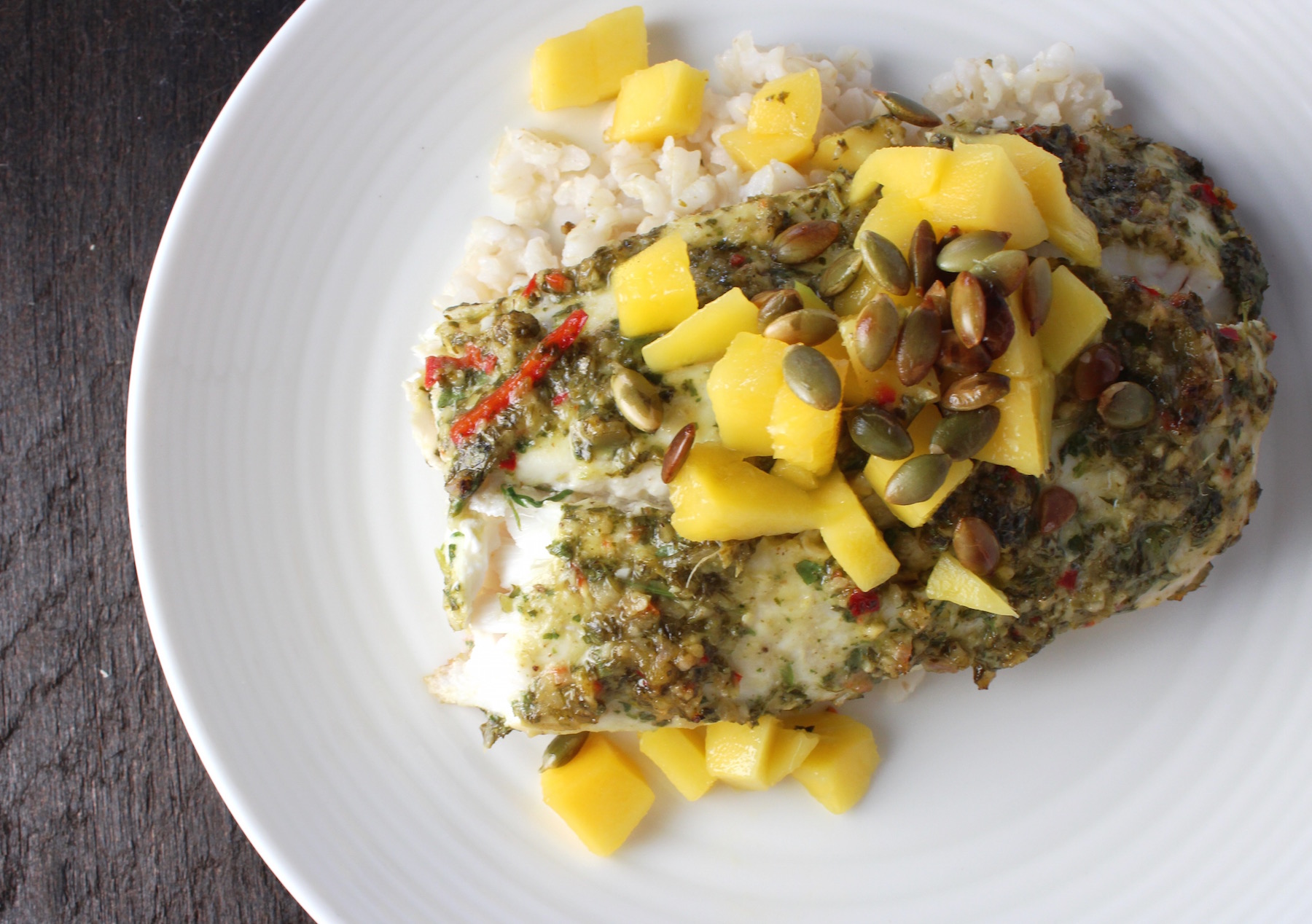 Several years ago my husband and I were fishing offshore and I nabbed my first Cobia!  After hooking it I actually thought it was a shark because it looked surprisingly like one and was fighting pretty hard. Luckily, it wasn't. When I finally pulled that big fish into the boat, things were just a little chaotic on board, but Brendan quickly got everything under control and we resumed fishing, hoping to catch another brute.
Unfortunately, I don't have a pic from that day, but my favorite shot is the one we took of friends Jim & Wendy who landed two huge Cobia several years ago. As a matter of fact, they used this pic to announce their full-time move to Florida (I think I know why this passionate fishing couple moved) and it was even published in Florida Sportsman magazine because it was such a great catch 🙂
Cobia average about 20 pounds but can reach 100 pounds.  They're hard-fighting fish, so it's not easy to get one to the boat, but all the hard work pays off because their meat is so delicious — white, thick, firm and flaky with a mild flavor that pairs well with anything.  And because it's so sturdy, you can cook it in a variety of ways (especially grilling).
Instead of just topping the fish with something tasty, I decided to shake it up a bit, so I pureed a bunch of stuff (see pic), poured the fresh/spicy sauce all over the fillets, and baked them at a high temperature.  Really simple.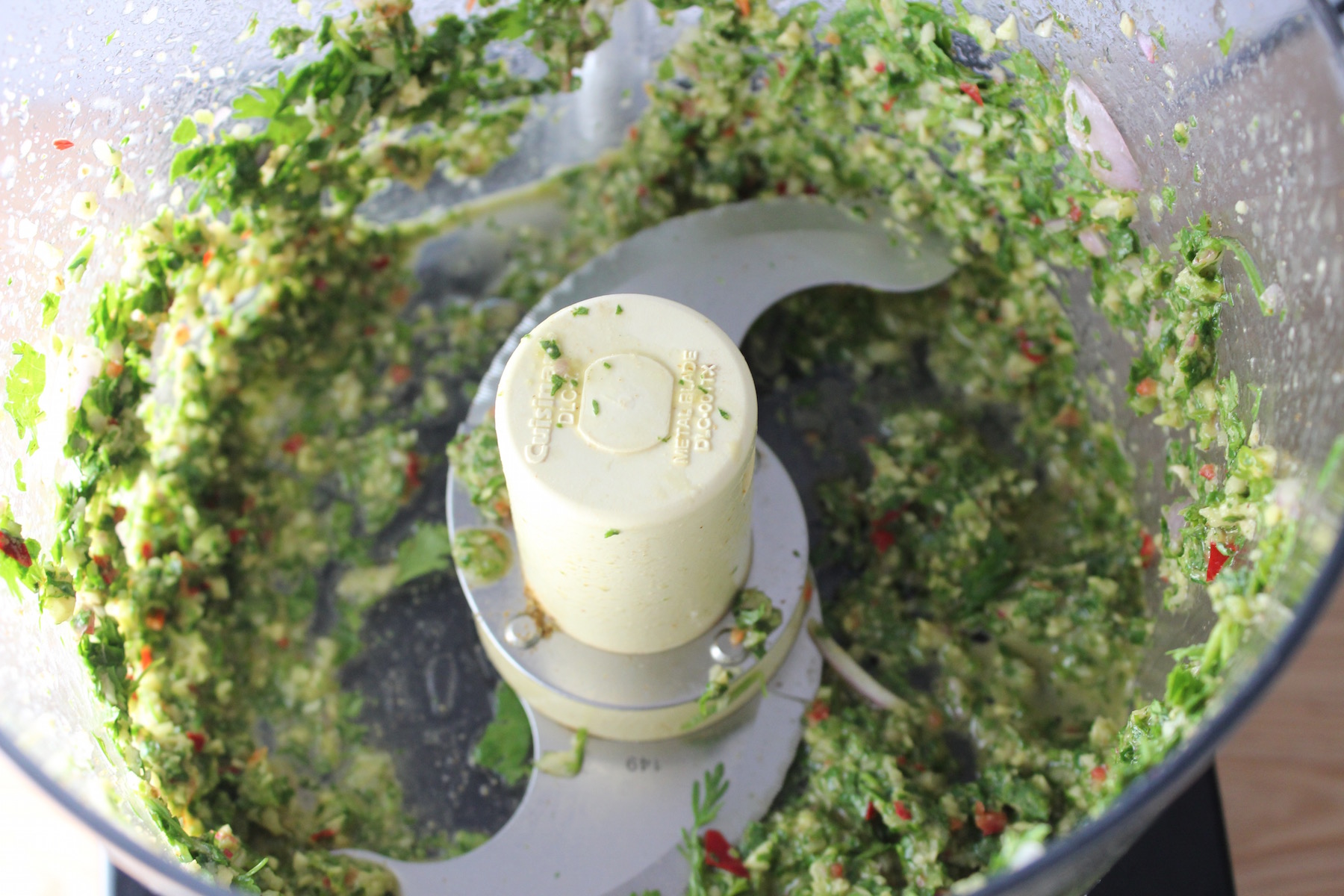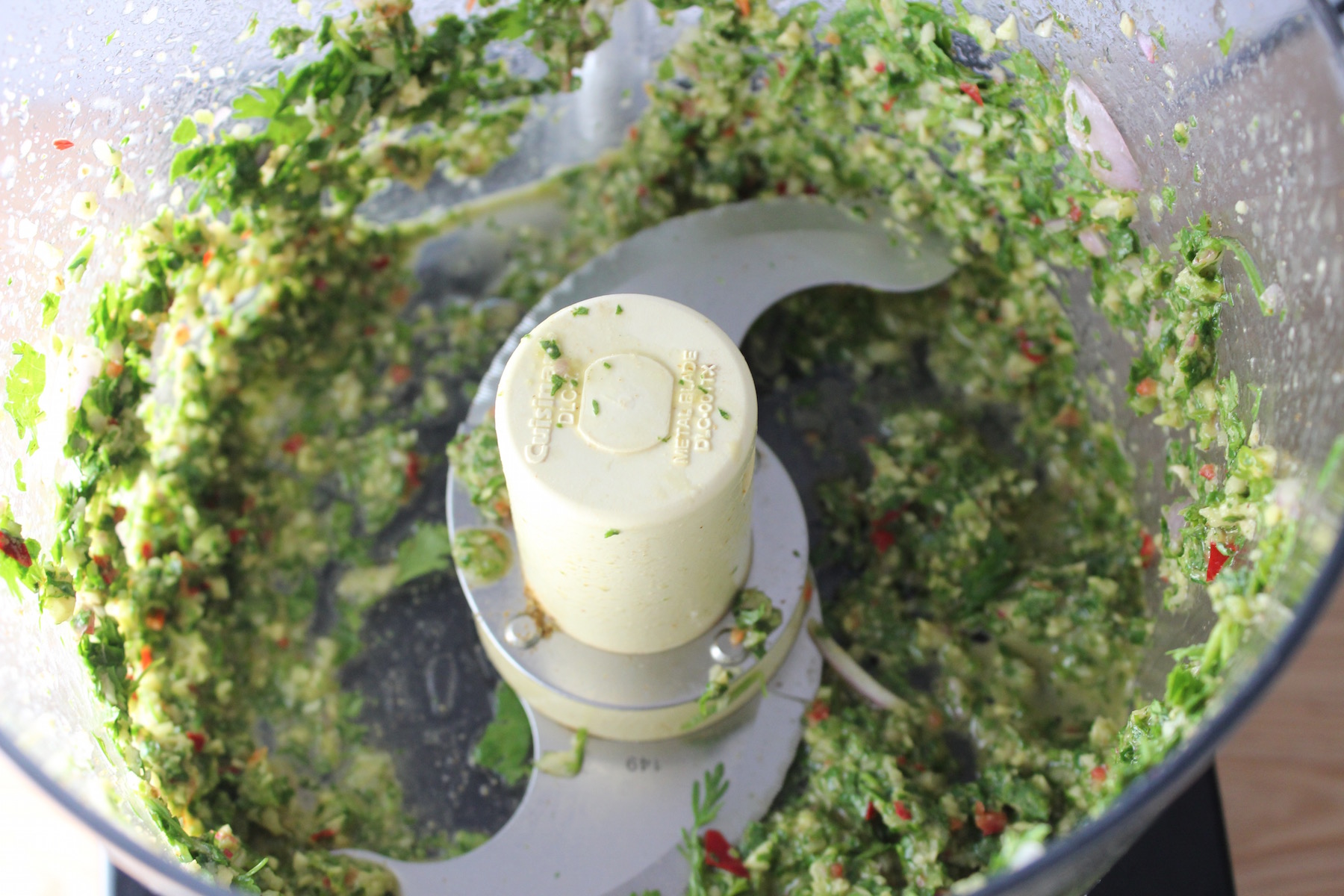 I have to say it was one of my favorite dishes, and so easy, to boot! The fresh cilantro, combined with garlic, mildly hot peppers, citrus and cumin, worked really well. I served it over brown rice, but you could use any rice (jasmine or basmati would be yummy) or even some greens. Topping it with fresh, cold mango was my last minute decision, since I had one handy, but it really added a sweet element that paired well with the spicy cilantro mix. And to add a little crunch, I tossed in some toasted pumpkin seeds.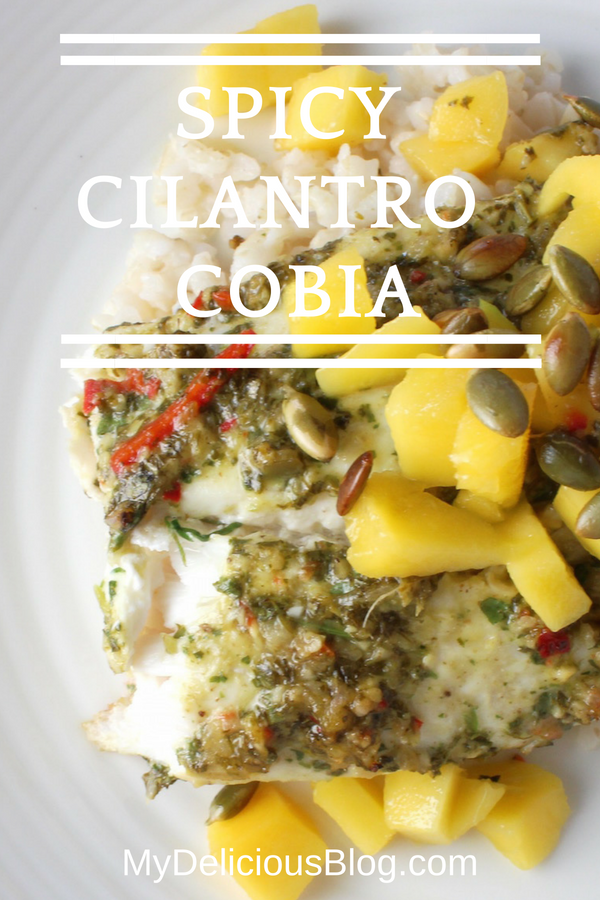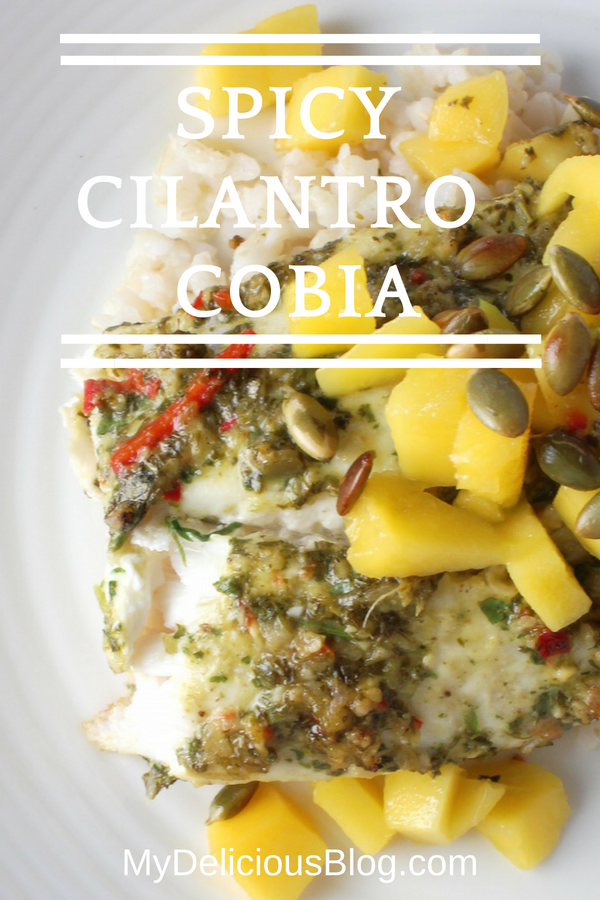 All around, this is a dish with lots of flavor and texture and is definitely a "keeper"!

Roasted Cilantro-Jalapeno Cobia
Fresh Cobia, or just about any other white flaky fish, pairs beautifully with the spicy flavors of jalapeño, garlic, ginger, cumin and more.
Author:
My Delicious Blog
Ingredients
1 lb. Cobia fillets (or any sturdy, white, flaky fish), patted dry (be sure to remove any bloodline)
Large handful fresh cilantro leaves
1 jalapeno, seeds removed
½ red chile, seeds removed (optional)
2 cloves garlic, peeled
1 Tb. fresh ginger, chopped
1 Tb. lemon juice (about half a lemon)
½ tsp. cumin
½ tsp. kosher salt
3 Tb. olive oil
½ c. fresh mango, chopped
Handful of toasted pepitas (pumpkin seeds) or sunflower seeds
Fresh lemon or lime wedges for finishing
Instructions
Heat oven to 450 degrees.
Combine cilantro through olive oil in a food processor and pulse several times until combined.
Lightly sprinkle both sides of fillets with salt & pepper.
Place fillets in a rimmed baking sheet and pour the cilantro mixture over them, covering both sides. Bake for about 15-20 minutes (depending on how thick your fillets are). You can tell they're cooked when you touch them and the flesh is relatively firm and bright white.
Serve over rice or greens.
Top with fresh mango, pumpkin (or sesame) seeds, and a sprinkle of lemon or lime juice just before serving.