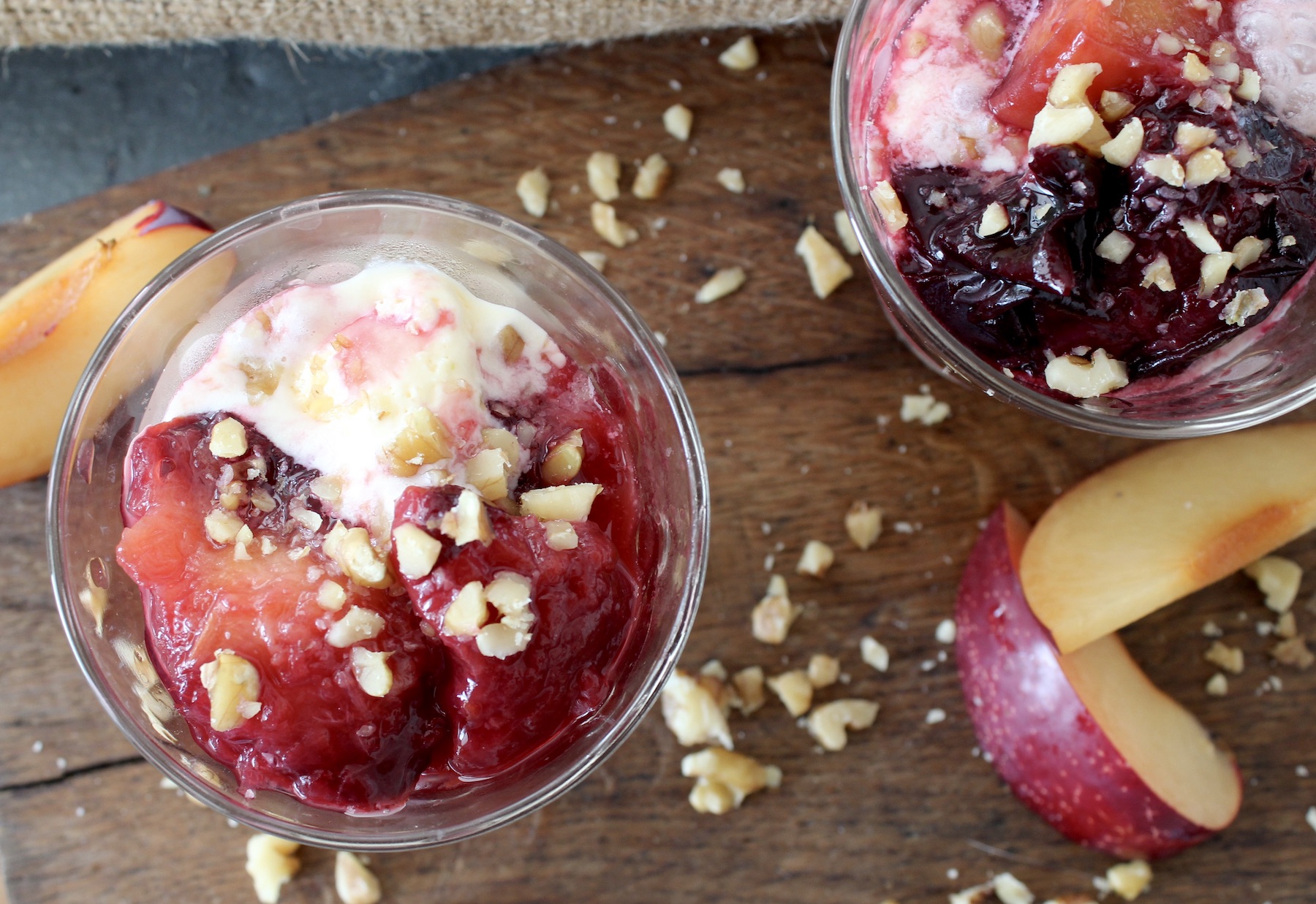 Sigh. . .stone fruit season is coming to a close!  We've had a good run, but Fall is fast approaching and we'll soon be focused on apples and hard squash.
If you still have a bunch of peaches, plums, nectarines or apricots, but aren't sure what to do with them (other than making cobbler or gobbling up those juicy gems), try roasting them!  It's a great method to create a flavor-packed dessert. It's also great if your fruit isn't as ripe as you'd like.  Just slice 'em in half, remove the pits and toss into a baking dish along with tasty ingredients like sugar, herbs, spices, and maybe a tasty liquid.
It all goes into a very hot oven so the fruit roasts quickly, making any tough flesh soft and 'jammy' (not my word, but I love it), and allowing all those juices to ooze out.  You can even pair your flavorings based on season – in Fall I like to toss in sprigs of fresh rosemary; in Winter, I like to add a cinnamon stick and orange peel; but sometimes I stick to a basic formula of sugar and lemon or orange juice.  You can't go wrong – and there really don't have to be exact measurements (especially if you need to add more sugar and liquid because your fruit is super-firm and needs extra help).
Look at the color when it comes out of the oven!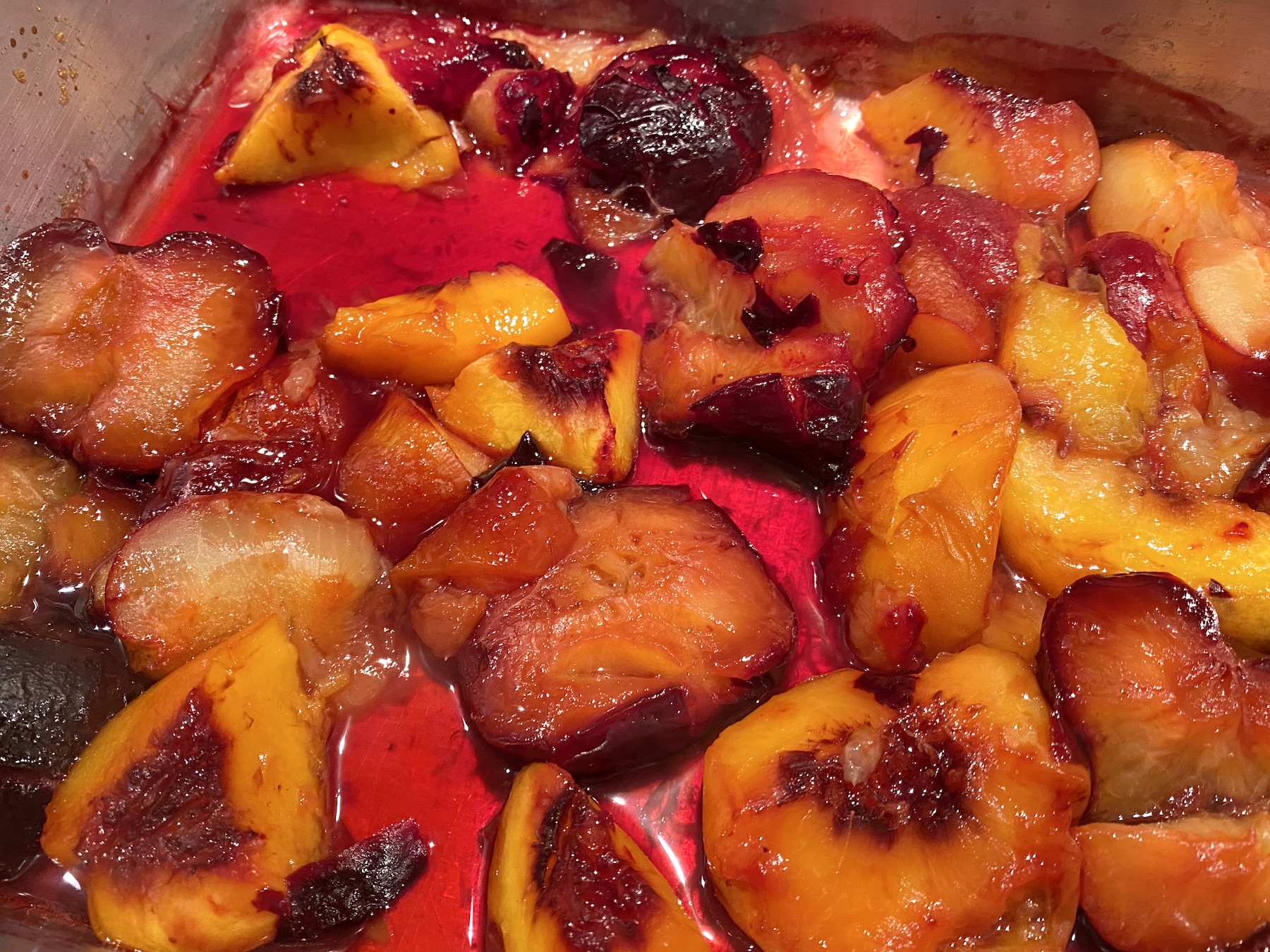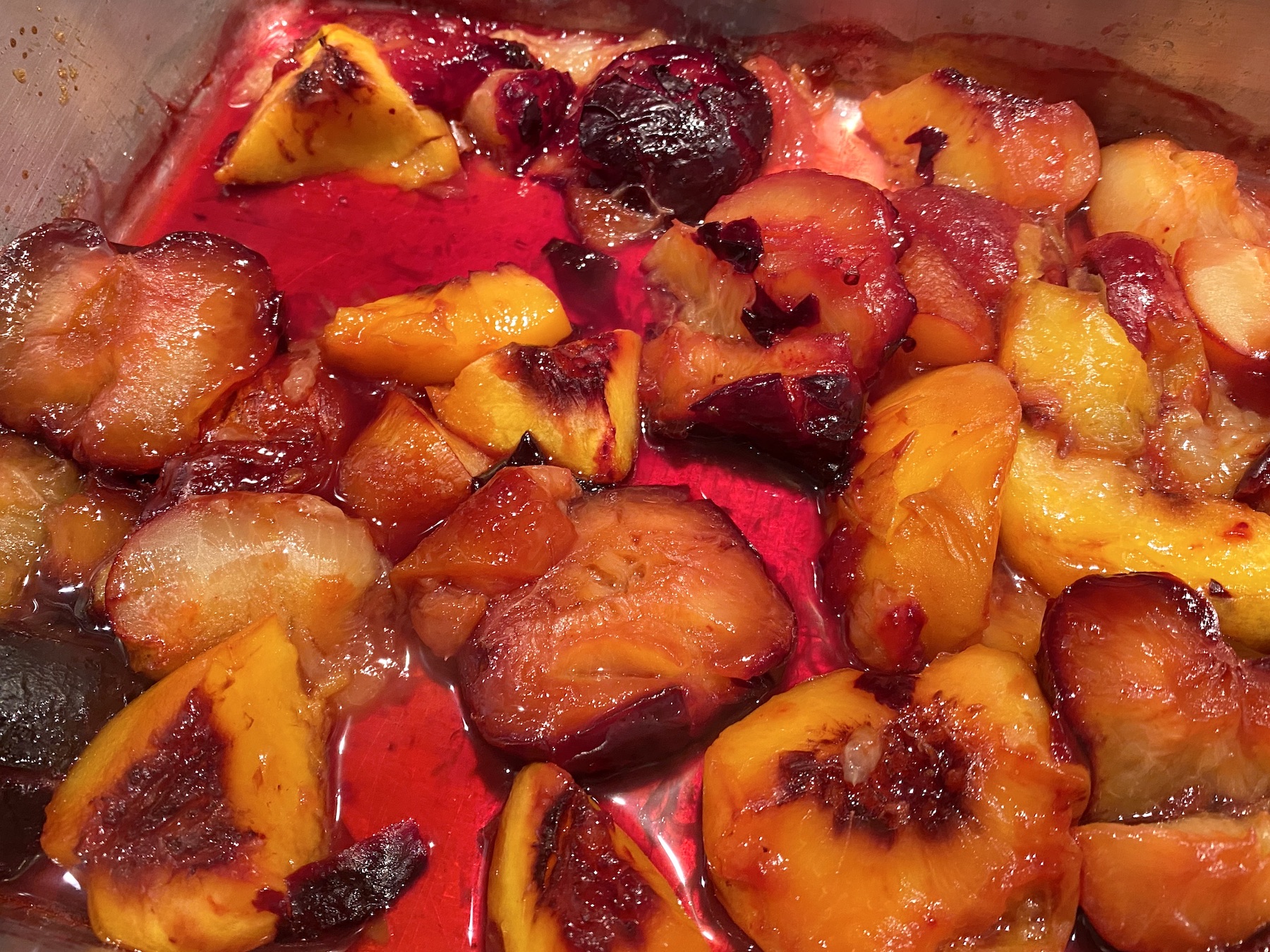 And if you're feeling adventurous, try a technique I learned this week – leave out the vanilla while cooking, but add a tiny bit (about 1/2 tsp.) of 
rose water
after the mixture has cooled.  You've probably seen that pretty glass bottle of rose water on supermarket or specialty market shelves but had no idea what to do with it.  But if you read this
post
 about the delicately flavored and heavenly-smelling stuff, you'll want to try it in a few things (like roasted fruit).  I put it in iced coffee and was amazed at how good it was (even LuLu had to check it out).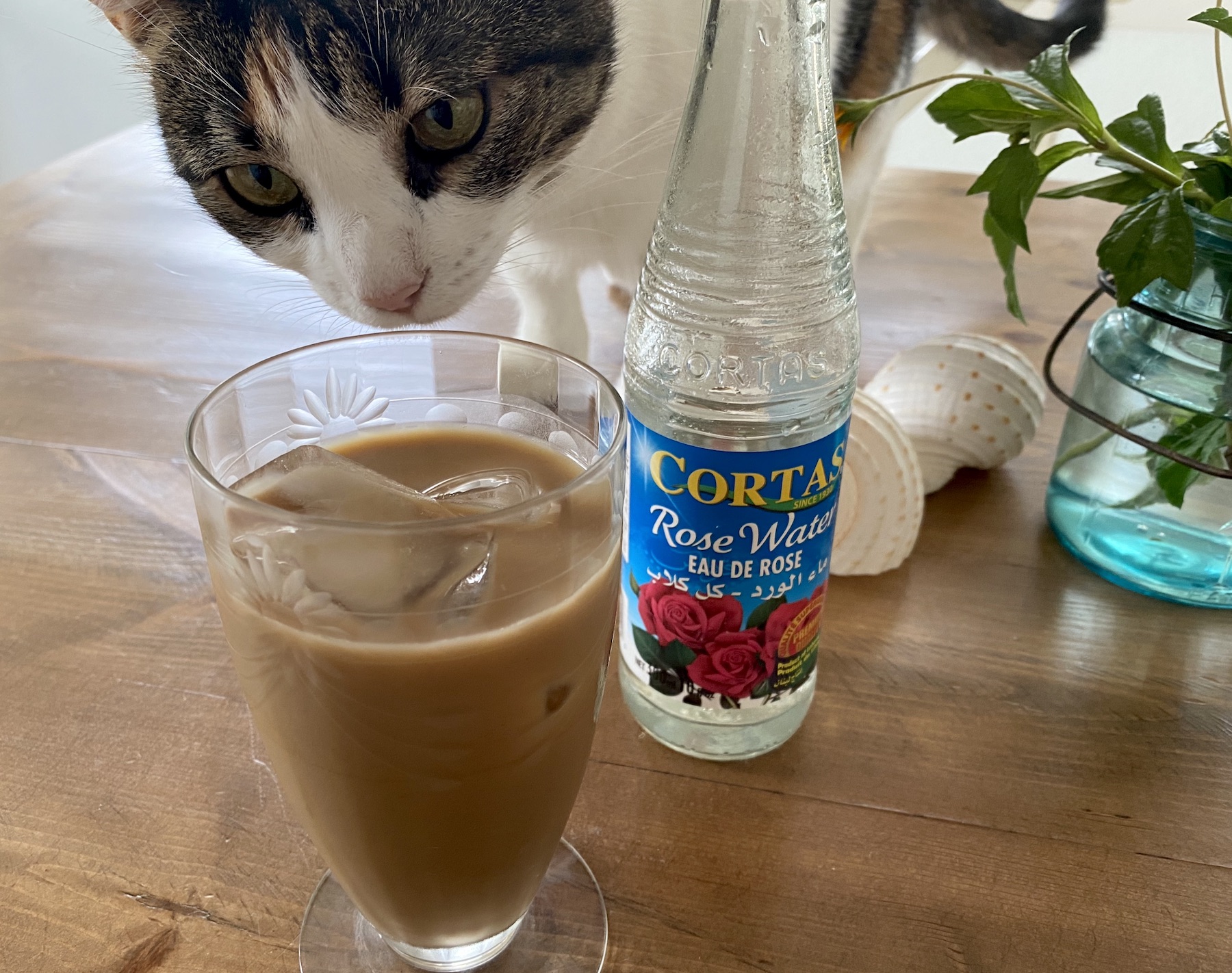 This roasted fruit is delicious enough to eat all by itself, but why not make it even better by pairing it with vanilla ice cream?  Maybe some crunchy nuts on top?  Yeah, that's definitely better 🙂
Need more stone fruit inspiration recipes?  Try these: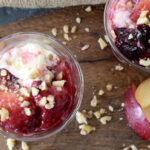 Print Recipe
Roasted Stone Fruits with Orange and Vanilla
A great way to use up ripe or unripe stone fruits, with added flavors of orange, lemon, vanilla, and brown sugar.
Ingredients
~2

lbs.

Stone fruits

1

Tb.

Brown sugar

(alt: honey, granulated sugar)

2

pcs.

Orange peel

1

Orange, juiced

1

Tb.

Fresh lemon juice

1

tsp.

Pure vanilla extract

2-3

Tb.

Toasted, chopped pecans or walnuts

(optional, for serving)
Instructions
Heat oven to 425 degrees.

Cut each stone fruit in half and remove seeds. Place in an 8X8 baking dish. Add brown sugar, vanilla, orange juice, lemon juice and orange peel. Mix to combine and allow to sit for a few minutes so the sugar dissolves in the fruit and juices.

Bake for 25-30 minutes, until all the fruit is very soft and wilted.

Remove from oven; allow to cool 5-10 minutes before serving. Enjoy all by itself, or pair with ice cream.
Notes
Note: if your fruit is not very ripe, add a little more sugar and liquid to the mixture before baking.