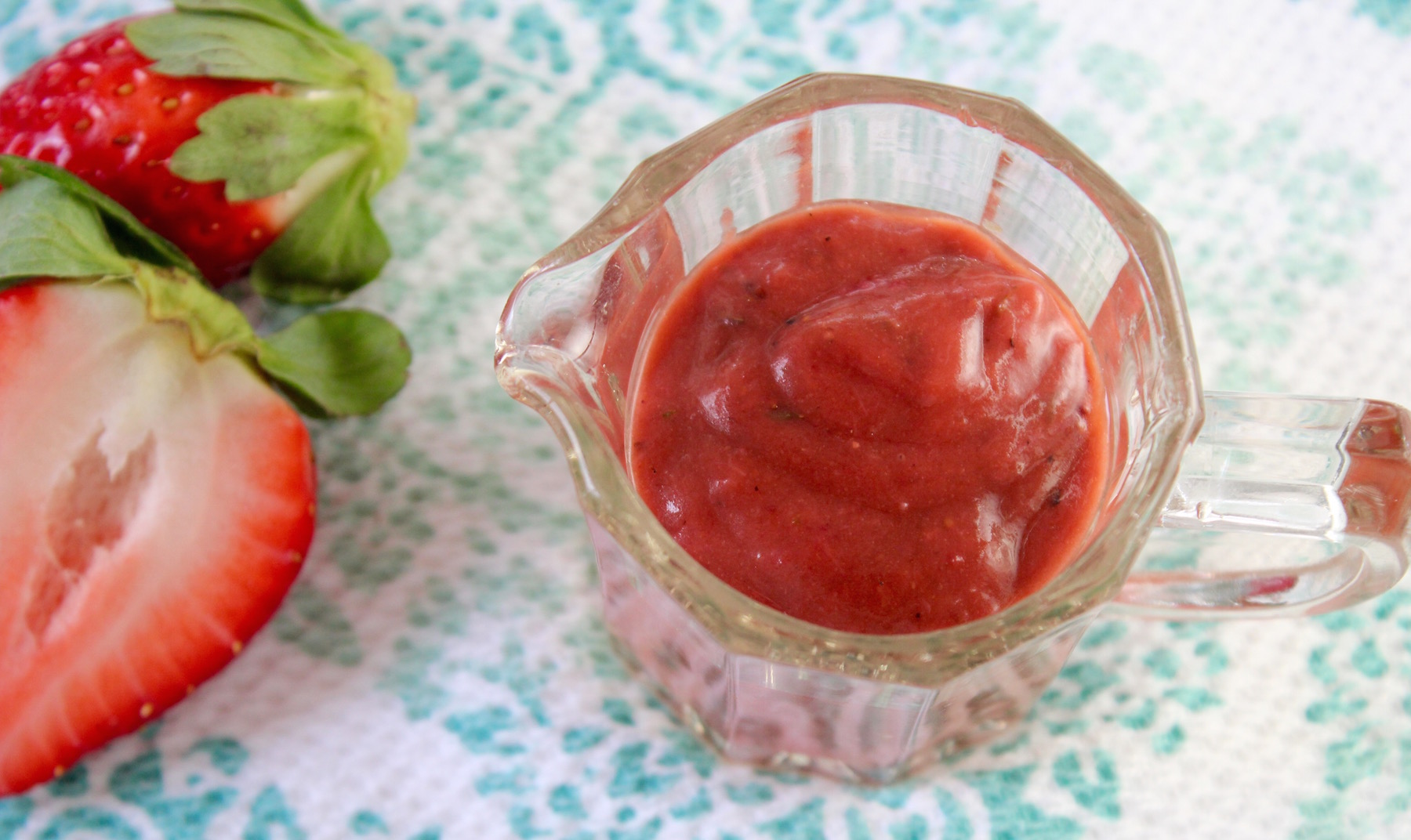 It's Florida strawberry season, a time to enjoy berries from local growers!  I was anxious to make something, and my first thought was a dish I haven't done on the blog yet, like shortcake or pie — both delicious, but I'm trying to eat fewer sweets, as I'm sure many of you are. Which leads me to this. . .
Since I started this blog, folks have asked if it's hard to stay in shape while working with food. Early on, I downplayed it, saying things like, "I eat healthy stuff and I know my limits. . .plus, I have a garden, eat fresh fish, and don't consume much red meat." But my life is filled with wonderful things like testing recipes, dinner parties, restaurant tastings, planning holiday/seasonal treats, etc.  So it's definitely NOT easy, especially when you're not a gym person and you adore "good bread" (my mother-in-law's favorite), pasta and salty snacks. The inevitable result is that things start to get out of hand. So, just before Thanksgiving, I joined Weight Watchers®.  I did it years ago, with success, and decided it was time to be accountable each week.  This certainly isn't an advertisement (they're doing just fine without me!), rather, an opportunity to share my truth, and simply follow a program that touts the benefits of eating a healthy diet, while watching portions 🙂
My blog will never focus on consuming nuts, berries or wheatgrass juice. Nor will it be preachy about 'eating healthy.' But I will be directing more of my creative energy toward methods/combinations that highlight new ideas, using the whole foods I already love. Even with my renewed focus on watching what I consume, you'll still see a variety of dishes, with continued spotlight on what's in season, what's caught from a boat or picked out of a garden. Once in a while, you'll even see baked goods, because I still believe in treats. It's all about moderation, not denying ourselves everything that's delicious!
So today, instead of a sweet treat, I used my berries in a salad dressing that's easy and offers sweet and savory components.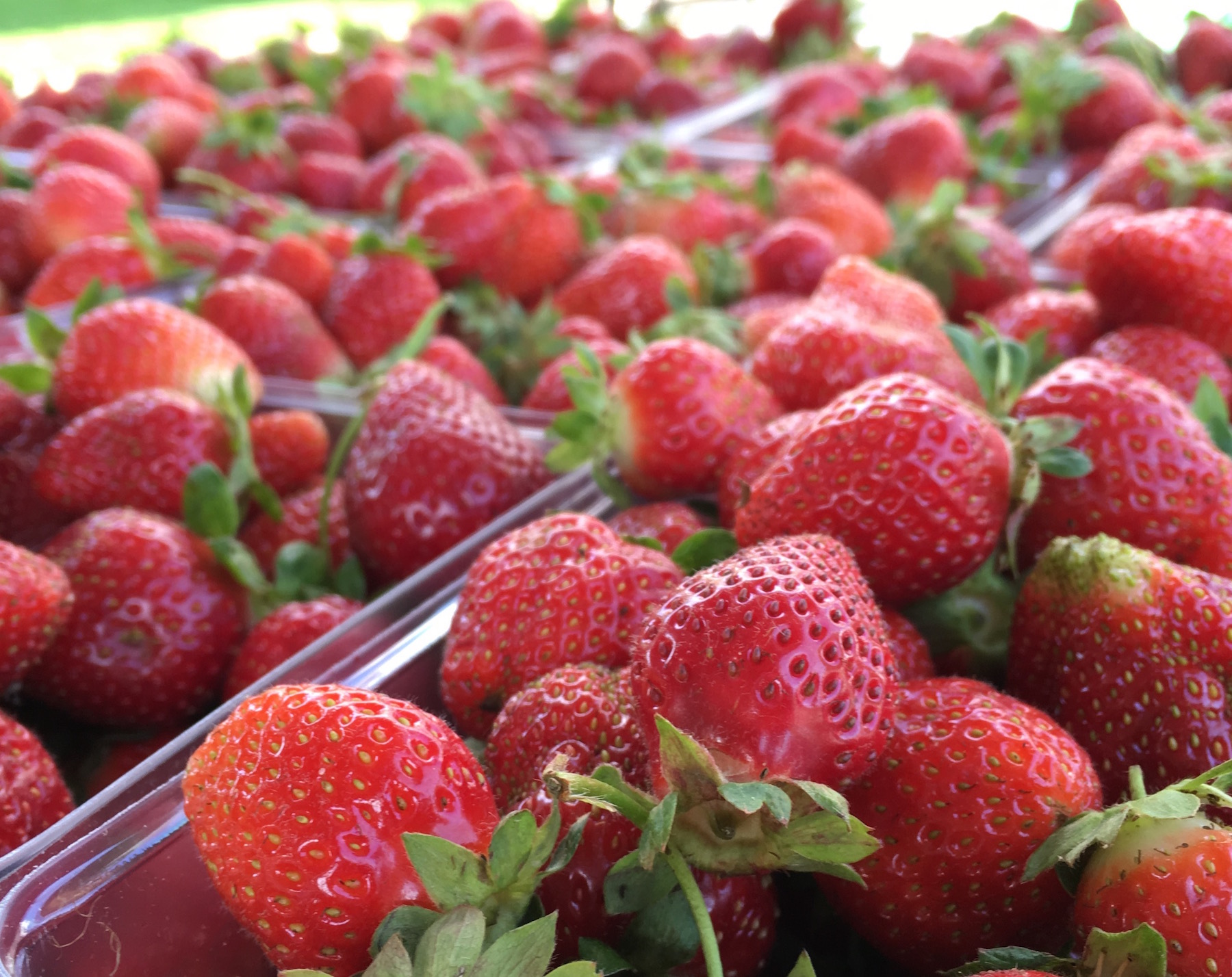 The key lies in roasting the berries, bringing out their natural sugars and juices. Paired with the fresh flavors of basil and lemon, along with the acidity of balsamic vinegar, it's a low-fat, low-sugar and delicious way to dress a salad of fresh greens (I used arugula from my garden), veggies (I used asparagus and edamame), toasted nuts, maybe roasted chicken or shrimp.  And if you want to splurge a bit, shave some salty Parmigiano-Reggiano on top.  Here's to good eating AND shedding a few pounds while doing it!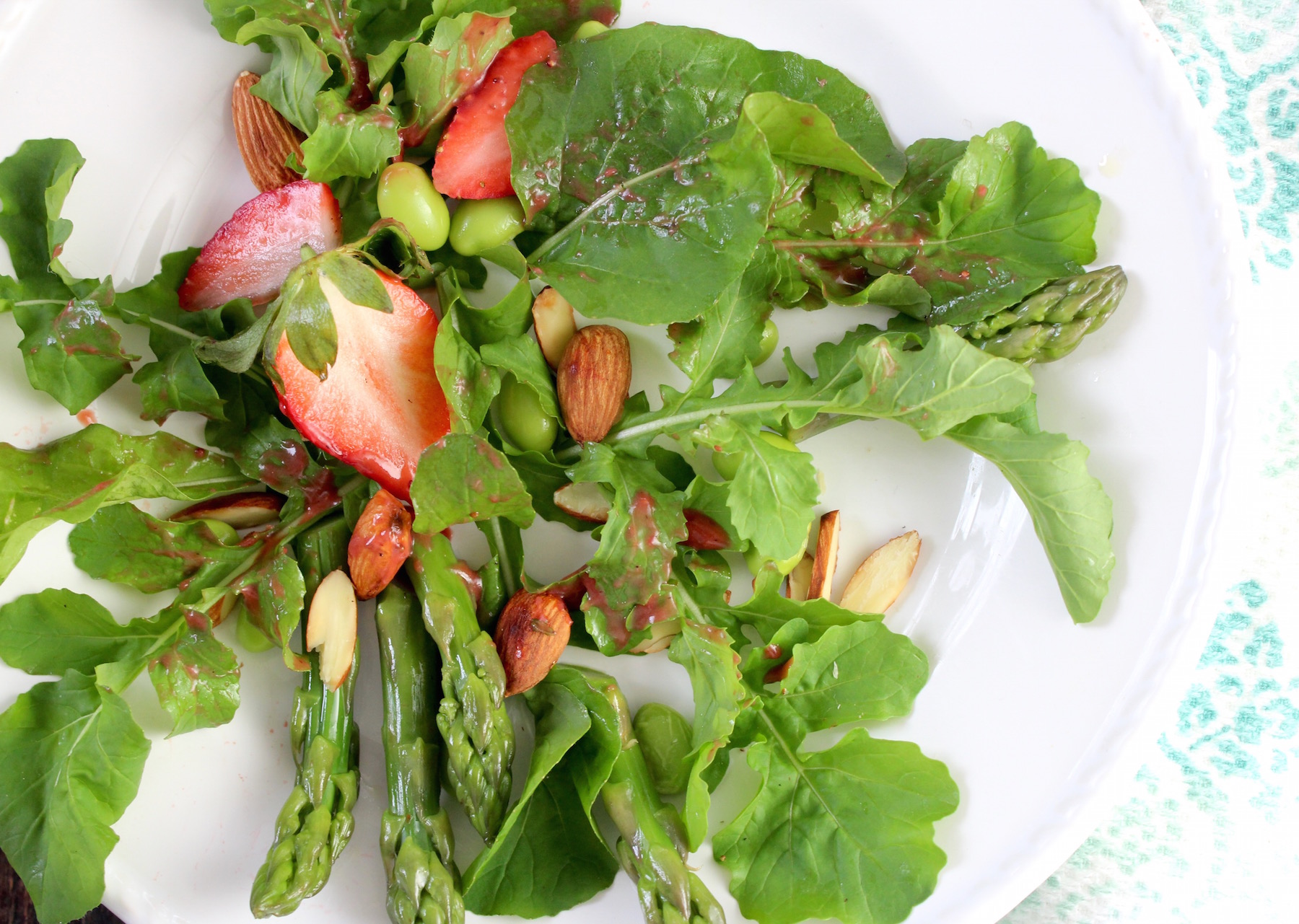 For more strawberry ideas, be sure to check out these recipes:
Strawberry and Chocolate Icebox Cake
Strawberry, Mango and Mint Salsa (great on fish, poultry or pork)
Kale Salad with Strawberries & Peanut Dressing

Roasted Strawberry-Basil Dressing
Roasting berries makes them super sweet, which is great for this salad dressing.
Author:
My Delicious Blog
Ingredients
1 lb. fresh strawberries, hulled & roughly chopped
1 tsp. lemon zest (about 1 small lemon)
1 Tb. lemon juice
1 Tb. balsamic vinegar
1 Tb. extra virgin olive oil
¼ tsp. kosher salt
⅛ tsp. freshly ground black pepper
Handful fresh basil
Instructions
Heat oven to 375 degrees.
Place chopped berries on a baking sheet then sprinkle with a little olive oil and toss to combine.
Place strawberries in oven and roast about 20-25 minutes - they're done when you see their juices exuded and the smell fills your kitchen; remove and allow to cool thoroughly.
Transfer berries and juices to a food processor.
Pulse a couple of times to break up the berries. Then add lemon zest, lemon juice, vinegar, olive oil, salt and pepper. Pulse a few times, then add basil at the end and pulse a few more times (it's important that the mixture is cool before adding the basil, otherwise the basil will turn brown).
Taste for seasoning, then transfer to a serving container.
Notes
This makes a relatively thick dressing. If you prefer it less thick, simply add a bit more olive oil or lemon juice before serving.