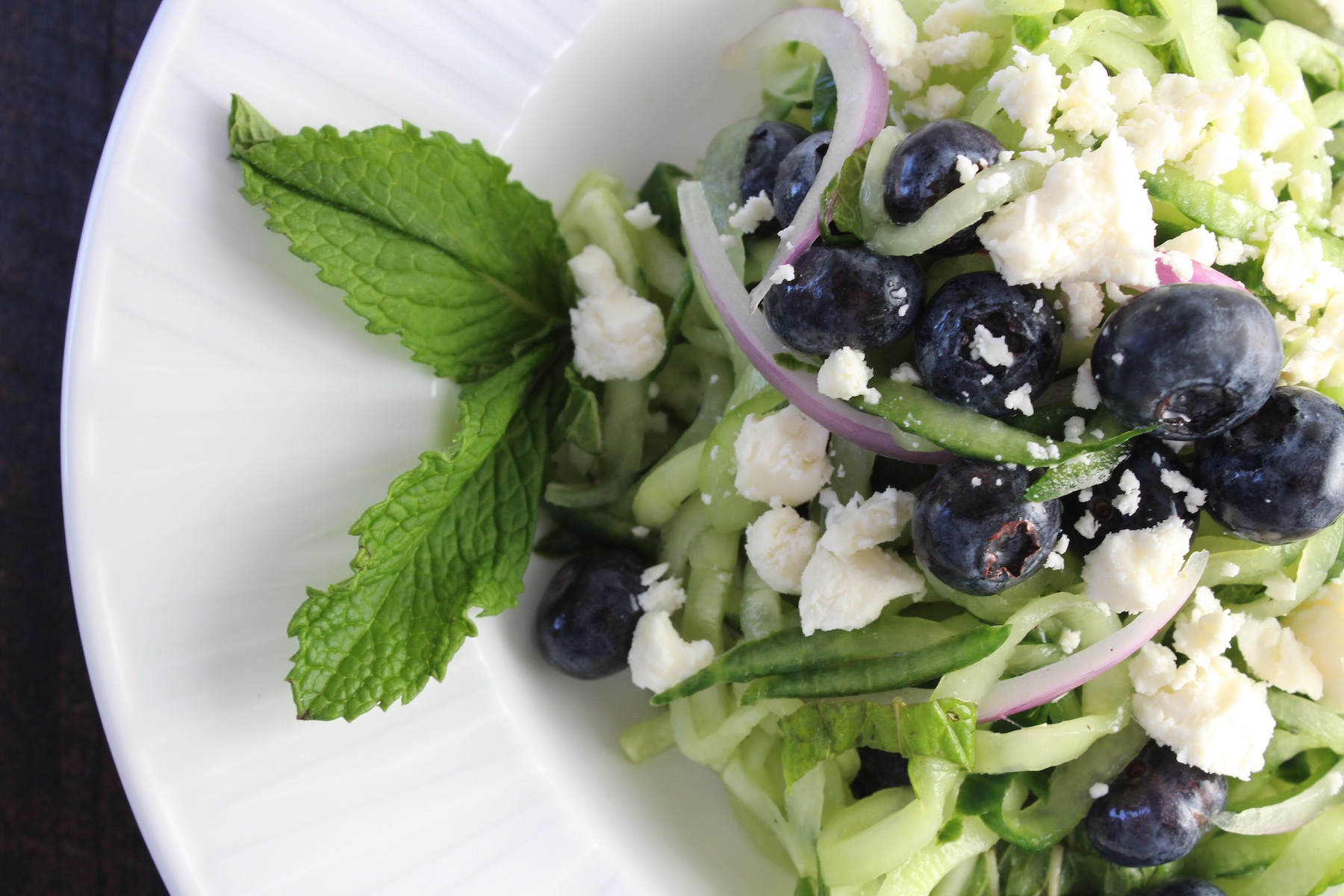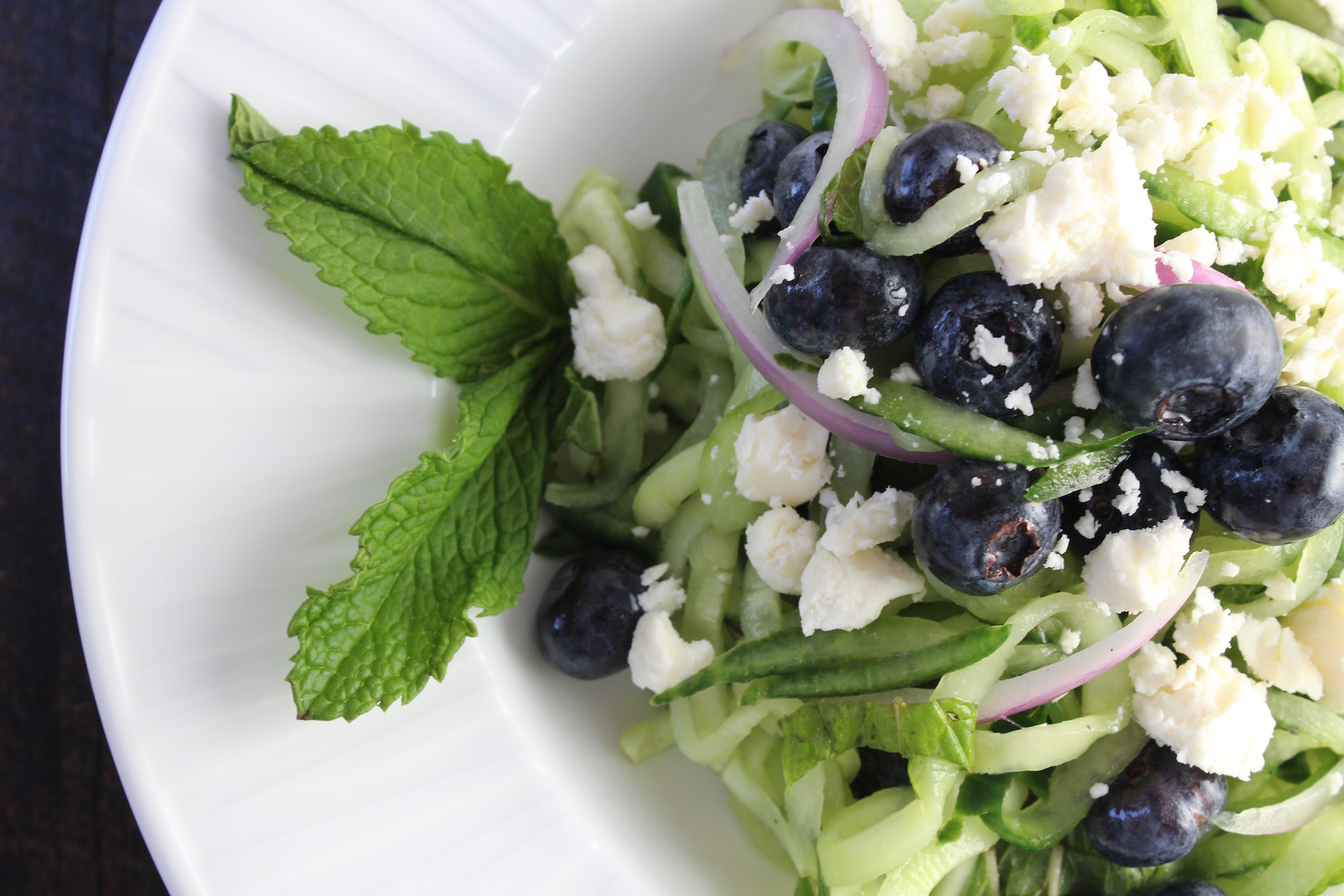 Warm weather just begs for a cool, refreshing salad, doesn't it?  This one couldn't be easier, and it's quite tasty.
The combo of crunchy cucumber, sweet/juicy blueberries and refreshing mint alongside salty Feta is a winner.  It's a dish that can quickly be pulled together when you're heading out the door for a boat ride or a picnic.
Armed with the many thousands of delicious blueberries sitting in my fridge due to my recent Field Trip to a blueberry farm, I got busy.  By the way, here are just some of the berries I picked: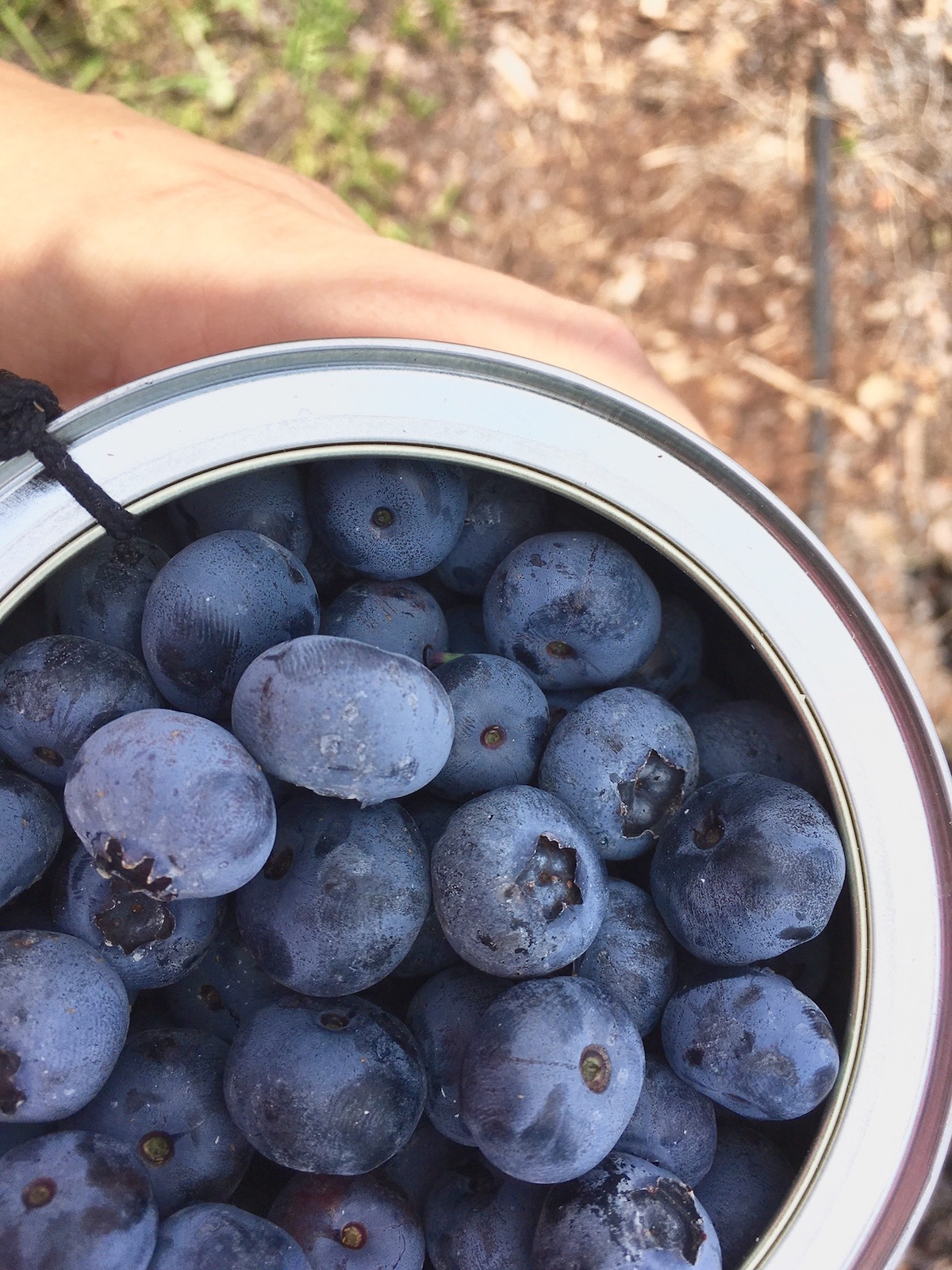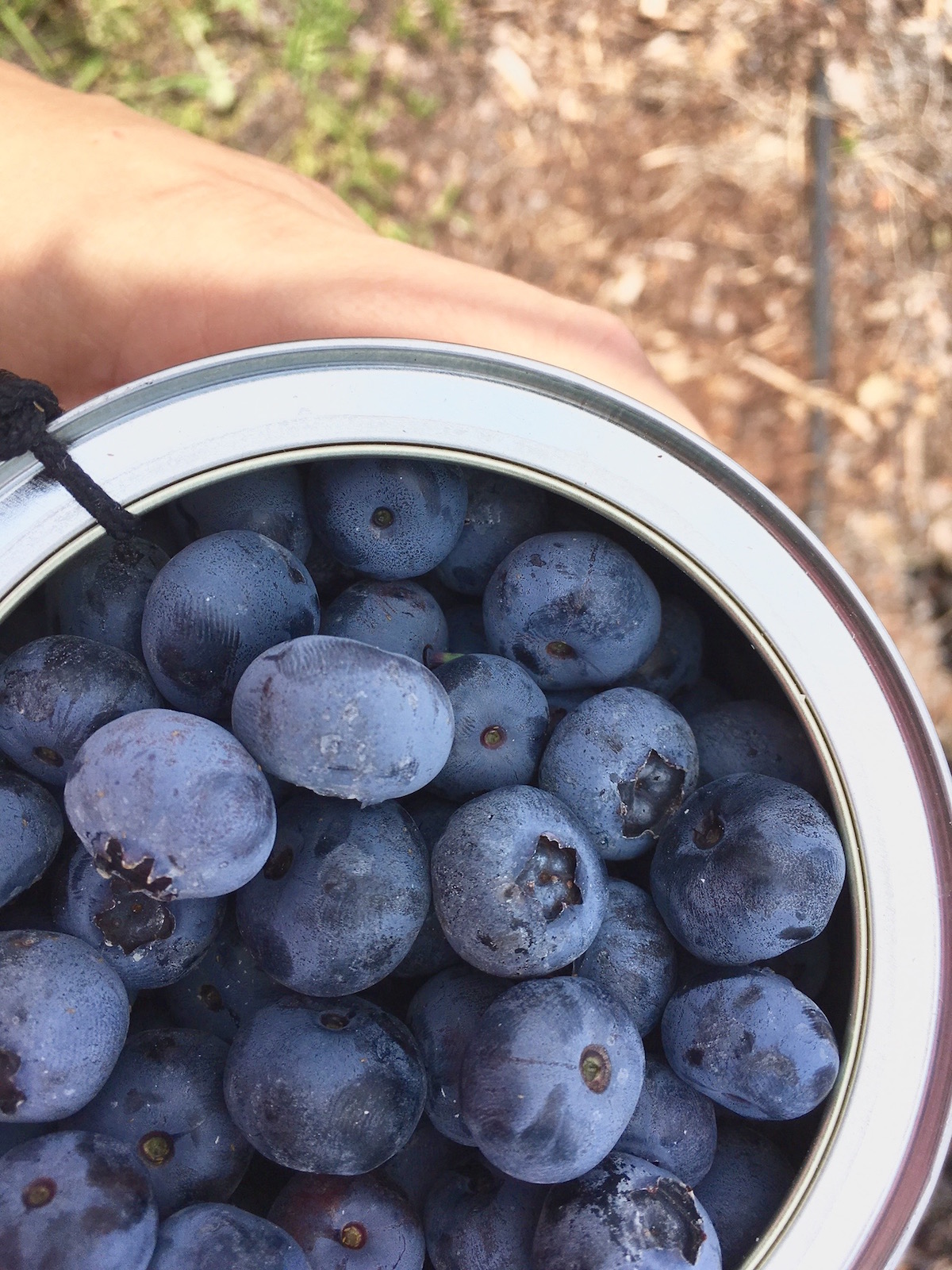 I also tried something different with the seedless cucumber that's been waiting patiently in my fridge — I pulled out my spiral slicer (you know, the one that's fun to use for zucchini noodles?) and used it with the cucumber!
Truth be told, the texture of the cucumber wasn't quite what I had hoped it would be, and that was only after I had already taken the photos. Sure, it looked interesting and the flavors were great, but it just didn't work for me. The cucumber was actually kind of tough and rubbery. Maybe it had been sitting in my fridge too long, or it's just not a good idea to spiralize cucumbers. . .Anyway, let's just say a food blogger doesn't always get it right! So, what I'm going to do is highly recommend you cut your seedless cucumber in half, lengthwise, then slice it thinly and toss it with the other ingredients. But if you really want to be adventurous and spiralize your cucumber because you've never tried it with anything other than zucchini, by all means give it a shot. Maybe you'll have better results than I did!
By the way, the dressing for this salad is very simple — the tangy lime and sweet honey are beautiful complements to all the fresh ingredients that surround them.  Enjoy!

Cucumber, Blueberry, Mint & Feta Salad
Fresh blueberries, cucumber and feta work nicely together in this flavorful, fresh salad.
Author:
My Delicious Blog
Ingredients
1 Hothouse, seedless cucumber (skin on)
1 c. fresh blueberries (washed just before use)
A few thinly sliced red onions (or scallions)
Juice of 1 lime
1 Tb. honey
1 Tb. olive oil
Dash kosher salt
Few grinds black pepper
Large handful fresh mint, chiffonade or chopped *
½ c. crumbled Feta
Instructions
Slice the cucumber lengthwise then cut into thin, half disks. If you feel adventurous, you can spiralize the cucumber for a totally different texture! Add to a mixing bowl, along with berries and red onion.
In a small bowl, combine lime juice, honey, oil, salt and pepper. Pour over the cucumber/blueberry mixture then refrigerate about 15 minutes.
Just before serving, toss in mint and stir to combine. Sprinkle with Feta. Garnish with mint sprigs, if desired.
Notes
Don't chop until just before serving, to avoid brown edges!