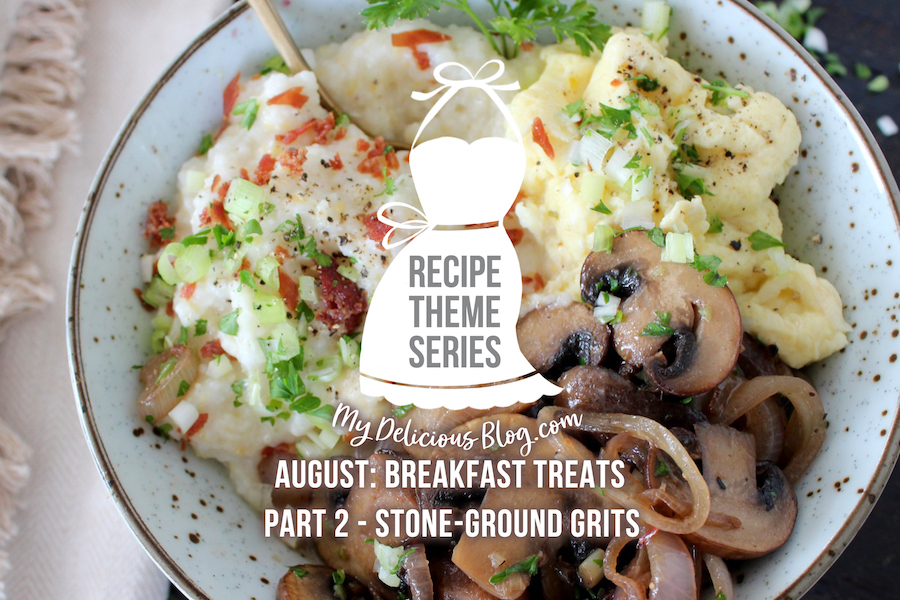 On my recent trip to North Carolina, I bought stone-ground grits at a farm in Old Fort (see: Field Trip Friday).
Stone-ground grits are made from whole corn kernels (including the germ) that are coarsely ground. When cooked, they're creamy, but not silky like other grains, and they're deliciously corn-y.
They need more liquid and time to cook, so I've tried several methods – overnight soaking, quick boiling/sitting for 10 minutes before simmering, covered/not covered, even 'risotto' style (i.e., adding liquid a bit at a time until absorbed). But when I asked my farmer friend at
Crooked Creek Mills
how his family cooked them, he said slow-simmered with water and salt, over low, low heat, because ". . .you don't want to rush grits." I think he, along with many growers of hearty grains I've read about, employ this simple stovetop method, so that's pretty much what I'm doing today!
I paired my grits with eggs, mushrooms, shallots, crispy prosciutto, and scallions/parsley/basil. I actually forgot to add a drizzle of maple syrup, so give that a try if you're so inclined, because I think it would be delish.
Here's a look at those mushrooms – nicely browned and full of flavor: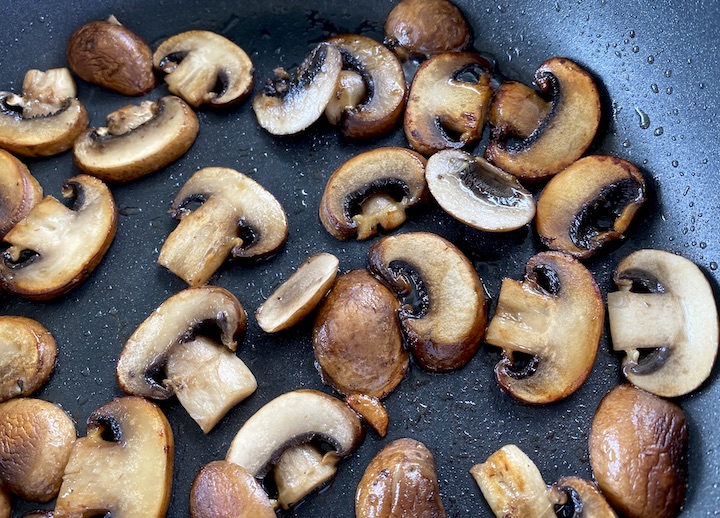 Here's the shallot/mushroom mixture, bathed in butter: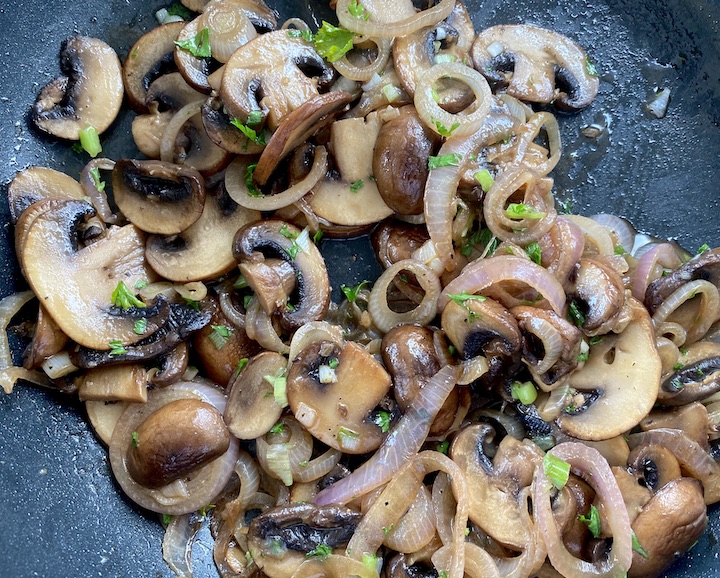 And, the finished dish: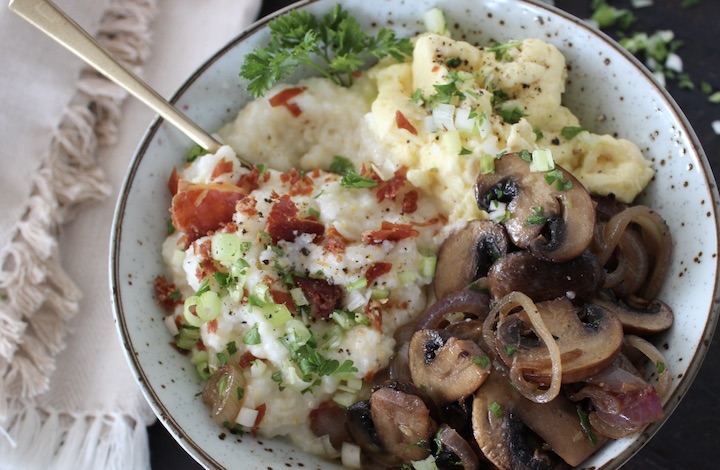 This breakfast has great textures, sweet/salty flavors, fiber, protein and veggies. It's basically a party in every spoonful. Fair warning, though – it's not 'hurry out the door' breakfast. To do it right you should tackle it when you have a few extra minutes.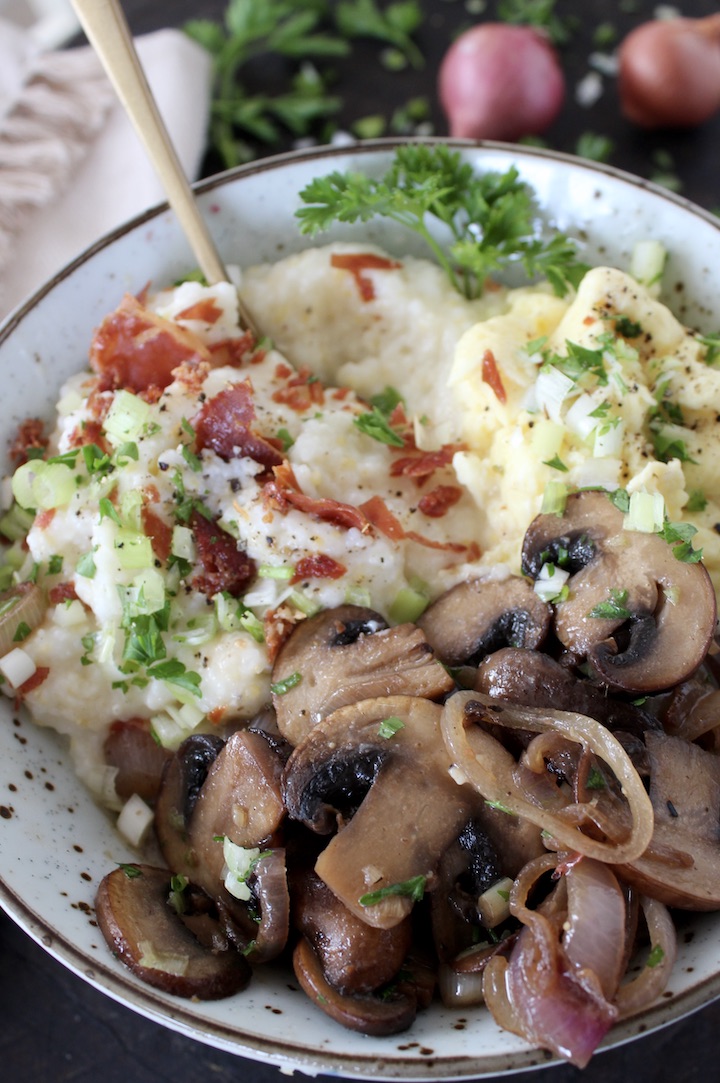 P.S. if you love grits and want another way to enjoy them, try this
shrimp & grits
recipe.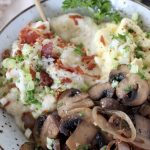 Print Recipe
Stone Ground Grits with Mushrooms & Shallots
Delicious stone-ground grits, with scrambled egg and pan-seared mushrooms and shallots, all topped with crispy prosciuto - an awesome breakfast!
Ingredients
4

c.

Water

1

c.

Whole milk

1 1/4

tsp.

Kosher salt

1

c.

Stone-ground grits

3/4

c.

Heavy cream

2-3

Tb.

Unsalted butter

1/2-1

c.

Shredded mild Cheddar or Gruyere

(optional)

Handful

Scallions, basil and parsley (minced together)

(amounts, to your liking)

6-8

slices

Prosciutto

1

8-oz.

Package Cremini or Button mushrooms

4

medium

Shallots

2-3

Tb.

Unsalted butter

2-3

Tb.

Olive oil

4

Eggs (for scrambling or frying)
Instructions
Grits
Add water, milk and salt to a medium saucepan and bring to a boil. Slowly whisk in grits; reduce heat to as low as possible. There should be no bubbling - the mission is to cook the grits very slowly, allowing them to absorb liquid at their own pace.

Cook ~30 minutes until creamy/thick, stirring regularly. Taste - if the grits have too much 'bite' (i.e., haven't fully absorbed the liquid) keep stirring for another 5-10 minutes over low heat). While grits cook, prepare the prosciutto and the mushrooms/shallots. (Note: you can even make the prosciutto days in advance and keep it in the fridge until ready to use).

Remove from heat, stir in cream and 2-3 Tb. butter (to your liking); along with cheese, if using. Season, if needed.
Prosciutto
Heat oven to 400 degrees and line a baking sheet with parchment or foil.

Lay the prosciutto pieces flat on the sheet, w/no overlaps. Bake 10-12 minutes until edges start to brown. Keep an eye on them, because they can burn quickly! Remove from oven and pieces will crisp as they cool. Break into small pieces before serving.
Mushrooms & Shallots
Remove any debris from mushrooms then slice them. Peel the shallots, remove stem ends, and slice thinly.

Add 1 Tb. olive oil to a 12" skillet, over medium heat. Lay mushrooms in pan, ensuring no overlap (if your pan can't accommodate all mushrooms without overlap, make 2 batches - we want to roast, not steam, for maximum flavor). Flip pieces, then remove from pan when brown (make another batch, if needed).

In same skillet, over medium heat, add 1 Tb. olive oil and 1 Tb. unsalted butter. Add shallots and cook until soft/translucent, ~2-3 minutes. Add a little water to the pan to help with softening. When done, add mushrooms and 1 Tb. butter, pinch of salt and freshly ground black pepper. Transfer mixture to a bowl then wipe the pan clean with a paper towel. Cook the eggs according to your preference (scrambled or fried).

Spoon grits, eggs, and mushroom/scallion mixture into 4 serving bowls. Top with prosciutto, herbs and fresh black pepper.