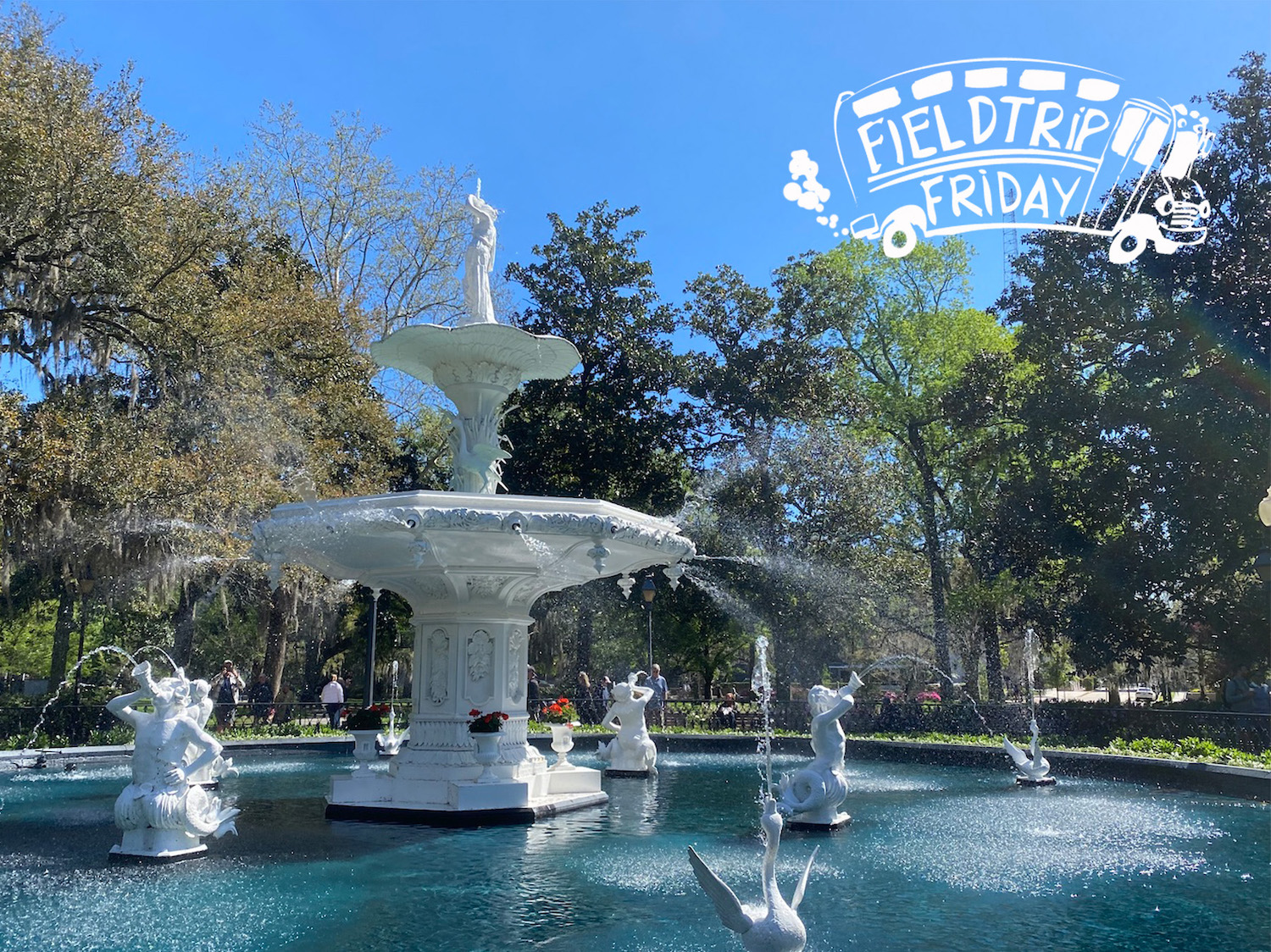 (
Field Trip Fridays
 are
 interesting, fun, food-related and/or fishing adventures I like to share with you!)
My hubby and I recently drove to Savannah for a few days. Tourism sites say March to July is the best time to go in order to experience peak azalea season, warm temps and outdoor events (especially St. Patrick's Day celebrations honoring some of the first [Irish] settlers in Savannah in 1734), so it was a perfect time for our first visit, and we crammed in a lot, including delicious food.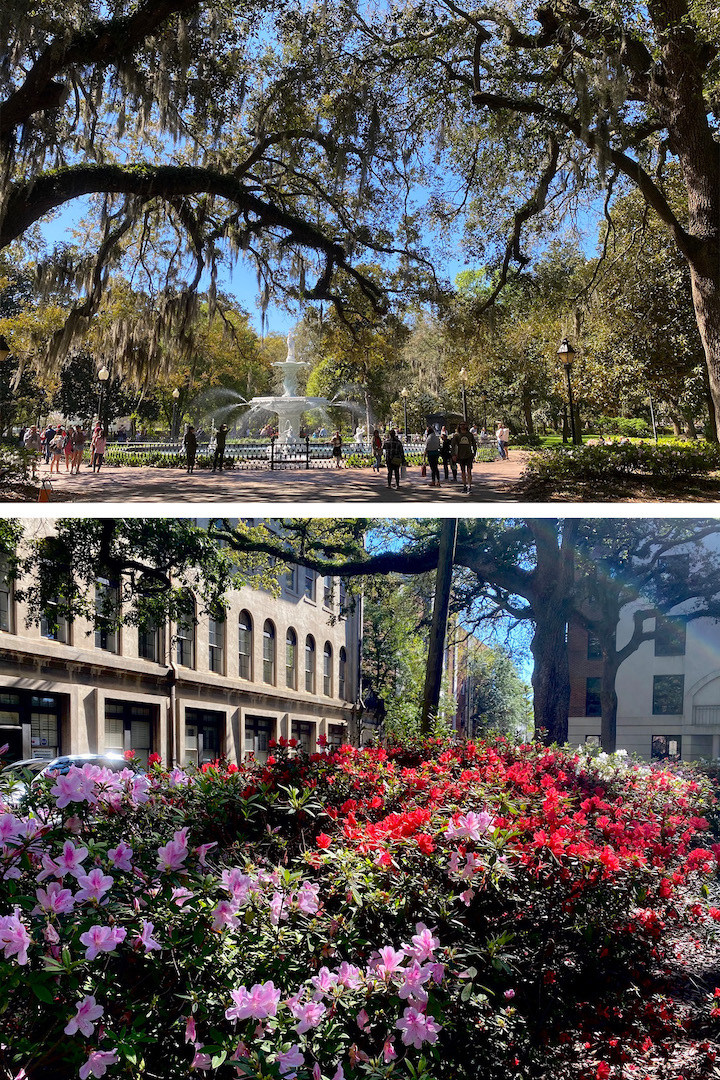 We stayed at the Marriott Riverfront, with a bird's eye view to barges and riverboats going by. It's at the opposite end of the
Plant Riverside District
, a converted power station anchored by 
J.W. Marriott
 (even if you're not staying there, be sure to walk through the lobby because it's amazing – full of geodes, dinosaur fossils, and skeletons).
When I check out a city, I like to visit farm to table restaurants. Two we were able to get reservations at were
Local 11ten
and
Cha Bella
.  At the former, I had a rosemary/lemon martini, and a beautiful salad of crispy greens/herbs, baby beets and honey nut/seed granola. The mussels with chorizo, cherry peppers and basil, with a huge garlic aioli-slathered focaccia, made us swoon, and the house-made Garganelli bolognese was a treat. The vegetable-forward menu was filled with things like tarragon/horseradish mushrooms, polenta with bottarga/brown butter/sun choke chips, coconut curry with okra, and cauliflower with tahini/Kalamata/mint. Yum.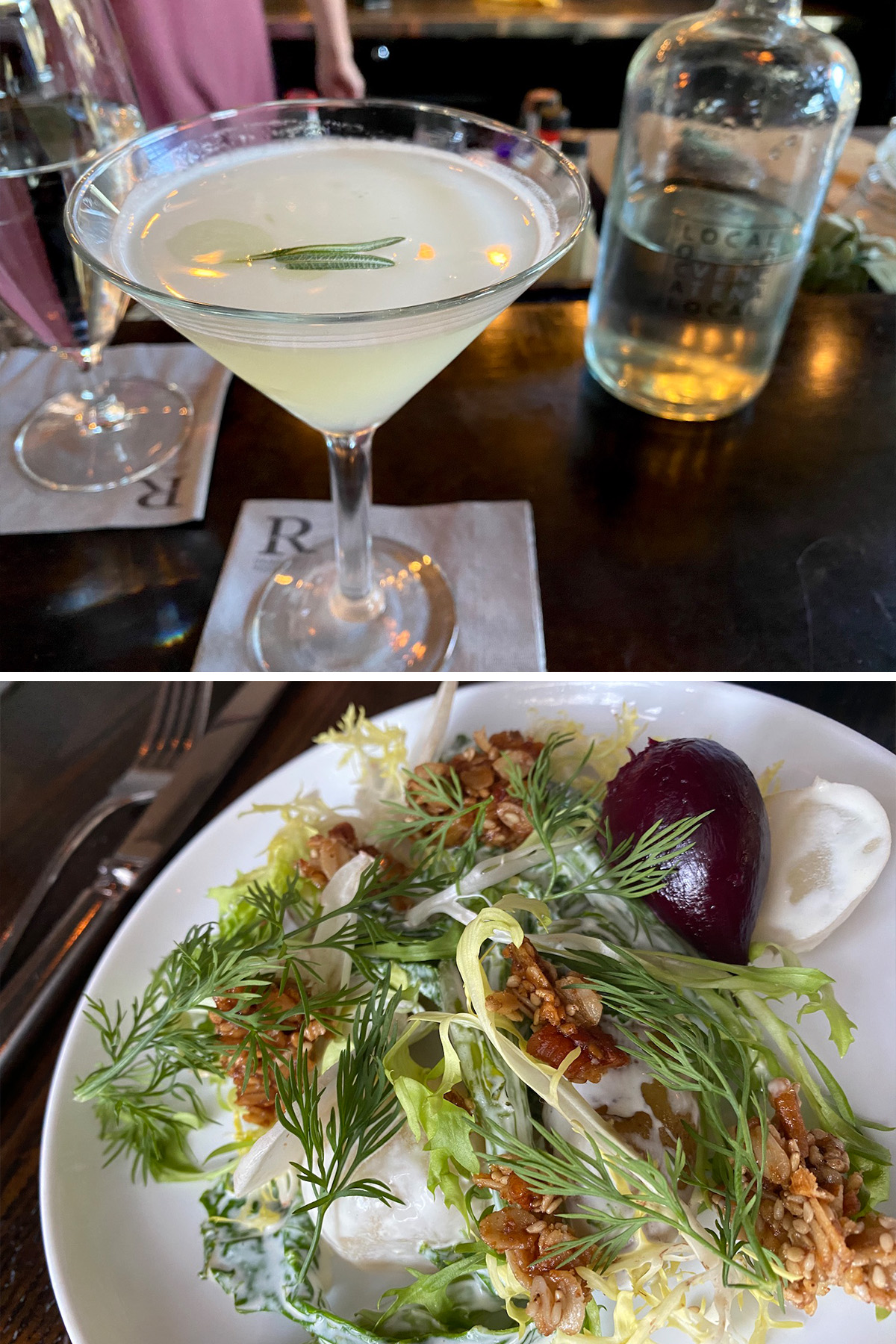 Cha Bella's tagline is "a made from scratch, earth to table experience," so it's my kind of place.
It's not 'vegetable-forward,' as it leans toward meat and seafood, but it's all fresh and mostly local. The chunky fish cakes with caper berry remoulade were hot, crispy and delicious. The shrimp/crab risotto with Chardonnay-tarragon sauce was rich, but not overwhelming. We also had gilled Romaine with cornmeal dusted oysters, Grouper en papillote, and scallops with crispy leeks. But it was hard to turn away the cast iron hog chop, crispy pork belly, and pepper beef carpaccio. . .
On an early walk along the River we found
Rhett
 at The Alida Hotel. The menu's full of southern nods and fresh perspective, along with locally-sourced products from Carolina Mountain Hatchery, Geechie Boy Mill, Zeigler Honey and more. We split a delicious breakfast, but have no pics because we were starving!
Sunday brunch (on one of the prettiest days ever recorded) at 
Collins Quarter at Forsyth Park
was delish. It was hopping, but our wait was only ~20 minutes (go early because they don't take reservations). It's surrounded by the park (with the famous Forsyth Park fountain), passersby/dogs, and azaleas. I had the divine Mushies & Toast (egg, wild mushrooms, chèvre, kale pistou & fried garlic). My friend had chicken & waffles with spicy maple syrup — all delish, and perfect alongside a Mimosa.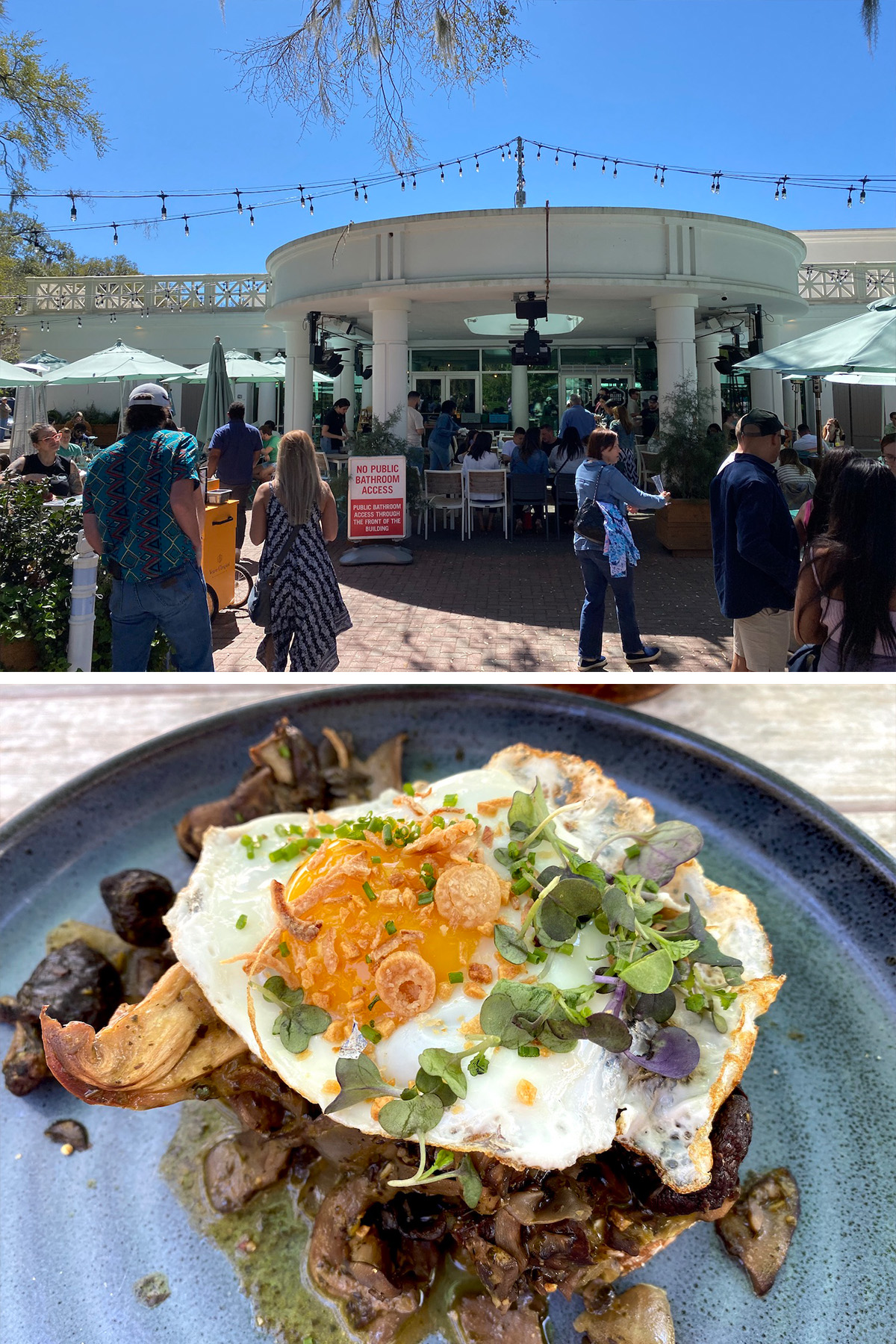 Savannah boasts many rooftop bars and we tried 
Electric Moon Skytop Lounge & Moon Deck
 (see my Cosmo on the geode bar top) and 
Perch
(at Local 11ten). It's fun seeing the city from different angles, so be sure to visit one or more if you're in town.
The "Hop on Hop Off" tour with
Old Town Trolley
 allowed us to experience parts of Savannah we might have otherwise missed. The guides are knowledgeable and share lots of funny stories and historical facts, so give it a try.
Finally, while I don't eat much candy, I had to visit
River Street Sweets
, known for pralines and other sweets since 1973. If you're wondering, the praline was delish 🙂
There's so much to see and do this time of year, including farmer's markets, street festivals, and more. I hope you plan your trip now!