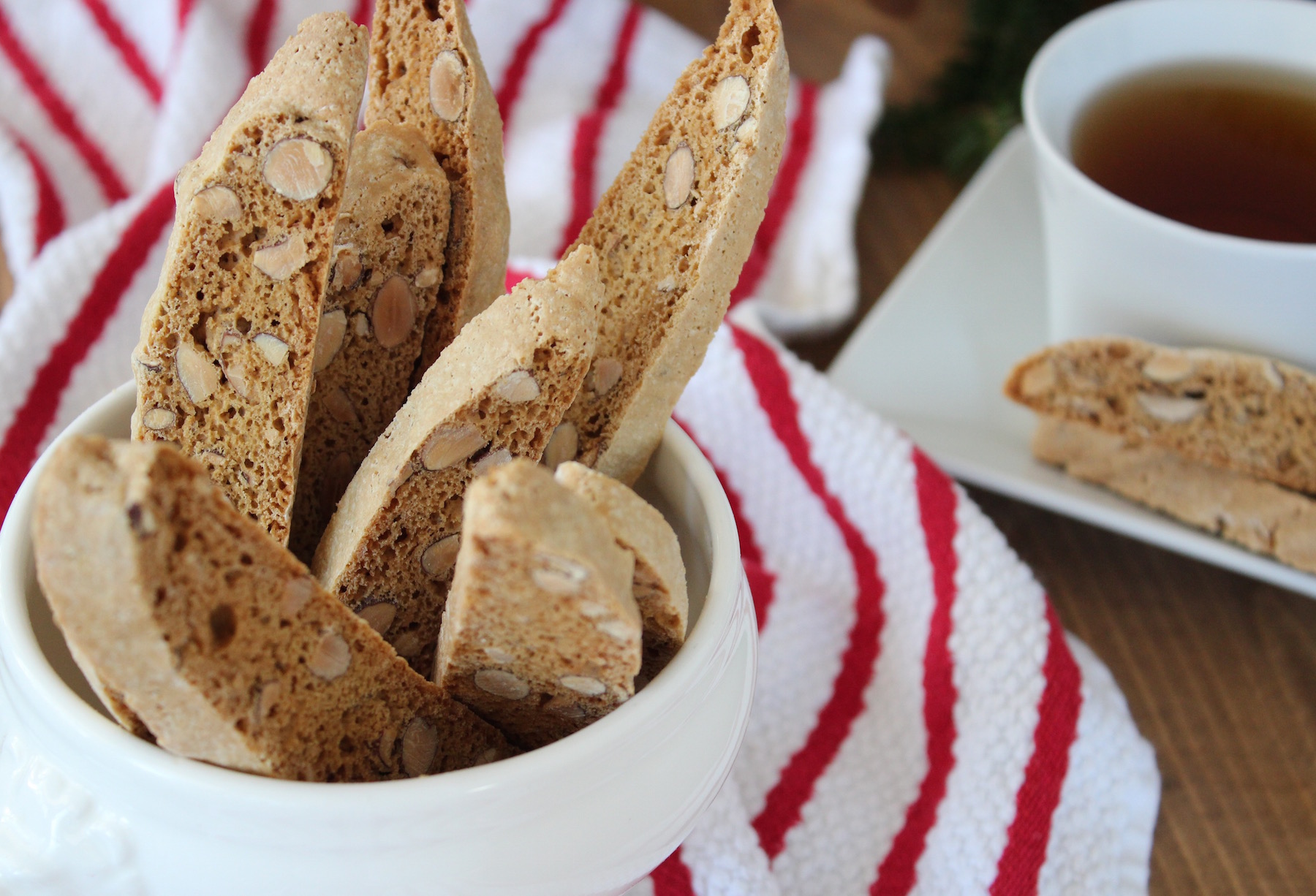 When it comes to holiday cookies, I'm game for anything — thumbprints with yummy jam, spicy gingerbread, buttery shortbread, those little cookies with red or green cherries in the middle, cut out shapes covered in colored sugar — I love to bake 'em AND eat 'em. But there's another cookie I especially love.
Biscotti
!  These twice-baked cookies are a real treat but, for some reason, I don't even think to make them any other time of the year. Why is that? Certainly, biscotti is good on a year-round basis (gosh, you see them in every Starbuck's, right?).  And who doesn't like to dunk one into a hot cup of coffee or tea? Or nibble all those crunchy, hard edges, hoping to get a toasted nut?  I may need to address my quandary further but, for now, let's move on. . . I've made many batches over the years, some using butter or other fat, some incorporating interesting flavors like key lime. Many of my experiments have yielded yummy results, others have ended up in the trash because I did something wrong, got busy talking on the phone, or was chatting in my friend's kitchen and we both forgot they were in the oven (true story, we lost several batches). These cookies are fun to make, and if they don't end up in the trash, they're really delicious. They also make great gifts when wrapped in something pretty 🙂 My current, go-to recipe is the one I spotted in the New York Times Magazine many years ago titled "
Bravo, Biscotti
' by Sheryl Julian and Julie Rosenfeld. Each year I carefully unfold my torn-out page, put the recipe into action, then delicately place it back into my recipe box when the season is over (you know it's a good recipe when it's been folded a million times, is full of stains and is dog-eared). It's called "Corby Kummer's Unbeatable Biscotti" and in the article the authors note their love of Mr. Kummer's crunchy cookies, which he himself wrote about in The Atlantic years earlier (I think his article might date back to 2005?). The story goes that Mr. Kummer (a food writer) had traveled to Italy, where he tasted a most exquisite cookie, one that he decided to re-create at home. Apparently he went through about 18 batches before arriving at this formula — one that yields a crunchy cookie but doesn't use any fat (the flavor and fat actually comes from the roasted almonds and the eggs). It's a style of biscotti that originates from Prato, a wool-manufacturing town near Florence, where they've been making these heavenly cookies since the 14th century. I like my biscotti crunchy and flavorful, so this one's a winner in my book. I make the recipe just as Mr. Kummer intended (although, once I added orange zest – it was also good, so you could try that, too).  The batter is pretty sticky, but don't worry, it comes together with a little extra flour when you knead it after turning onto a floured surface: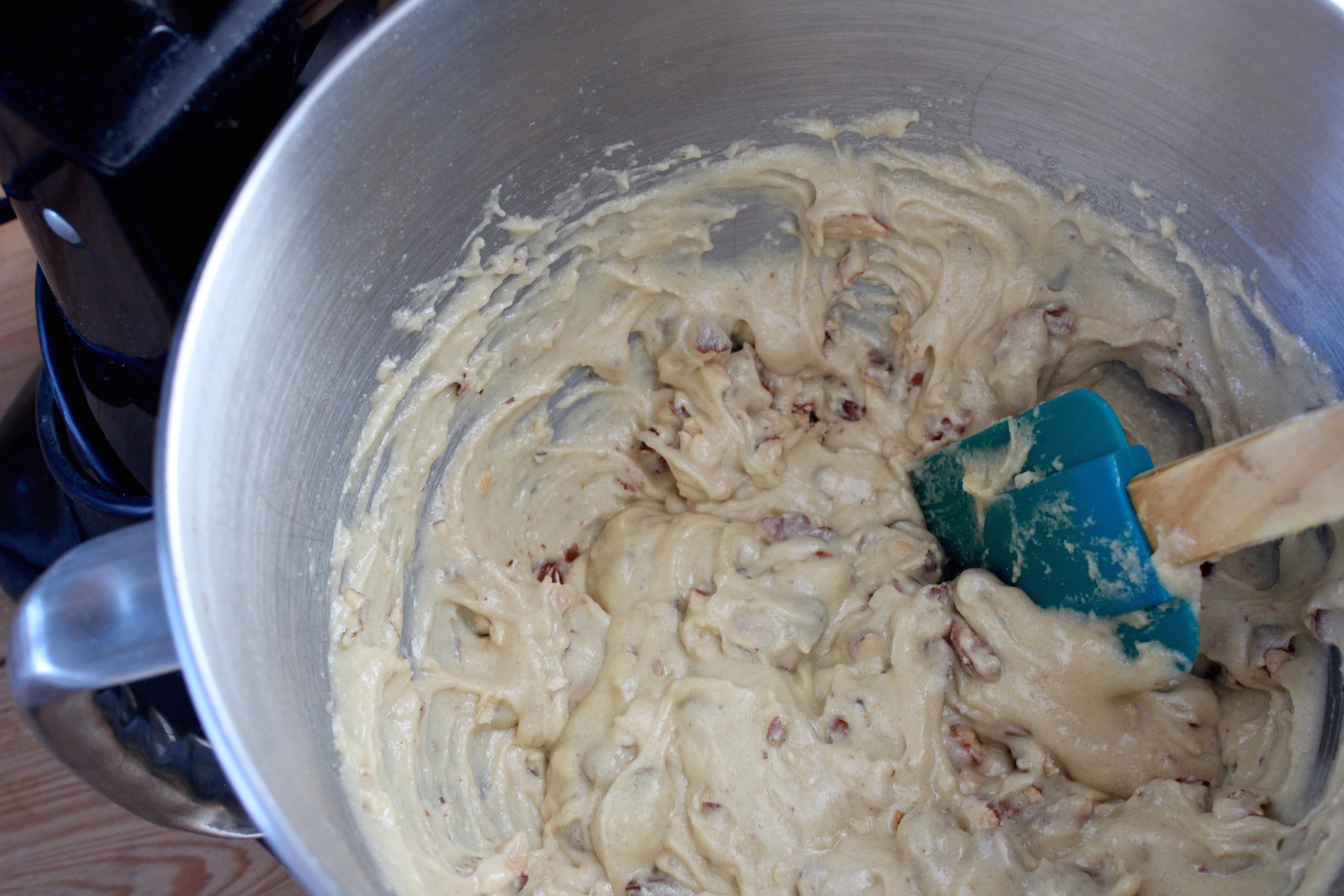 Here's what the uncooked dough (top) and cooked dough (bottom) look like.  Don't worry about perfection when creating your 'logs' — the biscotti will still be delicious no matter the shape: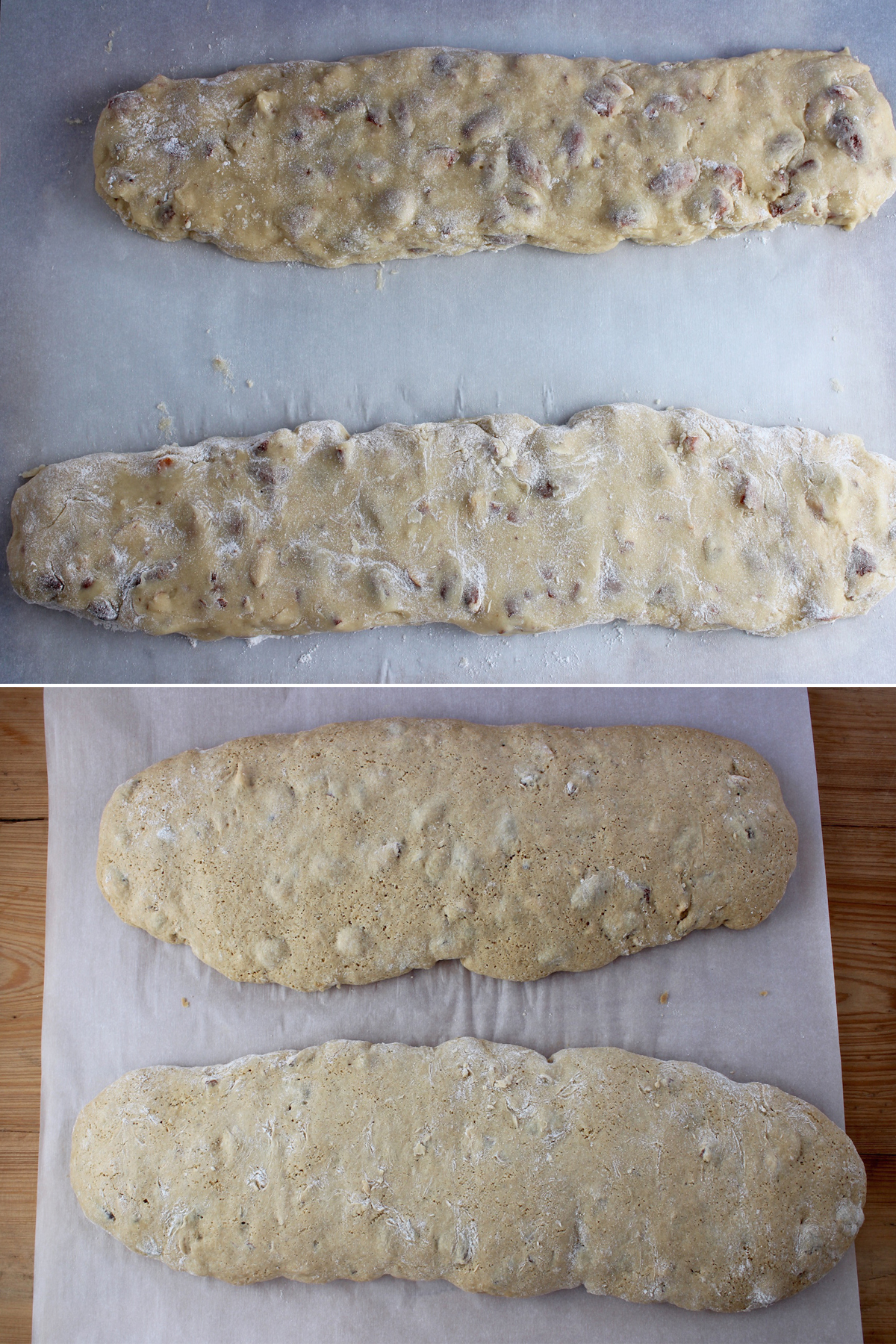 Once cooked and cooled, slice the biscotti diagonally with a serrated knife: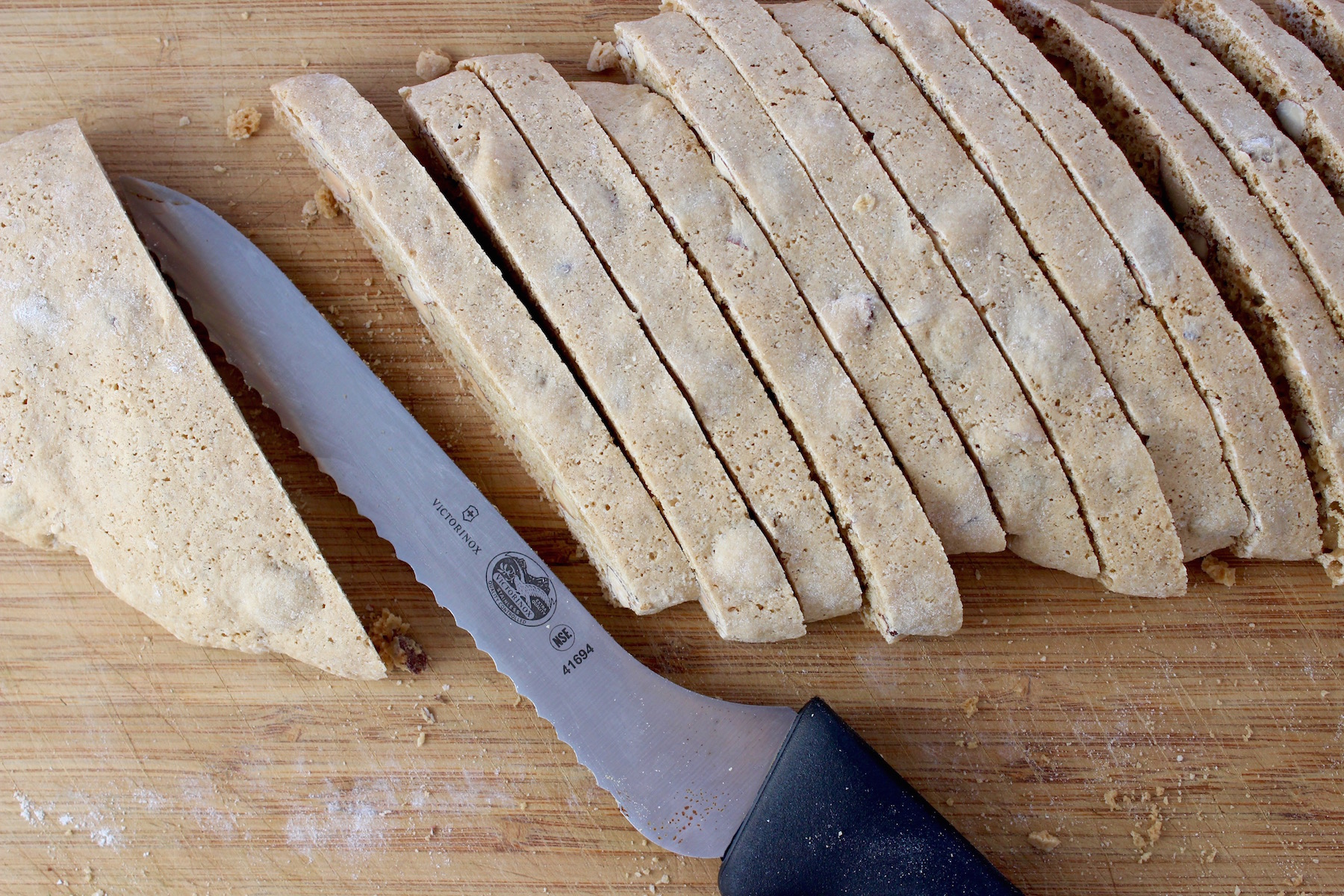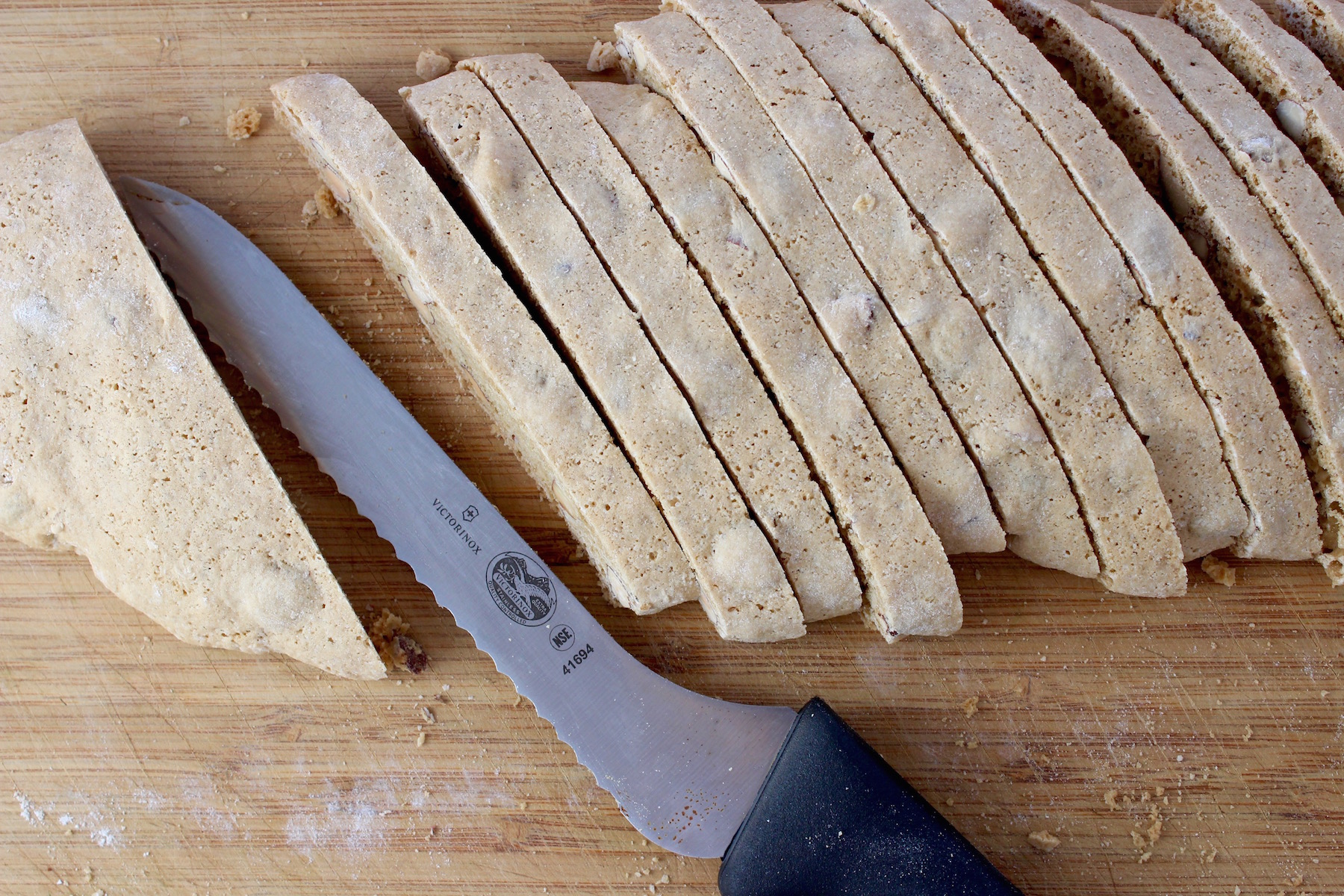 And, voila, biscotti that's ready to dunk in coffee or tea: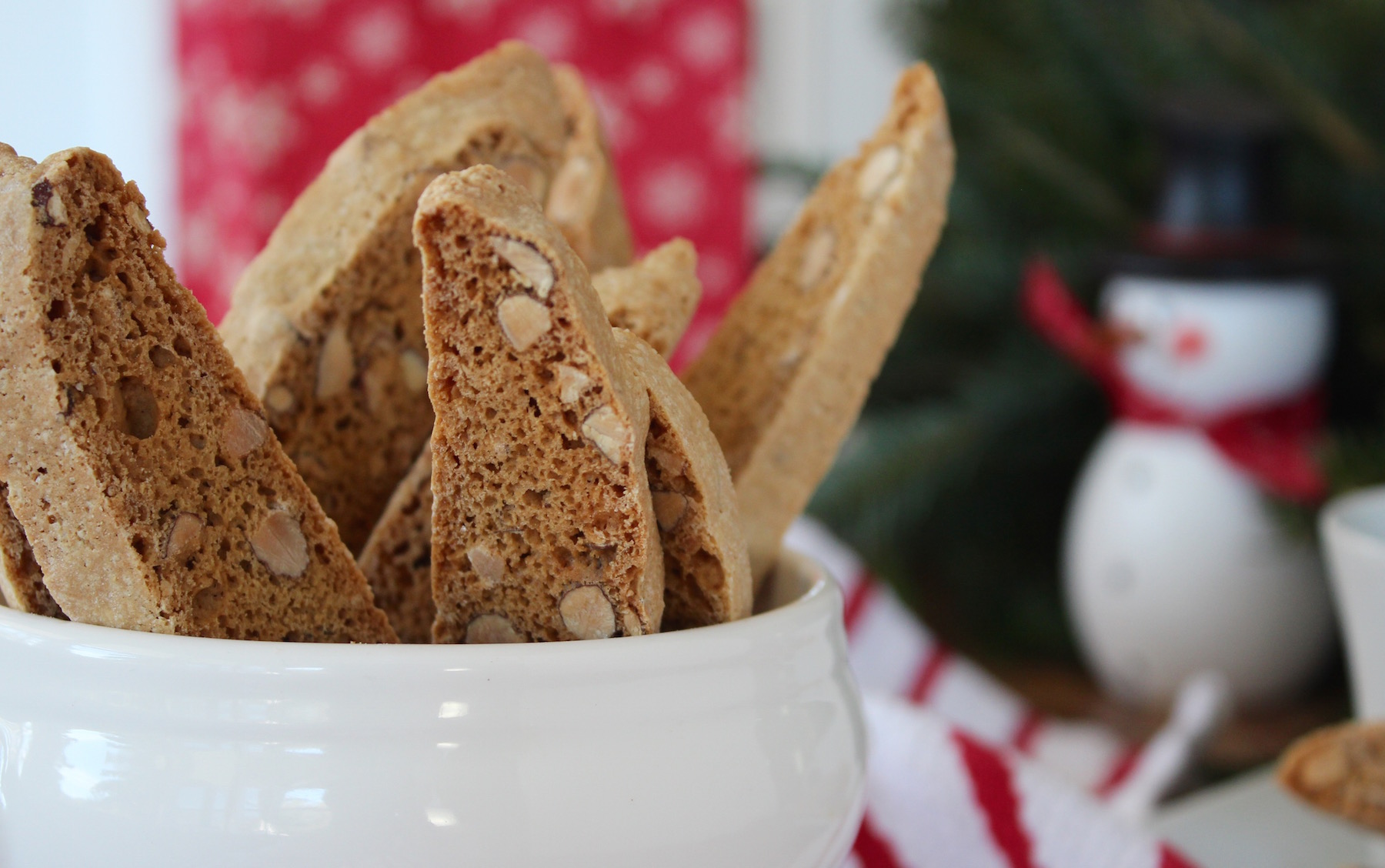 If you've never made biscotti, I hope you give it a shot.  Just pull out this recipe, gather your ingredients, open up a bottle of wine and get to it.  A note of caution, though – you might want to turn off your phone 🙂 Happy Holidays!
Almond Biscotti
"Corby Kummer's Unbeatable Biscotti"
Ingredients
1¼ c. whole, unblanched almonds
2 c. all-purpose flour
1 c. granulated sugar
1 tsp. baking soda
Pinch of salt (I used kosher)
3 large eggs
½ tsp. vanilla extract
Instructions
Preheat oven to 350 degrees.
Place almonds on a baking sheet and toast 8-10 minutes or until they begin to perfume the kitchen; remove from oven and cool.
Reduce oven to 300 degrees and line a baking sheet with parchment paper or foil.
In the bowl of a mixer fitted with a paddle attachment, place flour, sugar, baking soda and salt.
In a separate bowl, beat eggs and vanilla; set aside.
Blend dry ingredients on low speed, then pour in egg mixture; the dough starts to form after a minute or two, but will be sticky.
Add nuts and mix until they start to break up (keep your mixture in the locked position because this is a sturdy task!).
Turn the dough onto a well-floured surface then use a pastry scraper (or your hands) to fold the dough over itself 3-4 times to distribute the nuts. Add a little bit more flour if it's still too sticky. Let dough rest for a minute then divide into two equal parts.
With lightly floured hands, elongate each piece into a strip 2-3" wide, 12" long. Transfer each to the baking sheet, leaving 4" between them.
Bake 45-50 minutes or until they are slightly browned; remove and cool on baking sheet 5 minutes.
Carefully transfer each strip to a cutting board.
Using a sharp, serrated knife, cut the strips on a diagonal into ½" slices.
Place slices on the baking sheets (you'll need 2 sheets, total).
Return sheets to the oven and bake about 35 minutes.
Remove from oven and transfer cookies to a cooling rack.
Store in a container that allows air to escape, which will keep them from softening.