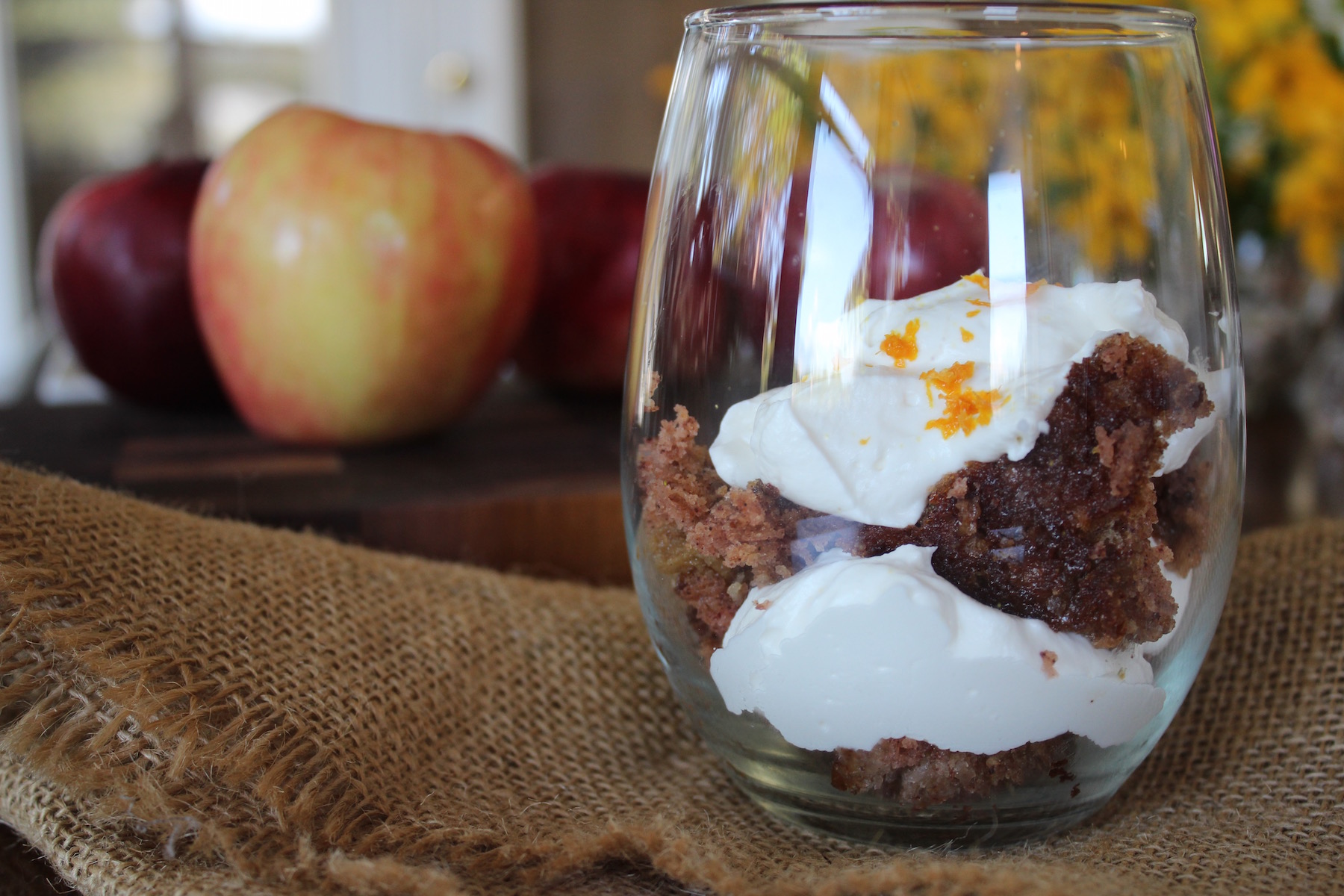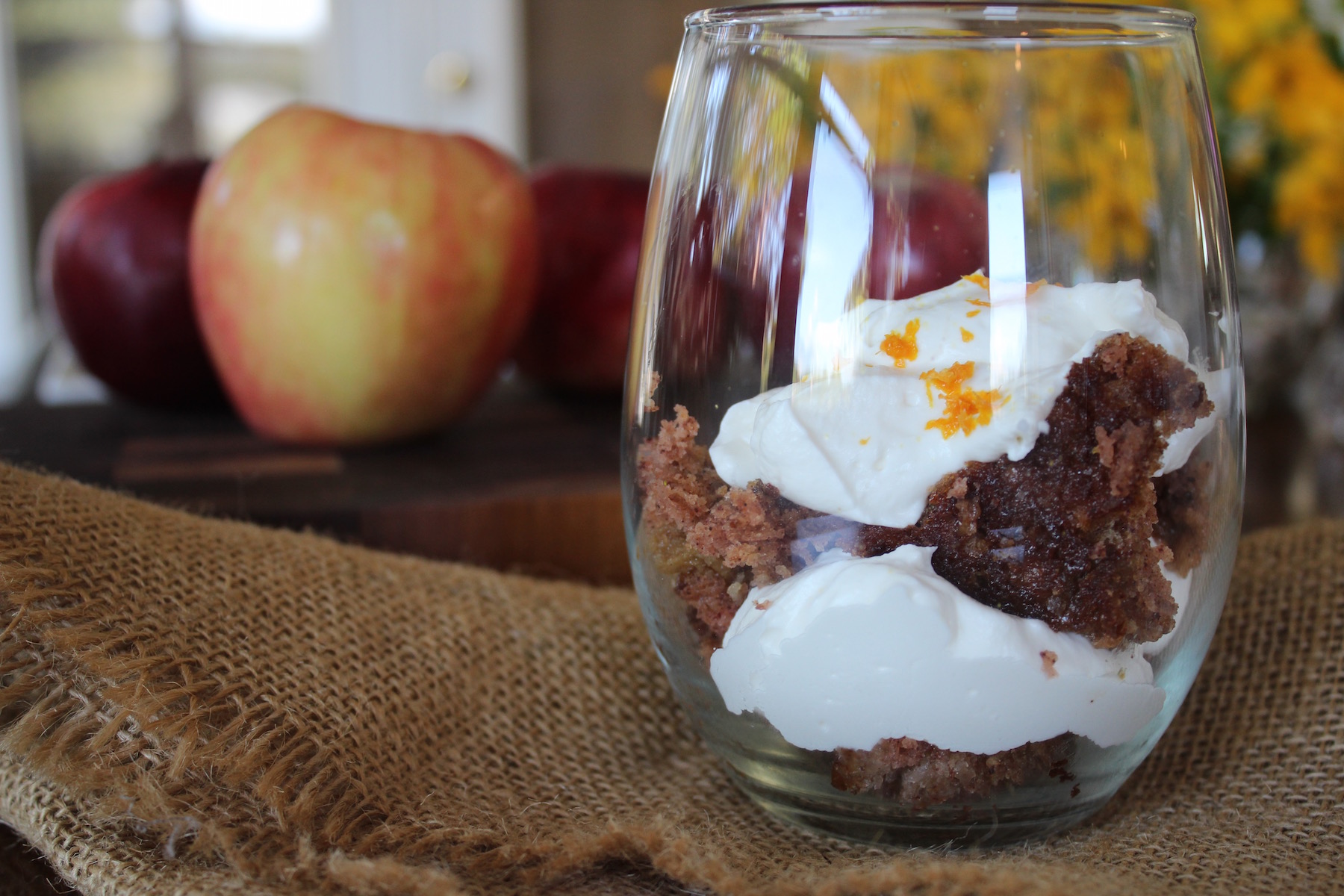 It's officially Fall, but it certainly doesn't feel like it in southwest Florida. In spite of our high temps, I'm still moving ahead with my Fall traditions! One of them is this delicious, fresh apple spice cake. I love the smells that emanate from the kitchen when it's in the oven — comforting and definitely reminiscent of family traditions. My family has been making this cake for as long as I can remember. It's chock full of grated apples, cinnamon, nutmeg and golden raisins and it's deliciously moist and flavorful, especially on a chilly night (if we ever get one here).
This recipe makes an 8"X8" square cake, but if you double it and bake it in two 8" round pans, you can transform it into a layer cake and slather it with decadent cream cheese frosting. Even better, if you have THREE 8" round pans, you can triple the recipe to get 3 layers, which means 3 layers of frosting. Oh my.  That sounds too decadent, doesn't it??? Well, let's keep to our senses and just go with a nice 8" square cake today. . .
Instead of making this cake with my favorite frosting, I decided to change it up and make some parfaits with layers of cake and cream cheese/bourbon whipped cream. See what I did there?!? I put the cream cheese into the whipped cream instead of making that oh-so-tasty frosting, so I still get the yumminess of cream cheese, but it's a bit less heavy. Adding cream cheese to whipping cream is a great way to retain the cream's lightness and fluffiness, while giving it just a little more body, some tanginess, and the ability to store it longer in the fridge. It's especially good when you're serving it with a sweet cake (like this one) or pie because it's not too sweet itself.
These little parfaits were mighty tasty. Tender, flavorful cake, bursting with sweet raisins and warm spices, mixed with fresh cream, bourbon and cream cheese. Pure happiness in every bite. I topped mine with a little orange zest, but it would also be yummy with a sprinkling of toasted walnuts or pecans (which I unfortunately forgot to purchase), or maybe even a little drizzle of caramel sauce. I'm making you hungry, aren't I?!?

Apple Cake with Cream Cheese & Bourbon Cream
Spicy, warm apple cake is extra delicious with this cream cheese and bourbon.
Author:
My Delicious Blog
Ingredients
Grated Apple Cake
3 medium apples (a crisp variety like Cortland, MacIntosh or Honey Crisp work well)
1 egg
¼ c. vegetable or canola oil
1 c. sugar
1 c. raisins (I like to use the golden variety)
1 c. all-purpose flour
1 tsp. baking soda
1 tsp. ground cinnamon
1 tsp. ground nutmeg
Cream Cheese/Bourbon Whipped Cream
2-oz. cream cheese, softened to room temperature
1 c. heavy whipping cream
2-3 Tb. confectioner's sugar (to taste) - I used 2 Tb. 🙂
½ tsp. vanilla extract
1-2 Tb. bourbon (to taste) - I used 2 Tb 🙂
Instructions
For the Cake:
Heat oven to 350 degrees.
Coat an 8"X8" baking dish with cooking spray.
Peel the apples (no need to core them).
Using a box grater, grate the apples into a small bowl (do one quarter at a time - it's much easier).
In a mixing bowl combine egg, oil, sugar and raisins. When sugar is fully combined, add the apples.
In a separate bowl, sift flour, baking soda, cinnamon and nutmeg.
Slowly add the dry ingredients into the wet mixture and stir carefully to combine well.
Pour batter into the baking dish.
Bake for about 30 minutes, but check it at the 20 minute mark. When a toothpick comes out clean, remove from oven.
For Whipped Cream & Assembly:
In a small mixing bowl, whip cream cheese to a smooth consistency. Set aside.
In a separate bowl, whip cream to soft peaks.
Add the cream cheese to the whipped cream and whip until stiff peaks form.
Add sugar, vanilla and bourbon; whip a few more times to thoroughly combine; refrigerate until ready to use.
To serve, find 4 of your prettiest glasses. Break up chunks of cake (as big as you want) and drop into each glass. Layer with cream, then repeat, so you get 2 layers of each. Add your favorite topping and enjoy!
Notes
There are 4 servings of these parfaits. You'll likely use up all the cream for the desserts, but you'll likely have some cake left over to enjoy at another time 🙂