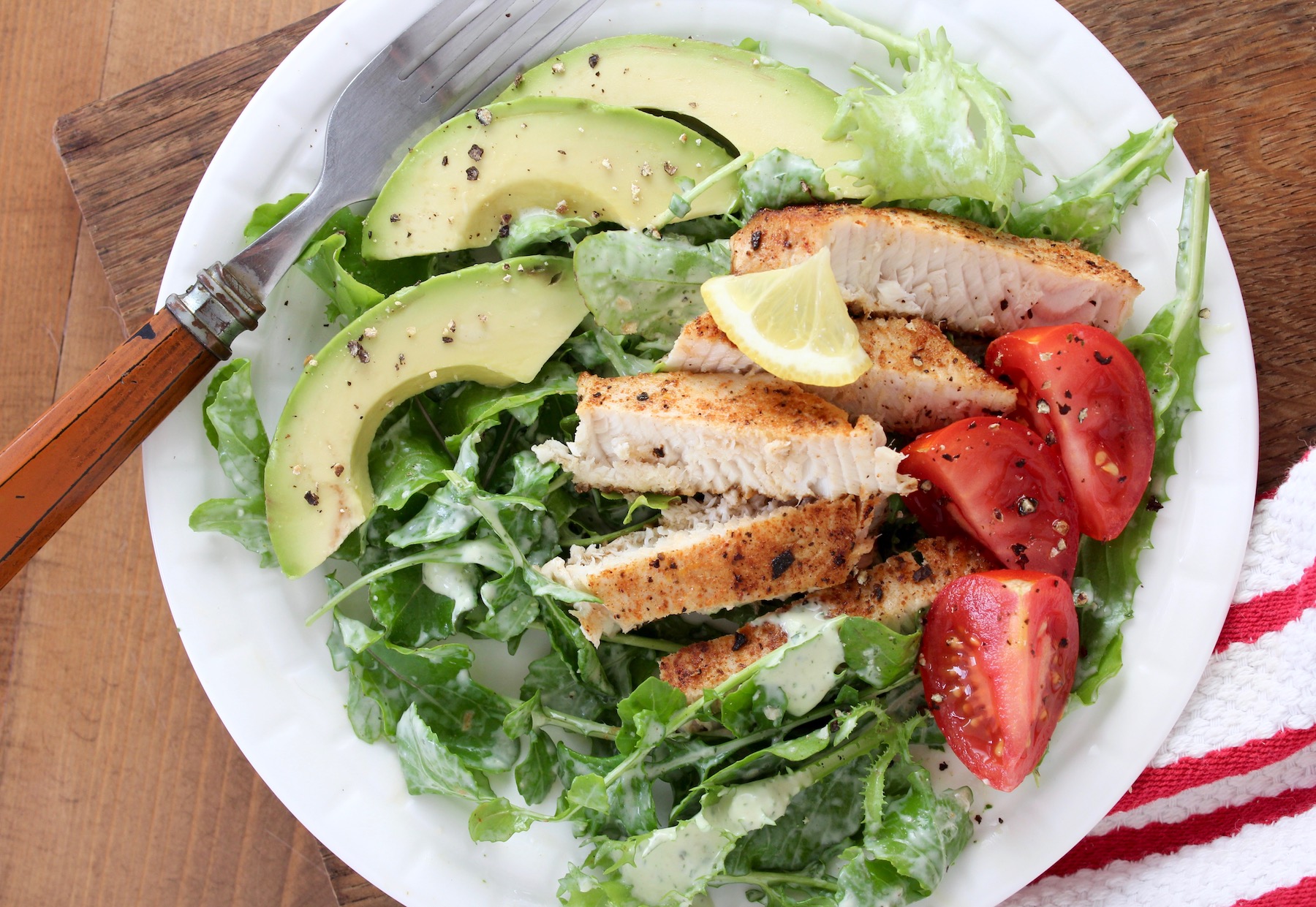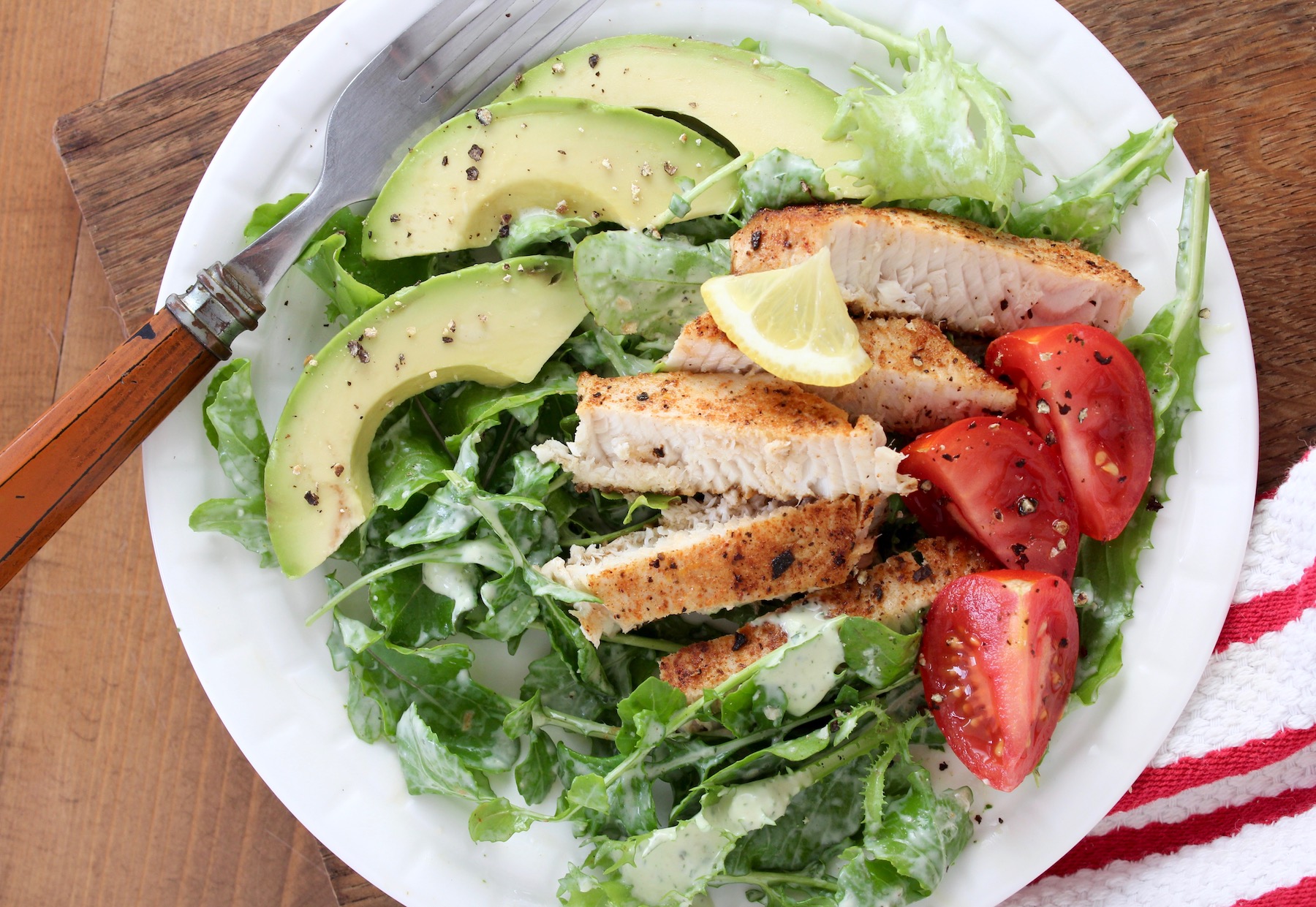 Fishing friends gave me a beautiful piece of Wahoo this week, so I quickly put it into action.  It's one of my (and hubby's) faves.
If you've never had Wahoo, PLEASE put it on your list of fish to try at a restaurant or fish market.  It's sort of like Swordfish – white, flaky, sweet, dense and meaty.  And really delicious.
You can cook it in a number of ways, especially on the grill because it's sturdy.  But sometimes it's easiest to sear it in a hot pan, which is what I did today.  I cut the hunk of fish into one-inch fillets (that's when you can really see the circular pattern of the flesh), sprinkled them with blackening seasoning and cooked them in a cast iron pan with olive oil and some of that
flavored butter
I made recently.  I cooked them 2 minutes on the first side, flipped them, covered the pan, turned off the heat and let them cook 1 more minute. (
Note: it's easy to overcook Wahoo, so I find covering the pan and letting the residual heat and steam finish cooking the fish works well
).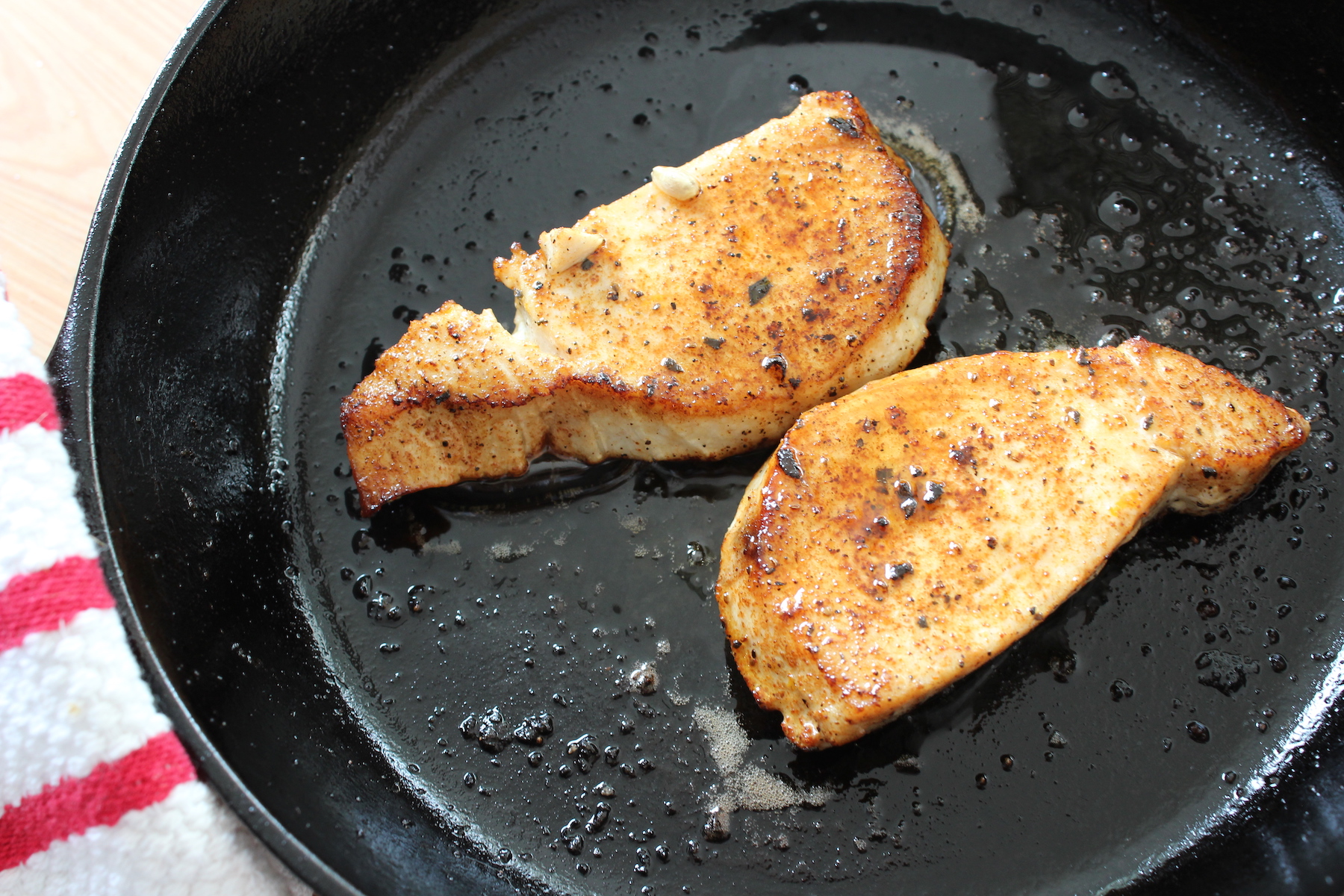 This fish is great with any kind of sauce or salsa because it can handle just about anything you throw at it.  Today, I decided to mix it into a tasty salad using the last of my garden greens, some sweet tomatoes, and creamy avocado, all dressed in a yummy Green Goddess-inspired dressing.  This dressing has it all – creaminess (due to mayo, sour cream and buttermilk), and lots of flavor due to the parsley and tarragon, lemon, scallions, garlic, and anchovy paste, which adds a little bit of umami flavor.
Never heard of Green Goddess dressing?  Here's a quick history: it originated at the Palace Hotel in San Francisco where, in 1923, actor George Arliss (who was starring in the play The Green Goddess) was staying.  The head chef (apparently quite impressed with George's acting prowess) created this dressing just for him and served it on canned artichokes (that would not have been my first choice, but back then it was considered a delicacy).   It was mainly a mix of homemade mayonnaise, fresh tarragon and parsley, vinegar, anchovy and garlic, and it produced a bright green and flavorful dressing.  Today, there are lots of variations out there, and now there's one more — mine 🙂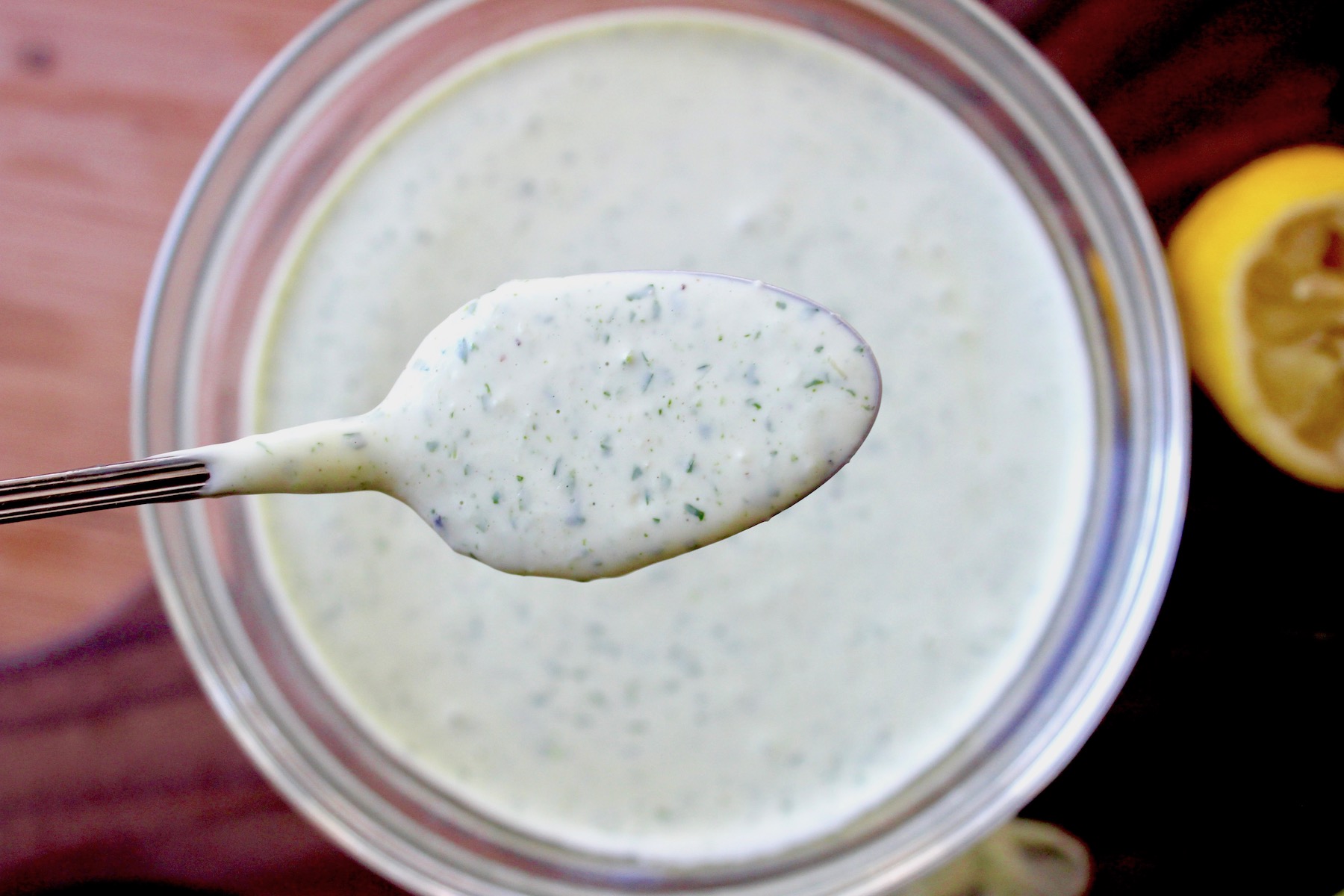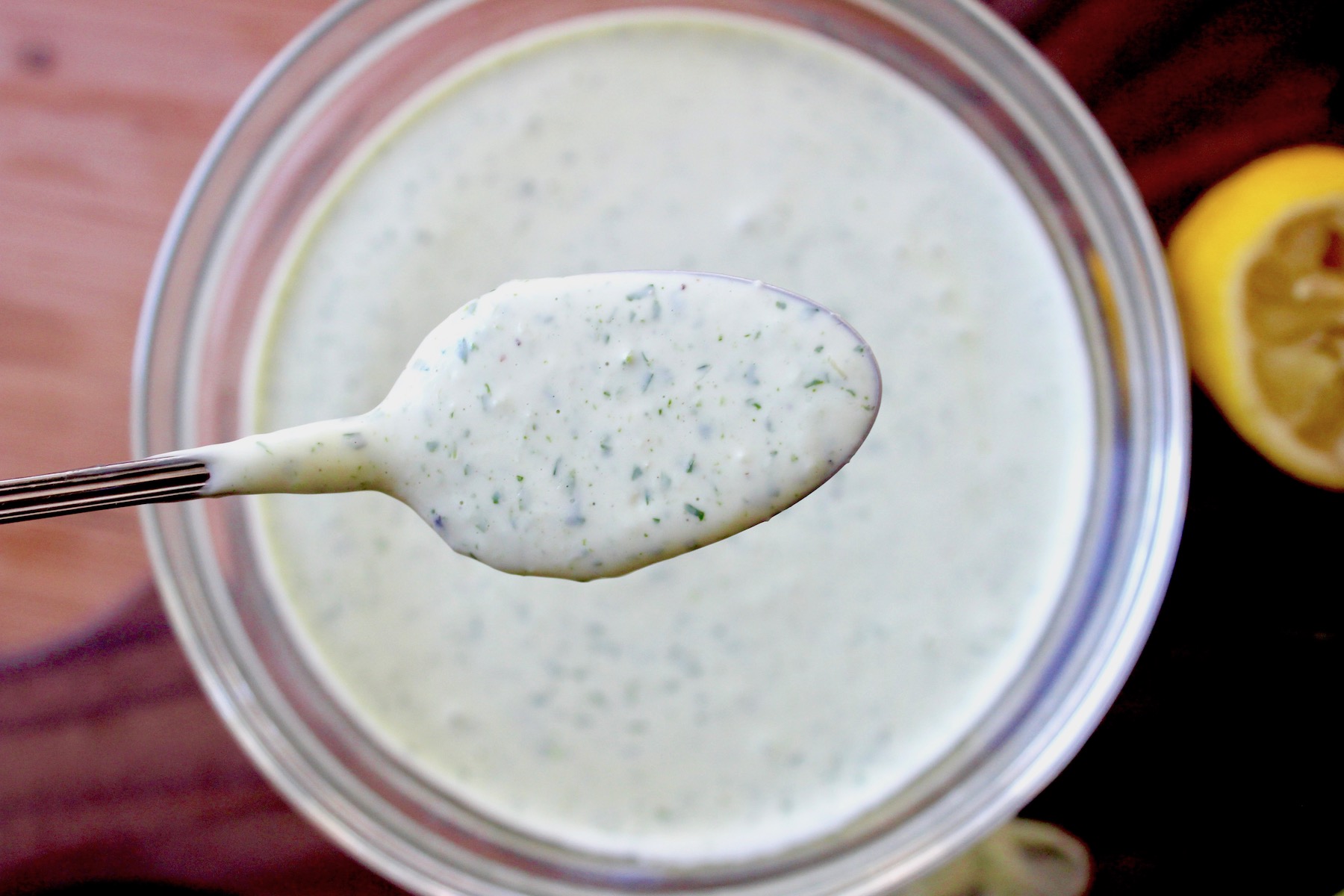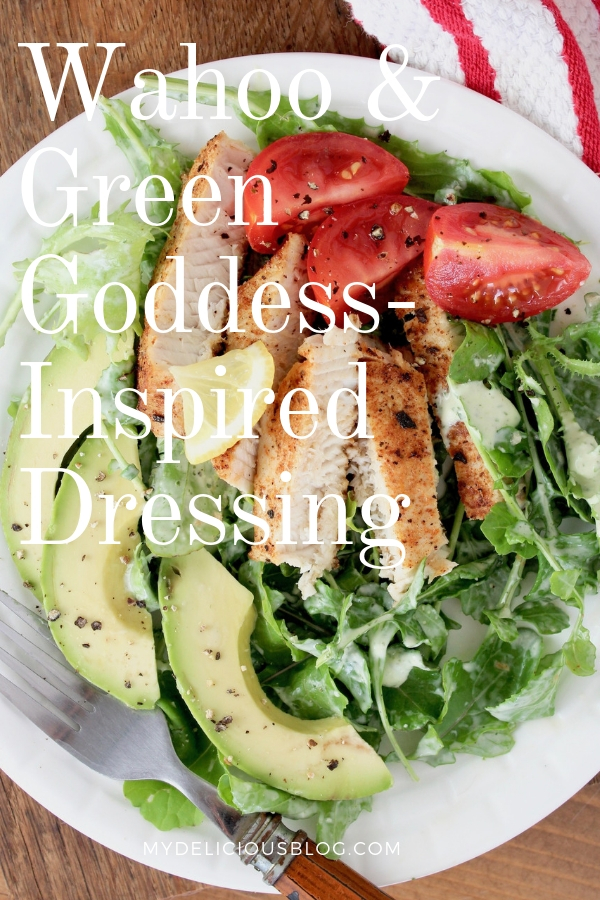 Print Recipe
Wahoo Salad with Green Goddess-Inspired Dressing
Fresh Wahoo is a great complement to this salad with fresh tomatoes and avocado, mixed with Green Goddess-inspired dressing.
Ingredients
Fish:
1

lb.

Wahoo

about 4 pieces, 1-1.5" thick

1

tsp.

Blackening seasoning

1

Tb.

Olive oil

1

Tb.

Unsalted butter
Dressing:
1/2

c.

Mayonnaise

1/4

c.

Sour cream

1/4

c.

Low-fat buttermilk

4

Scallions, roughly chopped

1/4-1/2

c.

Fresh parsley leaves

1

Tb.

Fresh tarragon leaves

2

Tb.

Fresh lemon juice

1

tsp.

Anchovy paste

(more, if you feel adventurous)

1

small

Garlic clove, peeled and smashed

1/4

tsp.

Kosher salt

1/8

tsp.

Freshly ground black pepper
Salad:
4

c.

Fresh greens

Handful

Cherry or grape tomatoes, halved

1-2

Fresh avocado, peeled & sliced
Instructions
For the Dressing:
Add ingredients into the bowl of a food processor. Pulse until well combined. Taste for seasoning. Transfer to a serving bowl and refrigerate until ready to use.
For the Fish:
Sprinkle both sides of fillets with blackening spice.

Heat a cast iron or non-stick pan to high. Add olive oil and butter. When hot, add fillets to get a nice sear, then reduce heat to medium.

Cook about 2 minutes, then cover, turn off heat, and let the fish sit for another minute or so to allow it to finish cooking.
For the Salad:
Combine greens, tomatoes and avocado with the dressing (as much as desired) and plate individually. When fish is ready, remove it from pan, slice, and add to the salad.
Notes
If you can't find Wahoo, you can enjoy this salad with any flaky, white fish, or a delicious wild-caught or farm-raised salmon, or maybe grilled chicken or grilled veggies.
You will likely have leftover dressing.  Keep it in the fridge and use it for another tasty salad, or as a dip with crunchy veggies, or as a topping for grilled veggies, chicken or pork.  Basically, it's good on anything.