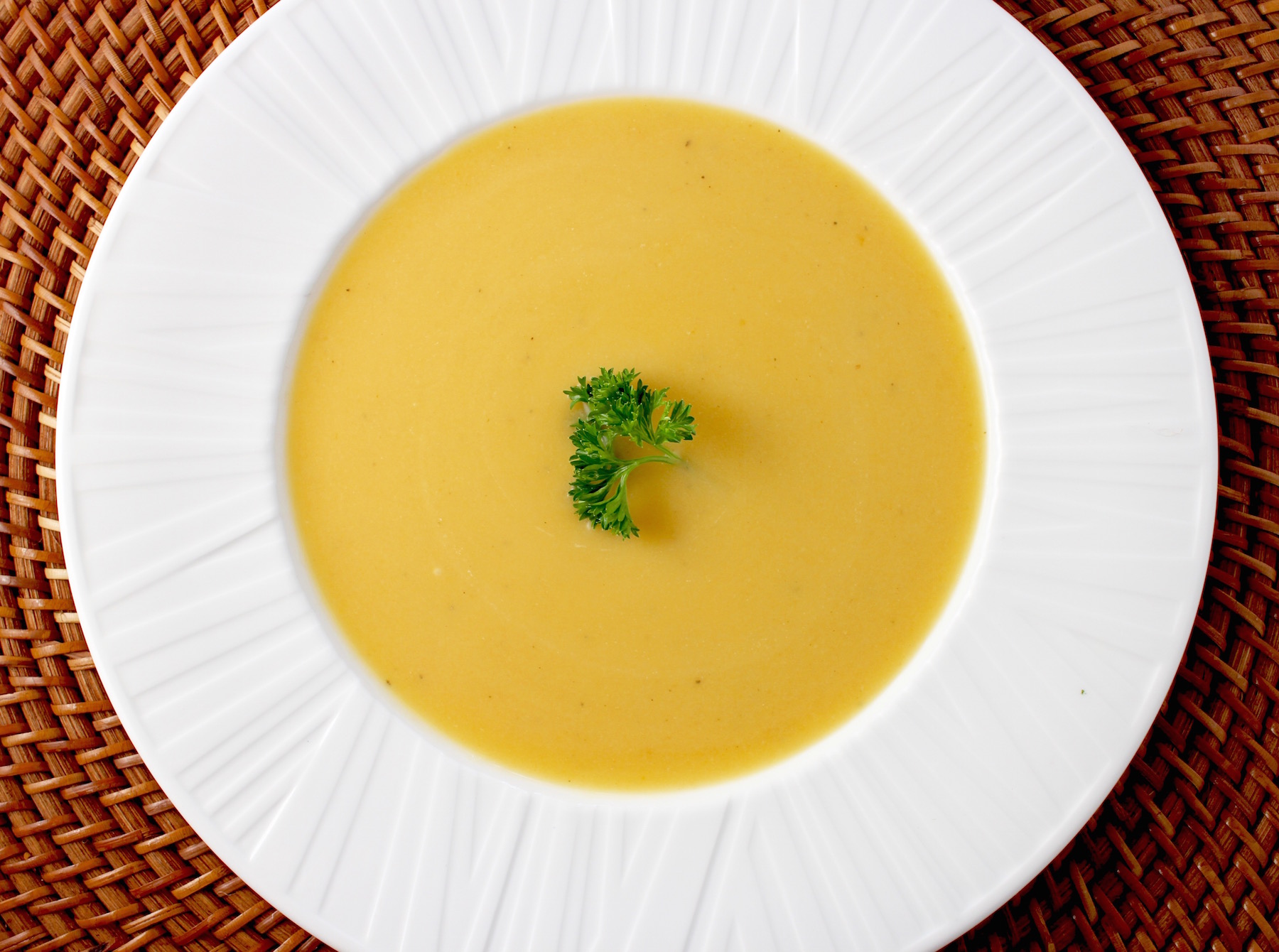 Our long-awaited Florida Fall is here! Temperatures have dropped and the humidity is all but gone!  Not only did I open all the windows in my house, but I've also been busy in the kitchen prepping squash recipes. Today it's a batch of warm, creamy soup using Butternut — one of my favorite winter squashes because of its sweetness and versatility.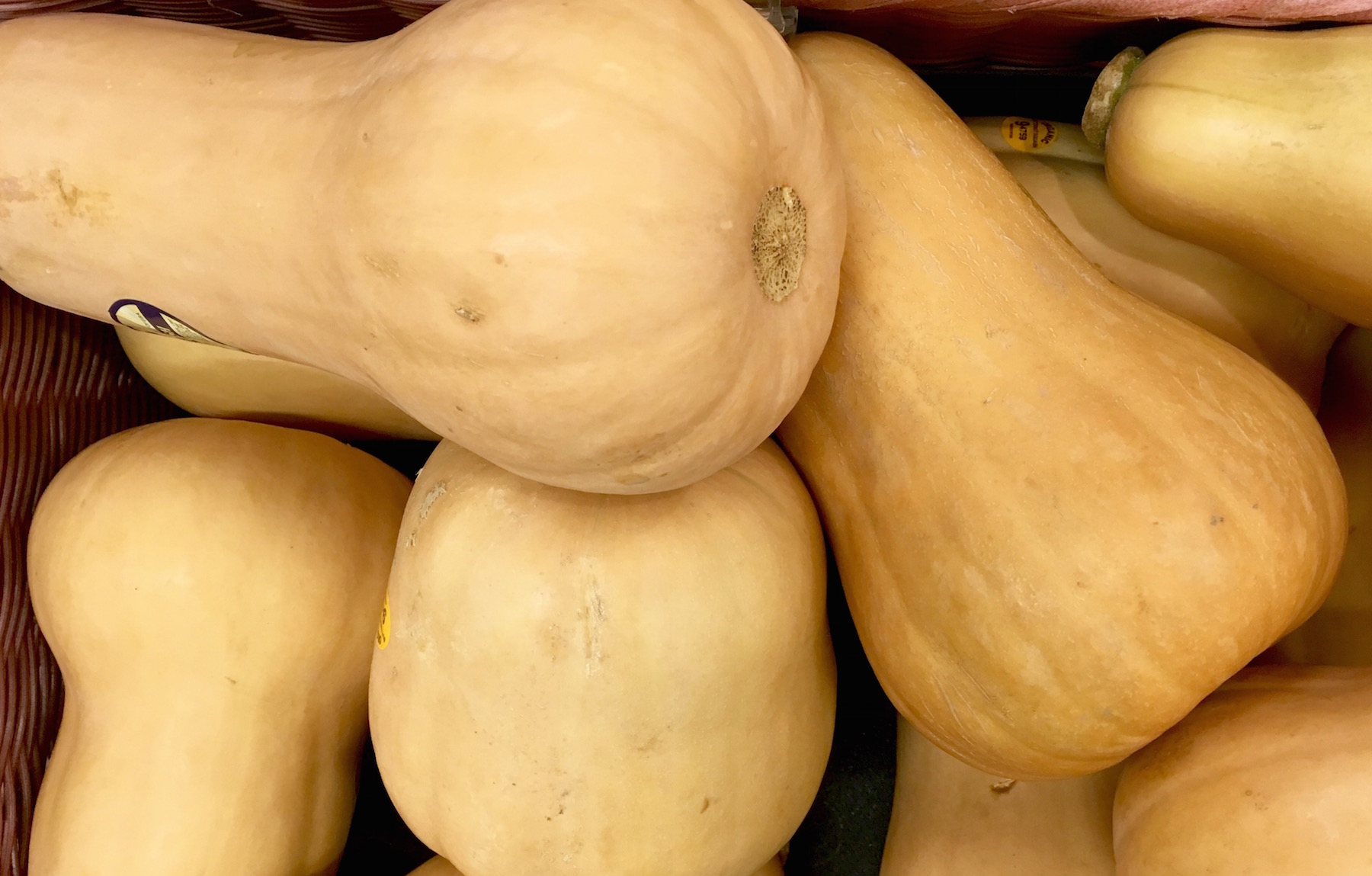 Simply put, pureed soups are awesome. I even remember reading something (I think it was Bon Appetit magazine) in which they were referred to as "the culinary equivalent of warm hugs." Now doesn't that sound cozy and delicious?!?
The elegance of pureed soups belies the ease with which they're made. It's a process of combining lots of tasty ingredients, including a rich liquid, then allowing everything to take a warm bath. When cooked, you simply puree everything with an immersion blender (or stand-up mixer) and serve. (Note: I'm pretty sure MFK Fisher would be appalled to know I advocate using an immersion blender versus the laborious process of pushing the vegetables through a 'fine strainer' [which I'm sure achieves an even more silky soup] but, heck, this is 2016 and convenience wins, hands down) 🙂
Here are some tips to achieve the most tasty Butternut soup:
1) Prep your veggies in uniform sizes so they cook evenly.
2) Saute veggies for a while before adding liquid so they take on the richness of the butter and flavors of the herbs/spices.
3) Slow/low simmering is the way to go, which allows everything to cook gently.
4) Simmer until all pieces are cooked thoroughly but not disintegrating (test a piece of squash and if you can bite it easily, it's ready — you don't want a pot of mush).
5) Use homemade stock, if you can. If not, use the best one you can find.
6) You may not need it, but if you decide to use cream for more silkiness, add it only just before serving.
I hope you give it a try.  Now I'm off to water my garden on this bright, sunny and cool day. . .
P.S. if you'd like to learn a little more about the origin of Butternut, check out my post for Sweet Butternut Squash with Rosemary, which offers another easy preparation with this yummy squash.

Butternut Squash Soup
Butternut squash is sweet and delicious, and it makes a perfect savory soup.
Author:
My Delicious Blog
Ingredients
6 Tb. unsalted butter
2 large cloves garlic, peeled & mashed
1 yellow onion, 2" pieces
1-2 leeks, 2" pieces
1 rib celery, 2" pieces
3-4 sprigs fresh thyme
1 large Butternut squash, peeled, chopped in uniform, 2" pieces
1 medium apple, peeled, 2" pieces
1 tsp. kosher salt
¼ tsp. freshly ground black pepper
2-3 grates of fresh nutmeg
6 c. chicken (or vegetable) stock
½ c. heavy cream (optional)
Fresh parsley, toasted pepitas, diced red bell pepper or homemade croutons to garnish
Instructions
In a large stock pot over medium heat, melt butter. Add garlic, onions, leeks, celery, thyme. Saute a few minutes, until everything starts to soften.
Add Butternut and apple pieces, along with salt, pepper and nutmeg. Mix and saute 6-8 minutes, until squash starts to soften (reduce heat if edges start to brown too much).
Add stock and simmer on low until the squash is fully cooked (test a piece to be sure it's very soft, but not disintegrating). This usually takes about 30-40 minutes.
When fully cooked, turn off heat. Use an immersion blender to carefully blend the mixture while in the pot. OR, transfer small batches to a stand-up blender (be careful to only work in small batches since the soup is very hot), then transfer back to the original pot.
Taste for seasoning.
If using, stir in heavy cream just before serving.
Top with parsley, toasted pepitas, red pepper or croutons, then serve.