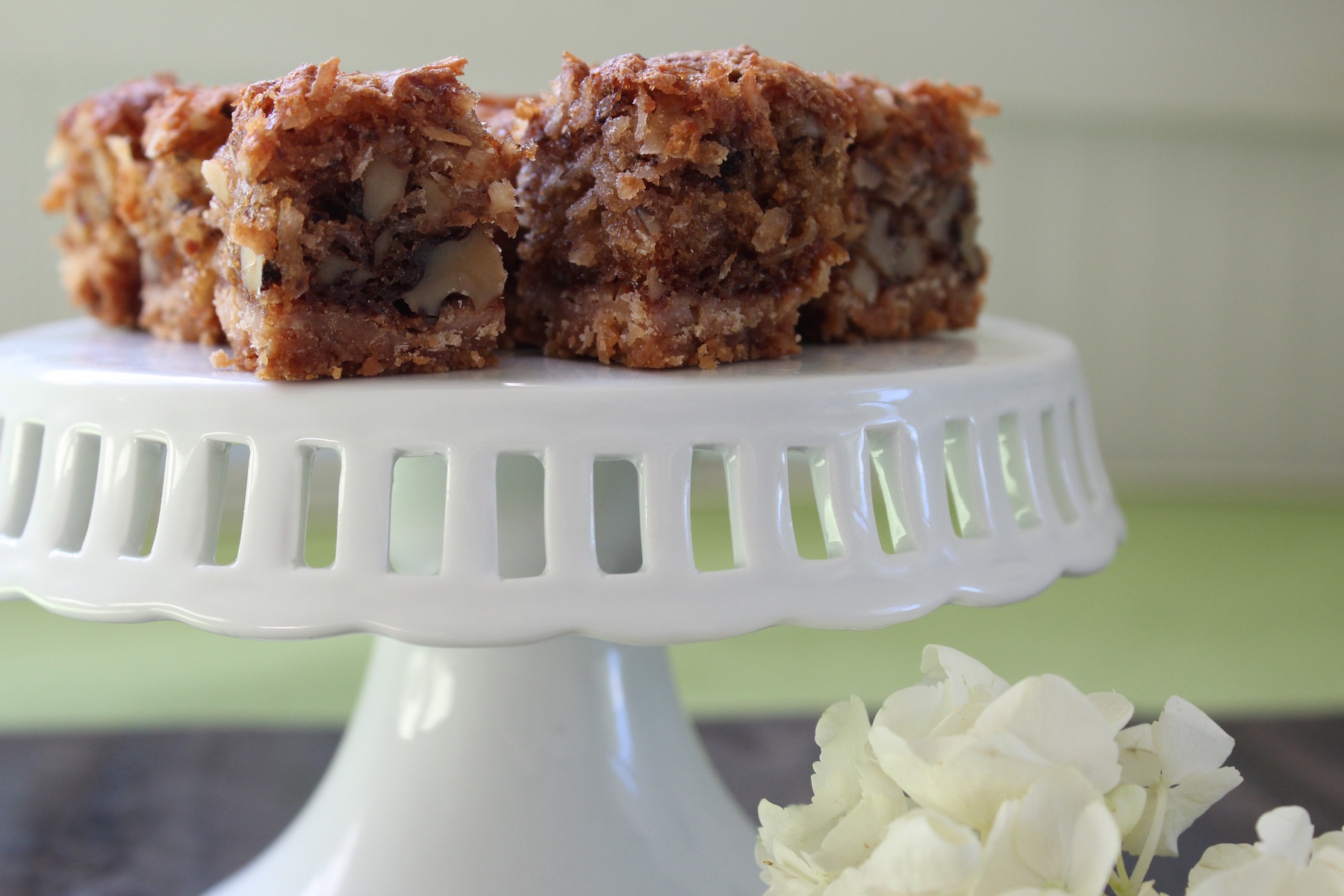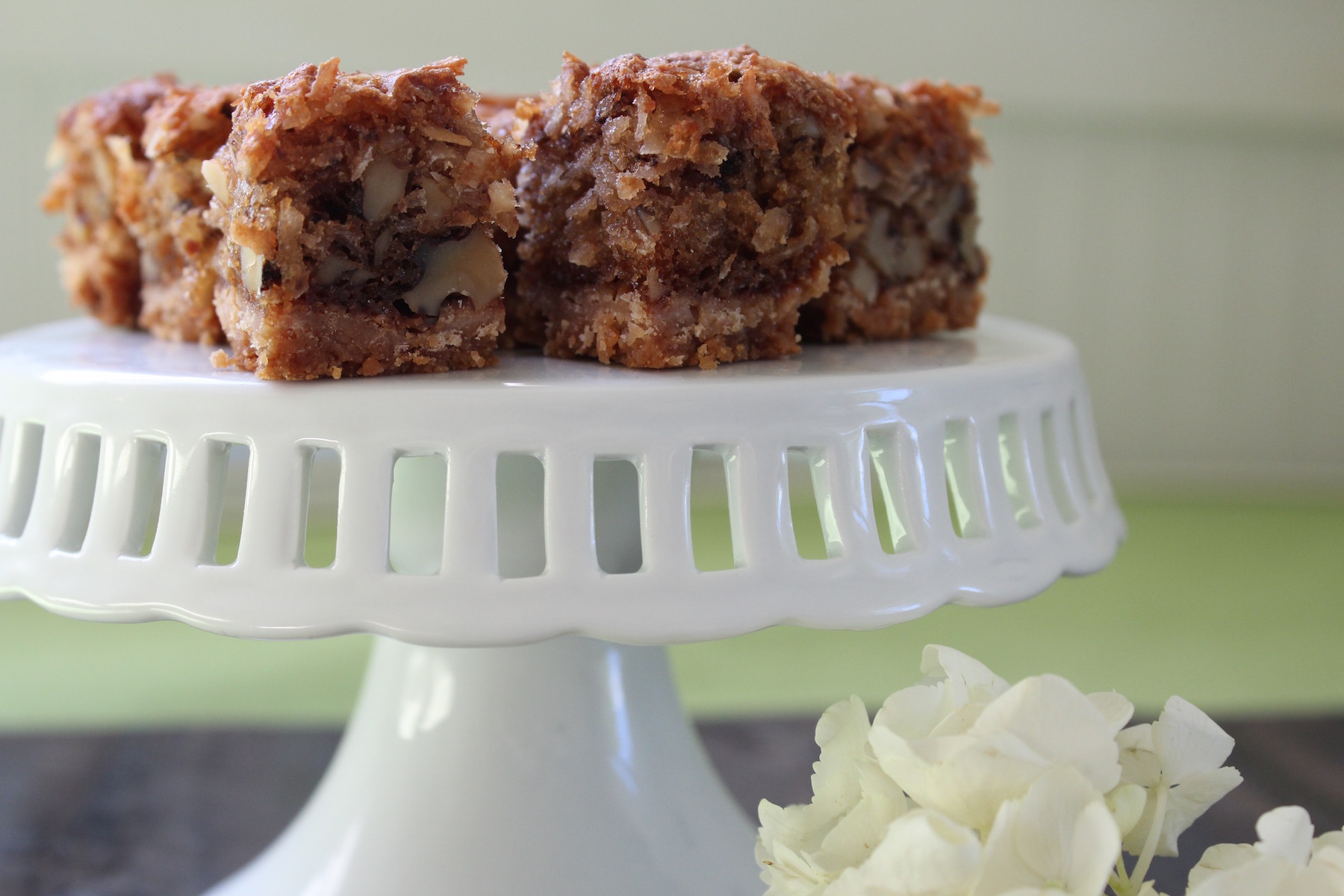 I'm pretty well-versed on my family's traditions and recipes, so it's not too often that I find something that stumps me. But that's just what happened recently while going through the dessert section of my grandmother's recipe box. It was titled "Lebanese Sweetmeats" but I didn't remember her ever making what appeared to be a dessert bar with the listed ingredients. Several family members didn't recognize it either. But she only saved recipes she liked, so I figured it had to be good.
I did some research to learn about sweetmeats and spent two hours (to the detriment of my many other projects) looking for anything that sounded like or looked like this particular recipe. Nothing came up as an exact match, but I did learn that sweetmeats are basically defined as any food made with (or covered with) a good amount of sugar. The term dates back to the 14th century, but it was gradually shortened to the term 'sweets' that we use today. In Middle Eastern cooking, there are lots of versions of sweetmeats, many of which include honey and ground nuts, but this recipe had none of those. One thing you'll notice, though, is that this recipe has a lot of sugar (brown sugar, to be exact), so if you're trying to be good and not eat too much of it, you should stop reading right now!
Since my grandmother lived in Fall River, MA, where there's a significant Portuguese and Lebanese population, I assume she picked up this recipe (or a version of it) through someone she knew. She instinctively knew the 'bones' of a good recipe, so I can also assume that's why she saved it. Unfortunately, she never made it when we came to visit!
All that aside, I decided to put the recipe back into action, so I fired up my mixer and, amazingly, I had all the ingredients on hand.  It's easy to pull together, even though it requires a two-step process of pre-baking a bottom crust, then baking it again with a top layer.
As it was cooking, the smell that came from the oven was absolutely heavenly. My hubby and our two cats (yes, even the cats) mulled around the kitchen, hoping I would soon take out of the oven whatever was producing the delicious aroma. We all waited patiently. . .
The results? A bottom crust that was crunchy and cookie-like and a top layer that transformed into chewy, buttery, crunchy deliciousness. These are definitely rich bars, so I would probably serve them around the holidays, when we expect everything to be laden with butter, sugar and nuts 🙂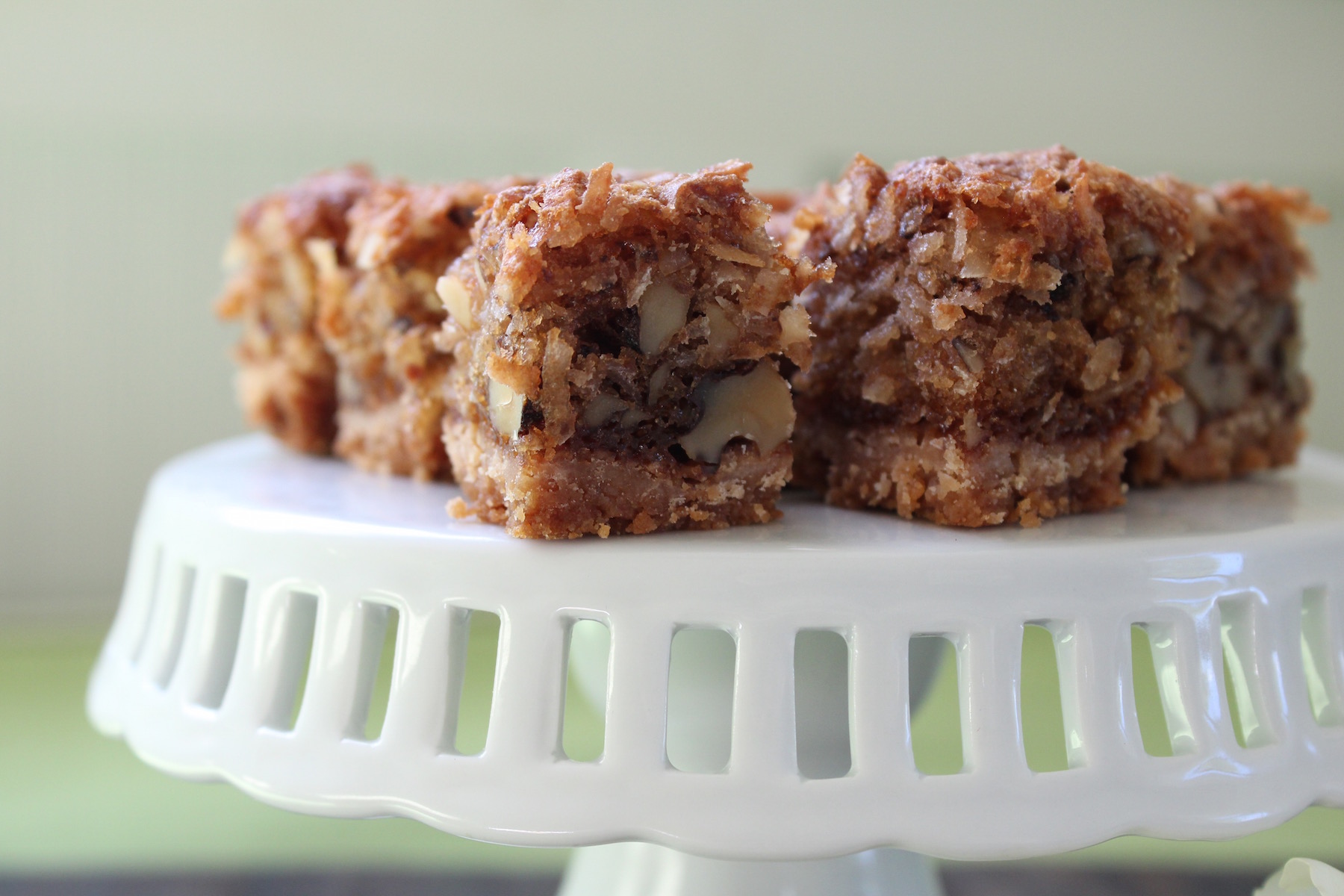 The recipe didn't indicate how long it should cool, so please don't make my mistake and try tasting them too soon! I quickly realized that with all that sugar, these babies need time to settle and release their scalding hot temps. So, let them sit for at least 30 minutes before cutting into small bars or squares.
It's fun re-discovering old recipes. . .maybe you'll find some in your own recipe box!

Yummy Sweetmeats
Coconut, walnuts and lots of other good stuff combine to make one tasty dessert.
Author:
My Delicious Blog
Ingredients
Crust
2 Tb. unsalted butter + 6 Tb. vegetable shortening (all at room temperature)
½ c. light brown sugar
¼ tsp. salt (I used Kosher)
1 c. all-purpose flour
Topping
2 eggs
1 c. light brown sugar
1 tsp. pure vanilla extract
2 tsp. baking powder
2 Tb. all-purpose flour
1½ c. shredded coconut
1 c. coarsely chopped nuts (walnuts or pecans)
Instructions
Preheat oven to 350 degrees (if using a glass baking dish, reduce heat to 325 degrees).
Prepare the Crust: using a hand held or stand up mixer, cream together butter, shortening and brown sugar. Add salt and flour; mix until well combined. Press the dough into an un-greased 8X8 baking dish.
Bake for 20 minutes at 350 (or 325 if using a glass dish). Remove from oven.
In a separate mixing bowl, prepare the Topping: mix eggs, brown sugar and vanilla together. Add in baking powder and flour and mix until well-combined. Stir in coconut and nuts.
Pour Topping over crust; spread to edges. Return to oven and bake another 20-25 minutes.
Remove from oven and allow to cool at least 30 minutes before serving.