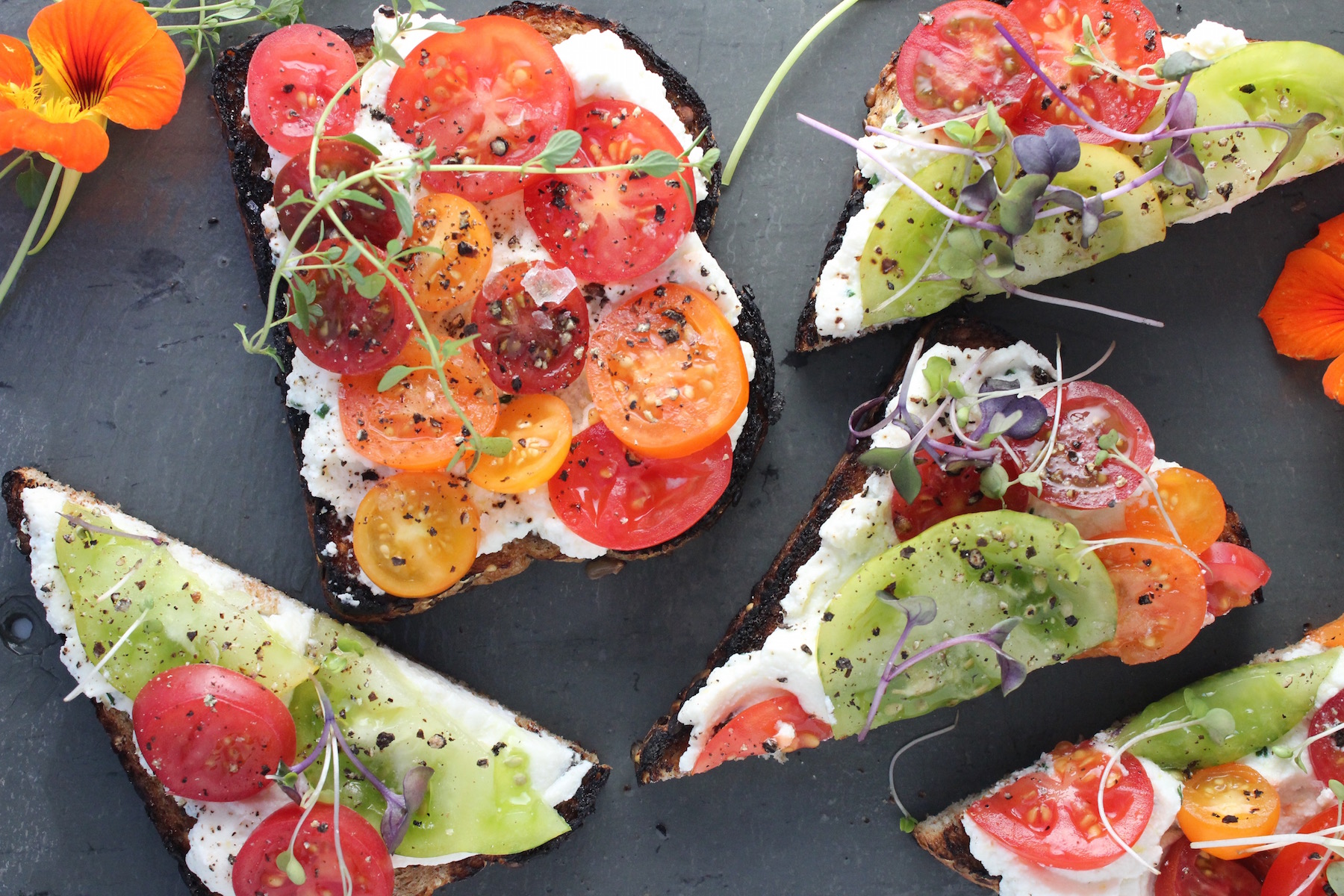 When you see the word 'tartine' (pronounced tar-teen) on a menu do you assume it's something fancy because it's French?
Well, today we're going to put that assumption to bed, because a tartine is basically an open-faced sandwich on a toasted piece of bread with something tasty on it. That's it. But talk about possibilities! Savory, sweet, crunchy, creamy, cheesy, flaky — you name it, you can make it into a tartine.
I've made many of these little guys because they're easy and can be served as appetizers or as a main course. I made today's batch with a bunch of gorgeous heirloom tomatoes from Honeyside Farms in Sarasota (those folks know how to grow good tomatoes!).  I've said it before, but it's worth reminding — wherever you are, if you see heirloom tomatoes, grab them and run [be sure to pay for them first] because they're awesome, and while they may not always be the most perfect-looking tomatoes, they're usually the most flavorful.  But if you can't find them, grape, cherry or other tomatoes will do just fine.
My tomatoes came in several colors, sizes and shapes so beautiful that, when they topped their bed of ricotta mixed with chives and tangy lemon zest, and were sprinkled with fresh greens, cracked black pepper and flaky salt, these little treats looked almost too pretty to eat. But eat them we did, hubby and I, because they were too delicious to pass up.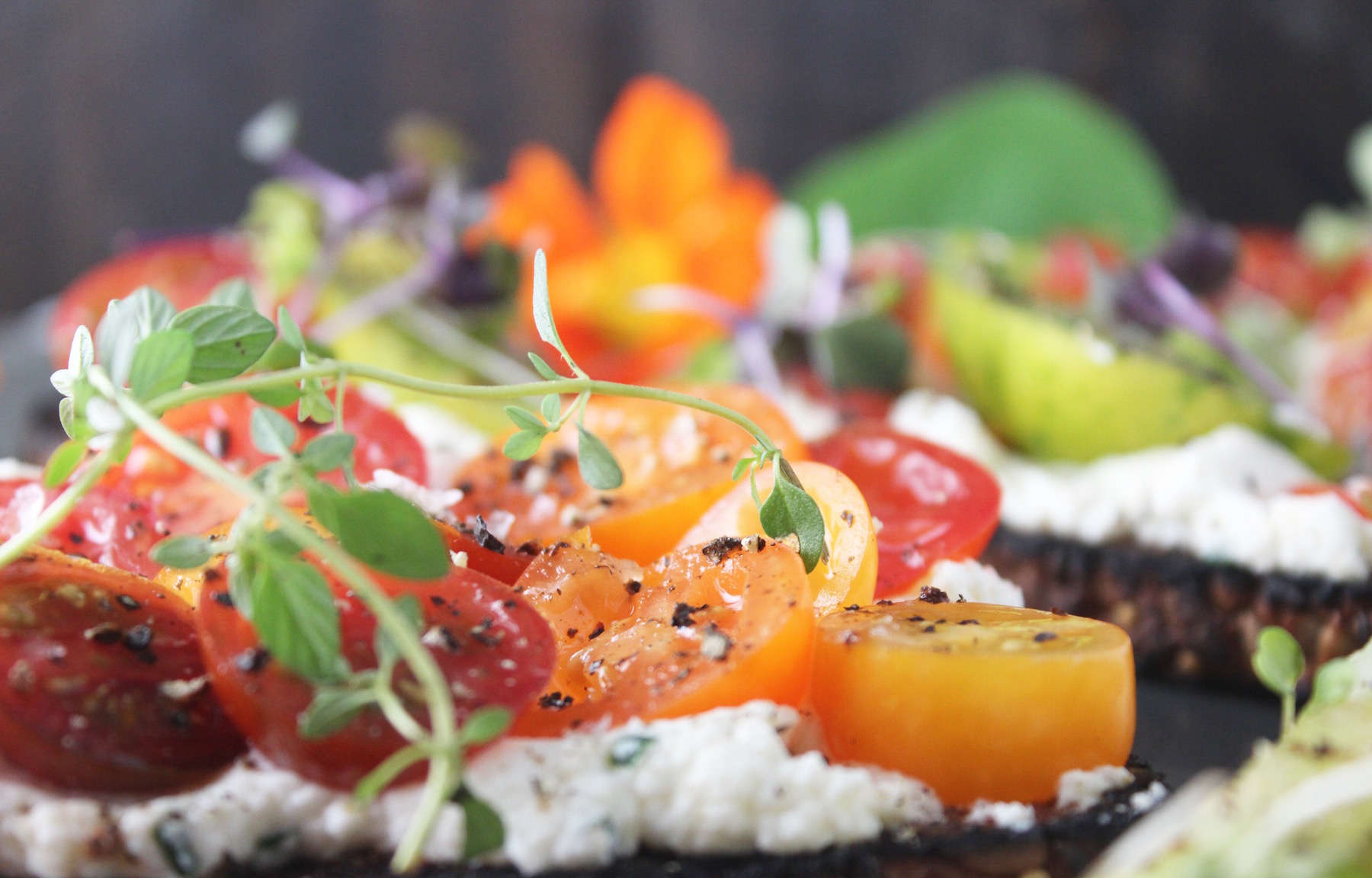 This is one of those dishes that begs for experimentation. The core skill is being able to toast or grill a piece of bread, and I think we can all do that, right?  That said, I must confess. . .you may have noticed in my pics that edges of the bread look a little on the 'burned' side.  Truth be told, I toasted my bread over the gas stove flame because it was too cold to go outside, and I didn't want to turn on the oven for such a small batch.  Not the best way to do it, but they were still yummy 🙂
Enough true confessions. . .back to the recipe!  Once the bread is toasty, I usually layer something creamy like ricotta, goat cheese, a schmear of cream cheese, soft Gruyere, rich butter, etc., and go from there. Tomatoes work great. Ripe avocados, well, they're good on just about anything. How about poached chicken with zingy arugula on a bed of curry-spiked mayonnaise? Or the classic combo of mozzarella, tomato and basil? Maybe softened, sweet butter with thin, crunchy radishes topped with flaky sea salt? How about salmon, cream cheese, capers and fresh dill? Some salty prosciutto, grilled peaches and goat cheese? Roasted red peppers with oregano, lemon zest, Calamata olives, Feta and fruity olive oil? Figs, ricotta, a drizzle of orange blossom honey and crunchy walnuts? Mashed avocado with lime topped with crunchy sprouts and bacon?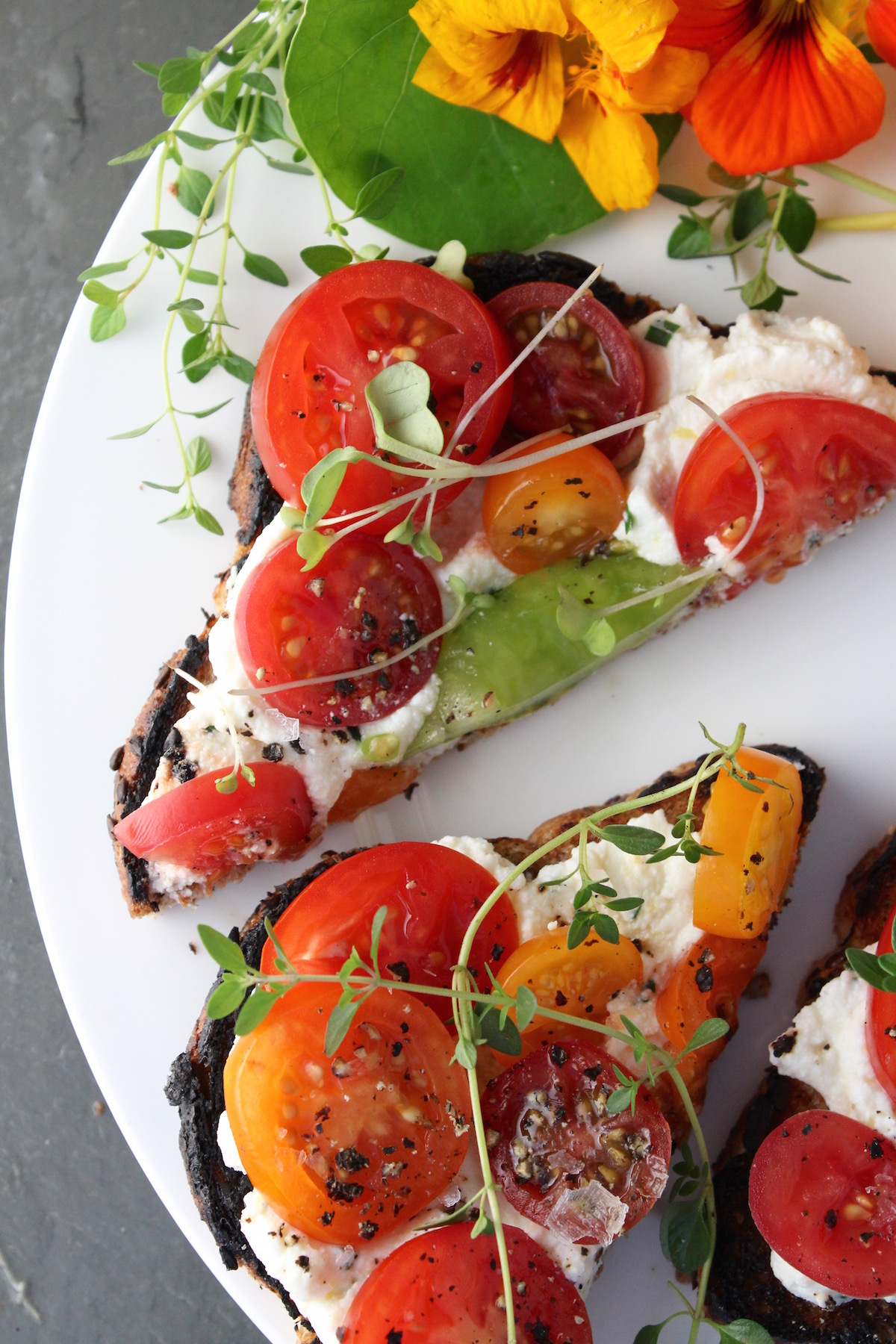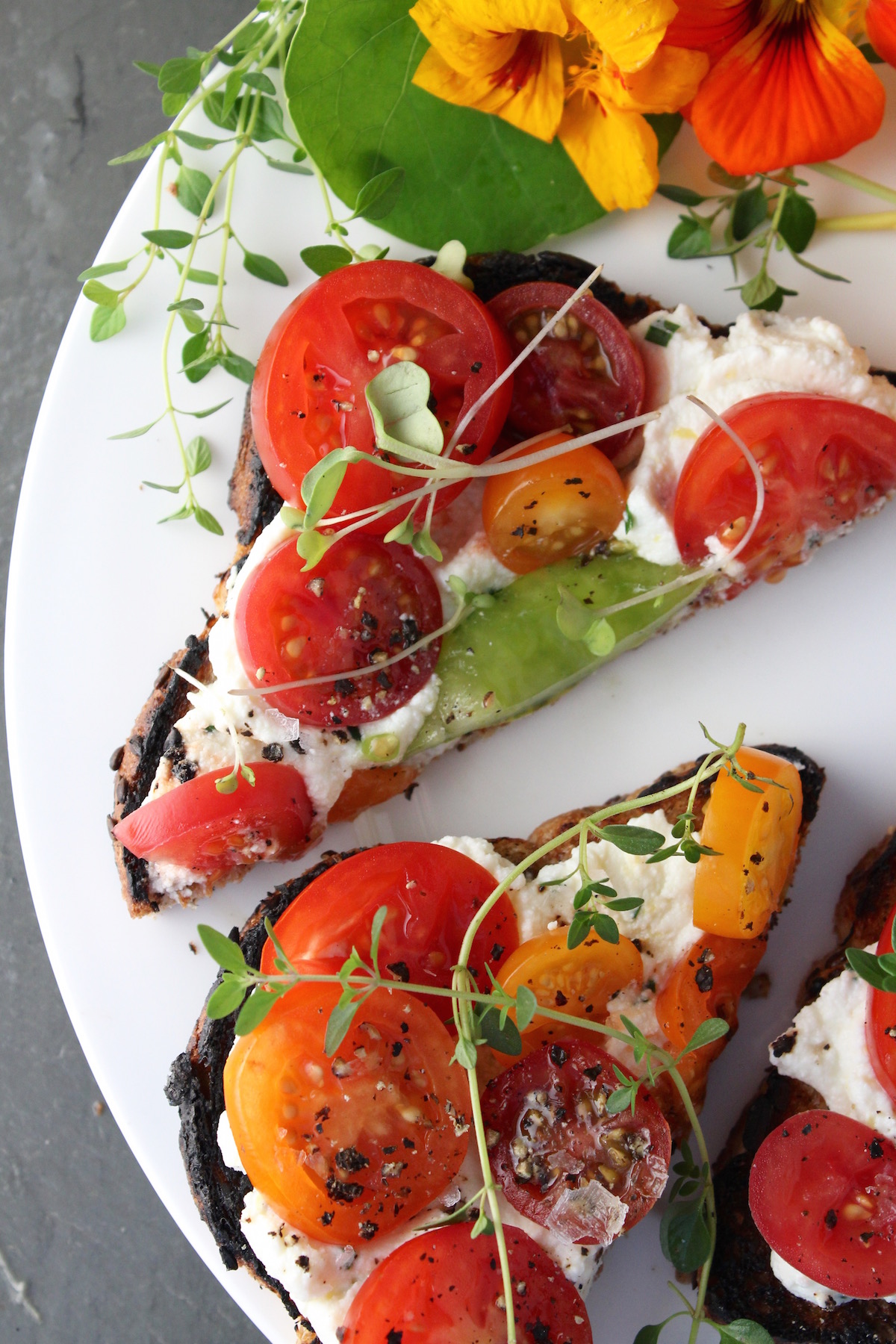 As you can see, the possibilities are endless, dependent simply on what tastes good to you, what's colorful, what's in season and/or what offers interesting textural components.  Ooh la la, c'est magnifique!
P.S. If you're looking for another recipe using beautiful tomatoes, consider this Heirloom Tomato Galette I posted a while back.

Colorful Tomato Tartines
Fresh tomatoes are awesome when made into tartines.
Author:
My Delicious Blog
Ingredients
4 full slices whole grain bread OR your favorite baguette (for small slices)
1 clove garlic, peeled and sliced in half
Olive oil
1 c. whole milk ricotta
1 lemon, zested
1 tsp. minced fresh chives
Handful fresh tomatoes, various sizes and colors, sliced
Flaky sea salt or kosher salt
Fresh, cracked black pepper
Fresh herbs (lemon thyme, oregano, dill, basil, parsley, cilantro - whatever you like or have handy). I used lemon thyme and micro greens.
Instructions
Brush bread slices with a little olive oil, then place on a baking sheet in the oven at 425 degrees for about 5 minutes until they look nicely browned. OR, place the slices on a hot grill or grill pan for a few minutes, until you achieve pretty grill marks.
While the bread toasts, combine ricotta, lemon zest and chives in a small bowl; set aside.
Remove bread from oven or grill and rub the garlic halves over each slice, so they release their oils/flavor.
Top each piece of bread with some ricotta mixture.
Layer the tomatoes in a pretty pattern.
Top with salt, pepper and fresh herbs.
Cut in half (if using full slices of bread) or serve as small crostini.