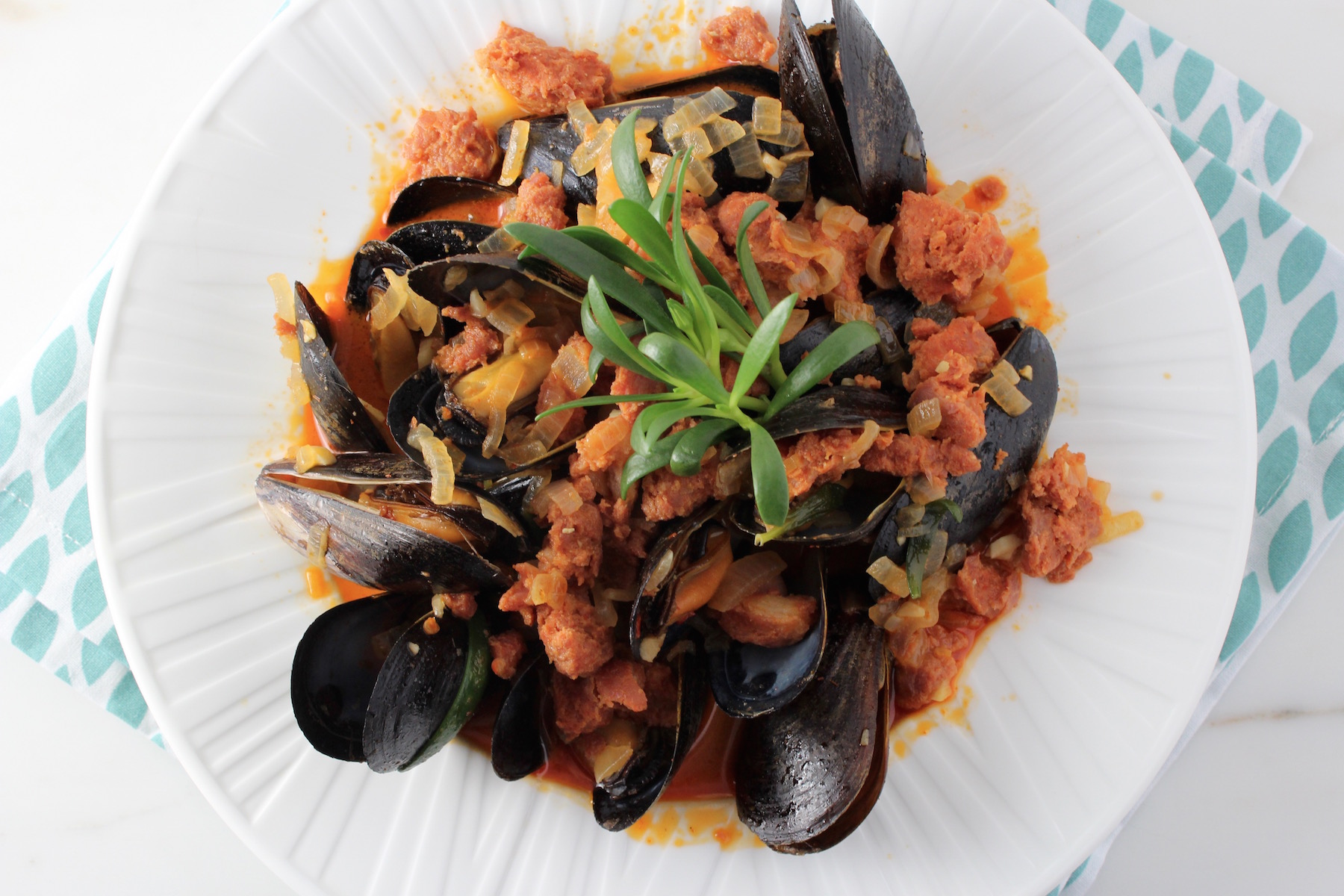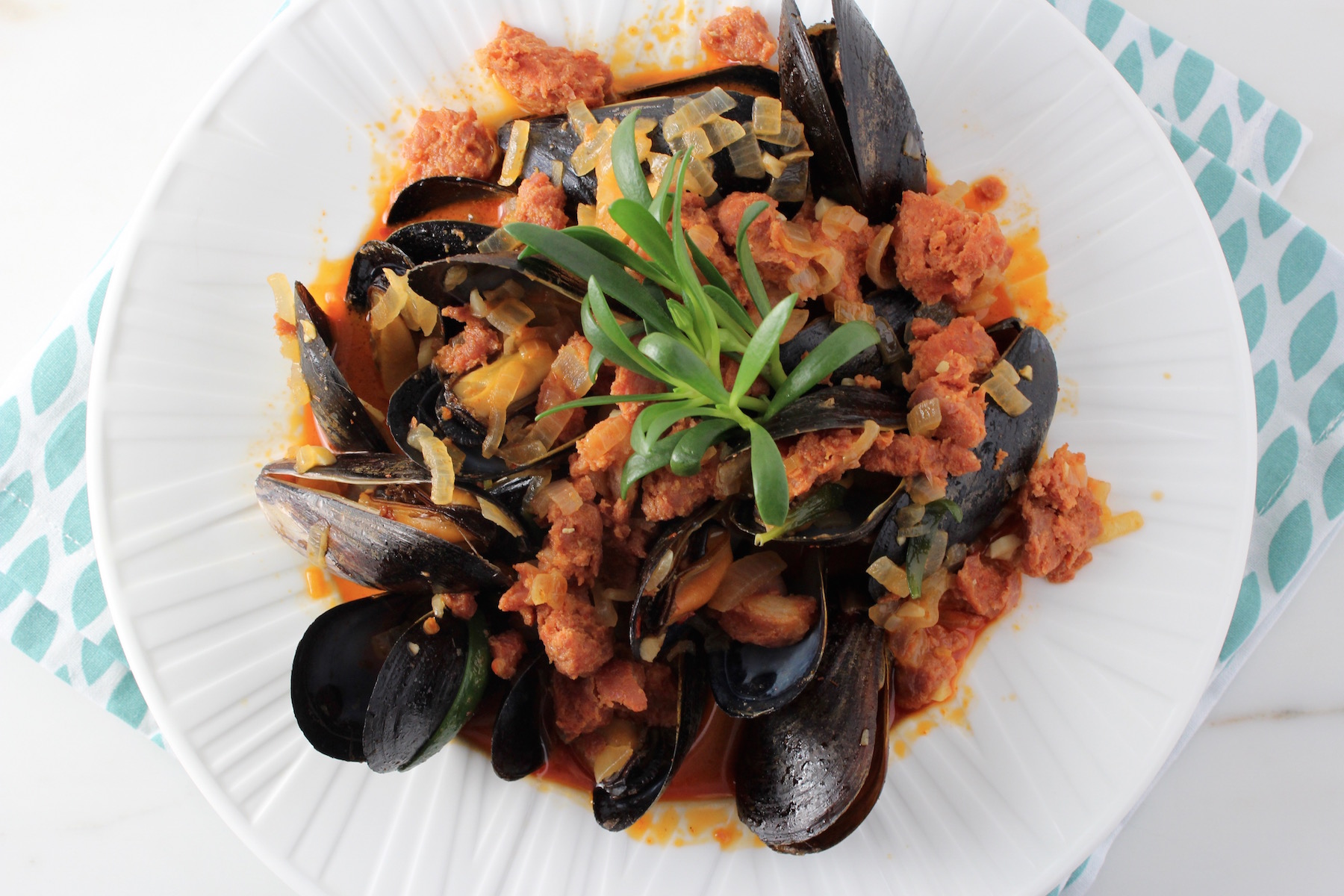 It's not too often we cook mussels in our house. . for some reason, we seem to reserve enjoyment of those delicious mollusks for when we visit restaurants! But after experimenting with this recipe, hubby and I agreed to make them more often because they're economical, easy to work with and mighty tasty.
I had a hankering for a Portuguese-style dish (chock full of my favorite spicy sausage), but I also wanted to incorporate my new favorite vegetable, Purslane. In Sarasota, this tasty vegetable is grown at Mote Marine Laboratory's Aquaponics facility in Sarasota (you'll learn more about it in my upcoming Field Trip Friday post). Its lemony/peppery and slightly salty bite (because it's grown in seawater) pairs very well with seafood so I thought it would not only add a hint of flavor, but also some bright green color to my dish.
Cooking mussels is easy. Basically, all you really need to do is place them in some hot liquid in a pan for a few minutes so they steam open. But it's definitely more fun to make that liquid as tasty as possible so you have a delicious sauce that can be soaked up with a crusty bread. What could be better than that?
I'll admit, this dish has a little kick to it from the Portuguese sausage, as well as, the crushed red pepper. You can adjust the seasoning, depending on how spicy you like it. You could also substitute the mussels with little neck clams or any other shellfish or mollusks you like.  Enjoy!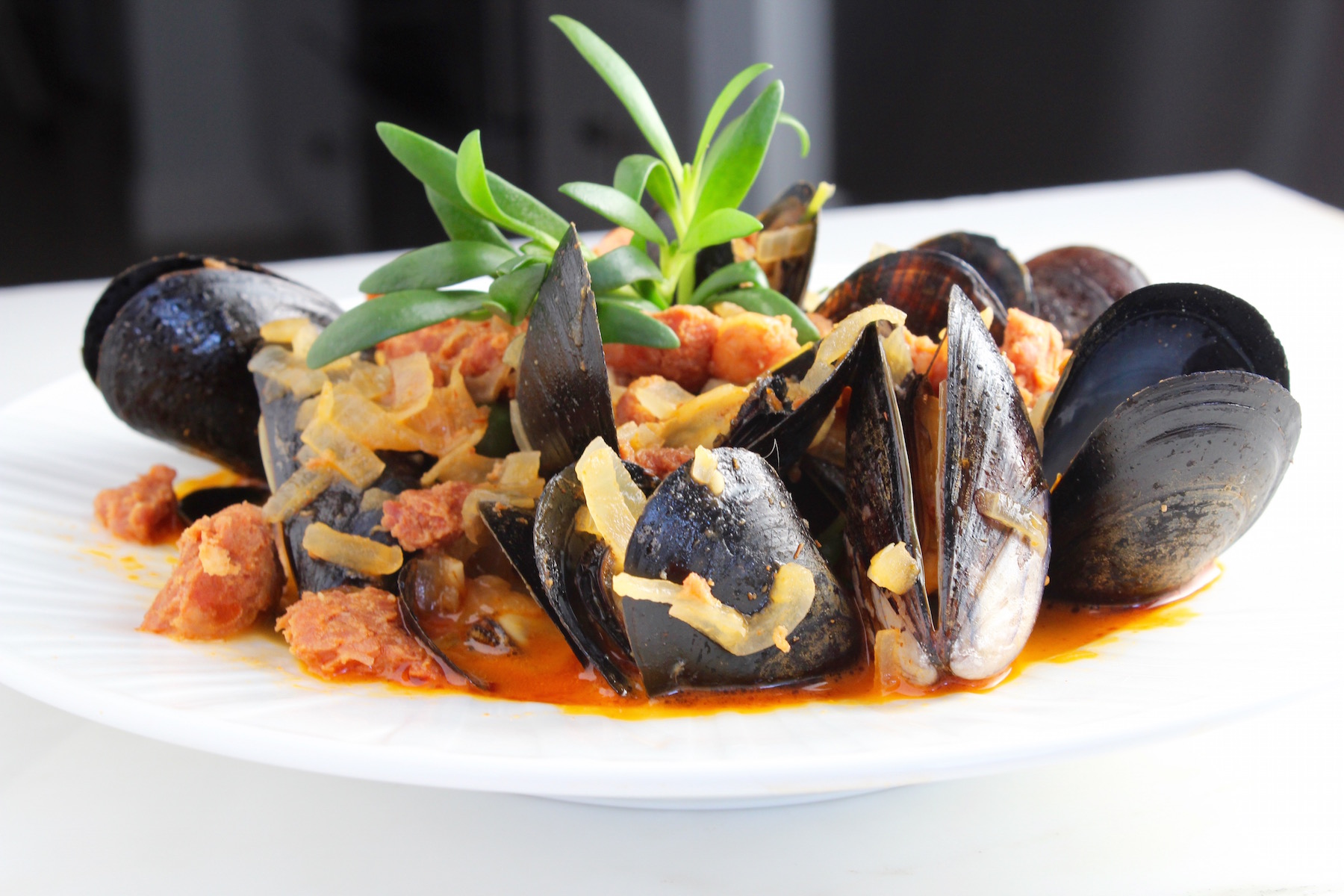 Below are some tips for buying & cleaning mussels:
1) Always buy live mussels (you'll know they're alive by their tight/closed shells). If you find one that's open, give it a little tap — if it closes, it's still alive and fresh; if it doesn't, move on.
2) Ensure there are no breaks or cracks in the shells.
3) Mussels should always smell like fresh ocean water — if they don't, pass.
4) Each mussel should pretty much weigh the same – steer clear of outliers (i.e., those that are too heavy or too light).
5) When you take them home, be sure to unwrap the tight packaging, then loosely wrap them in a damp cloth. Mussels need to breath. This is especially important if you're not going to cook them for a day or two.
6) If your fishmonger has already cleaned them, great! If not, don't clean them until just before you plan to cook. Use a small, stiff-bristled brush to remove beards/barnacles. Wash one at a time – don't let them sit in water because they won't survive.

Mussels with Chourico and Sea Purslane
Mussels and tasty chourico combine to make a delicious meal.
Author:
My Delicious Blog
Ingredients
2 Tb. unsalted butter
1 yellow onion, chopped
2 cloves garlic, thinly sliced
1 bay leaf
¾ - 1 c. chourico - casing removed, crumbled
2 Tb. tomato paste
¼ tsp. ground red pepper (cayenne)
½ c. dry white wine
¾ c. chicken broth
1 lb. fresh mussels, thoroughly scrubbed/cleaned
½ c. whole Sea Purslane leaves, washed and patted dry
¼ c. heavy cream
Instructions
Heat a large, deep, non-stick skillet to medium.
Add butter, onion and bay leaf; reduce heat and saute about 2 minutes, until onions begin to sweat.
Add garlic and chourico. Cook about 3-4 minutes, until chourico starts to release its oils.
Add tomato paste and red pepper; cook 2 minutes, so the tomato melts into the other ingredients.
Add wine and chicken broth and simmer a few minutes to reduce the volume of liquid.
Add mussels and Sea Purslane; cover for a few minutes so mussels open.
Remove bay leaf.
Add the heavy cream and mix to combine, then serve immediately.
Notes
This dish would be great over fresh pasta, or simply alongside a nice, crusty bread and a green salad.
After cooking/steaming, if a mussel has not opened, TOSS IT!