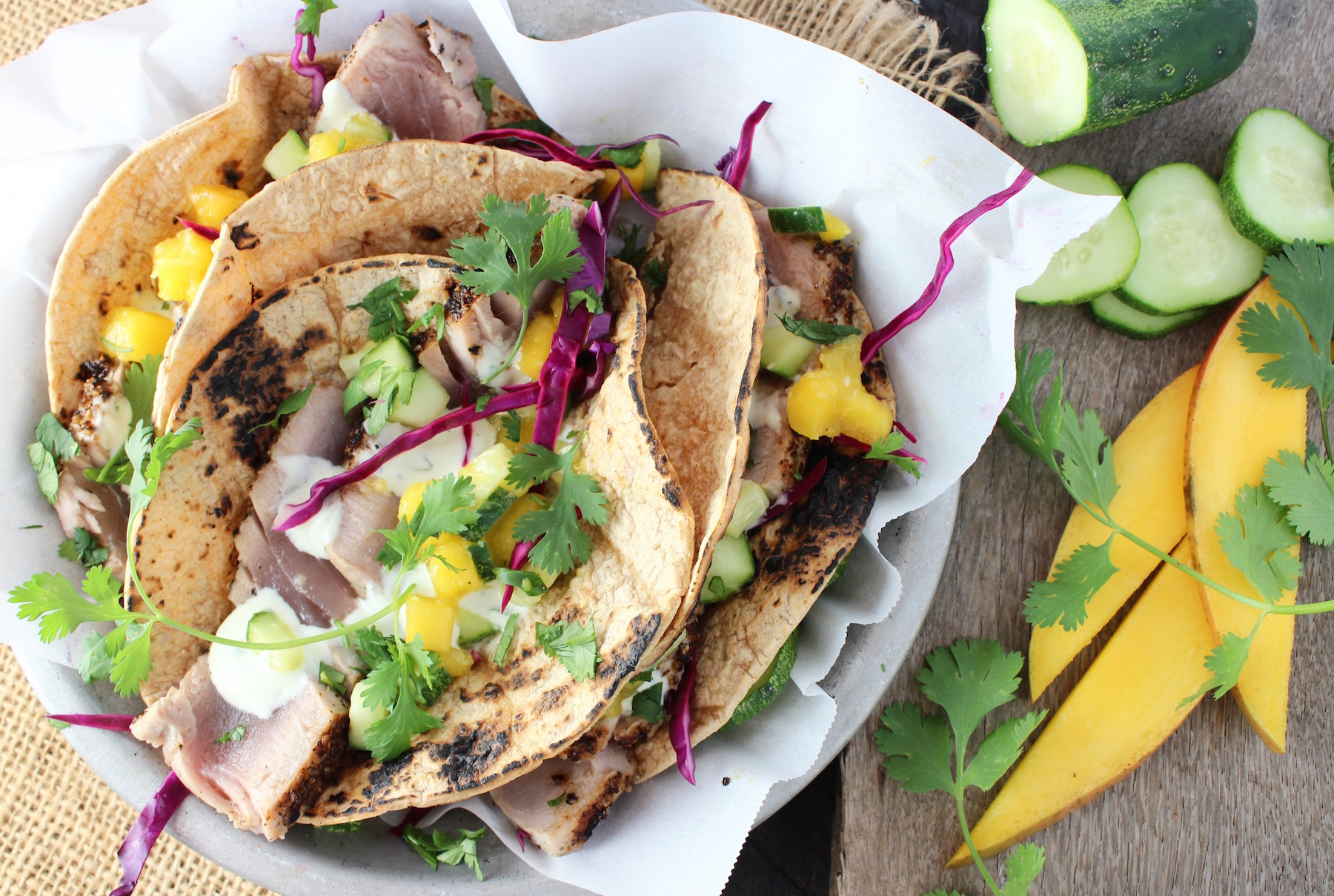 Remember the movie "Mystic Pizza" with Julia Roberts? It came out in the late 1980s and took place in Mystic, Connecticut. It's the story of three young women who work in a pizza place in a fishing town where the main industry is lobstering. I love the scene in which Julia Roberts' character opens her refrigerator (which is chock full of fresh lobster) and angrily says to her mother something like "All we ever have is lobster! Isn't there anything else to eat around here?"
Oh, to have such problems.
Well, truth be told, I found myself saying the same thing recently while looking in my freezer to find something for dinner. I actually said out loud "Gee, all we have in here is Yellowfin tuna!" Good Lord. . . it's a sacrilege to say such a thing about this delicacy! I'm SO lucky to have generous friends who share their tuna with me and I always use up every ounce.  I blame my indiscretion on the fact that I've been fighting a head cold, and I really wasn't in my right mind. . .
So, to put some of this fantastic fish into action, I decided on another taco recipe. Yes – another fish taco. You've seen this one. And this one. And even this one. But today's recipe is pretty darned good, too.  Did I mention that I'm always working on new versions of fillings for fish tacos?
I love seared tuna with wasabi sauce, and I just happened to have prepared wasabi in the fridge, along with a bunch of cilantro and sour cream, so I thought it would be tasty to mix them together. And to add a little coolness, I topped it with a fresh salsa of cucumber, red cabbage and Florida mango (which is in-season), and tossed it in sesame oil, rice wine vinegar and ginger.  Such big flavors together in one hand-held package!
By the way, all that wasabi and ginger is a great remedy for those fighting head colds, but if you prefer a little less 'heat,' feel free to adjust the amount of wasabi in the sauce 🙂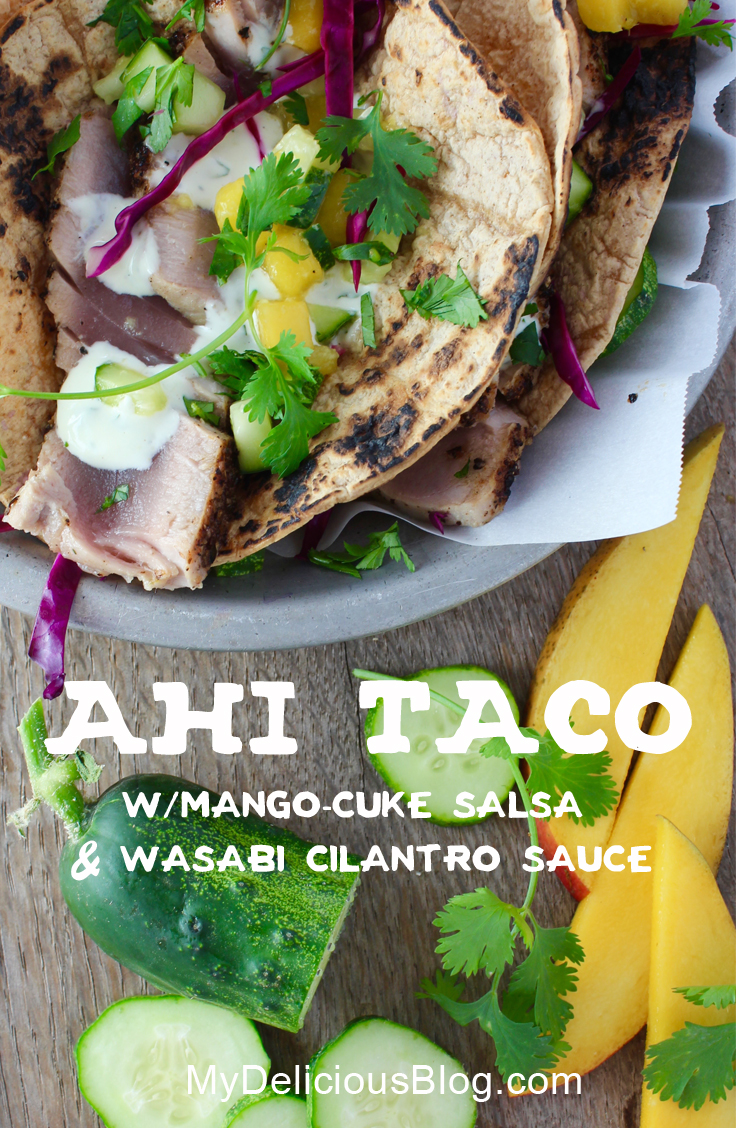 Ahi Tacos w/Cuke-Mango Salsa & Wasabi-Cilantro Sauce
Fresh tuna makes this dish all the more delicious.
Author:
My Delicious Blog
Ingredients
Cucumber-Mango Salsa
½ c. cucumber, small dice
½ c. mango, small dice
¼ c. thinly sliced red cabbage
¼-1/2 tsp. fresh ginger, grated (depending on how spicy you like it)
2 tsp. rice vinegar
¼ tsp. sesame oil
Cilantro-Wasabi Sauce
½ c. sour cream
¼ c. mayonnaise
1 Tb. prepared wasabi (use less if you prefer less heat)
Small handful fresh cilantro, chopped
Fish & Tortillas
~1 lb. fresh tuna steaks (about 2-3 large pieces)
Kosher salt
Freshly ground (or cracked) black pepper
Olive oil
Corn or flour tortillas
Fresh cilantro for garnish
Instructions
Combine all ingredients for Cucumber-Mango salsa; set aside or refrigerate about 10-15 minutes.
Mix together all ingredients for Cilantro-Wasabi Sauce; set aside or refrigerate about 10-15 minutes.
Heat a non-stick or cast iron pan to high.
Using a paper towel, pat dry the fish and generously sprinkle both sides with salt and black pepper.
Add about 1 Tb. olive oil to pan. Place tuna in the pan and sear about 1-2 minutes each side (to desired level of doneness).
Remove fish from heat and transfer to a cutting board. Once slightly cooled, slice with a very sharp knife.
Using a paper towel, wipe the pan then sprinkle a little olive oil in the pan to heat up the tortilla on each side to your desired level of doneness. OR, if you have a gas stovetop, heat a burner to medium/low and place the tortilla directly onto the grill for a 'charred' effect.
Assemble tortillas with tuna, salsa and sauce. Sprinkle additional cilantro, if desired.