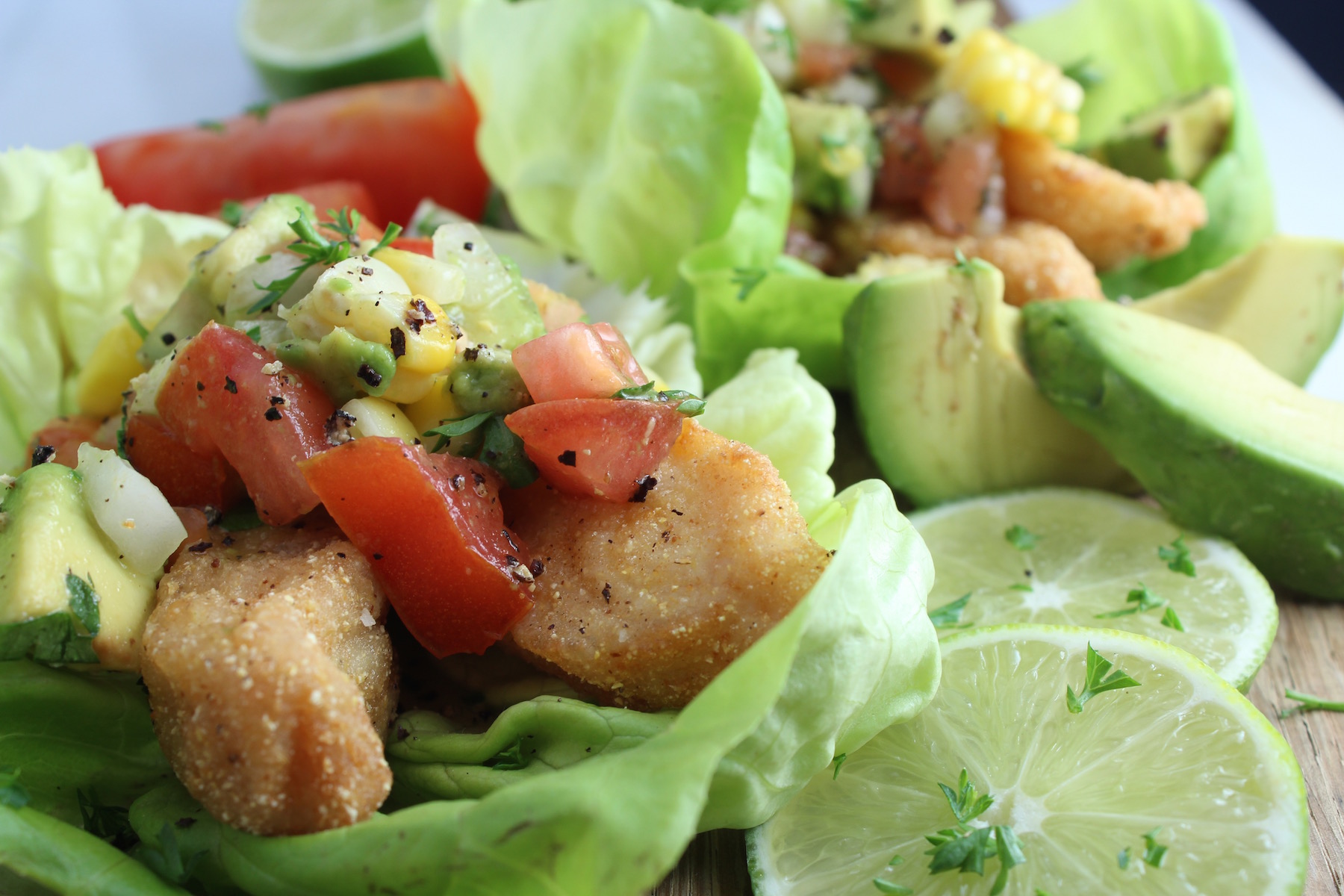 When it comes to tacos (you know, the ones with seasoned ground beef, lettuce, tomatoes, onions and a tasty sauce), I could eat them all day long, and I'm sure I'm not alone. As a matter of fact, my favorite comedian Jim Gaffigan once tweeted "There should be more awards for eating tacos."  Right on, Jim.
Certainly, one should not eat that kind of taco every day and expect to have any semblance of good health. That's why replacing the tortilla with lettuce gives you some "illusion" of a traditional taco, without as much fat and carb nuisance. By stuffing lettuce leaves with those traditional ingredients, you can still enjoy a tasty treat, while removing some of the guilt associated with eating 4 or 5 or 6 tacos at one time.
But this post isn't really about THOSE tacos, it's about FISH tacos. I've posted other fish taco recipes, but since I'm always trying new fix-in ingredients, it seemed only right to try them with a tender lettuce wrap instead. I chose Butter lettuce — you can find it at any supermarket or farmer's market.  It has a small head, but the leaves are strong, smooth and soft enough to fold around your fillings and not let anything fall out. If you can't find Butter, try Boston or Bibb lettuce – they'll work equally well because they're in the same category/family (i.e., they all originate from Butterhead).
You can pan sear, bake, blacken, poach or fry the fish for tacos – it's all based on personal taste. For this batch I used my favorite seasoning from the Hot & Hot Fish Club in Birmingham, Alabama (recipe found on this post) and lightly fried the pieces – it gave a wonderfully light, flavorful crunch that worked especially well with the soft lettuce.
Now, you might be thinking 'Gosh, fried fish seems to negate the plan of making a healthier taco!' Well, you're right. But, if you're making good choices with all your other meals, maybe a little fried fish, once in a while, isn't so bad 🙂
I made a chunky salsa with corn, tomatoes, Vidalia onion, avocado, cilantro and lime juice — a great taste and texture complement to the hot fish, and it all fit quite nicely in the colorful lettuce leaves.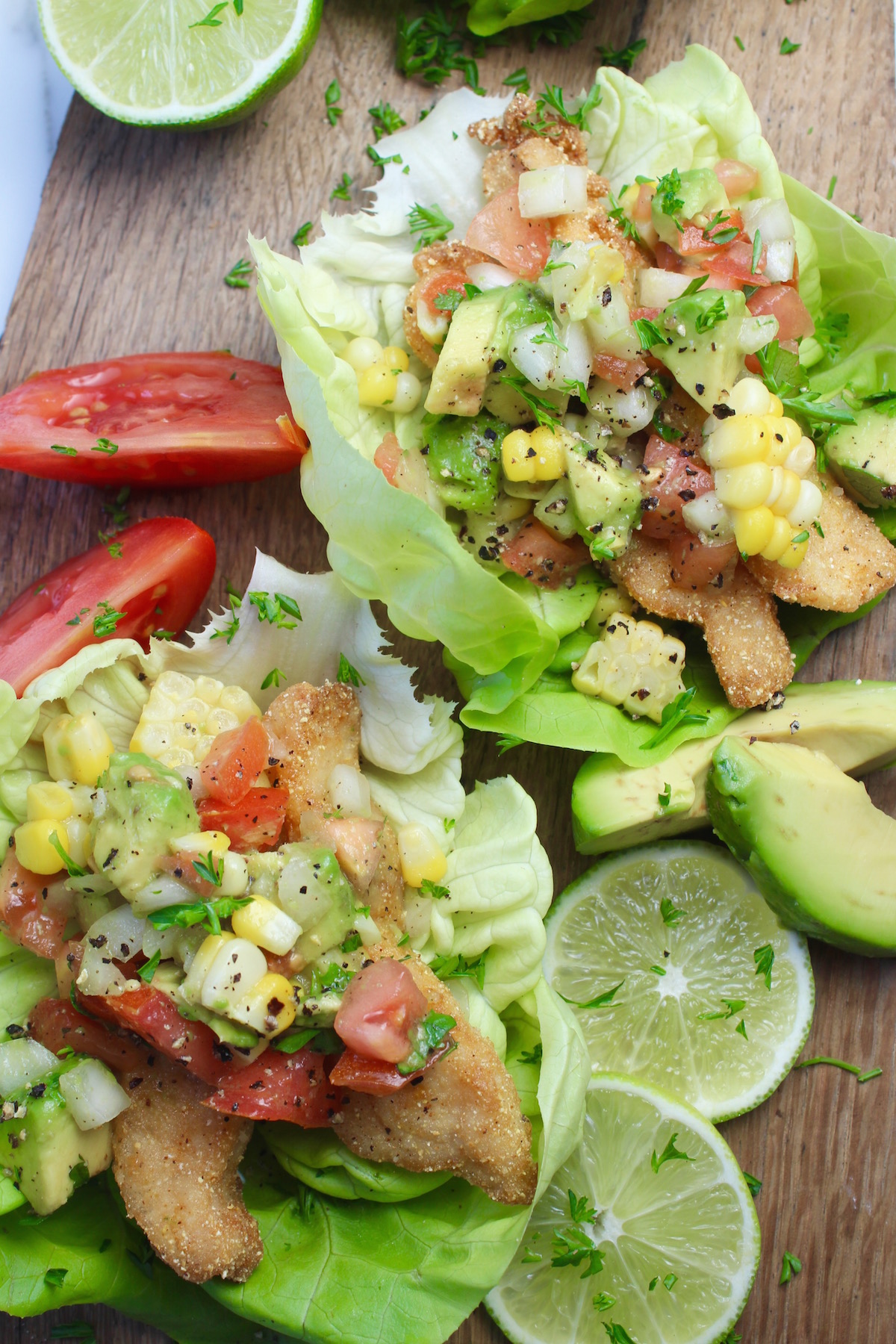 Don't you just want to put this in your mouth?!?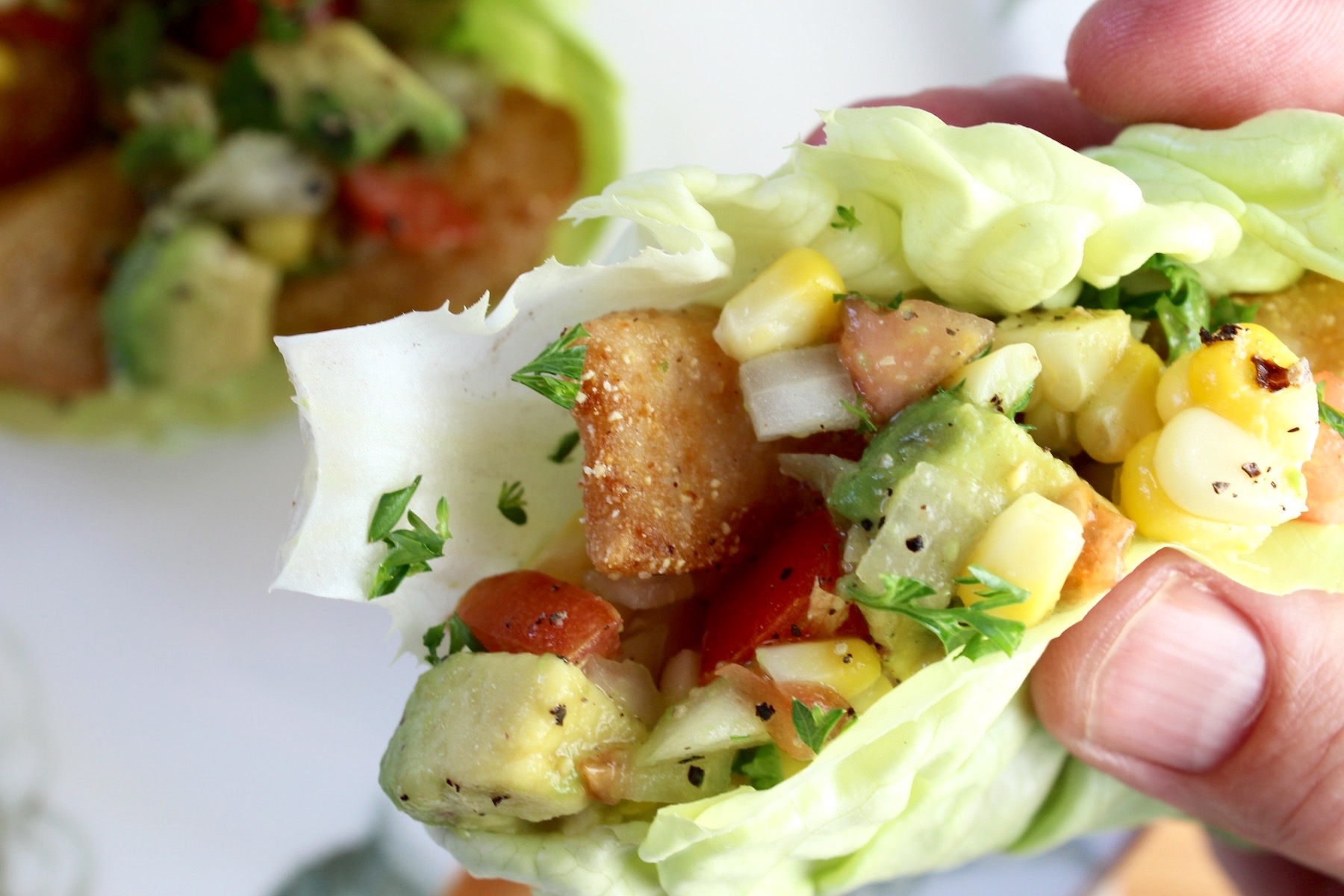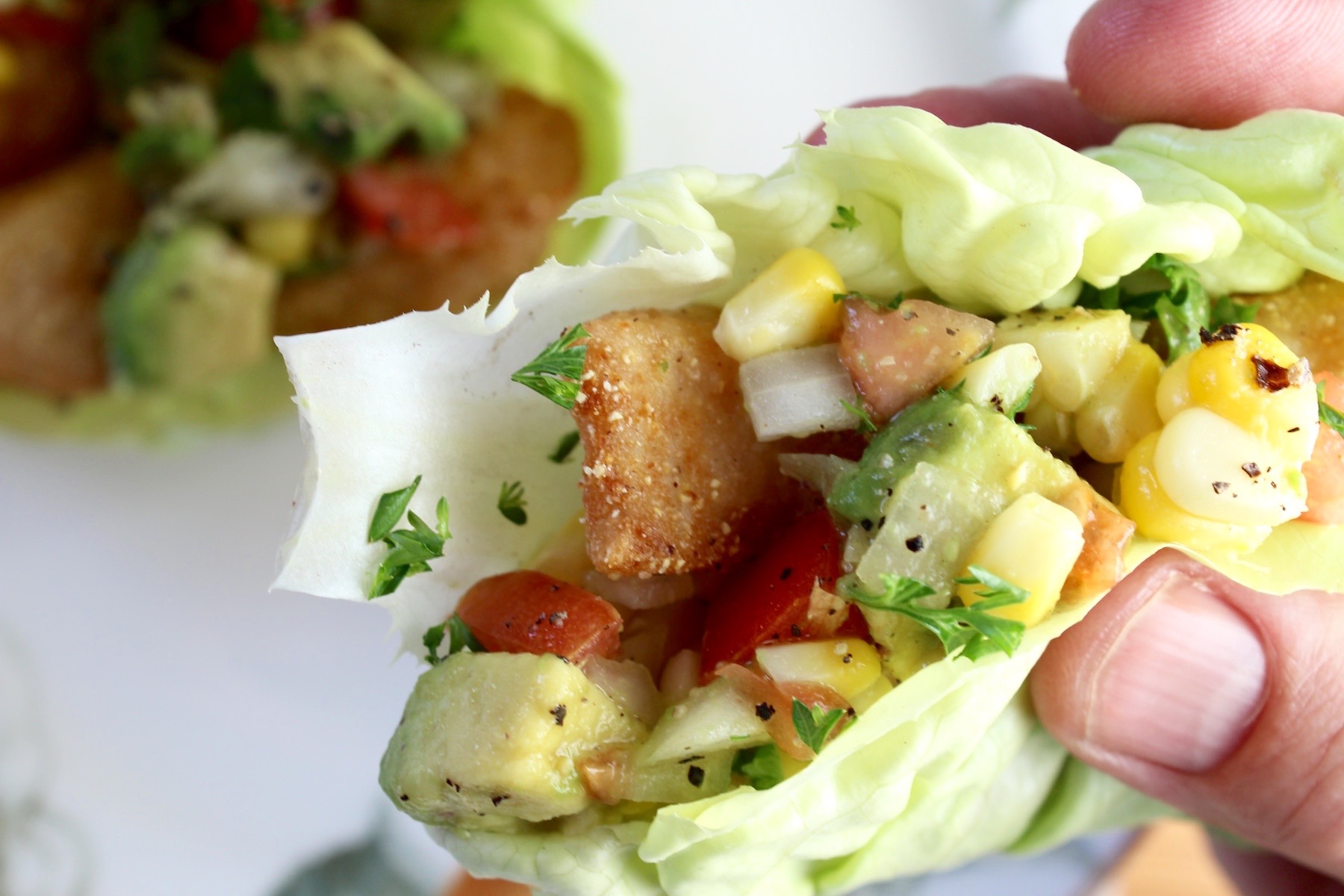 Now that I think about it, a fresh and hearty salsa like this, wrapped in lettuce, would even make a wonderful vegetarian meal on its own. I'm going to give that a try, too!

Lettuce-Wrapped Fish Tacos
Toss the tortilla and replace it with fresh lettuce for these fish tacos.
Author:
My Delicious Blog
Ingredients
Chunky Tomato/Avocado/Corn Salsa
2 ears sweet corn
1 ripe avocado
2 limes, juiced
¼ c. minced sweet onion (I used Vidalia)
Handful cherry or grape tomatoes, chopped
Handful fresh cilantro, chopped
¼ tsp. kosher salt
⅛ tsp. freshly ground black pepper
Fish & Wraps
1+ lb. light & flaky fish (Snapper, Grouper, Cod, Haddock, etc.) cut into 3" strips
2 heads of Boston, Bibb or Butter lettuce, each leaf removed
Lime wedges, for serving
Instructions
Prepare the Salsa:
Cook the corn either by roasting on a grill or simmering in water on the stovetop. When cooked, set aside to cool, then remove the niblets with a sharp knife.
In a medium mixing bowl, combine avocado, lime, onion, tomatoes, cilantro, corn, salt and pepper; refrigerate 10-15 minutes before serving.
Prepare the Fish:
Cut fish in small strips. Choose your preferred method for cooking - pan saute, fried, blackened, etc.
Once fish is cooked, fill each lettuce leaf with 2-3 pieces then top with the salsa. Squeeze a little more lime for extra zing and serve.