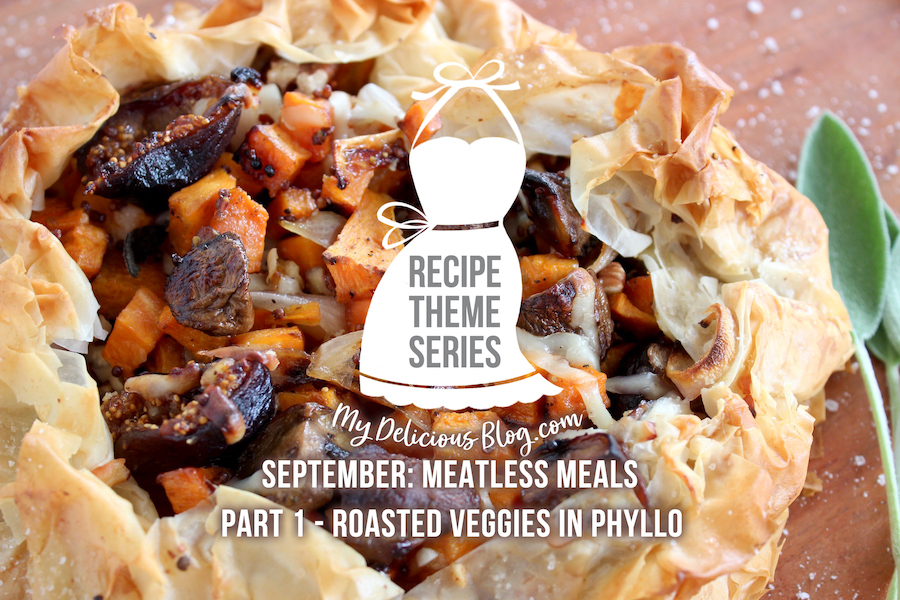 While it's not officially Fall (September 22 is the big day), nor are we having temperatures anywhere close to cool in southwest Florida, today's post is Fall-ish AND it's meatless.
I like meatless dishes that are satisfying, full of flavor and relatively easy to pull together, and today's recipe hits on all three.
You might recall my recent post about a dish I loved at The Black Bird in Asheville. It was called 'Vegetable Wellington,' full of sweet potatoes, pecans and figs, wrapped in crispy phyllo. It's the inspiration for today's recipe!
I never cook with phyllo, but I like it. 
I remember a description of it that stuck with me, written by one of my favorite authors/ chefs, Nigel Slater: "I think of filo pastry as edible wrapping paper. Something in which to hide fragile fillings, such as feta cheese and thyme leaves, ricotta and lemon zest or pistachios and honey. A crust so fine it will shatter into thousands of pieces when tapped with a pastry fork. . .As you crunch through the crackling crust, it is something to hear as much as to taste.
" 
Doesn't that sound awesome?
Look at all those crispy edges on my finished product – SO delish.
The filling is made of things you can easily find this time of year – sweet potatoes, shallots, mushrooms, pecans, fresh figs and sage, along with Gruyere, whole grain mustard and honey.
After roasting the main components, I added cheese, pecans and sage, then placed it all in galette form (i.e., open faced pie) – easier than wrapping phyllo in 'Wellington' fashion. But feel free to do that or layer the dough in a cast iron pan/other baking dish.
My hubby loved it, then said it would be especially awesome if it included sausage. Hmmm.
Happy Fall everyone!
Print Recipe
Roasted Veggies in Phyllo
Sweet potatoes, mushrooms, figs, shallots, pecans, sage, along with whole grain mustard and honey, all nestled in a crispy phyllo galette.
Ingredients
2

c.

Sweet potato, peeled, small dice

2

Shallots, peeled, roughly chopped

~10

Cremini or Button mushrooms, quartered

~8

small

Fresh figs, halved or quartered

2

Tb.

Extra virgin olive oil

1

Tb.

Honey

1

Tb.

Whole grain mustard (not Dijon style)

1

tsp.

Red wine vinegar

1

tsp.

Kosher salt

1/4

tsp.

Freshly ground black pepper

1/2

c.

Gruyere cheese, shredded

1/4

c.

Pecans, roughly chopped

3-4

Fresh sage leaves, roughly chopped

6

sheets

Phyllo dough, thawed (see notes)

2-3

Tb.

Extra virgin olive oil (for spreading on dough)

Flaky salt (for finishing dough)
Instructions
Filling
Heat oven to 425 degrees. Line a rimmed baking sheet with parchment.

Place sweet potato, shallots, mushrooms and figs on parchment. Add olive oil, honey, vinegar and mustard and stir to coat evenly, then sprinkle with salt and pepper. Roast approx. 20 minutes, until potatoes are fork tender. Remove from oven and reduce heat to 375 degrees.

While veggies cook, chop pecans, shred cheese and chop sage - place in a large mixing bowl.

When veggies are done, transfer (toss the parchment paper) them to the mixing bowl to combine with pecans, cheese and sage.
Dough/Assembly
Place a new sheet of parchment on a work surface. Fill a small bowl with 2-3 Tb. olive oil and get a pastry brush. Dampen a dish cloth with water and lay it over the 6 pieces of phyllo dough you'll be using for the crust (refrigerate remaining dough).

Place one sheet of dough on the parchment and brush it with a little olive oil. Place another sheet of dough on top, rotating it a bit so the edges overlap. Brush more oil on that layer then repeat the process until you have a flower shape of sorts.

Spoon the filling in the center of the dough, leaving about 2" around it. Shape the edges of the dough toward the center, then brush all the edges with olive oil and sprinkle flaky salt around those edges.

Place the galette (on the parchment) on the baking sheet; bake approx. 15 minutes, until edges are nicely brown. Check it regularly to ensure it's not burning! Remove from oven and serve immediately. (Optional: drizzle with honey and a sprinkle of finishing salt before serving.)
Notes
Tips for working with phyllo:
To thaw, refrigerate the frozen dough at least 8 hours or overnight. Take it out 1-2 hours before starting your recipe, leaving it at room temperature, so all sheets are pliable.
Remove/work with one layer at a time, but keep remaining layers covered with a slightly damp kitchen towel.
Use a pastry brush to spread each layer with olive oil (or melted butter, if you prefer). These sheets of dough easily soak up oil, so have enough on hand. Brushing all around the layers will ensure nicely browned edges.
This galette easily serves 4, provided there is a side salad or other starch available. The recipe can be doubled, just increase the number of phyllo sheets to 8 or 9, and increase the width of the dough when overlapping layers.