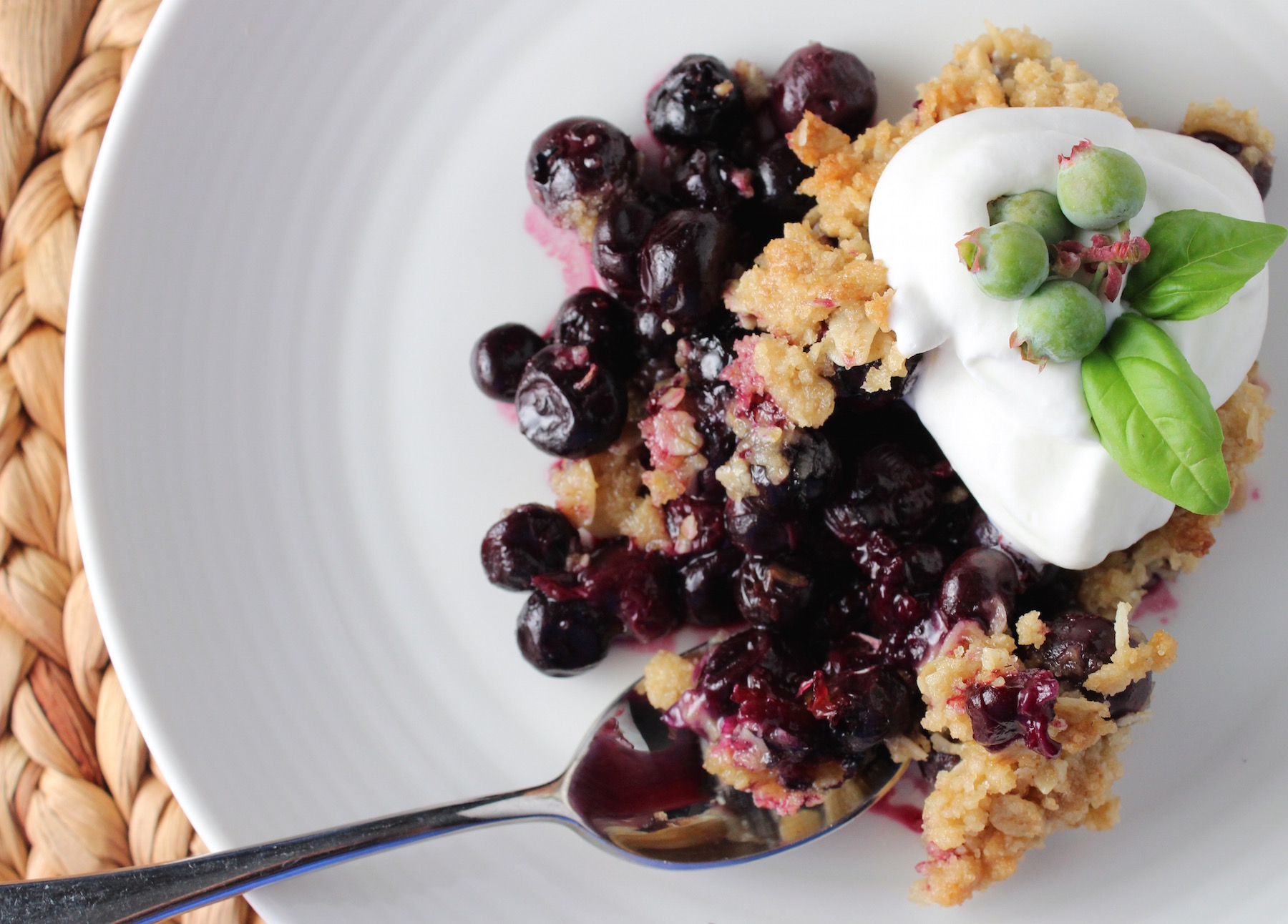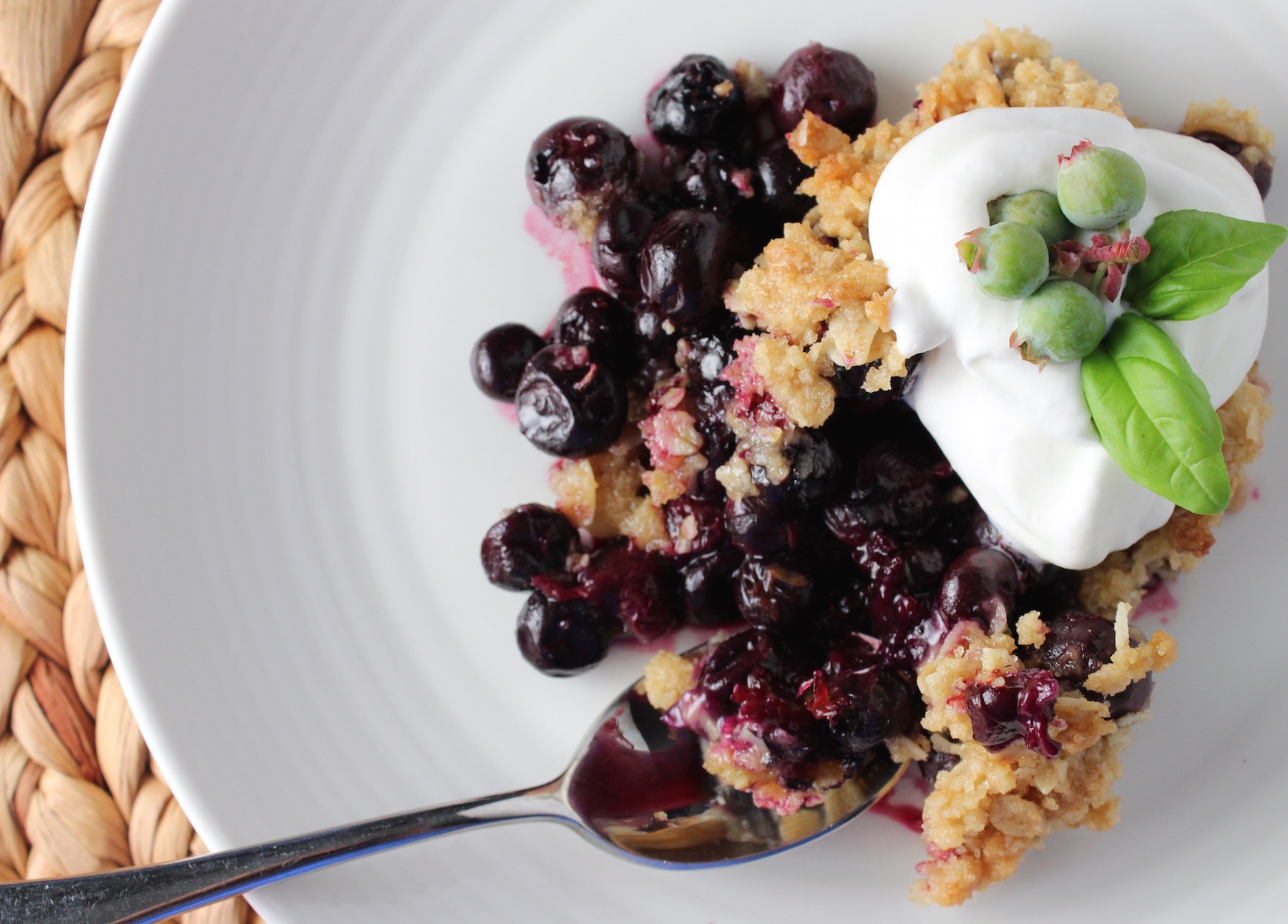 There are few desserts I love more than warm, berry crisp. Think about it – your spoon breaks through that crunchy, buttery layer of goodness, then it dives deeper into soft, warm, gooey fruit.  And, as you raise that drippy spoon to your mouth, you can't help but anticipate how delicious it will be once the contents hit your tongue. Perfection.
Blueberry crisp is my favorite, but I would NOT turn my nose up to apple, peach or rhubarb.
Today I decided to make a crisp using some berries from the big bag of blueberries in my fridge. Why did I have such a big bag of blueberries in my refrigerator, you ask?  Well, last week I played hooky and drove to Plant City to visit my friend Sue. She and her husband own Blues Berry Farm and have been harvesting.  I wanted to not only lend a hand, but also, escape from the sadness in my house because my wonderful (aged) kitty, Phoebe, is failing, and I knew the best thing I could do was busy my hands in something productive, heartwarming and fun.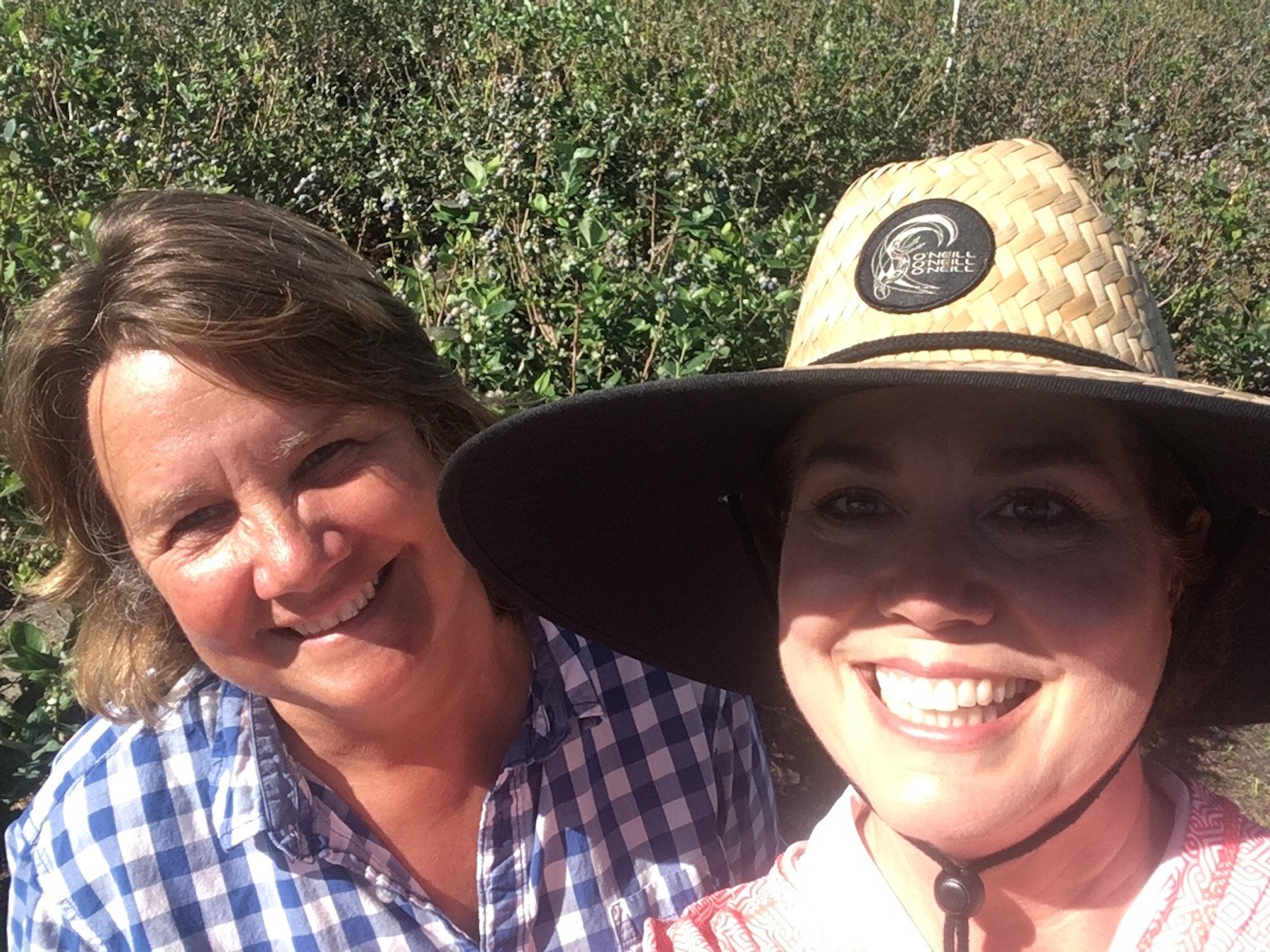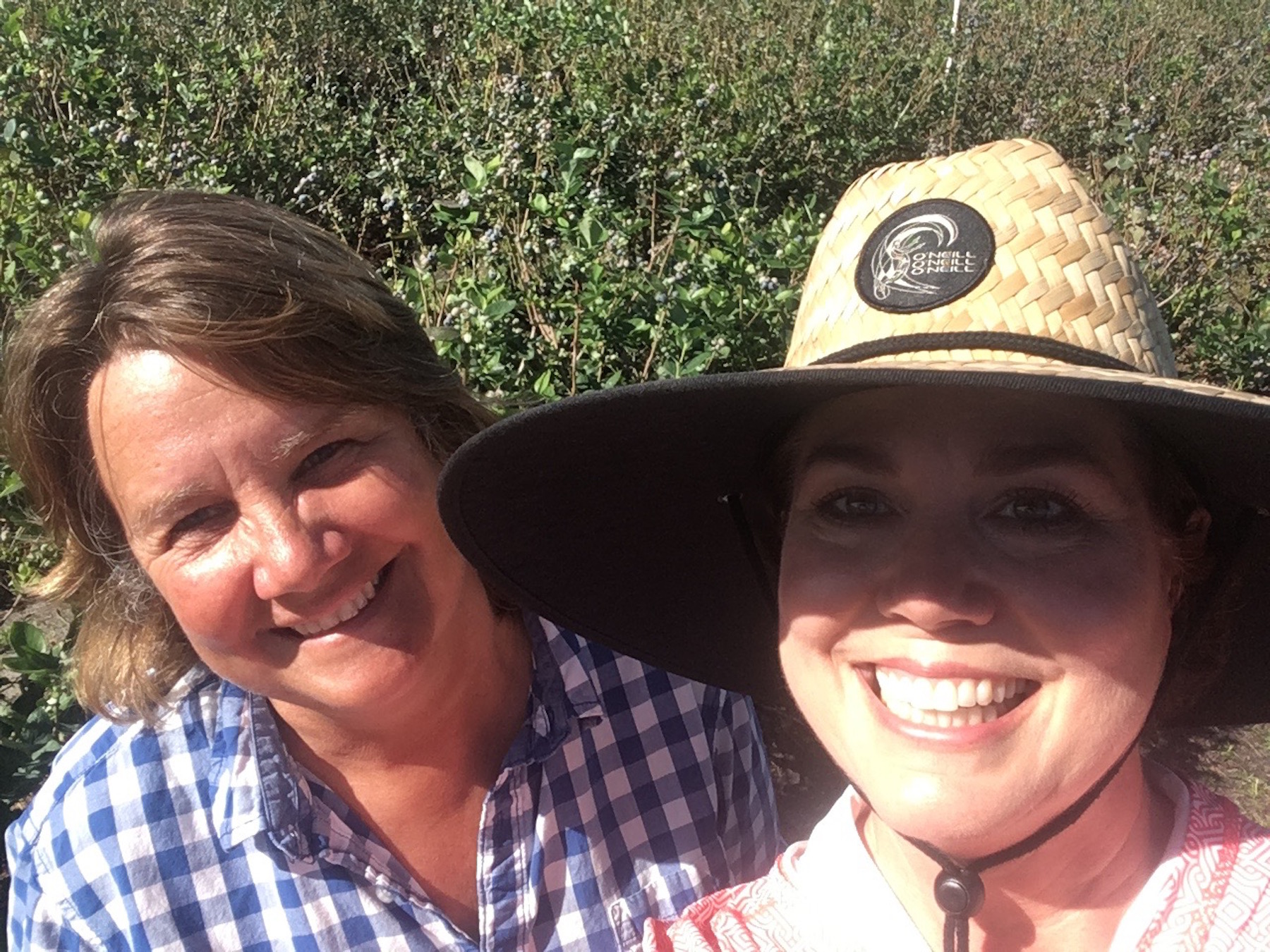 Sue put me to work 1) getting her crew ready for the day, 2) weighing filled buckets, 3) filling pallets with berries, 4) removing leaves/stems, and 5) loading empty pallets.  In the end, the team put thousands of pounds of berries in the cooler.
After six hours (well, including lunch) I was dirty, hot, my feet hurt, and I was a little tired, but it was a perfect day spent with hard-working, funny, lovely people AND a great way to gain perspective on how hard farmers work to bring produce to market.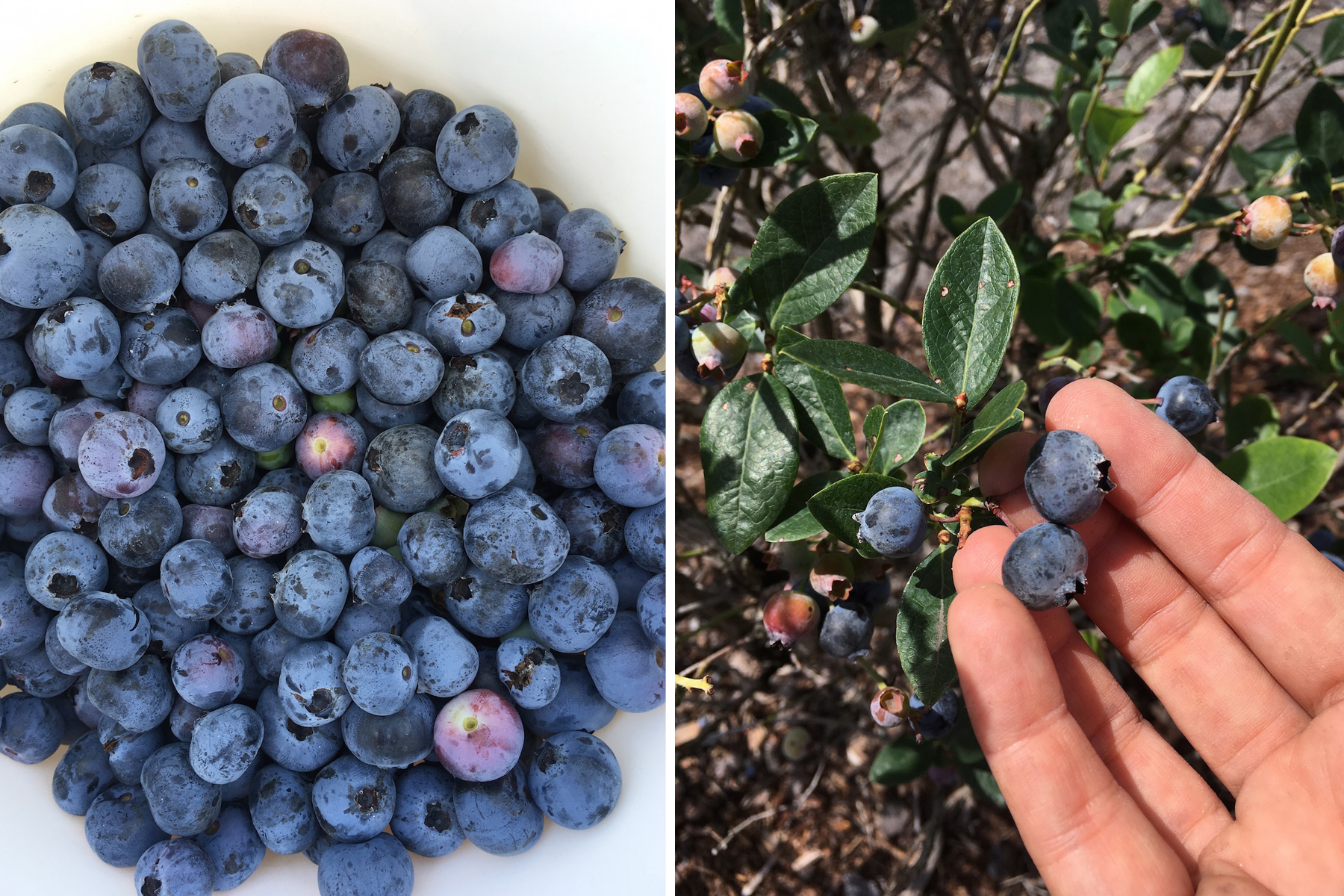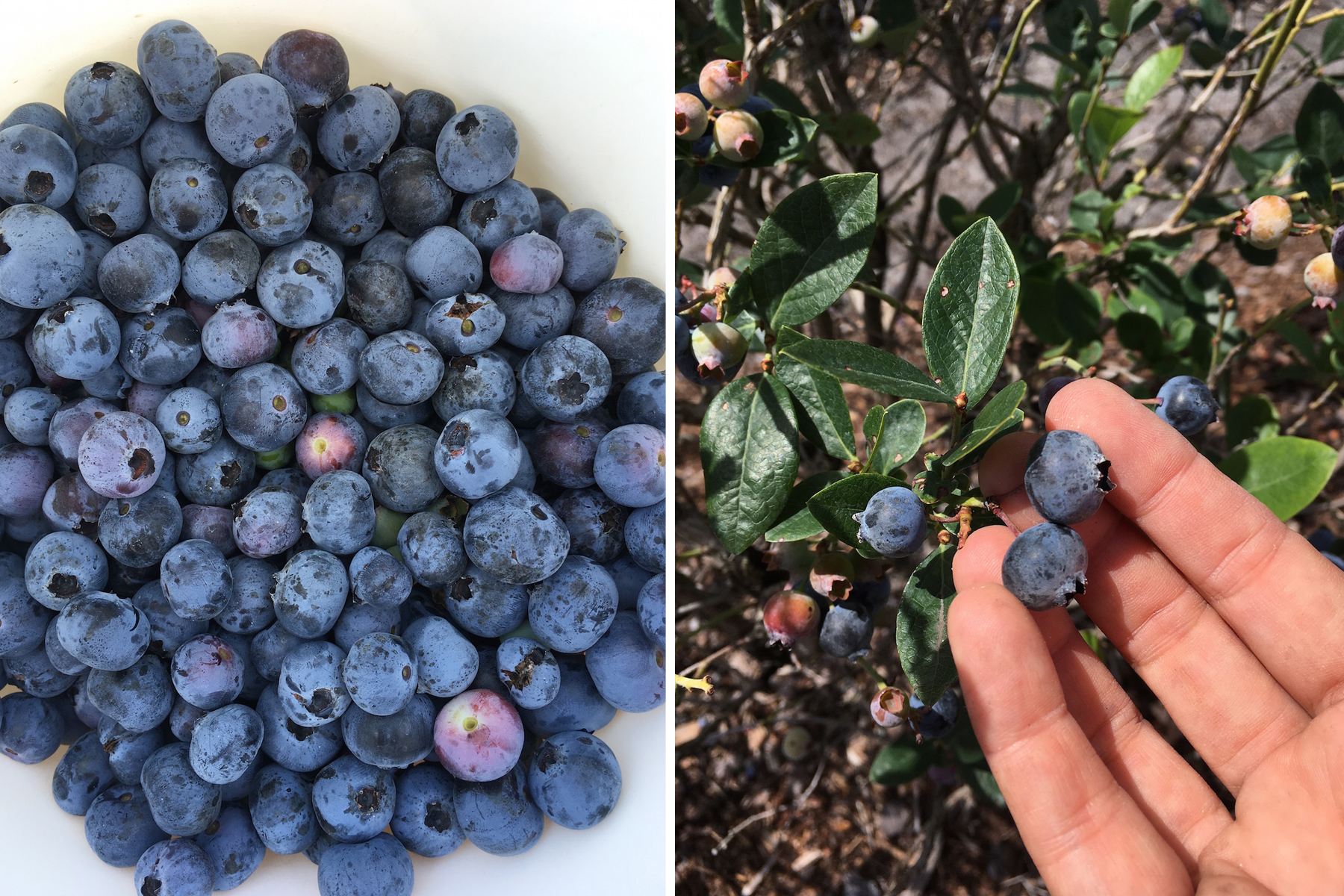 As I gathered ingredients for my crisp recipe, I spied my basil plant and remembered it's one of the blueberry's best friends (something about the combo really makes the berries shine) so I decided to add in that sweet/slightly spicy flavor.  Even if it wasn't as good as I thought it would be, I knew it would still be good because, well, it's a crisp for heaven's sake!
When I took it out of the oven it was bubbly, delicious-looking (sorry no pics – I got distracted) and it smelled amazing.  After one spoonful, I thought the berries were the perfect blend of sweet/tart; the basil and orange provided subtle undertones that simply enhanced that berry flavor; and the crunchy, buttery topping was oh-so-delicious.
You want some now, don't you?!?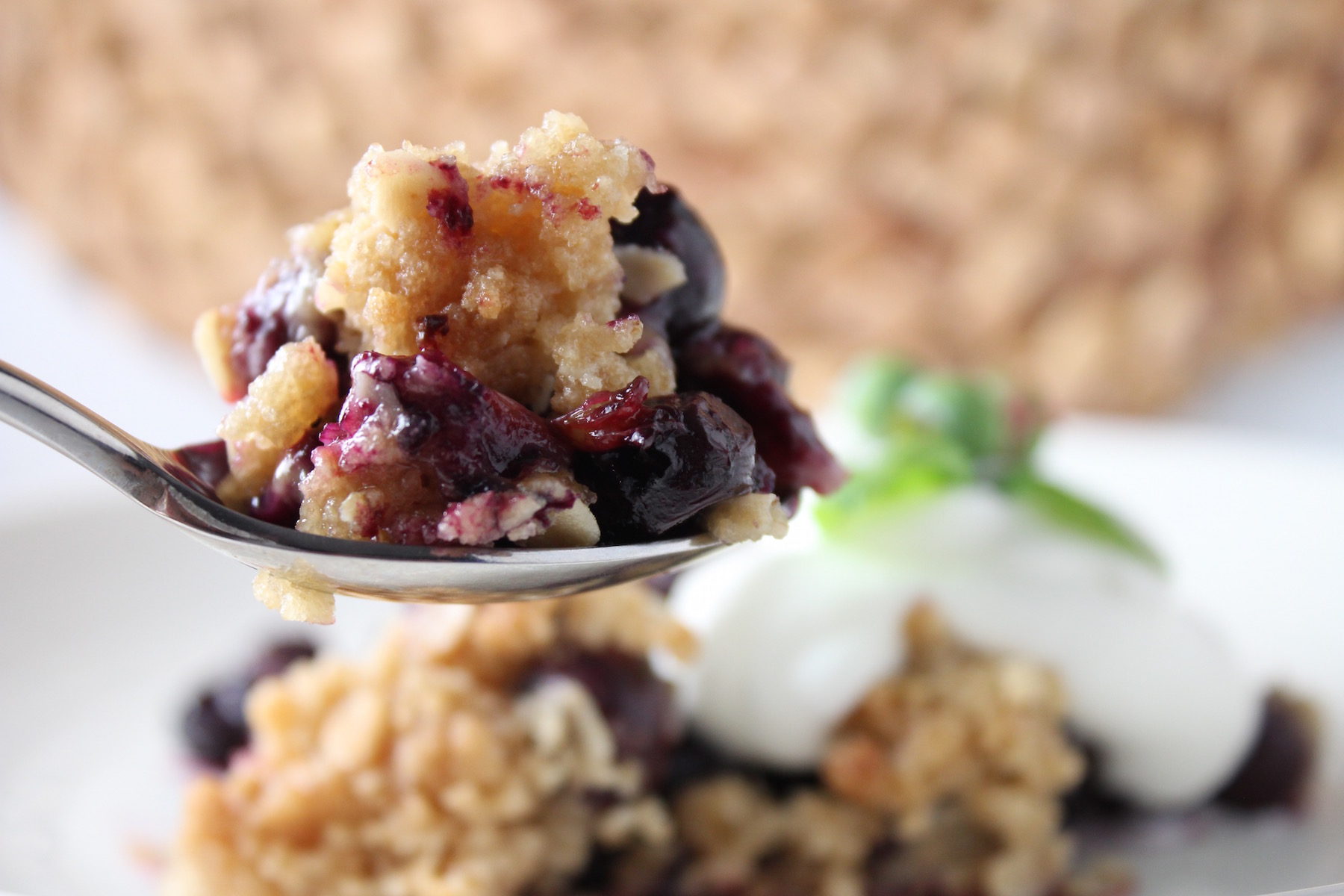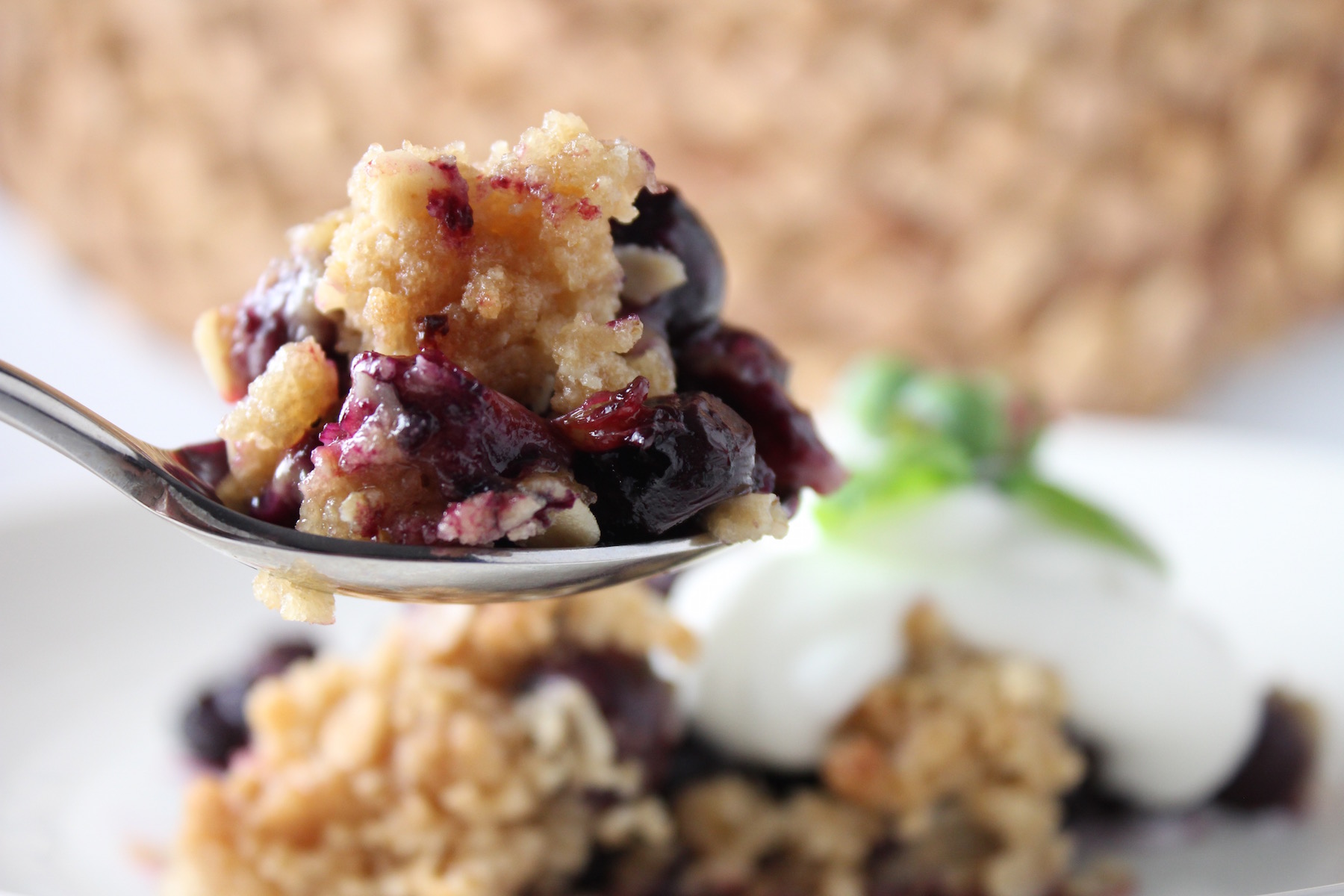 Florida blueberry season runs through the end of April (and May, if weather cooperates).  Here's a link to U-Pick farms in Florida, just to get you started. (Note: U-Pick will be available at Blues Berry Farm soon; stay tuned on their Facebook page).
If you're feeling sad or stressed, you should really consider finding a place to pick berries.  It's very therapeutic 🙂

Blueberry & Basil Crisp
Warm blueberries with a hint of basil combine nicely in this crispy dessert.
Author:
My Delicious Blog
Ingredients
Filling
¼ c. granulated sugar
7 or 8 fresh basil leaves
8 c. fresh blueberries
1 tsp. orange zest
1 Tb. orange juice
Topping
½ c. all-purpose flour
½ c. old-fashioned oats
½ c. brown sugar
¼ c. granulated sugar
¼ tsp. kosher salt
6 Tb. unsalted butter (cold)
Instructions
Set oven to 350 degrees.
In a food processor, combine ¼ c. sugar and basil leaves. Pulse until the sugar is ground together with the leaves and it turns green.
In a large bowl, add blueberries, basil sugar, orange zest and juice. Mix to combine then pour into an 8X8 baking dish.
Wipe out the bowl of the food processor, then add the dry ingredients for the Topping. Pulse a few times to combine. Add butter and pulse several times until the mixture is very crumbly but still dry and the butter has been dispersed throughout.
Sprinkle the Topping over the berries, then place in the oven.
Bake about 1 hour, until the crust is nice and brown and the filling is bubbling.
Remove from oven and allow to cool at least 10 minutes before serving.
Serve with whipped cream or vanilla ice cream.