Cantaloupe is such a versatile fruit — it can be served with sweet or savory components, and it's always delicious. When in season, it's sweet, fragrant and oh-so-delicious. I especially love the smell of it — it always reminds me of those melon flavored Lifesavers — you know, the ones in the tropical blend package? Whenever I find them, I have a terrible habit of continually unwrapping the tube until I find my favorite flavor.  What's left usually ends up as a messy, sticky situation in my purse, but I still think it's worth it 🙂
You can find cantaloupe pretty much year-round across the country, but here in Florida, it's in season from March through July, so that's when it's best. I like to keep some in the fridge during our hot summers because it's not only tasty, it's also a great re-hydrator, full of potassium and vitamins C and A.
Pairing cantaloupe with a tart fruit like lime or lemon makes it even better because the flavors contrast beautifully with the sweet, fragrant melon. And this is exactly why I decided to make a batch of fresh melon today with a citrusy dressing doused in chopped mint. I love the color combo of orange and green – it always looks so refreshing!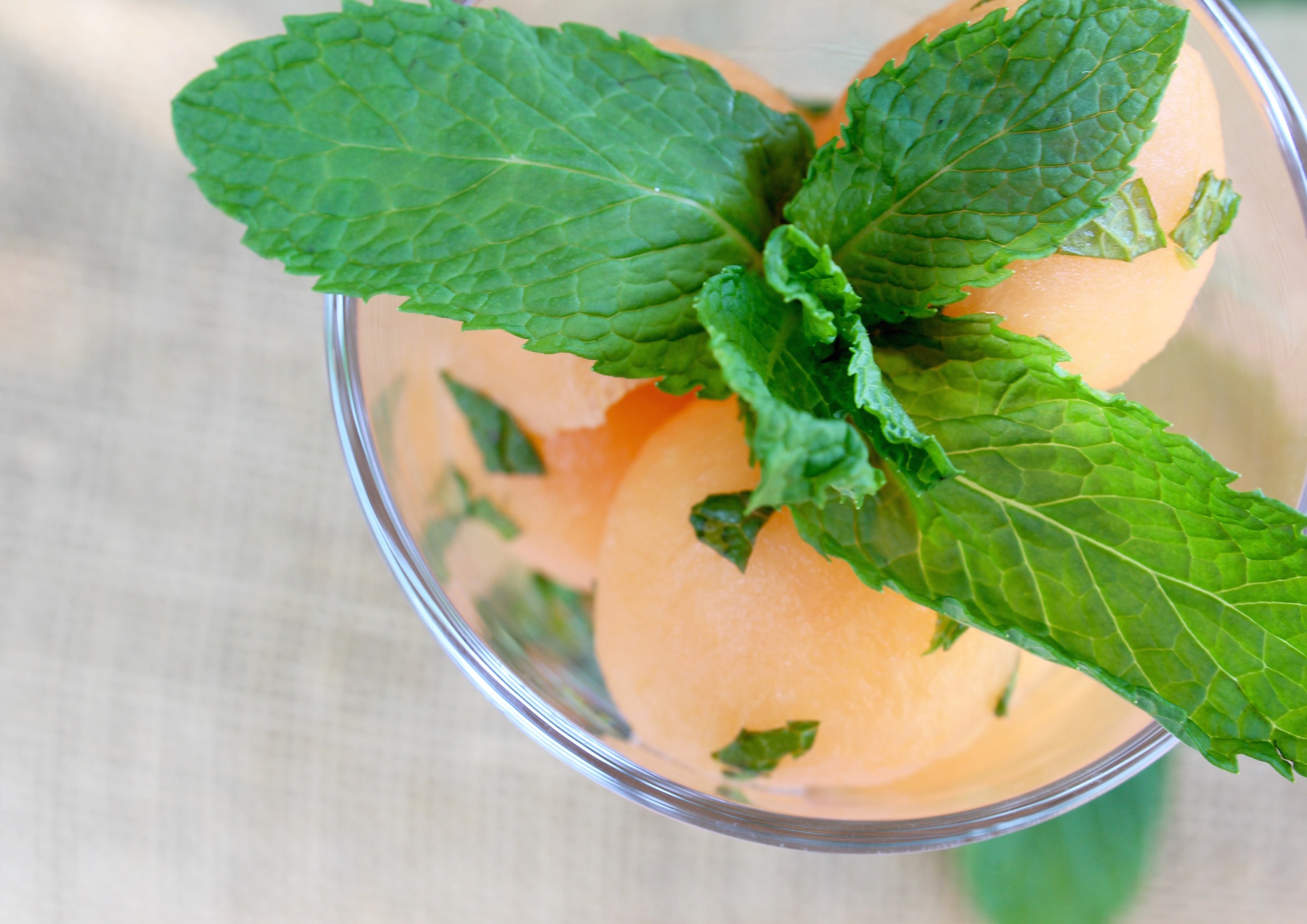 This is a very easy and tasty way to enjoy cantaloupe.  You could even mix in seasonal watermelon, honeydew or berries, which would also be delicious with this 'sauce'.
For this recipe, I put my melon baller to work, but you can just as easily chop the fruit into small pieces and achieve the same results 🙂

Cantaloupe with Citrus & Mint
Fresh cantaloupe is super refreshing when paired with lime, lemon and mint.
Author:
My Delicious Blog
Ingredients
½ lemon, juiced
½ lime, juiced
¼ c. fresh orange juice (about 1 orange)
1 Tb. honey (I used orange blossom)
2 Tb. fresh mint, chopped (+ some leaves for garnish)
½ large cantaloupe, chopped or balls
Instructions
Combine the citrus and honey in a small bowl; stir well to dissolve the honey. Refrigerate at least 30 minutes before ready to serve.
Prep the fruit and place into a bowl and refrigerate at least 30 minutes before serving,
When ready to serve, add the mint into the citrus/honey mixture, and pour it over the melon; stir to combine.
Serve in pretty dishes, garnished with fresh mint (optional).
Notes
This recipe can easily be modified, based on what you have available. Don't worry about the measurements being exact (eg. if you don't have all 3 citrus, just use more of what you have; if you don't have honey, use some granulated sugar [but let it dissolve well before refrigerating], replace the cantaloupe with another melon, etc.).