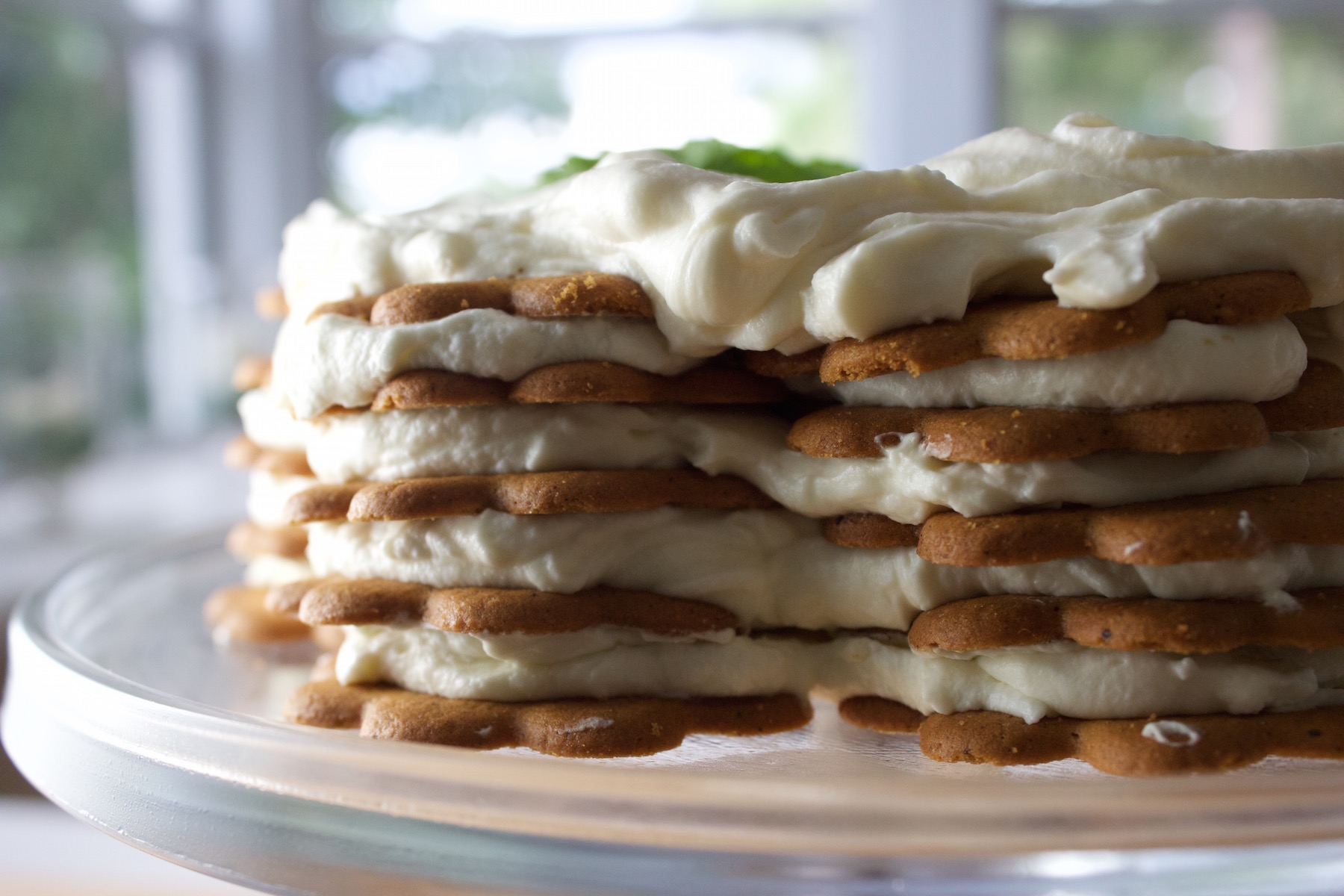 Icebox cakes, also known as refrigerator cakes, are simply layers of cookies and whipped cream (or pudding) that, when chilled, transform into a cake-like dessert that's just heavenly.  Basically, the crunchy cookies absorb the moisture of the filling, making them soft and deliciously flavorful. Truth be told, it's hard not to go back for a second helping.
These cakes date back to World War I when they were typically made with cake and custard, but they really got popular in the 1920s and 1930s when homemakers started having access to store-bought ladyfingers, graham crackers and cookies, which meant they didn't have to bake from scratch. Around that time, the National Biscuit Company (i.e., Nabisco) made a super-smart move when they introduced their Famous Chocolate Wafers — light, thin, crisp and chocolaty. They even put the recipe on the back of the box and housewives all over were layering the cookies with whipped cream and enjoying the benefits of "no bake" cake.  Since then, cooks have come up with many different versions.  You can get fancy with your ingredients or stick to the basics and still have delicious results. I think these cakes are especially good in the Summer because you don't have to turn on the oven 🙂
When I was a kid, my family made a pretty simple version — chocolate pudding layered with graham crackers, stacked in a loaf pan. After inverting onto a platter, we slathered it with sweet whipped cream, maraschino cherries and toasted walnuts. So yummy. My grandmother was known to layer graham crackers with simple applesauce — surprisingly light and definitely comforting.
August 26 marks "National Eat Dessert First Day." To celebrate, I thought it would be fun to make one of these icebox cakes and I decided on one of my favorite flavor combos – ginger and lemon — a refreshing blend that I was hoping would soothe the hot temps we've been having lately. I resisted the urge to make my own lemon curd simply because I was trying to make this cake as easy and fast as possible (and did I mention it has been hot?!?). This recipe uses only a few ingredients that you can easily find in any grocery store. I bought a jar of lemon curd, my favorite thin/crispy ginger cookies and some whipping cream and was ready to go.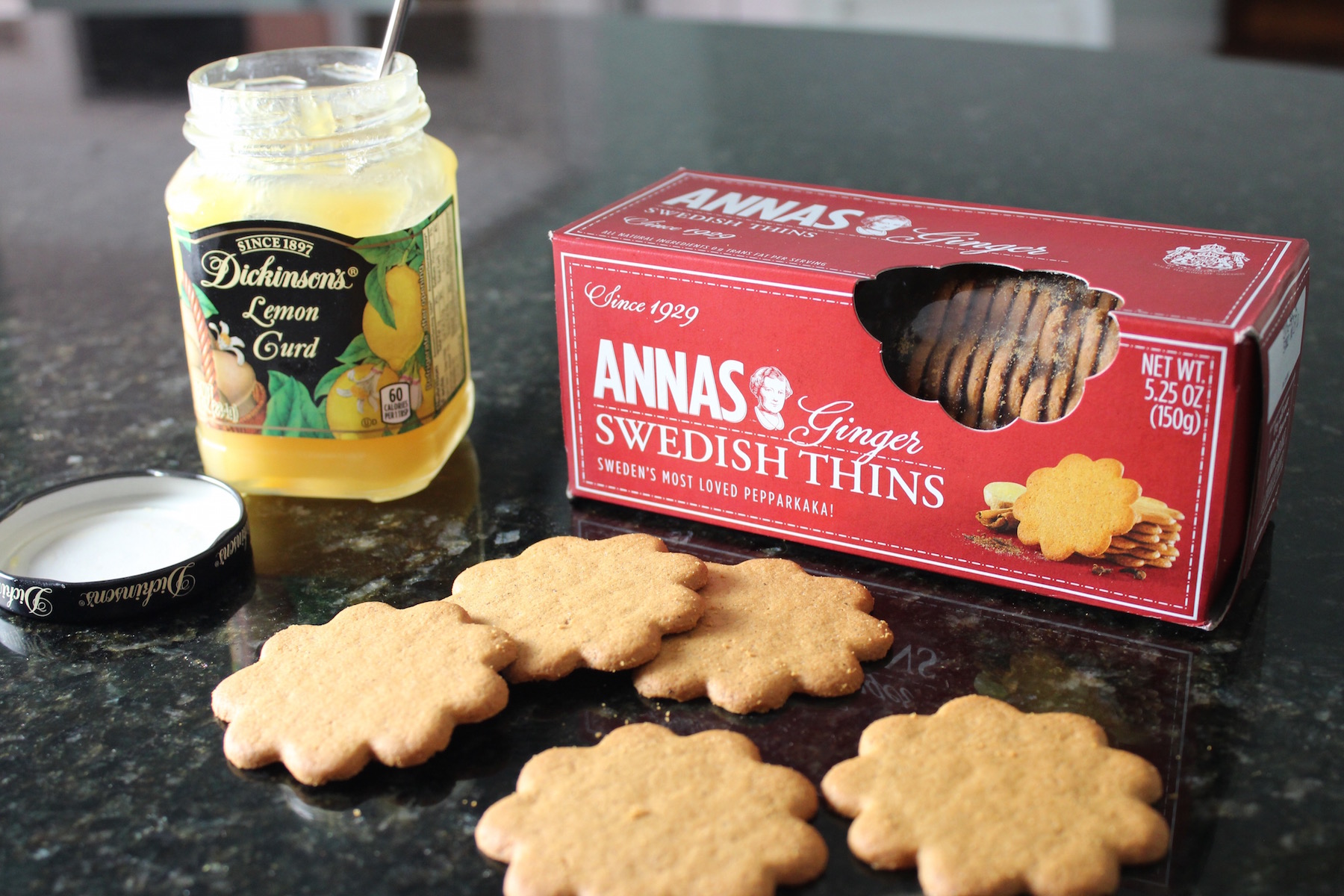 My dessert was finished in less than 10 minutes! How's that for quick and easy?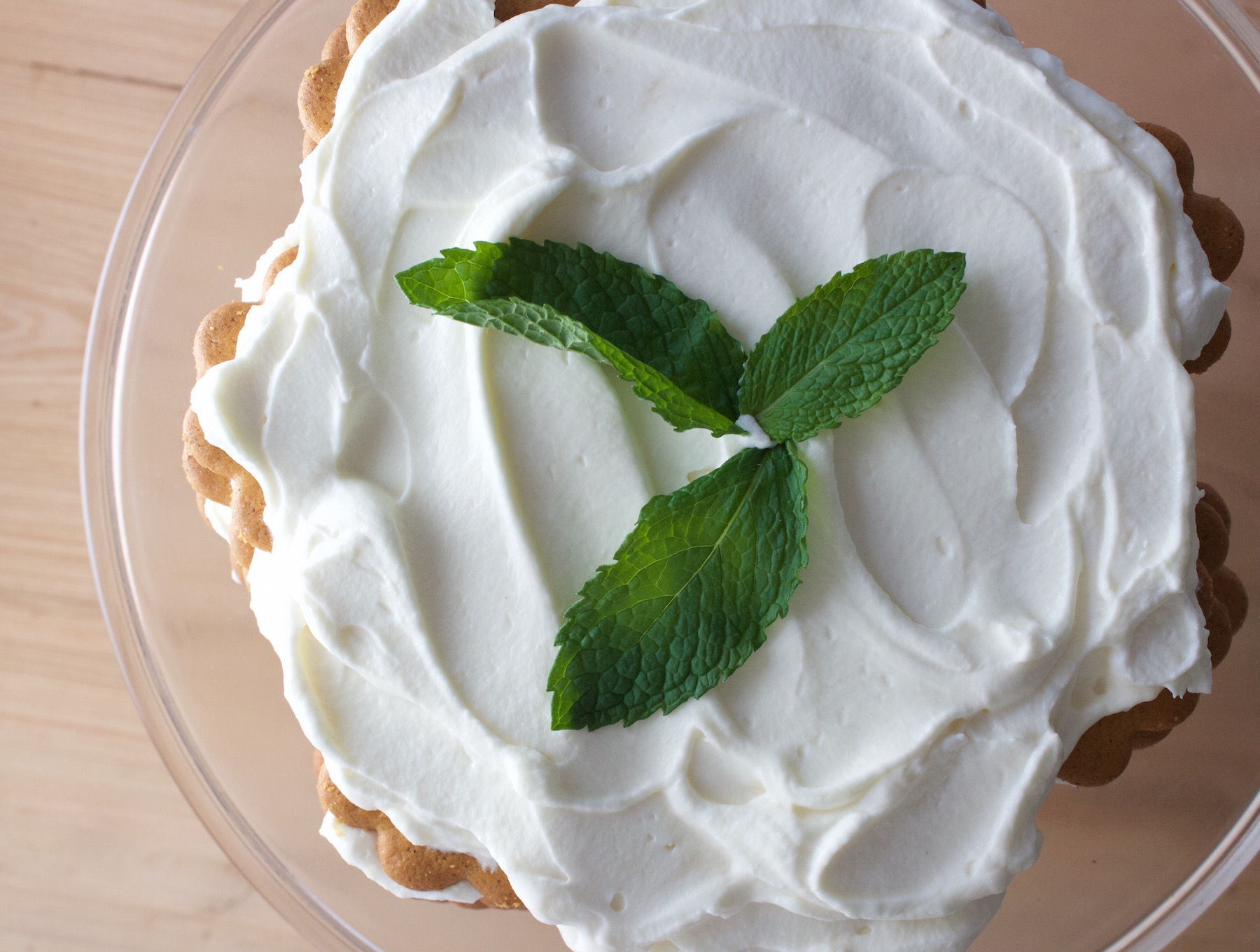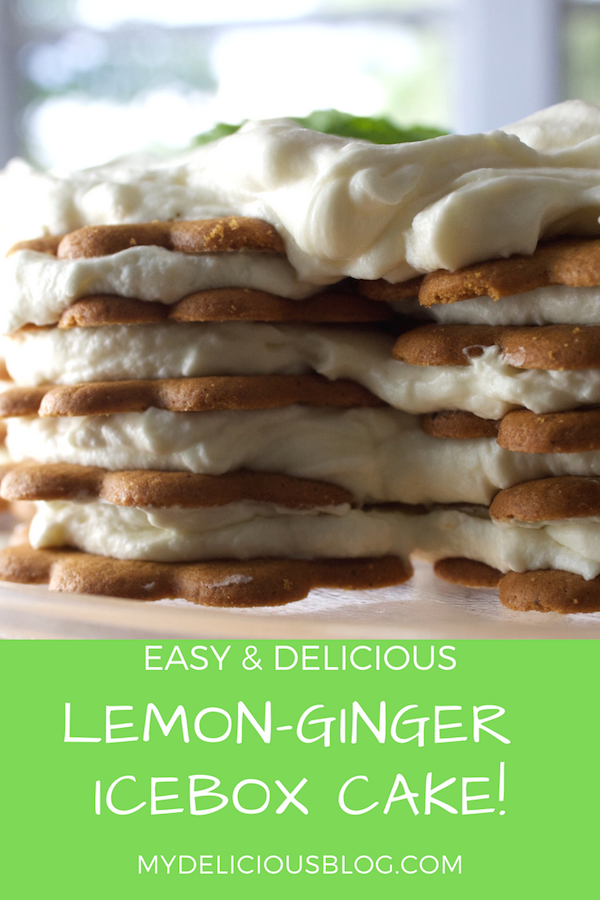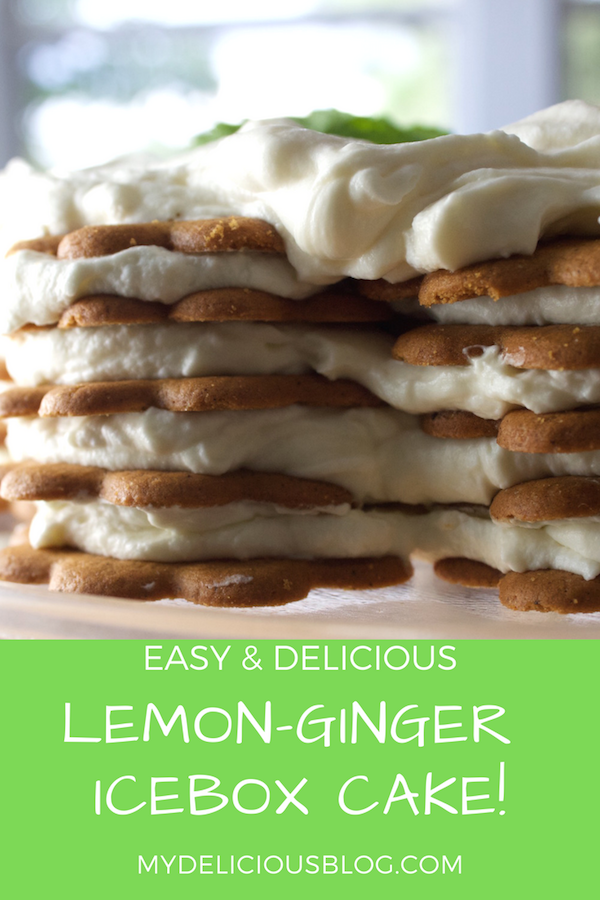 If you've never made this classic dessert, I highly recommend you give it a try.  Oh, and did I mention it's EASY?!?

Ginger & Lemon Icebox Cake
An easy, vintage syle icebox cake made with ginger cookies and layers of lemony whipped cream.
Author:
My Delicious Blog
Ingredients
2 c. (16 oz.) whipping cream, chilled
1 c. (8 oz.) lemon curd (I used Dickinson's)
1-2 pkgs (approx. 40-50) crispy, thin ginger cookies (I used Annas Swedish Thins)
Fresh mint (or lemon) for garnish
Instructions
Whip the cream until soft peaks form.
In a medium mixing bowl, add the lemon curd and stir until it softens (this will make it easier to fold into the cream).
Add about ⅓ of the cream to the bowl and gently fold it into the lemon curd using a rubber spatula. When that looks combined, add another ⅓ of the cream and fold again. Keep doing this until all the cream has been incorporated into the lemon curd and you end up with a light yellow, fluffy filling.
Using a pretty, flat dish, place a layer of cookies into an 8" round (be sure to place a cookie in the center). If you want to have as much cookie layer as possible, you can even break some cookies into small pieces to fill in gaps at each layer of cream.
On top of the first cookie layer, add a dollop of the cream and gently spread across the cookies.
Keep layering cookies with cream. You should get about 5 layers of cookies and 5 layers of cream. Finish with cream and garnish with fresh mint (or lemon).
Place in refrigerator for at least 4 hours, but ideally, overnight.
Notes
You can add more layers if you like - just make your cream layers thinner. I found 5 layers works nicely, and you still have leftover cookies to snack on later!