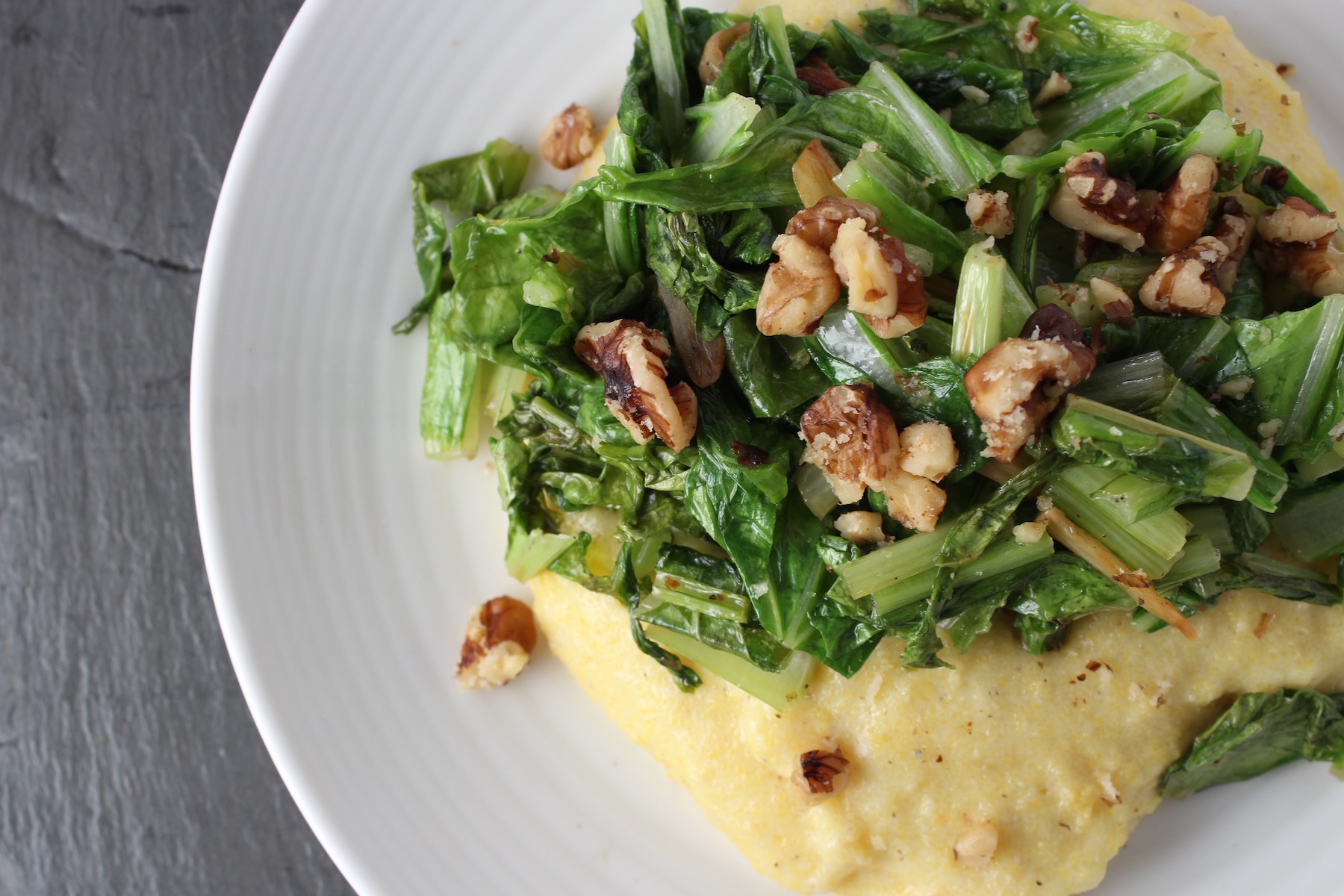 If you consider bitter things, you might think of foods that are possibly poisonous, or remedies that make you feel better because they force you to expel items you shouldn't have ingested in the first place. Bitter flavors are definitely welcome in a cocktail like a Manhattan, an Old Fashioned or a Rob Roy, but they can be a little challenging when it comes to our dinner plates. But a well-rounded diet should incorporate a little bit of bitterness just to keep things interesting, because if you think back to science class, most of us have five taste sensors — sweet, sour, salty, savory and bitter 🙂
When it comes to leafy vegetables, there are plenty that offer delicate and sweet tastes in salads and sautéed dishes. But many in the 'leafy green' family offer a bitter flavor profile, including arugula, endive, beet leaves, broccoli rabe, chard, Komatsuna, watercress, collards, dandelion, some kale, Mizuna, mustard greens, rapini, radiccio, spinach and turnip leaves. Their bitterness can be subtle or strong, and it typically strengthens as the growing season progresses. Even if the taste takes a little getting used to, we're wise to incorporate them into our diets because they're filled with iron, calcium, Vitamins A and C, folate, potassium, magnesium and fiber. And, by eating bitter things, our taste buds stimulate enzymes, which help us digest our food better.
Since I started my relationship with Geraldson Community Farm (a Bradenton-based CSA), I've tried several greens I never even knew about, so I've been experimenting in my kitchen. I find that cooking these leafy greens lessens their bitterness, and cooking them in a fat (olive oil, coconut oil, butter, bacon, whatever you like) with salt works well.  I'm not going to fool you – the bitterness won't go away 100%, but it's much more palatable, even subtle, depending on which greens you use.
Komatsuna is a leafy green with Asian origins, hence the name Japanese Mustard Spinach: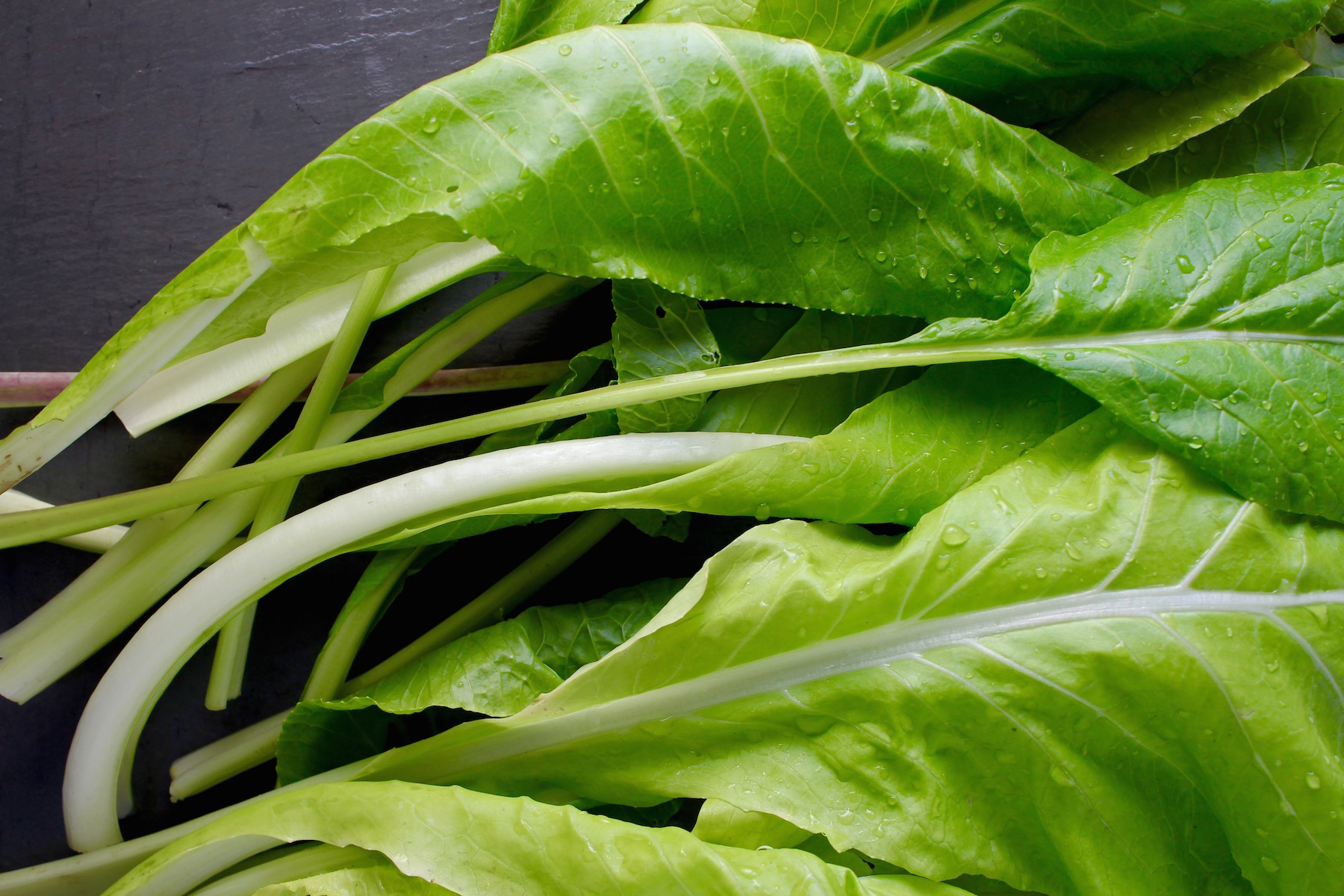 You'll likely see it at farmer's markets and CSA farms and, if you do, I hope you try it. It's related to the turnip and has tender bright green leaves and crispy stalks. As for flavor, I think it tastes like a mix between cabbage, mustard greens and spinach. It can be boiled, pickled, stir fried, and added to soups or salads, so it's pretty versatile.
For this dish, I blanched the leaves and stems to get a little extra bitterness out of them (and to retain the color), then sautéed them in a garlicky olive oil, with a healthy dose of salt. I also made a creamy polenta, layered the Komatsuna over it and topped it all with crunchy, omega-3 rich walnuts. The richness of polenta is a good complement to bitter greens, and the crunch of the nuts makes it a well-rounded mouthful. All in all, this is a tasty way to incorporate healthy greens into your diet.
Ultimately, if you still can't take the bitter flavor of greens, just enjoy the polenta 'cause it's awesome all by itself (or with a Manhattan) 🙂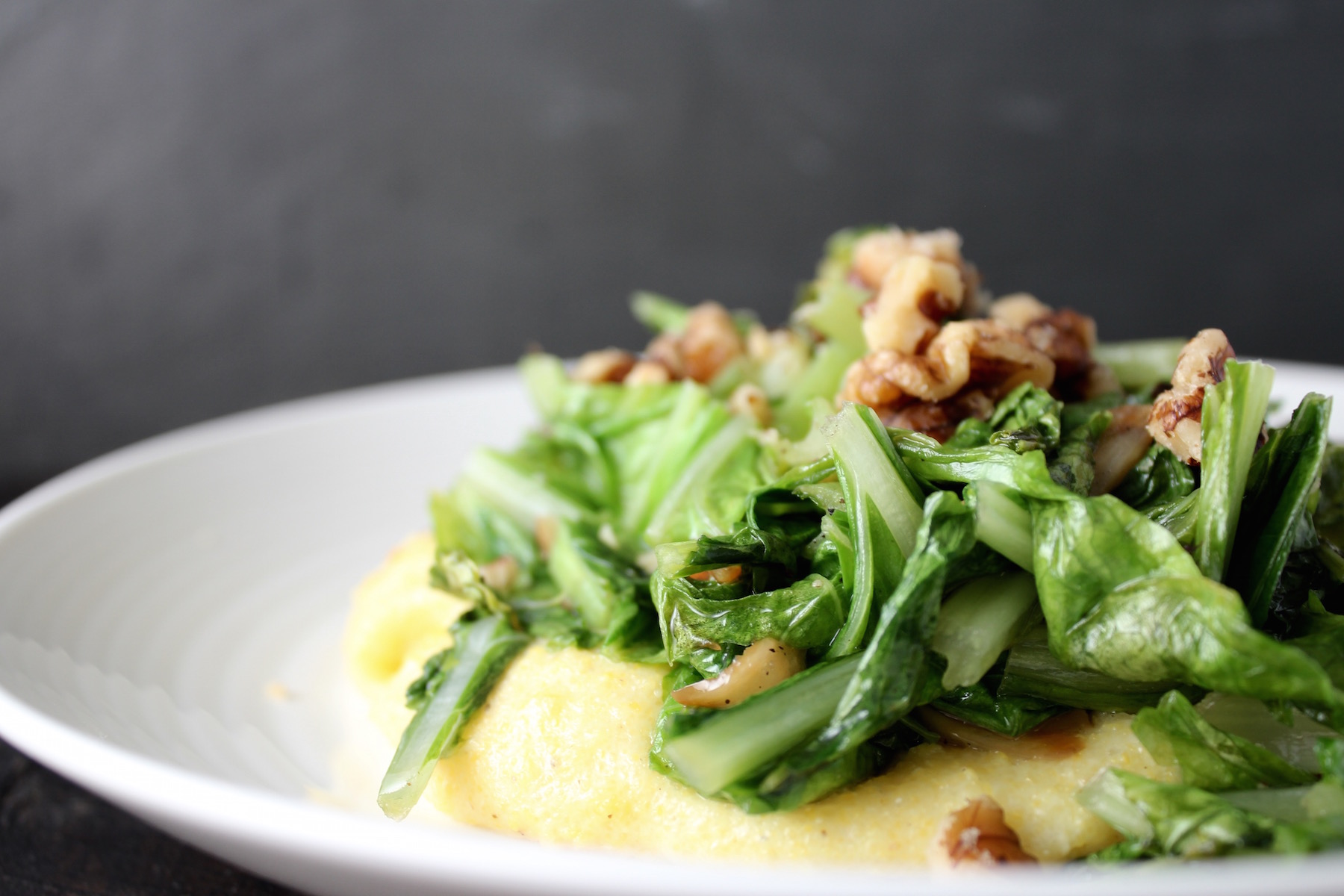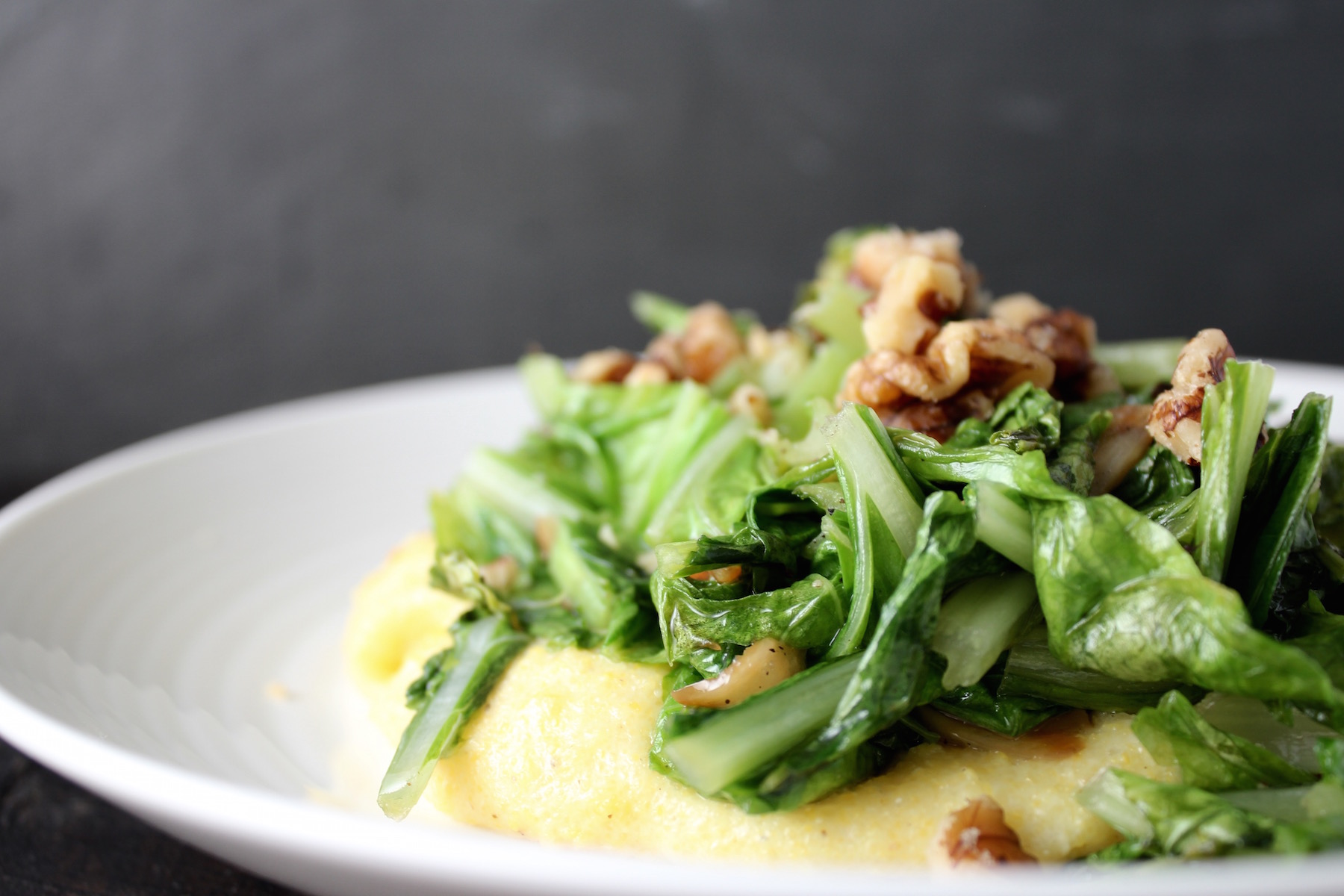 Bitter Greens with Creamy Polenta
Bitter greens are delicious when paired with this creamy, cheesy polenta.
Author:
My Delicious Blog
Ingredients
2 large bunches Komatsuna
3 cloves garlic, peeled & sliced
2 Tb. olive oil (or coconut oil, butter, or bacon fat)
½ tsp. kosher salt
½ c. walnuts (toasted or not)
Polenta
1 c. chicken stock
1 c. whole milk
1 bay leaf
1 c. yellow cornmeal
½ c. Gruyere, shredded
2 Tb. unsalted butter
½ tsp. kosher salt
¼ tsp. freshly ground black pepper
Instructions
Wash Komatsuna and trim stem ends. Wash stems thoroughly to remove sand. Cut into 2" pieces; set aside until ready to use.
Fill a large saucepan with water and 1 tsp. salt and bring to a boil. Prepare a bowl filled with ice water; set aside.
While waiting for the water to boil, start the Polenta: combine broth, milk and bay leaf in a medium saucepan; bring to boil then turn off heat, cover and let sit for 10 minutes.
Once the water boils, drop in Komatsuna pieces to blanche for about 2 minutes, then remove with a slotted spoon and drop into the ice water to stop the cooking process. Remove pieces with slotted spoon and pat dry with paper towel or a salad spinner.
In a saute pan, heat olive oil with garlic over medium heat. When garlic gets nicely browned, remove from pan.
Add Komatsuna to oil and sprinkle with kosher salt. Increase heat to medium/high to saute the greens for about 6-8 minutes. Turn off heat and leave uncovered while you prepare polenta.
Remove bay leaf from milk. Bring back to boil, then reduce to medium heat and slowly sprinkle in cornmeal, whisking vigorously at each pour. Keep whisking until the cornmeal has absorbed the liquid and it's smooth.
Remove from heat and stir in cheese, butter, salt and pepper.
Transfer polenta to serving dishes, top with Komatsuna, walnuts and a few grinds of fresh black pepper (to taste).