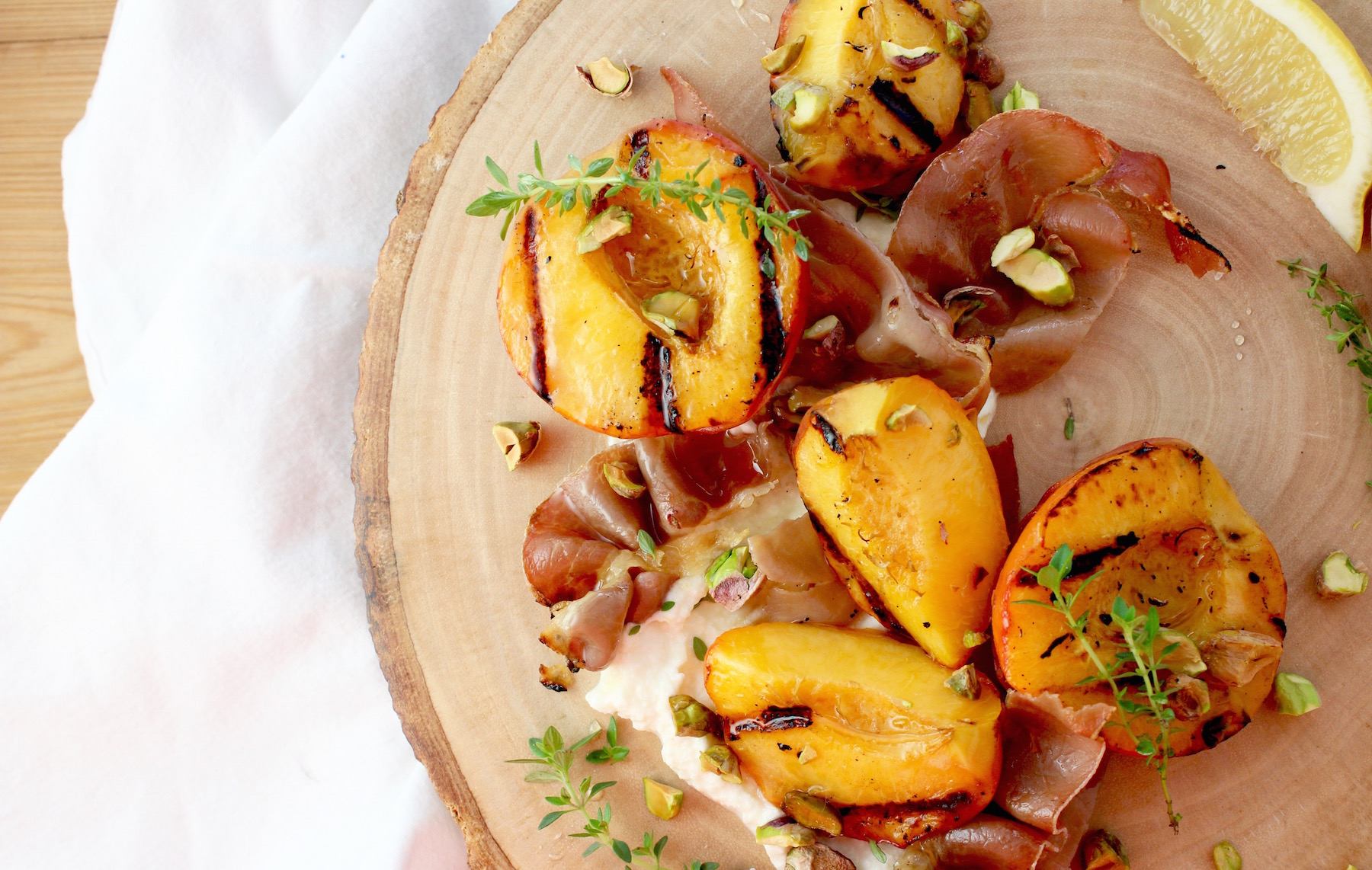 Florida's (short) peach season has come and gone, and I never did get my hands on any local beauties — it seems markets were either sold out or they just didn't arrive in the volume expected.   Alas, I'll just have to wait until next year. . .
But I did get my hands on some Georgia peaches recently (driving up and down Route 41 in Sarasota offers several opportunities for fresh beauties).  They're now in season and, since Georgia knows a thing or two about peaches, you should stop and buy some.  And when you do, you should consider making this dish 🙂
It's inspired by a delicious appetizer I had at a farm in Napa Valley last summer — grilled peaches with fresh ricotta, honey, pistachios, basil and prosciutto. The peaches were picked from the orchard on the property, the honey was harvested nearby, the pistachios, well, I don't know about those, but they probably came from California, the ricotta was made with milk from local cows, and the basil, of course that was grown on the farm, too. And as for the prosciutto, I wouldn't be surprised if it came from a pig next door. Let's just say you couldn't ask for a more locally grown dish, and I savored every morsel.
When I started looking to see if there were other dishes like it out there, I found that this combination of ingredients is not unique. Sweet peaches pair well with savory, fresh and lemony flavor of basil, the ricotta provides a smooth offset texture to the crunchiness of the nuts, ham provides a salty compliment to the sweet peaches, and the honey sort of brings it all together. So it's no surprise that there are many versions of this combination out there. And today, I'm doing mine.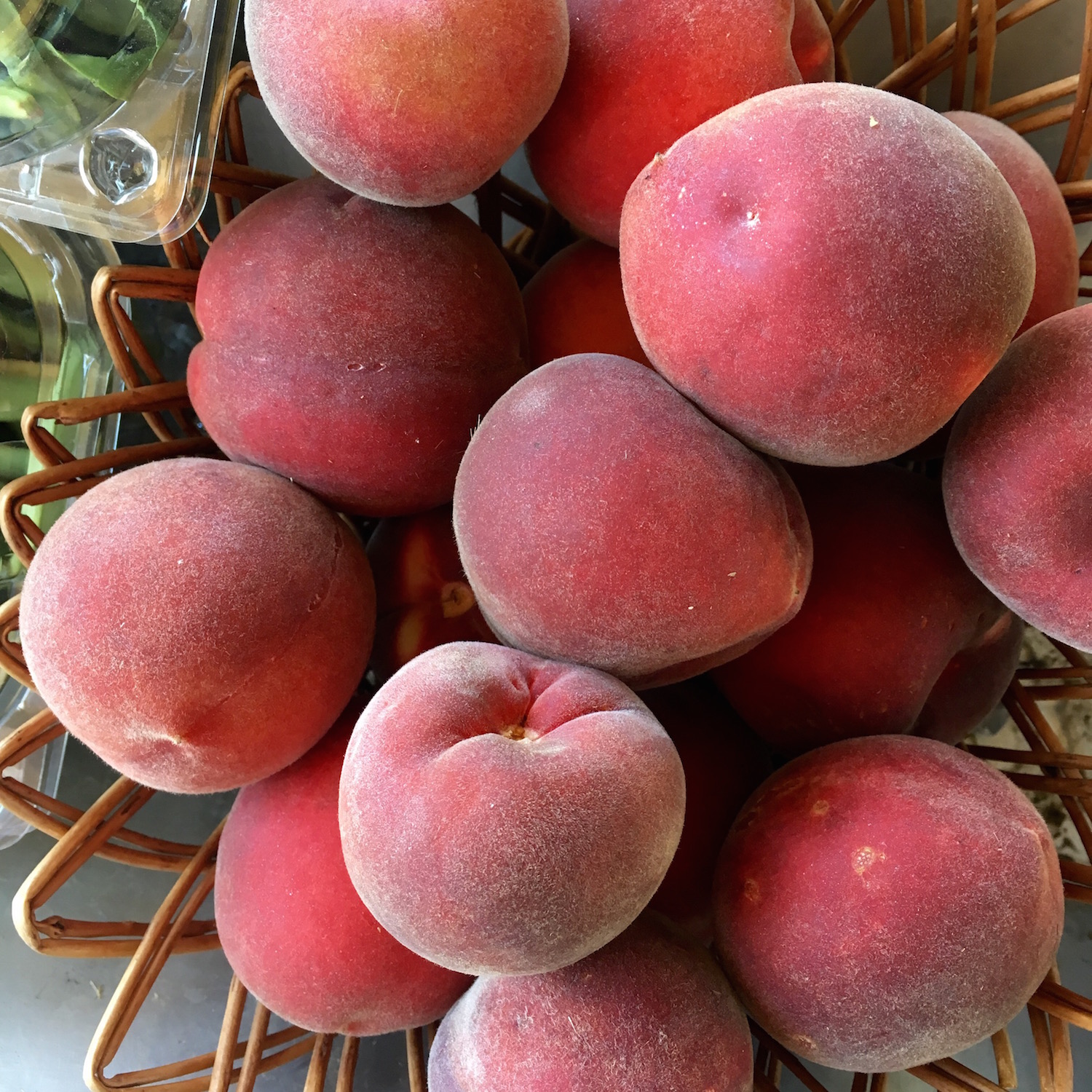 I decided to whip my ricotta to reduce some of the 'graininess' it can sometimes have, and I even added in a little cream to soften the edges more.  I drizzled in locally harvested wildflower honey.  I switched out the basil for lemon-thyme. I stuck with the prosciutto because, well, it's delicious. I also kept the pistachios – their buttery, slightly crunchy texture can't be beat with this dish. I was going to add crispy watercress for its mild 'bite', but forgot to add it before taking photos and getting this post uploaded in time. . .(but I'm sure it would have been delicious!).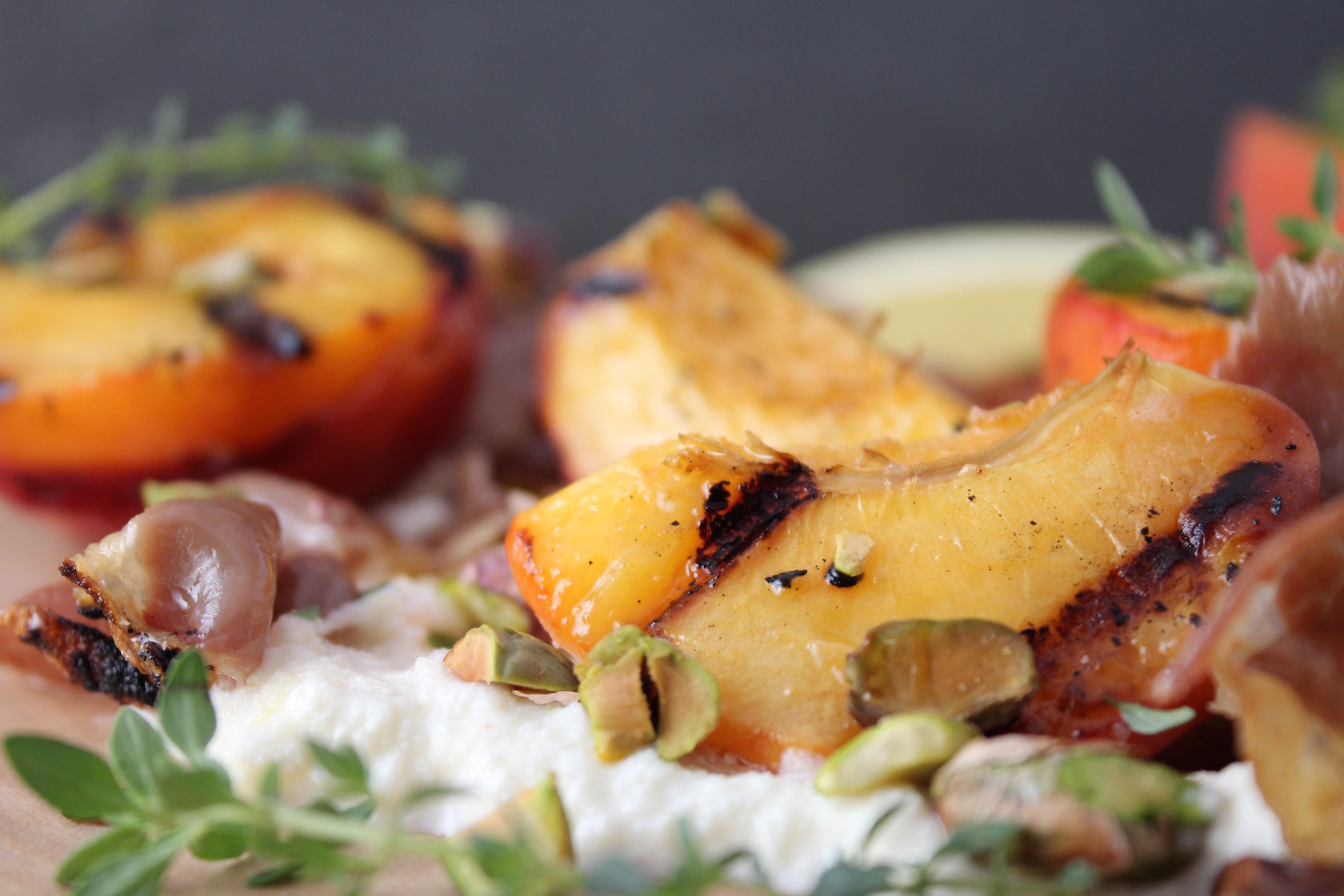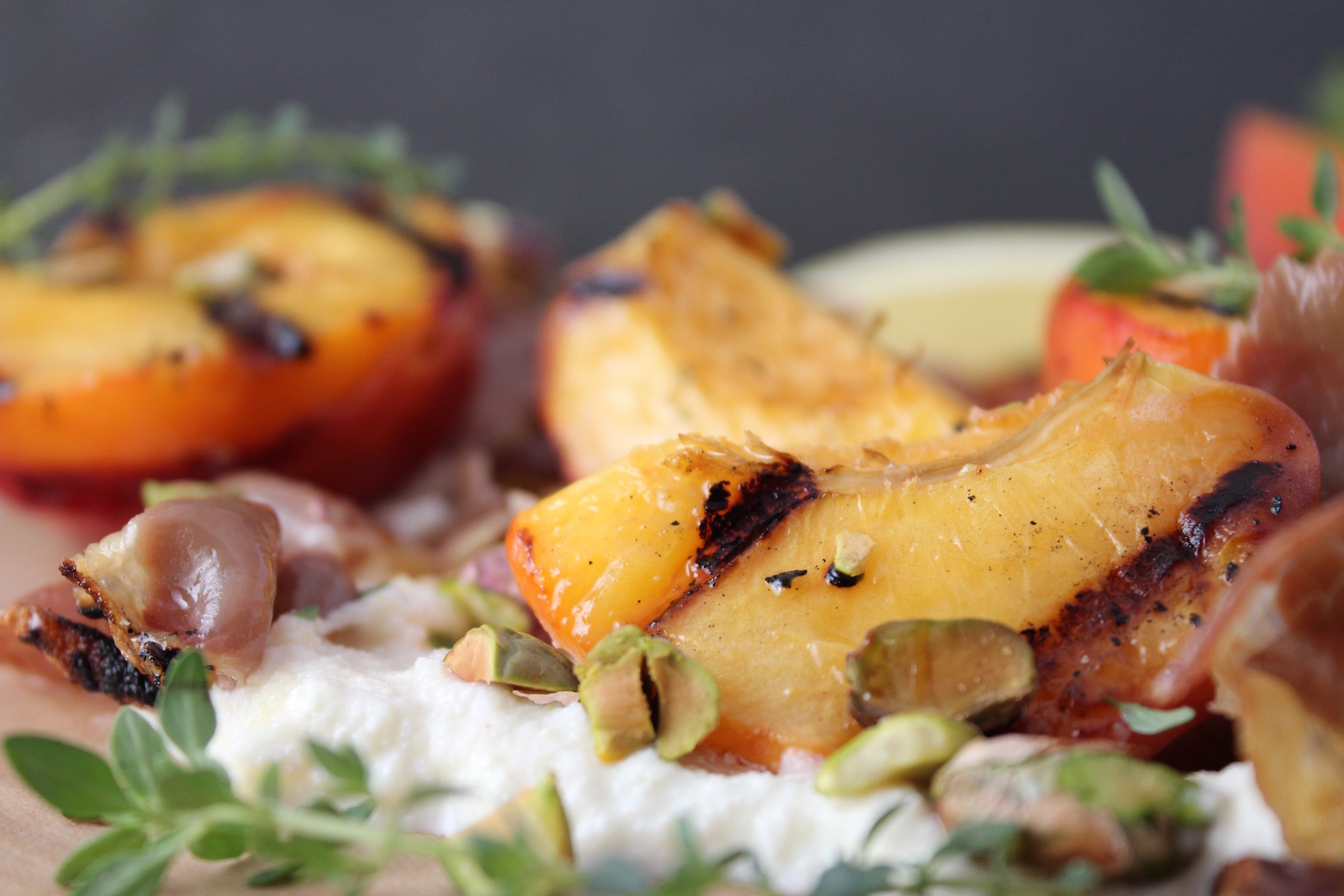 So that's it — a pretty easy-to-prepare dish, with flavors and textures that shine. It makes a great appetizer or a main course. And if you make it, you can think of me, sitting in a Napa restaurant, sipping a glass of cool sauvignon blanc, after literally licking my plate.  I hope you do the same!

Grilled Peaches, Ricotta, Honey & Thyme
Grilled peaches are extra delicious with this yummy whipped ricotta and a drizzle of honey.
Author:
My Delicious Blog
Ingredients
Whipped Ricotta
1 c. whole milk ricotta
1 tsp. lemon zest
1 tsp. honey
1 Tb. heavy cream
Pinch salt
4 peaches, halved & pitted
3-4 slices prosciutto
Honey (to drizzle)
Handful chopped pistachios (to sprinkle)
Few sprigs fresh thyme (lemon thyme, if you can find it)
Instructions
In the bowl of a stand up mixer fitted with a wire whisk, add ricotta, lemon zest, cream, honey and salt. Beat for a few minutes, until the mixture is 'fluffy'. (Note: if you don't want to pull out your big mixer, use a hand-held mixer or even whip with a wire whisk, which is good for burning some calories!); set aside.
Place the peach halves over a medium hot grill (or a grill pan). Cook for about 3 minutes, each side.
While the peaches cook, toss the prosciutto slices directly onto the grill - they'll start to curl and get crispy - this takes only a minute or two.
Spoon a heaping tablespoon of whipped ricotta onto a plate, add some peaches and prosciutto, drizzle with some honey and sprinkle on some pistachios.