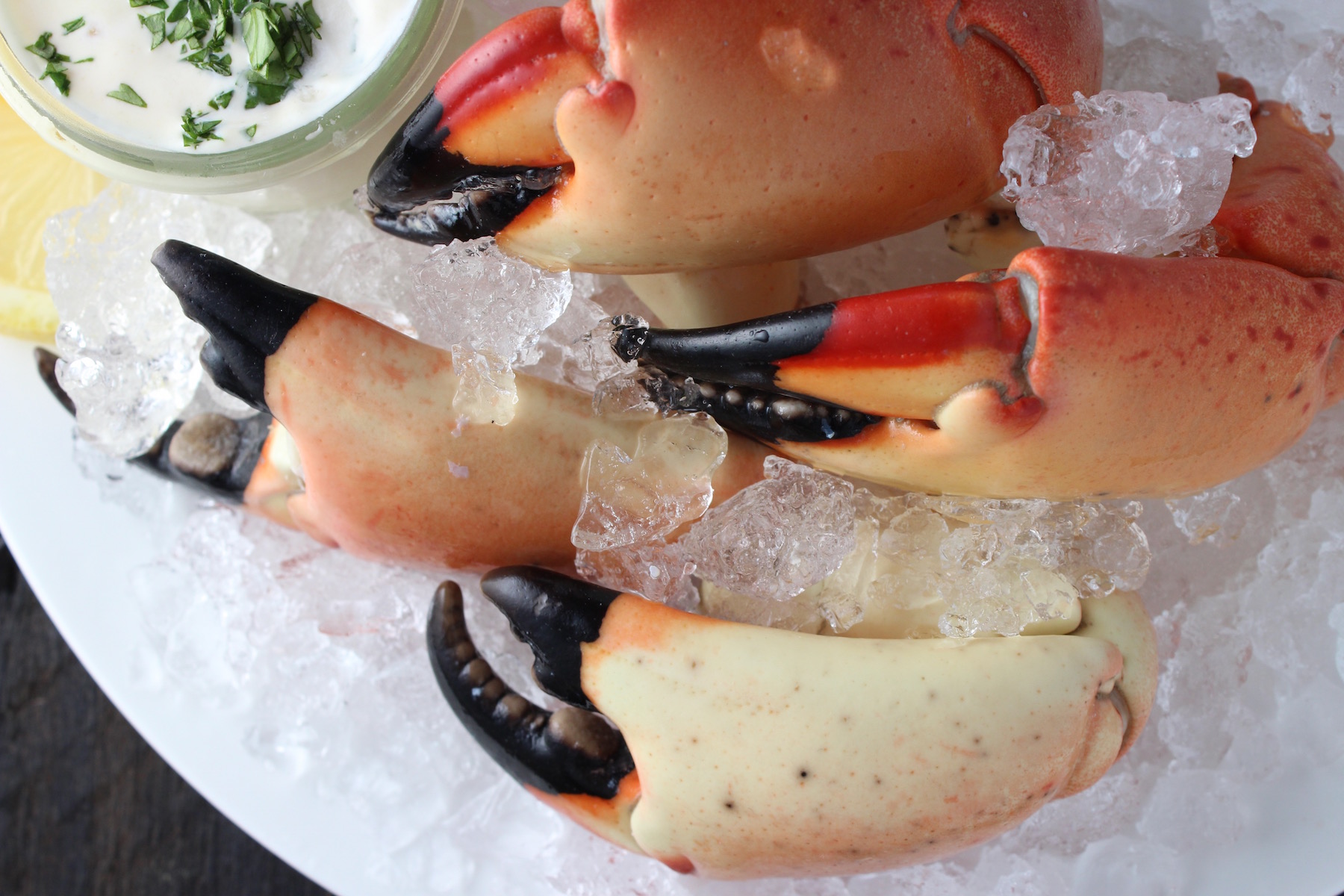 October 15 marks the opening day of Florida's stone crab season! If you're new to the stone crab world, here are 9 things you might like to know:
1) In Florida, stone crabs are harvested October 15 – May 2.
2) Commercial & recreational harvesters typically use baited traps; each has identifiable floats.
3) Commercial crabbers might put out several thousand traps/year; recreational crabbers are allowed 5 traps.
4) Commercial crabbers remove 1 approved-size claw from each crab and return the crab to the water. An adult crab regenerates a claw after ~1 year and, within 3 years, will have regained about 95% of its original claw size. The process is managed by the Florida Fish & Wildlife Conservation Commission.
5) Many commercial crabbers cook claws on their boats, ensuring freshness and reducing possibility of meat sticking to shells. When cooked, they turn a beautiful red-orange color.
6) Stone crab has white, flaky meat that's sweet and tender (some crabbers say the early catch is the sweetest).
7) Most seasoned crab eaters say the best way to enjoy them is cold, but warm is great, too.
8) You can enjoy the meat by itself OR dip in a sauce — the classic is mustard sauce, but drawn butter is great, too.
9) Cracking them open doesn't require heavy tools like a hammer or fancy crab-cracking device. See recipe below for easy instructions.
Here are some colorful floats and well-worn traps used by a seasoned, local crabber:
Want to learn a bit more about some local, Florida crabbing methods? Check out this post.

Stone Crabs are Here!
Fresh, Florida stone crabs are awesome when paired with this classic dipping sauce.
Author:
My Delicious Blog
Ingredients
Mustard Sauce
1 c. mayonnaise
1 Tb. Dijon mustard
1 Tb. dry mustard (Coleman's if you have it)
½ tsp. granulated sugar
1 tsp. lemon juice
2 Tb. cream (light or heavy)
Dash kosher salt
25-30 stone crab claws (keep refrigerated until ready to serve)
Instructions
Whisk all ingredients in a bowl until smooth. Refrigerate at least one hour before serving.
To open claws: lay each claw loosely in the palm of your hand, with the claw facing downward. Using a large spoon (tablespoon size), rap the shell firmly with the back of the spoon - one, two or three times should do it. This fractures the shell into a couple of large pieces (as opposed to smashing it to smithereens) then you should be able to pull out the claw meat in one piece. Use the spoon to also crack the knuckle, which should release its meat as well.
When ready to serve, keep the claws in clean ice to ensure freshness. Serve with lemon wedges.