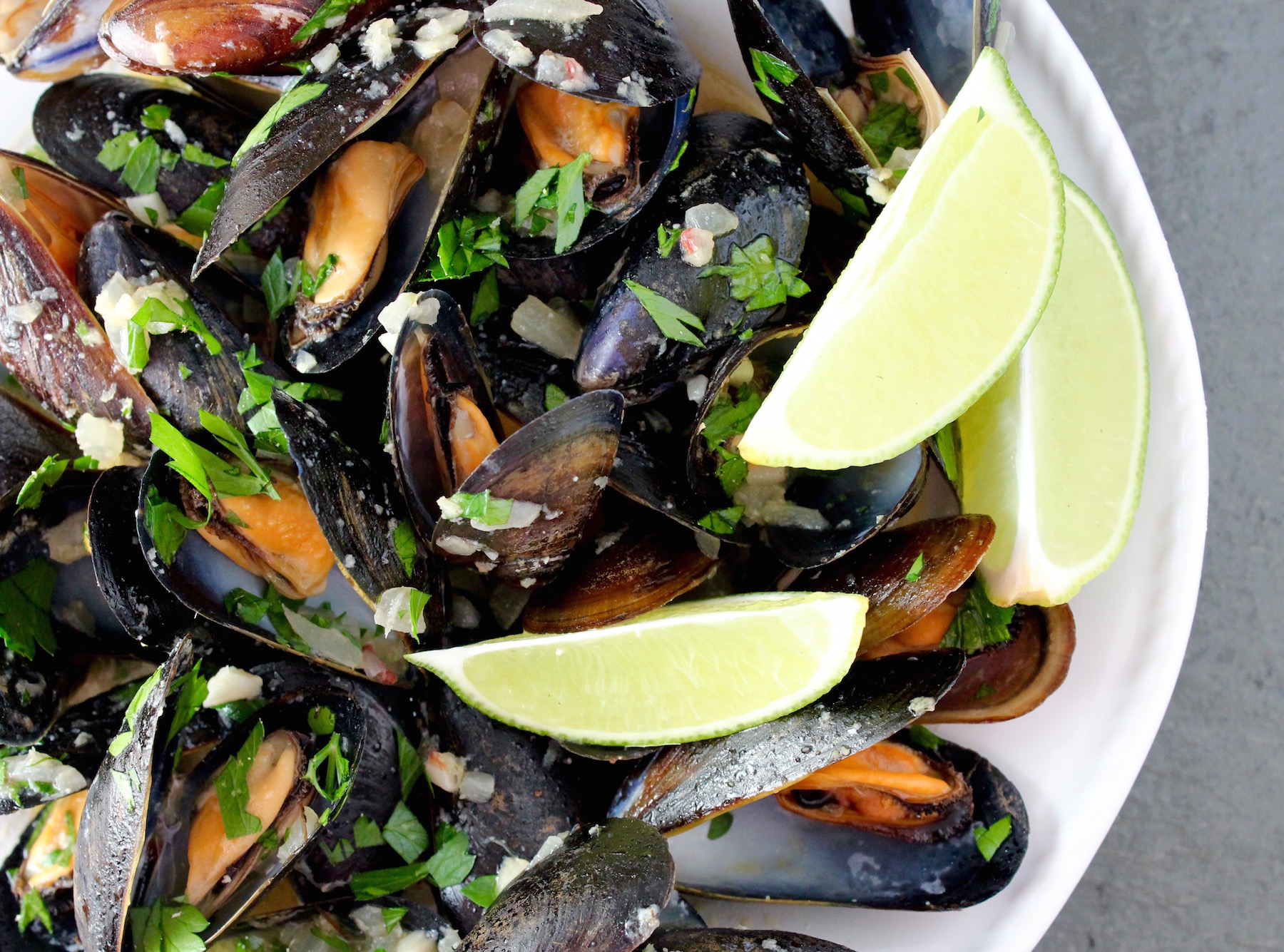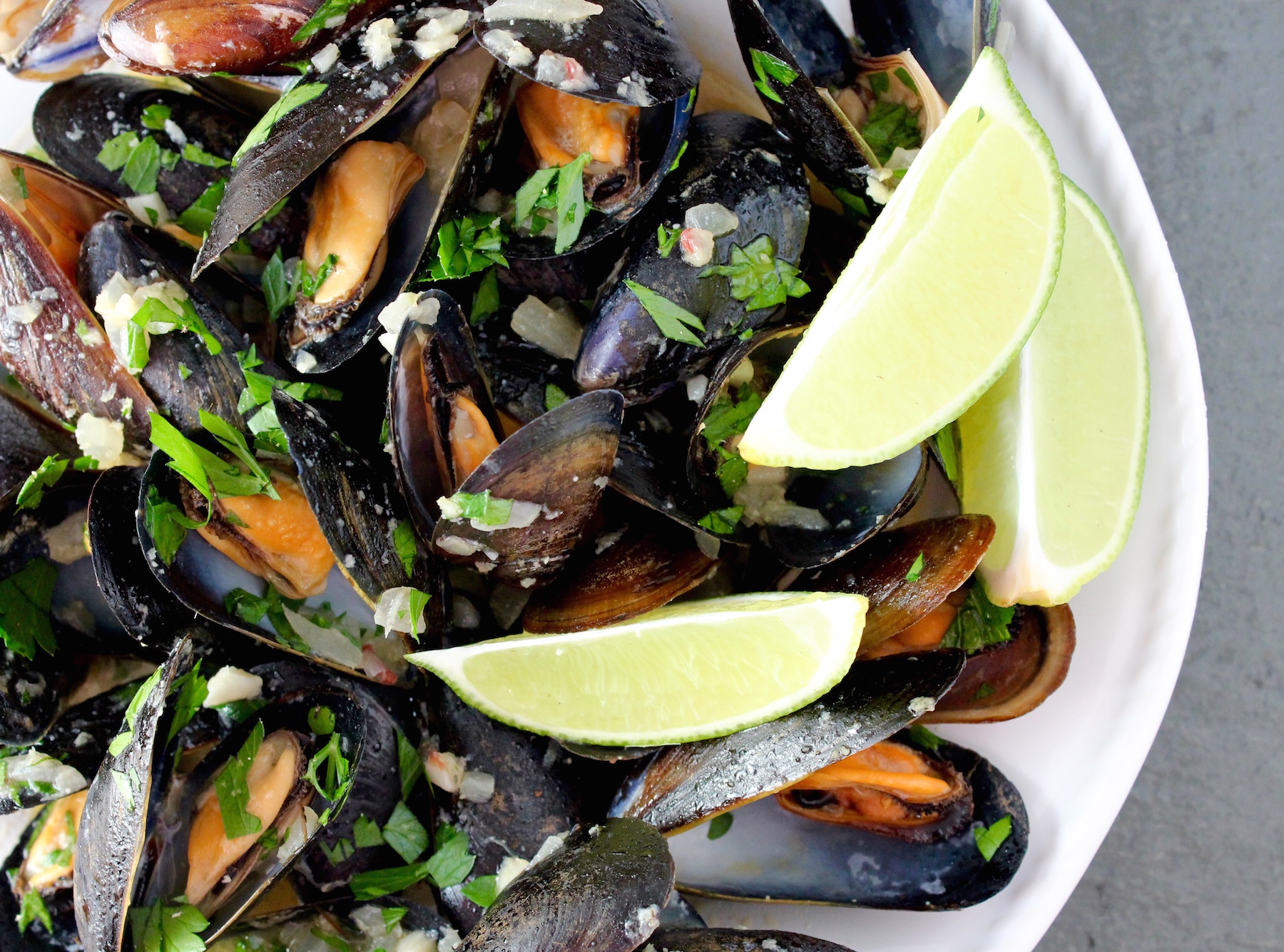 This week I decided to highlight a post from 2017 – a tasty (and healthy) recipe made with farm raised mussels, miso, ginger, and zippy lime.  It's easy to prepare and oh-so-delicious with crusty bread.  The reason I'm posting it?  A few, actually:
June 1 marks the start of hurricane season, a time when those who live in the 'cone of uncertainty' basically don't exhale until November 20, all the while praying that Gulf water doesn't end up in their living rooms!  
I'm hopeful we won't have another devastating bout of red tide like last summer, one that left our beloved coastline in tatters for many months.  
I'm thankful to have easy access to healthy foods that our ocean provides us, like these sustainable, farm-raised mussels. 
So I guess I have some feelings about how precious, fragile, bountiful, and devastating our oceans can be.  And today, I simply want to draw attention to it all.  That's where World Oceans Day comes in!  
It's an annual day (June 8) for us all to focus on our oceans.  There are events all over the place to learn what we can do to help protect them — one way is to simply be aware of what they mean to us, how our actions affect them, what they do to contribute to the world, and what they provide us by way of food, oxygen and enjoyment, among others.  Locally, Mote Marine Laboratory is hosting a fun celebration for the big day, there are other events in southwest Florida, and I'm sure there are some in your neck of the woods, especially if you live near the coast.  Please check them out, and be sure to try this recipe – it's yummy 🙂
————
My friend Heidi gave me a vintage cookbook for my birthday recently ("Cooking Fish and Shellfish" by Ruth A. Spear, published in 1980).  She obviously knows how much I love to cook AND how much I love old cookbooks.  Gosh, in 1980 I was a freshman in high school – a sobering reminder that 37 years have passed!
I was scrolling through the pages and came across Shellfish, Mollusks, and Bivalves, which inspired me to do something with mussels since I've been thinking about sustainability lately (see Sustainable Seafood).  Ruth wrote "A mollusk found clinging to rocks along both East and West coasts, the crescent-shaped edible blue mussel is one of the most nutritious, its protein content being almost the same as steak. . ."  Obviously, she was referencing wild mussels, but they're also farm-raised, so I dug into some other resources to learn more about these little mollusks.
According to Seafood Watch at Montery Bay Aquarium, mussels are considered one of the world's most sustainable and eco-friendly foods. They're resilient to salinity and water temperatures, can grow just about anywhere, and don't negatively impact the environment in which they live, which is why they're one of the most prevalent seafood products grown in aquaculture (farm-raised) environments. Growing them is pretty easy, too — basically, it starts with a rope.  When mussels begin spawning in warm water, farmers put out long lines to collect larvae. That larvae eventually attaches to the ropes, where mussels grow. Ropes may be eventually suspended from poles or rafts at the surface, or planted in the ocean bottom, depending on location and harvesting rules of the area. Once they attach, they feed on natural food particles in the water and don't require augmented feeding techniques. Plus, they're delicious, nutritious (high in protein, low in fat & calories and full of omega 3 fatty acids), reasonably priced, and available pretty much year-round to consumers.  That's a lot of good stuff.
The first time I saw mussels in an aquaculture setting was on Cape Cod. Brendan and I were in Truro and, while walking the beach near sunset, spotted raft-looking objects on the water's surface. As the tide waned, we saw that under those rafts were suspended ropes with thousands of baby mussels attached to them – so interesting to see the process in action. Farm-raised methods are happening all around us, and we may not even know it!
When I got home I got a batch of mussels and headed to my kitchen, where I considered lots of flavors to pair them with, including classic wine/garlic/butter/parsley, tomato/cream sauce, and my recipe with spicy chourico (which includes tips on buying/prepping mussels). But since I had a new tub of white miso paste in my fridge, a bottle of chili paste next to it, and lots of limes, I decided on something different. . .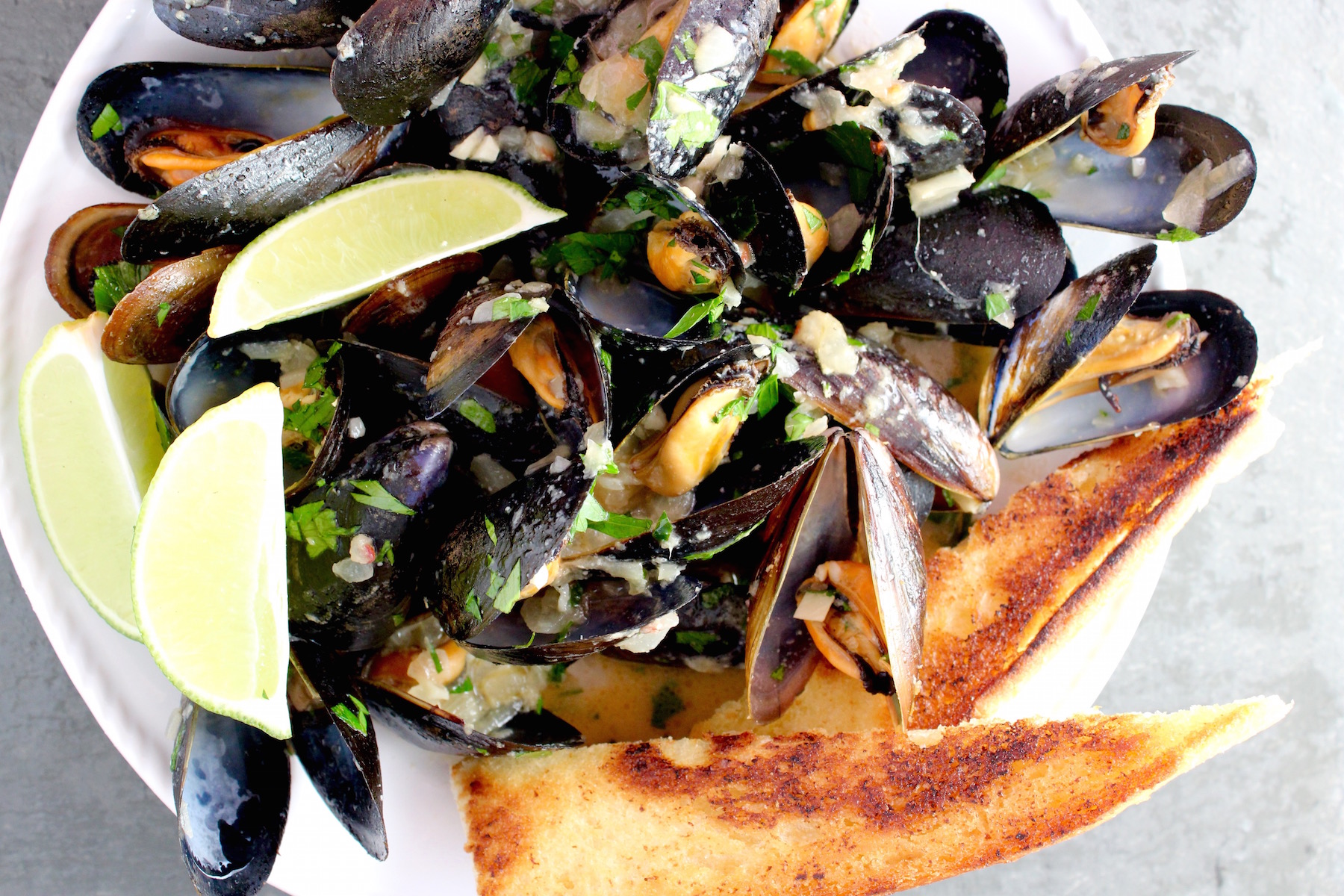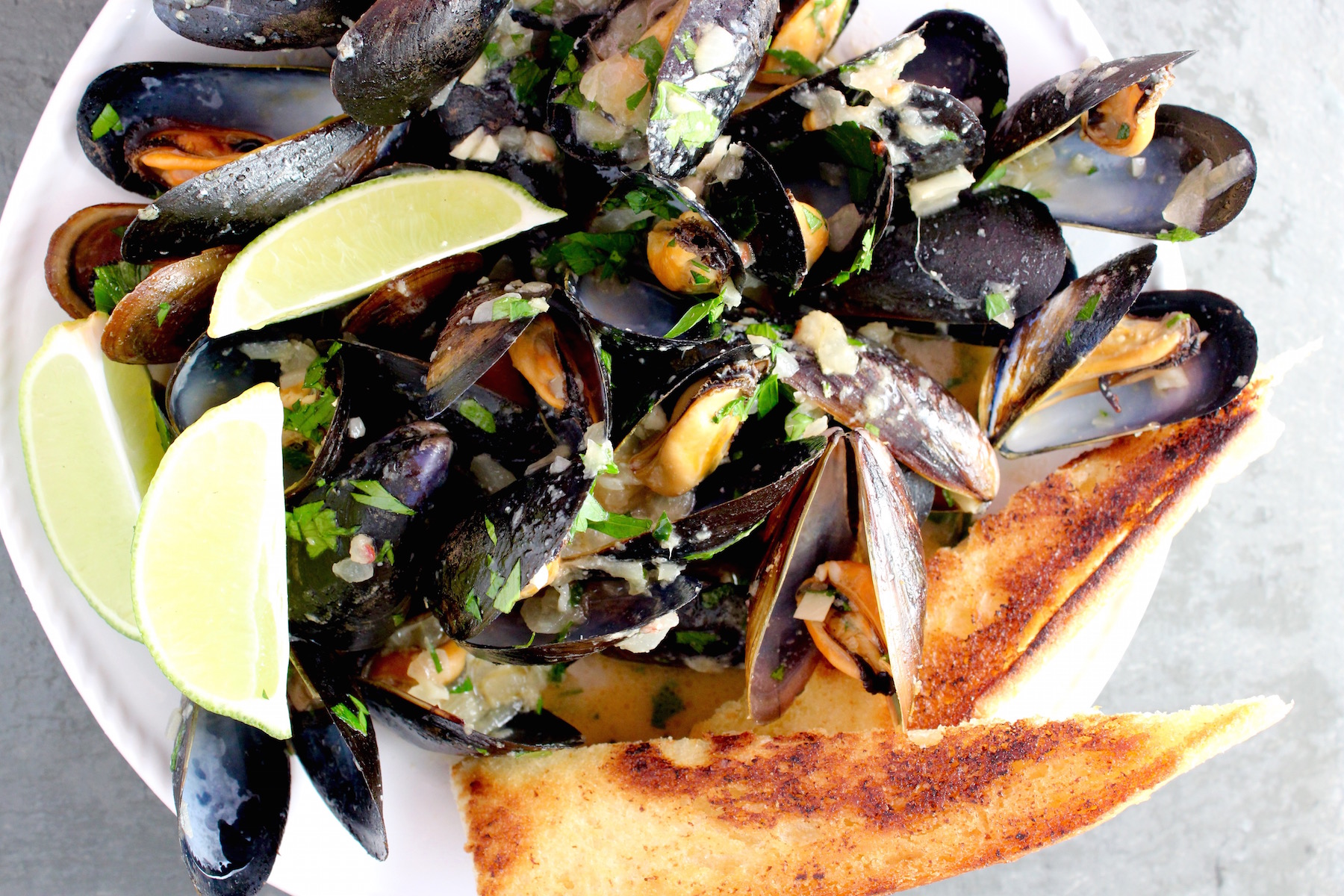 The tender, flavorful mussels worked wonderfully with this yummy miso/ginger/lime/garlic combination, with an undertone of heat from the chili paste — perfect with buttery, grilled bread and a glass of crisp white wine on a hot summer night.
Nothing better than enjoying something delicious AND feeling good about where it came from 🙂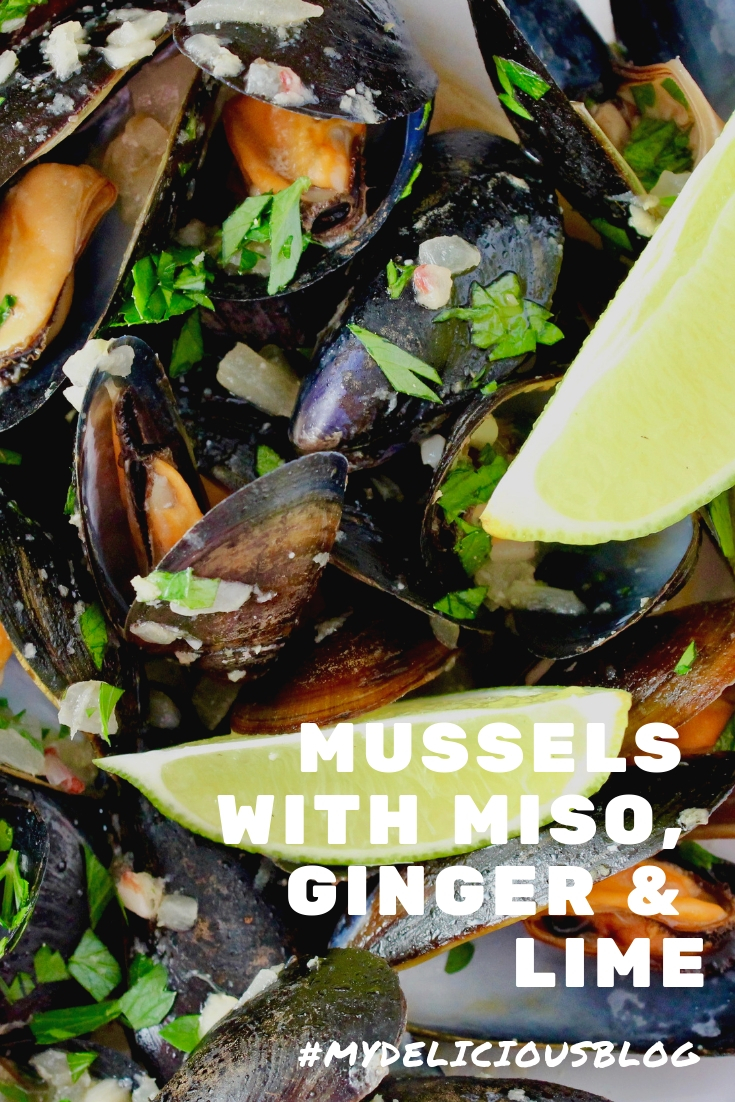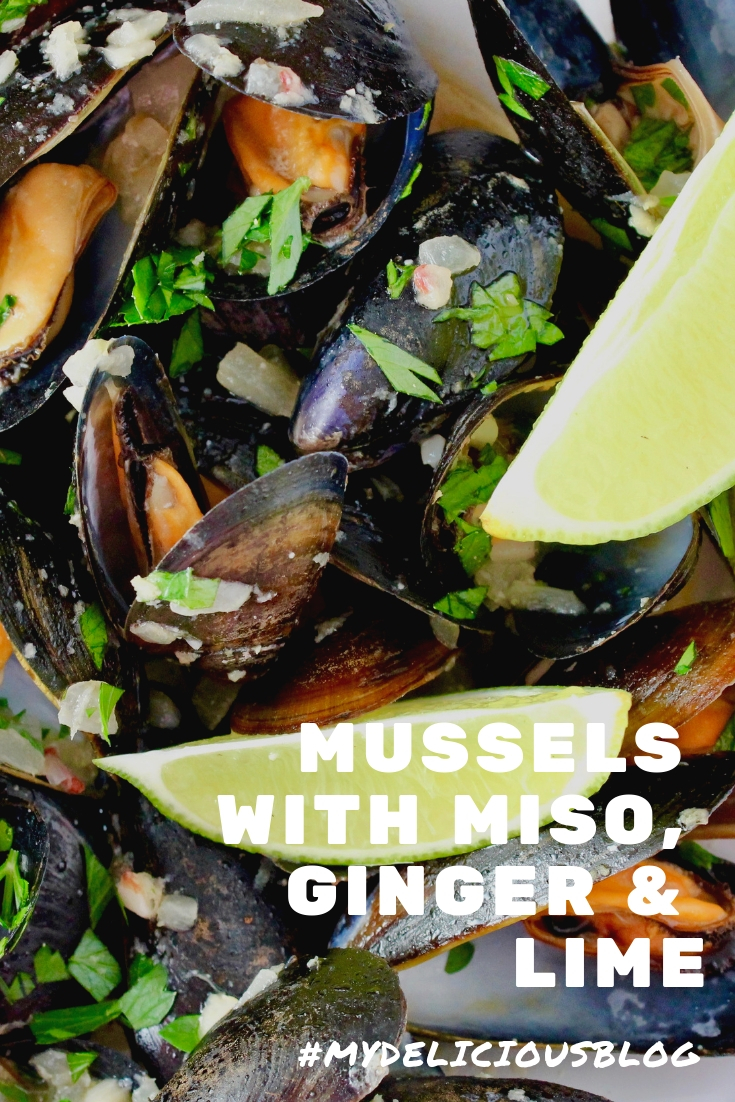 Please let me know what you think of this post in the Comment section below!

Mussels with Miso, Ginger and Lime
Fresh mussels in this tasty miso, ginger dressing are simply divine.
Author:
My Delicious Blog
Ingredients
1 lb. mussels
2 Tb. white miso paste
2 Tb. unsalted butter, room temperature
2 Tb. olive oil
1 small onion, minced
2 garlic cloves, peeled & minced
1 tsp. ginger, grated
½ tsp. chili paste (or more if you like it very spicy)
¾ - 1 c. vegetable or chicken broth
Juice of 1 lime
Lime wedges, for serving
Handful fresh parsley, chopped, for garnish
Crusty bread, grilled or pan fried
Instructions
Wash, scrub and de-beard mussels. If any are open, tap them and if they don't close, toss them since they're no longer alive. Keep refrigerated until ready to cook.
Mix miso paste and butter together in a small bowl.
In a large skillet, heat olive oil over medium/low heat. Add onion, garlic, ginger and cook until tender (careful not to burn the garlic) about 2 minutes.
Add miso paste/butter mixture and stir to melt into the onion/garlic/ginger.
Whisk in chili paste and broth. Adjust heat to medium.
Place the mussels into the sauce and cover the pan.
Steam about 8-10 minutes. When all mussels have opened (if any have not, toss them), turn off the heat and transfer them to a serving dish. Spoon sauce over mussels. Sprinkle with lime juice and parsley and serve with bread.
Notes
Try to purchase your mussels the day you plan to serve them, since they typically don't store well for more than a day. When you get home, keep them under ice in your fridge until ready to work with them.