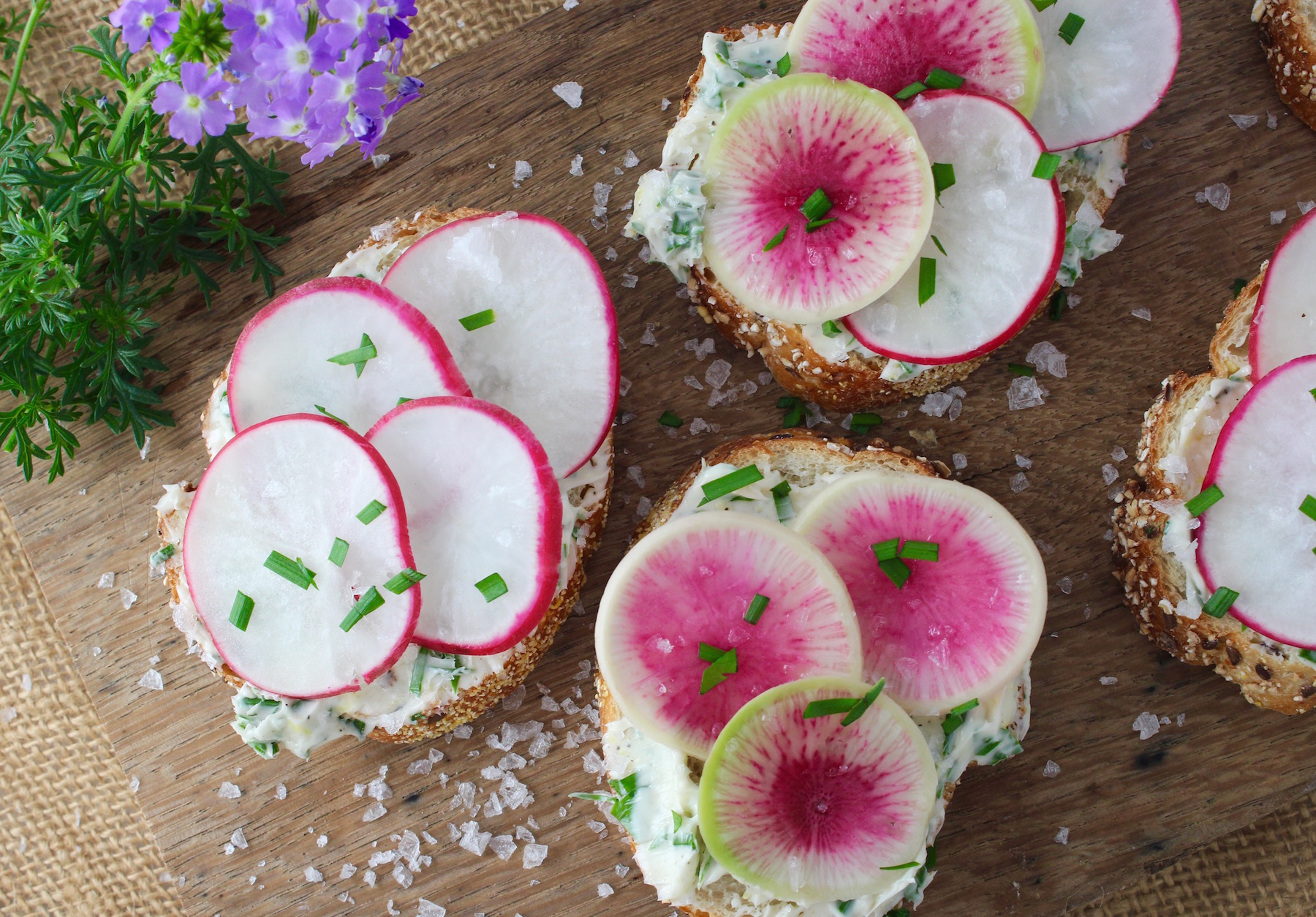 When it comes to comfort food the ones I reach for are those that perform well in small bowls and are eaten with a spoon – you know, things like home made soup, creamy polenta, ice cream, oatmeal, buttered noodles, mac & cheese, chili, etc. Holding a little bowl of something creamy, soft or warm really makes my heart sing 🙂
But what's comforting to me may not do anything for you. Everyone has their own traditions, as well as, triggers — stress, emotional trauma, being housebound on a rainy, snowy or gloomy day, etc. — and we all know which foods will bring us back from the abyss.
Do you ever think of radishes when you think of comfort food? Well, I certainly didn't before last week while experimenting with a bunch of fresh, young Celesta Radishes and Watermelon Radishes, which were even more gorgeous when I sliced them on my new mandoline from Santa.  Just look at the color in these beauties: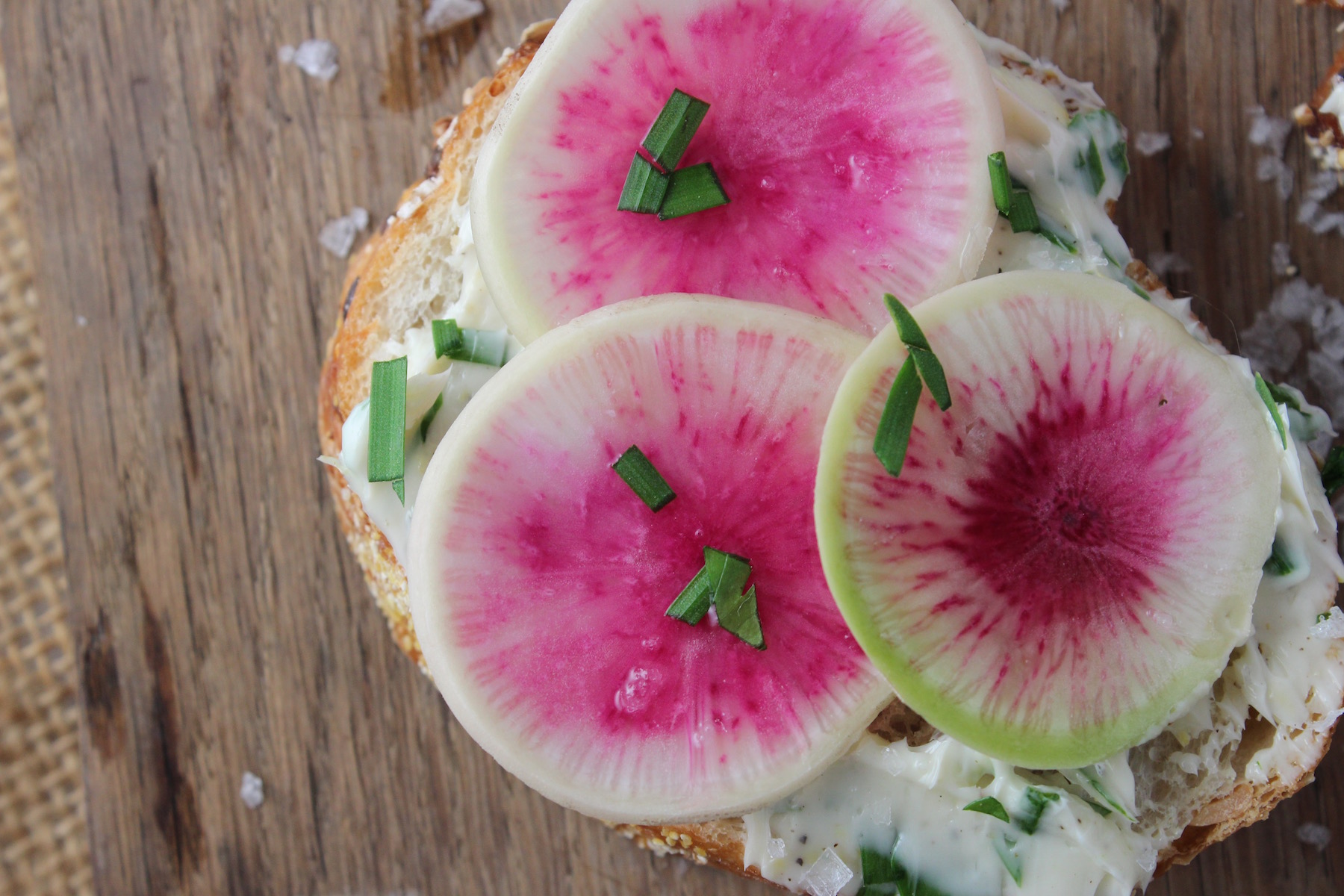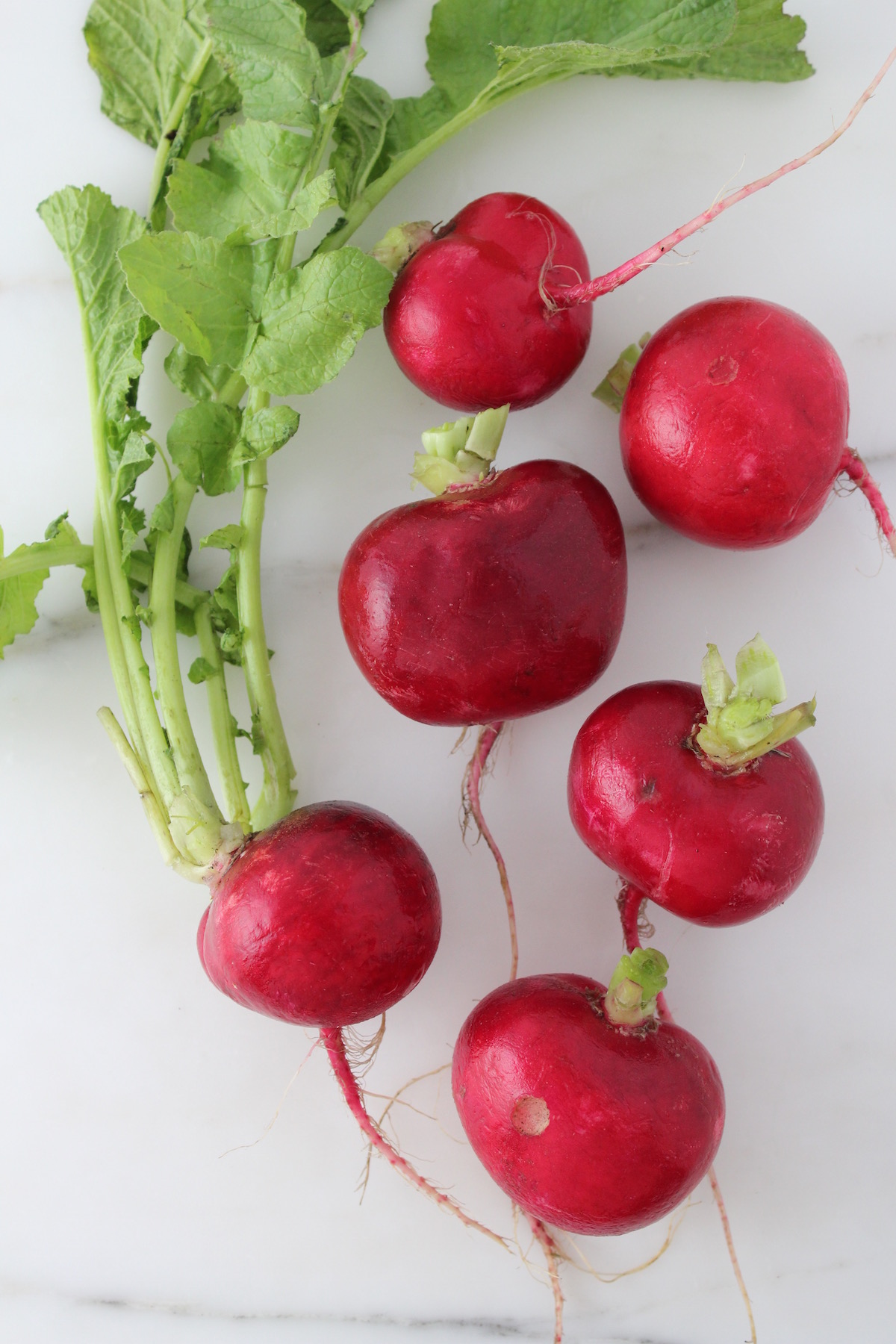 I've been reading that radishes on toasted bread with butter and salt is a favorite French dish, long considered a classic, comfort-food in France. They've figured out that the best way to remove some of that 'bite' of the radish is to combine it with sweet butter and salt. Typically the radishes are served whole, next to a bowl of salt, butter and crusty bread. Sometimes they simply dip the radish in butter, top it with salt and pop it in their mouths. Sounds interesting, huh?
But I wasn't sure I'd be a fan, considering my general aversion to radishes. As I've written in past posts, there are some foods that have taken me a long time to appreciate (eg. avocados) but I eventually come around. Maybe it's true that our taste buds evolve as we get older, or maybe it's something else. Who knows. But the reality is that whenever I've encountered radishes in my salads at restaurants, my husband knows he's going to be the recipient of them because I find them very unappealing. So when I started reading about how that peppery flavor in radishes can be toned down with creamy butter and flaky salt, I was all in, anxious to see if I could embrace them.
So I toasted some whole grain bread slices then topped each with a little herb butter (unsalted butter with fresh herbs, lemon zest and salt & pepper), the sliced radishes and a sprinkling of Maldon, then gave them a try.
SO delicious. I must say this is now one of my favorite things — crispy, fresh radishes on flavorful/creamy butter, toasty bread, and a nice salty bite at the end. I didn't even notice the so called 'heat' of the radishes.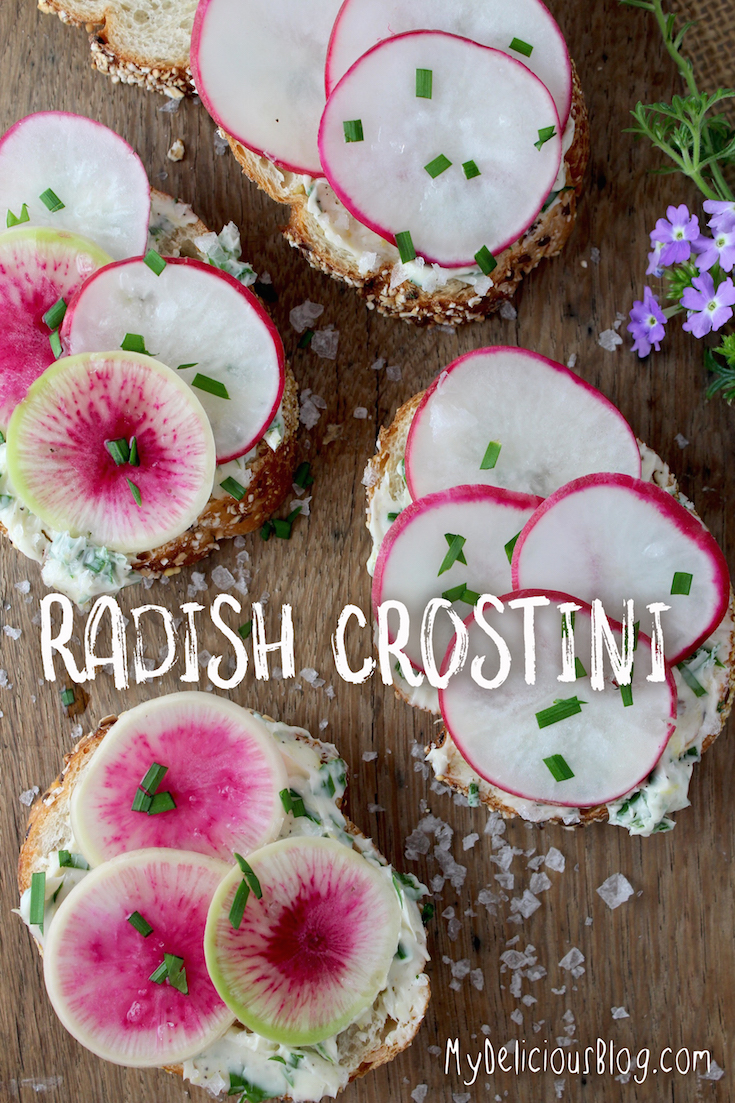 These little treats are now on my list of go-to dishes when I'm feeling the need for comfort. Now I just need to figure out how to get them to fit into a little bowl. . .

Radish Crostini
Crunchy radishes go perfectly with fresh bread, butter, flaky salt and herbs.
Author:
My Delicious Blog
Ingredients
Herb Butter:
½ stick unsalted butter, room temperature
1 tsp. minced fresh parsley
1 tsp. minced fresh chives
Zest of ½ lemon
Pinch kosher salt
Few grinds fresh black pepper
Crostini:
1 small/medium baguette (enough for 6-8 slices)
5 or 6 radishes
Flaky salt (Sea Salt, Maldon, Fleur de Sel)
Minced chives or parsley for garnish (optional)
Instructions
Heat oven to 350 degrees.
Combine all ingredients for Herb Butter in a small bowl; mix with a rubber spatula then set aside.
Wash and dry radishes then remove stem ends. Finely slice each, using a mandoline OR a sharp chef's knife that allows you to create very thin, uniform slices. Place the slices in a bowl of water with ice cubes to keep them crispy.
Slice the baguette (about 1") and place each piece on a baking sheet. Place in oven for about 5-8 minutes, just until toasty/a little firm but not too brown. Remove from oven and allow to cool.
Spread a little Herb Butter over each crostini, then a few radish slices, and a sprinkling of salt.